Inserts put the "name" in name tags — literally. Name tags are one of the best ways to help identify attendees and provide other important information such as titles and organizations.
To help you create effective inserts for your next meeting or event, we've answered the top questions from event planners we're asked most as they prepare their inserts.
Q1: Are all name tag inserts alike?
After 30 years in the meeting planning business and dozens of competitive analysis tests, we can answer emphatically: No! There are three critical questions to ask when evaluating the quality of name tag inserts:
Do the name tag inserts strike the perfect balance in weight? For example, are they light enough to feed through the printer jam-free, yet heavy enough to hold their shape while inserting in holders?
Are the inserts perforated to ensure that the sheet stays together through printing, but also separates easily with just one or two bends during name tag assembly?
Does the paper stock have a clean, bright finish that takes printer toner without smudging?
While many inserts meet one or two of these criteria, few get all three. And we're proud to say all our inserts do. Check out our insert selection to see all the options we offer.
Q2: Where can I find printing templates for my inserts?
Find the free Microsoft® Word Template that matches your name tag inserts by using our Free Template Library. That's where you'll also find a link to download instructions for setting up Mail Merge in Microsoft Word.


Q3: How can I use inserts to help me categorize attendees?
We offer a full selection of Color Bar and Title/Color Bar inserts to categorize attendees for easy identification.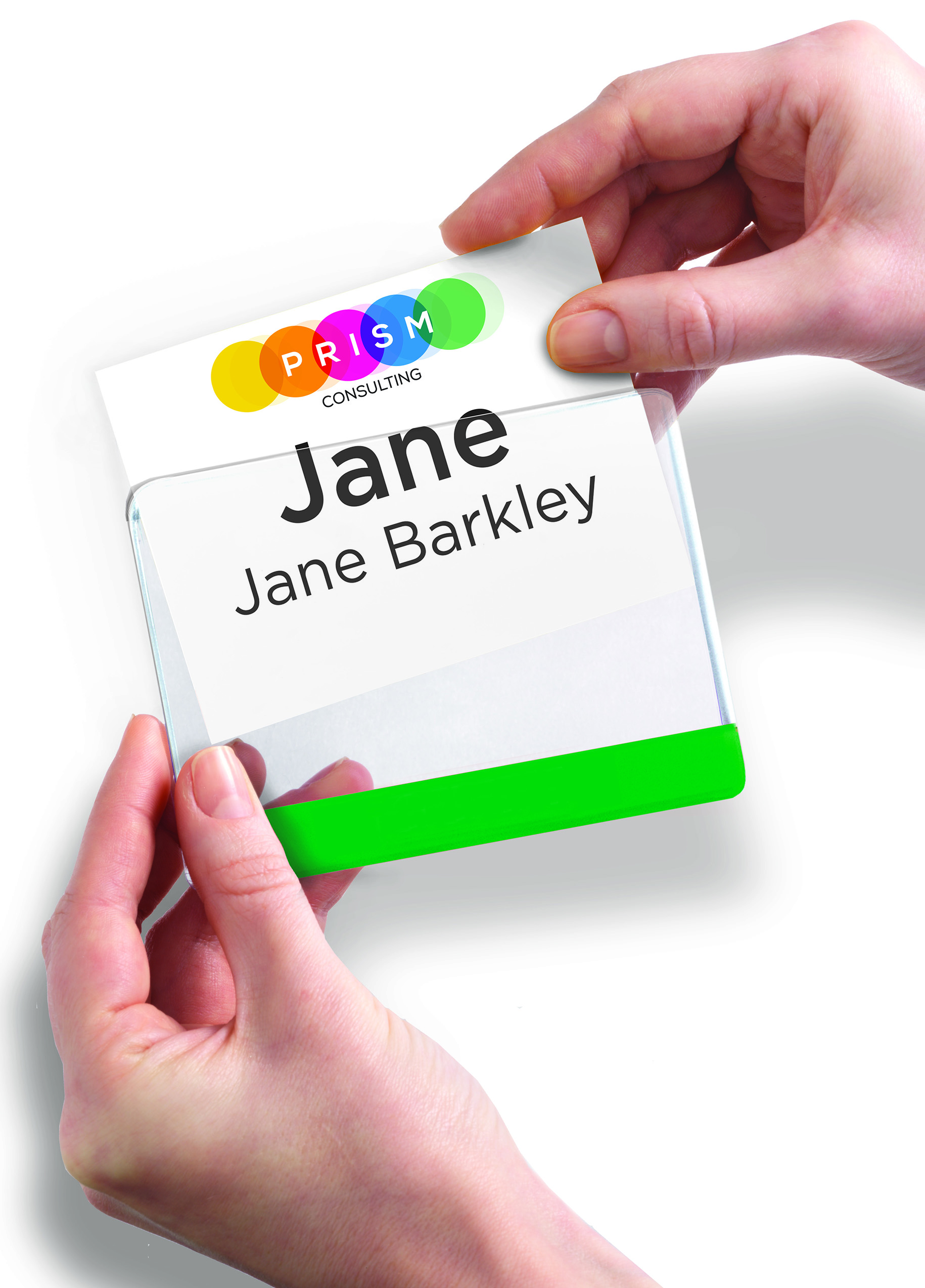 Q4: Is there an easy way to print customized agendas on the back of my inserts?
Rather than trying to print front and back, set up your mail merge to print two inserts side-by-side. The name insert is printed on the left column and the agenda on the right. After printing you simply fold both sides together and slip them into the holder. It takes more paper, but sure saves printing hassles.
Explore pc/nametag's on-site printers that offer the option of printing 4-1/4" x 6" Slotted Fanfold Paper Stock featuring dual-sided printing; then you fold the stock in half and attach a lanyard with no need for a vinyl holder.


Q5: What is the fastest way to separate inserts after printing?
Most planners find it's easiest to grab a stack of three to five insert sheets at a time. Bend the entire stack back and forth along each perforation line, then place the stack on a table and pull along the perforations. Using these small batches of sheets is more efficient than separating each sheet individually.


Q6: What size holder should I order for my insert?
Just order a holder that's the same size as your insert. We've already built in the room you need for hassle-free assembly. And our selection of holders is just as vast as the one for our inserts. Our Name Tag Holder Guide helps you choose the best holder for your needs.


Q7: Can I find environmentally friendly inserts?
Yes! We took our most popular 4" x 3" size and turned it into an eco-friendly recycled version from 100% post-consumer content. Click here to shop all of pc/nametag's eco-friendly products.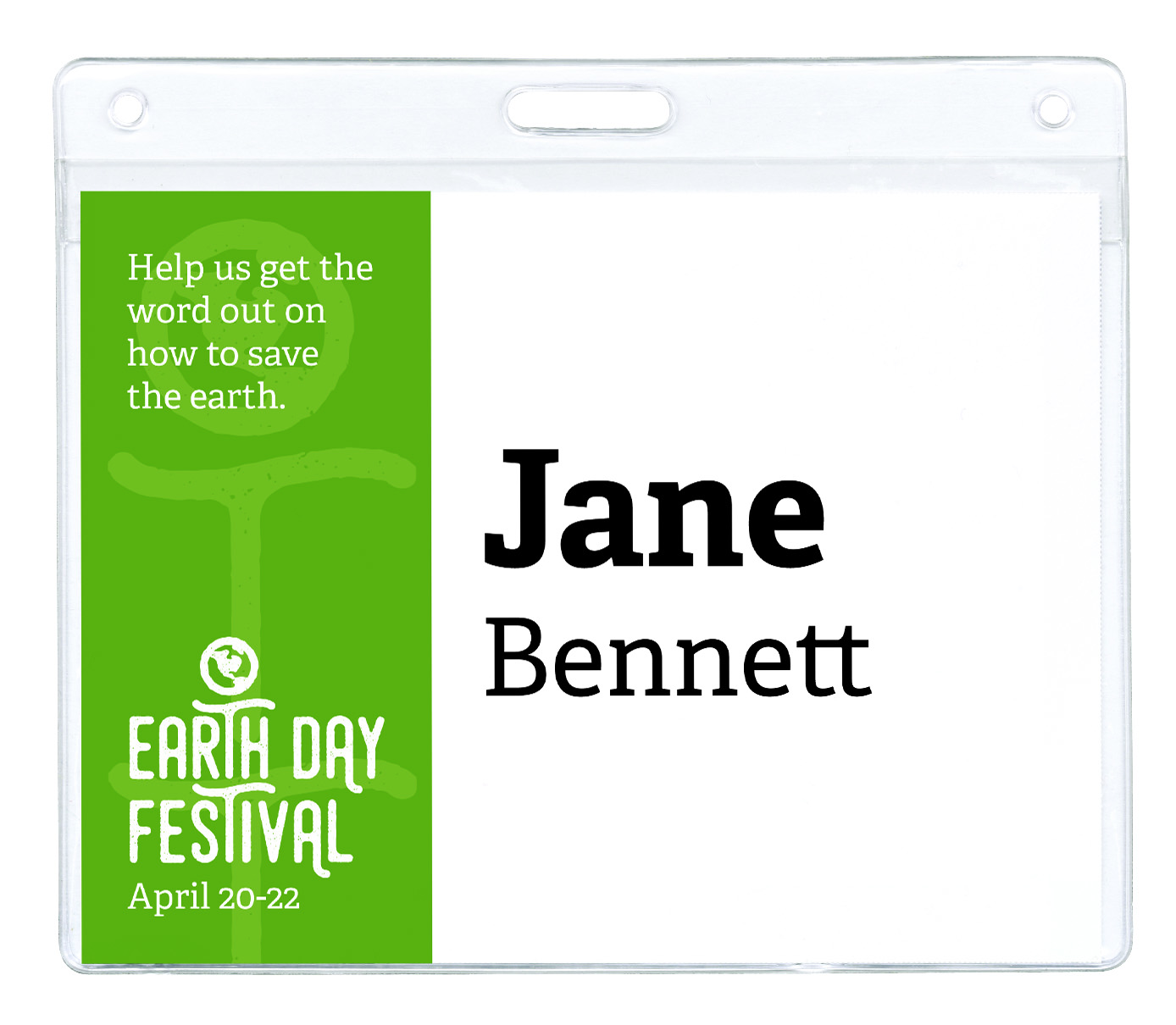 Q8: I'm new to designing name tag inserts but want them to look great. What's the easiest way to do it?
Since we doubt you have time to cram design school into your workflow, we've done the designing for you with 50 stock full-color design templates for Microsoft Word®. Just search for a style you like, download, add your logo and follow our Mail Merge instructions. You'll be ready, and getting compliments for your fine design work in no time!


Q9: Can I use Adobe InDesign® to create my name tags?
YES! We've got Mail Merge instructions for InDesign so you can bring the world's most powerful design software to bear on your next project!


Q10: How do I organize my variable content to avoid errors in printing?
Make sure that your data source file is structured so you can include the appropriate fields in your target document. For example, the top row of a spreadsheet should contain the field names that you'll need to set up the merge in your template, such as "First Name", "Company", "Title" and "Company". You can learn more with our Mail Merge instructions.


Q11: Where can I find more resources to help me with name tag preparation?
We're glad you asked! We've assembled The Meeting Planner's Guide to Panic-Free Name Badge Preparation for this exact purpose. Inside this resource, you'll learn the following:
How to find the right type of name badge for your meeting or event
Six steps for designing the perfect name badge
How to choose the right name tag insert
How to create a stunning, modern Event Badge
How to secure sponsorships and turn your name badges into a revenue opportunity
How to prepare for last-minute attendees
You can choose to have the guide sent straight to your inbox, or you can explore our many other tools and resources we've provided on this page.
What other questions can we answer?
We love our customers and the questions they ask! If you'd like to learn more about pc/nametag products, we're here to help. Leave a comment below and we will get you the answer you're looking for. Then, browse the many other items we have on our website to help make your next meeting meaningful and memorable to everyone who attends.