Whether you're interested in supplementing your existing education or looking to learn a new skill for your career, it's never too late to become a life-long learner.
Check out this list of awesome online education sites that will help you gain valuable knowledge, earn certificates, complete your degree or future-proof your career. No matter the subjects you're interested in, you're bound to find a great website that will fit your needs here!
Websites for Continuing Education Courses and Career Growth
On Udemy, you can learn about virtually anything. With over 130,000 courses to choose from, there's something for everyone on this fun and engaging virtual learning website. From professional development courses to hobby-related content, there's a high likelihood that Udemy will have a course to help you achieve your goals.
Free or paid? Paid
Number of Courses: 130,000+
Certifications Available? Yes
Coursera is a tried-and-true website for individuals looking to learn the latest skills, get ready for their careers, earn certificates and degrees, and upskill for their organization. One thing that sets Coursera apart from other websites is the opportunity to learn from real universities, institutions and companies. Choose from thousands of college-level courses — many of which you can enjoy for free from the comfort of your home.
Free or paid? Some free, some paid
Number of Courses: 3000+
Certifications Available? Yes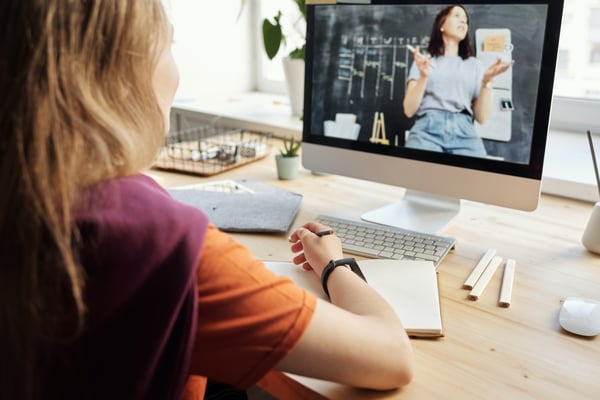 Did you know that you can take classes provided by Harvard, MIT, UC Berkeley, Microsoft, the Smithsonian and others? Now you can with edX, an online course provider that hosts university-level content in a wide range of disciplines. This even includes some courses at no charge! Choose edX if you're looking to gain useful knowledge from leading industry experts – all on your own schedule.
Free or paid? Some free, some paid
Number of Courses: 2500+
Certifications Available? Yes (from paid courses only)
The Stanford Center for Professional Development offers awesome online courses, degrees, grad and professional certificates, e-learning and open courses, all for free! The best part is that courses are highly flexible and affordable so you can learn new skills and study emerging topics more easily than ever. From free online courses to advanced degrees, Stanford can help you meet your goals for professional advancement.
Free or paid? Free instruction from real Stanford instructors and industry experts
Number of Courses: Approximately 69 courses
Certifications Available? Yes - 44 courses offer a free certificate of completion
LinkedIn Learning offers a variety of engaging video courses taught by real industry experts in three categories: Business, Creative and Technology. A perk of this website is gaining access to personalized recommendations based on your business profile. This way, you can discover, complete and track courses related to your field and interests quickly and easily!
Free or paid? Some free, some paid
Number of Courses: 16,000+
Certifications Available? Yes
If you're looking to evolve your skillset with certifications that will make you more competitive, employable and confident at work, try Skye Learning. This website has been operational for over 20 years and produces online courses and professional credentialing you'll find useful. This is an ideal option if you're looking for learner-tested, online training that focuses on a great user experience and concise learning opportunities.
Free or paid? Some free, some paid
Number of Courses: Unknown
Certifications Available? Yes – Search for specific certifications here.
If you're a photographer, graphic designer, web designer, digital marketer or copywriter, this website is for you. "Learn" from Fiverr is perfect for creatives and freelancers who want to learn from some of the world's top experts. You'll find on-demand courses that will teach you in-demand skills to start using today. Plus, the courses are highly affordable for anyone needing a budget-friendly learning option.
Free or paid? Paid
Number of Courses: About 80
Certifications Available? No; learners earn "badges" upon course completion

Other Educational Websites to Explore in Your Free Time
Not every coursework website offers the ability to earn a certification, but it's still fun to learn new skills just for the fun of it. Below, we've curated a list of specialty websites and for-fun learning websites to help you be a continuous learner year-round.
Great for the sales or marketing enthusiast
Great for the casual learner and hobbyist
Great for the doer, maker, tinkerer or designer
Great for the techie (IT, Science and Coding)
Great for the management professional
Great for the avid Microsoft user
Great for the marketing lover
Great for the dedicated learner
Great for the entrepreneur or creative skill seeker
Great for the digital marketing buff
Great for the adventurous learner
Great for Meeting Professionals International (MPI) members
Great for meeting and event planners
What tips do you have for continuous learning and growth?
Lifelong learning can lead to a happier, healthier and more fulfilling life, especially for employees and businesses that want to remain competitive in their fields. By exploring these websites, you'll be on your way to improving the skills you already have (or taking on brand-new interests and hobbies!)
| | |
| --- | --- |
| | What websites, books, videos, podcasts or newsletters do you use to keep learning throughout the year? Let us know by leaving a comment below. If it's useful to you, it'll be useful to someone else. |
READ NEXT