For Andrea Puizina, diversity isn't just a buzzword. It's a reality that meeting planners need to embrace. Whether in the workplace or at events, diversity plays a crucial role in creating a vibrant and inclusive community.
"I am a believer that cultural differences make us better," Puizina says. "When we take the time to learn, it's like opening doors we never knew were shut. We suddenly become less scared of what we don't know. Understanding one another is how we can work together to create a better world."
But how, exactly, can incentive travel planners create corporate incentive trips that celebrate diversity and promote inclusivity?
Get insights from a seasoned event professional in the following Q&A on how to design experiences that embrace cultural experiences and help everyone feel welcome.
Meet the Event Professional:
Andrea Puizina CITP, HMCC is an experienced meeting planning and global sales professional who specializes in Hospitality Management, Customer Service, Hotel Bookings, Front Office, F&B, and more.

She serves as the Director of Global Accounts MICE, North America for the NH Hotel Group and is the Immediate Past President of SITE Northeast.
Meet Andrea Puizina, Hospitality Management Expert
pc/nametag: "Thank you for joining us, Andrea. Tell us more about yourself."
Andrea Puizina: "I was born in Yugoslavia, a country that no longer exists. I was only 12 years old when Croatia declared its independence and by age 13, I already had dual citizenship and two passports without ever moving to another county. I found that extremely fascinating. I decided it would be great to explore the world and absorb as much of it as I could.
This led me to study and work in five countries on three different continents. My passion for exploring the world is unstoppable, and so far, I've been fortunate enough to visit 51 countries. Traveling has taught me the need to properly communicate with others. Today, I am fluent in Croatian, Italian, English, and Spanish."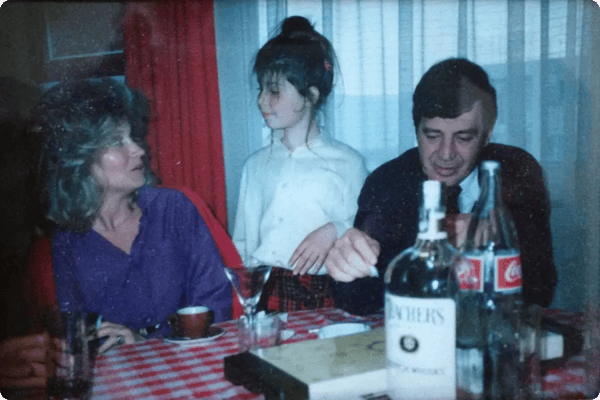 "What inspired you to join the meetings and events industry?"
Puizina: "After finishing my master's degree in mass communication in Rome, I knew I wanted to do something that would bring joy to people. Travel was the first thing that came to mind.
When you visit a new place, it stays with you forever. It's this joyful moment of discovery. I wanted to incorporate my love of communication, culture, and people into my career—and I did."
"What do you enjoy most about hospitality management and organizing travel incentive programs?"
Puizina: "In the United States, they say event planning is the third most stressful job, but it all depends on how you see it. There's nothing quite like creating that 'wow effect' for people when they first visit a city. They will never forget that amazing experience you helped create for them.
I love connecting and sharing experiences with people. If I didn't do this job, I wouldn't be able to meet all these amazing people around the world. Event planning is this incredible networking experience that never stops."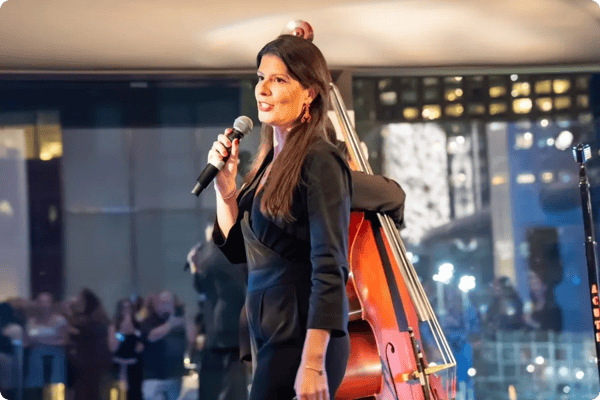 "How does knowing four languages help in your events career?"
Puizina: "I knew early on that, to understand people and do something in my life, I needed to learn multiple languages. I started by watching a lot of Italian television. This helped me become fluent by the age of six.
When I moved to Italy, I spoke fluent Italian, English, and of course, Croatian. Croatian allows you to understand everyone from Yugoslavia—so Serbian, Montenegrin, Bosnian, Slovenian, and some other Slavic languages like Polish. I could also understand Bulgarian for the most part. While living in Italy during university, I started learning Spanish and eventually became fluent.
Knowing several languages has helped me understand the people I surround myself with. I have better knowledge of their cultures and ways of thinking. Living in different countries has absolutely changed my life and taught me not to judge."
"Tell us about your time with SITE Northeast USA. What was it like being president for a year?"
Puizina: "I served as president of the northeast chapter of The Society of Incentive Travel Excellence in 2022. SITE is a phenomenal association that brings together meeting planners, suppliers, and a network of more than 2000 people around the world.
During my 2022 term, I hosted special events engaged people, and helped them discover opportunities to host meetings and events in new places. I am still involved with the chapter today as immediate past president and helping it grow."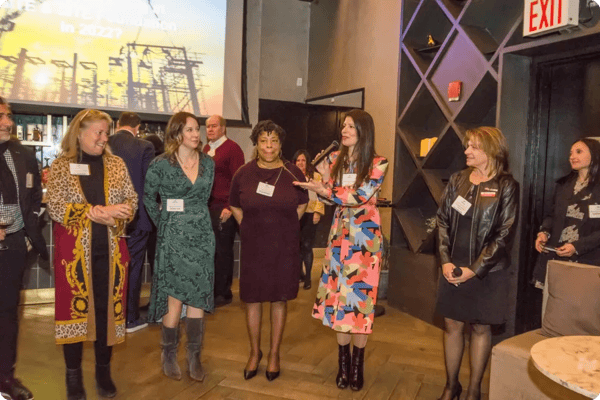 "Tell us about Site Unseen. Why should event planners know about it?"
Puizina: "SITE Northeast has a program called SITE Unseen, which is a series of exclusive retreat events. The program connects hospitality professionals and SITE members from across the Northeast region with unique, incentive-level destinations, resorts, and experiences.
One goal of SITE Unseen is to connect planners with 'second-tier' cities. These are lesser-known areas that are still worth considering as a meeting planning possibility. They are places that tourists enjoy, but meeting planners might not yet know about.
As an example, one time we organized an event in Aruba. We took planners there and familiarized them with the island. We have also introduced planners to different types of venues, like cruise ships for instance. One trip we hosted on a ship was brilliant. Everybody loved it."
"Why should event planners consider second-tier cities for their events?"
Puizina: "There are many amazing locations within the United States that you can choose for corporate incentive travel. While Las Vegas and Los Angeles are great, people want something different. They want something they haven't experienced yet.
Second-tier cities can still give people experiences that leave them happy for the rest of their lives. The only problem is that planners simply don't know about them. Trust me that people appreciate going somewhere else, especially when every single trade show was in Las Vegas last year."
Overcoming Prejudice in the Workplace: Andrea's Story
"Tell us about your experience in Uganda. Did you experience culture shock after living in Rome?"
Puizina: "I was asked by the owner of one of our properties in Kampala, Uganda to train staff and implement standards. The first day I arrived there, it was phenomenal. I woke up in the morning, opened my window, and saw this beautiful nature preserve.
But then, I looked down and I saw sheets all over the lawn! I went to the housekeeper and asked about them. She said that is how they dry the sheets. My initial reaction was 'Oh, no, no, no! But you have insects! You have cats roaming around!'
But for them, this was normal. They were looking at me like 'What is wrong with you? This is how things are done.' That was my first experience in Uganda that taught me to keep an open mind."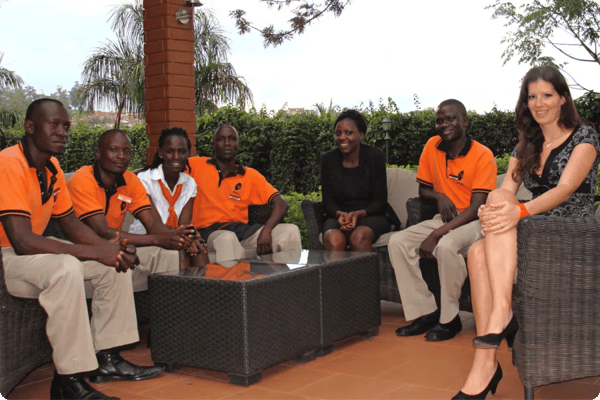 "You experienced sexism in the workplace while in Uganda. What happened?"
Puizina: "In Uganda, I trained about 35 people. Most were gentlemen. I quickly learned that there are significant cultural differences between African, European, and Western countries, especially regarding work. I arrived at my first meeting, said hello, and started speaking.
To my surprise, all the gentlemen turned their backs on me. Had I said something wrong? I instantly cut the meeting. I was upset because I didn't understand what was happening. Later, some of the women informed me that Ugandan men are not used to having a female boss. Being who I was, I wasn't welcome. That was clear."
"That sounds upsetting. How did you respond to that cultural disconnect?"
Puizina: "I had two options. The first option was to be forceful and tell them they must do as they are told. The second option was to take a more educational approach.
I began sitting down with the trainees in small groups and one-on-one. I spoke with each person, explaining who I was and my purpose for being there. That purpose was to grow together. I was not there to impose anything; my job was to help the hotel staff grow the business into a successful one.
Long story short, it took several months to transform the team's way of thinking. It wasn't easy but, in the end, I must admit that I cried when I left. I made so many fantastic friends. I am still friends with them today and enjoy seeing their family photos on social media."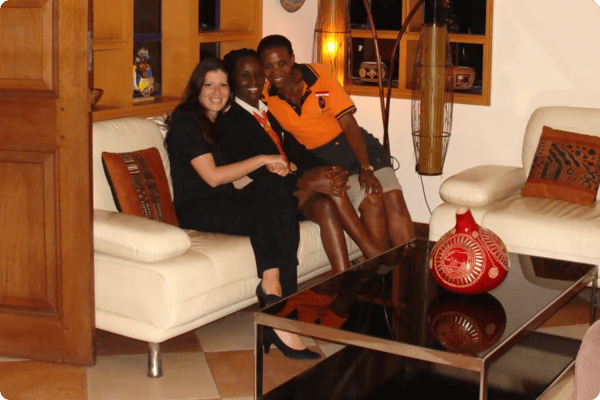 "What was one lesson you learned while training the team in Uganda?"
Puizina: "I am so glad that the approach I chose was the right one. The most important lesson I learned is that it's important to understand the people you work with. Learn who they truly are and don't judge. I also realized how important it is to immerse yourself in new cultures. This is how you actually succeed. My time in Uganda taught me this and more."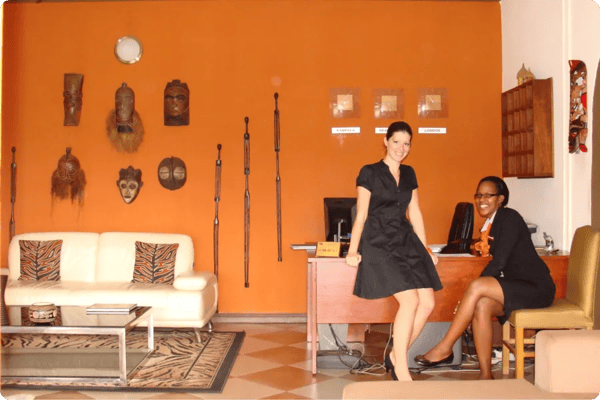 Tips on Diversity, Inclusion, and Corporate Incentive Programs
"Why should meeting planners care about incorporating DE&I into their events?"
Puizina: "Event planners need to ensure every attendee has the same experience at an event. If you don't take that into consideration, people will not be happy with the outcome of the event or trip they just had.
DE&I ensures every person feels heard, seen, and accepted. No matter what your cultural background is or what your physical ability is, everybody wants to be treated the same. Everybody deserves that."
"You mentioned that diversity is like hosting a party. Tell us more about that analogy."
Puizina: "The University of Michigan has a great analogy for diversity and inclusion. Imagine you organize a nice party:
Diversity means inviting all types of people to a party.
Inclusion means everyone gets to contribute their favorite song to the playlist.
Equity means everyone gets to dance and experience the music together.
Embracing diversity, equity, and inclusion is the first step in hosting a party where everybody's included and having fun. The benefits of an experience like this are immeasurable. Inclusive event experiences lead to excellent outcomes—on the human side and the business side."
"Why should event planners expose themselves to new cultural experiences?"
Puizina: "Different cultures have different customs, especially when it comes to work. For example, there's a cultural divide between Americans and Europeans. Americans don't want things now; they wanted it yesterday. But in Europe, it's different. An Italian's response to an email might be 'It's only Monday... why are you stressing? I will get back to you by Friday.'
Over the years, I've had to mediate communication issues between clients and colleagues from different cultures. What is considered 'rude' to one group is considered acceptable to the other. This is why it's important for event planners to educate themselves about cultural norms and expectations.
When you understand someone's culture, you prevent yourself from getting frustrated. You empower yourself to organize smoother, more memorable event experiences throughout the world. Immerse yourself in different cultures, customs, and cuisines and embrace them within the event experience."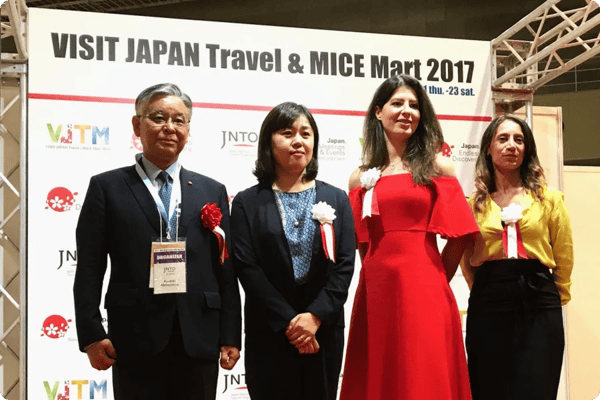 "What are your best tips for those who plan corporate incentive travel programs?"
Puizina: "Take steps to fully understand the culture in which you host your incentive travel programs. If I take people to France, I want them to come back with the full French experience. I want them to understand everything that the culture has to offer, from featuring local food to connecting them with people from the area.
Think about it. If I plan a beautiful incentive trip to Hawaii and people stay at the resort the entire time, they're not going to learn anything about Hawaii. Yes, the experience will still be great, but it's not going to be different from any other trip.
The best incentive trips are 100% immersive. Your goal as an event professional is to ensure people have an experience that will stay with them forever."
"How do you help clients incorporate DE&I into an incentive trip?"
Puizina: "As a supplier, I always push clients to analyze all the available options available to them. What can I do to help everyone on the incentive trip feel included? I am a firm believer that every person deserves to receive the same experience.
When I suggest things, I always keep in mind that the experience needs to be 100% for everybody. I want people to be able to do the activities, participate in programming, enjoy local cuisines, and learn perspectives from diverse keynote speakers.
It's up to us to pull together fantastic event experiences that make everybody feel welcome, received, and heard. Focus on what is possible. We can do it, especially when it comes to creating experiences that bring people together. Let's inspire one another to do more."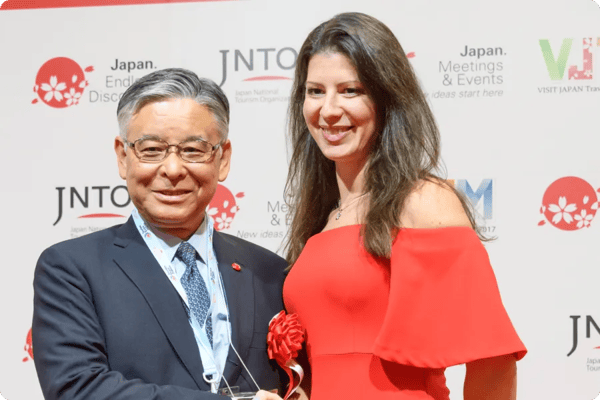 "What is your greatest career advice for event professionals?"
Puizina: "First, get a passport and travel. You can read as much as you want about a culture but experiencing it for yourself is another story. When you feel it, you'll know.
Second, learn how to think differently. As a society, I believe we think poorly and do bad things because we simply don't know. We don't have to hate things just because we are scared or don't understand them.
Third, share what you learn with the people around you. This is the easiest way to help one another begin to think differently. Think of it as planting a seed; this is how we grow forests of knowledge for years to come.
Lastly, have compassion. I'm glad that my career has given me opportunities to step away and see the big picture. Compassion is something that we should think about daily. It's easy to forget. Even at the supermarket and our cashier is not fast enough, our first reaction is often 'Come on! Hurry up!' Compassion and understanding will drive humanity on a positive path."
Download the Event Professional's Diversity, Equity, and Inclusion Handbook
There's never been a better time to learn more about hosting inclusive events. Get started by downloading The Event Professional's Diversity, Equity, and Inclusion Handbook. This comprehensive guide covers everything you need to know about creating events that celebrate diversity, promote inclusivity, and embrace equity.
Inside this DE&I guide, you'll find information on the following:
How to design events that reflect the diversity of the world we live in
How to implement creative solutions that foster an environment of inclusivity
How to identify and select vendors that will ensure accessibility needs are met
...and more!
Are you ready to gain valuable insights and tools to create more inclusive events that celebrate diversity? After downloading our ebook, read the following resources on diversity in events: