Want to create a unique buzz around your event? Start by choosing an event theme! Event themes aren't just about having fun; they're also a tried-and-true way to add something meaningful to your event and encourage guests to participate in your activities.

Whether you're hosting a small birthday party, a corporate team building activity, or a multi-day conference, use one of these meetings themes to transform an everyday event into an immersive experience people will rave about long after they head home!
Table of Contents
"Spirit of Adventure" Event Themes 🗺️
Calling all voyagers, explorers, pioneers, and treasure hunters! These event themes are for you. Life is an adventure, so why not celebrate it with a get-together? Use the following ideas to create scenarios of unpredictable twists, risks, and rewards — all in the spirit of adventure.
Around the World
Mardi Gras
African Safari
Welcome to the Jungle
Jurassic Park
A Night in Paris
Backpacking Adventure
Carnival / Circus
Casino Night
Comedy Night
Magic Show
Into the Future
Tip: Give away custom luggage tags for their next adventure.
You can help your guests celebrate the excitement of travel without having to leave the building! Though it may seem small, a luggage tag is an essential item for any traveler to have on hand. Showcase your event's personality by working with a company that will custom-design a bag tag for your event guests to take home.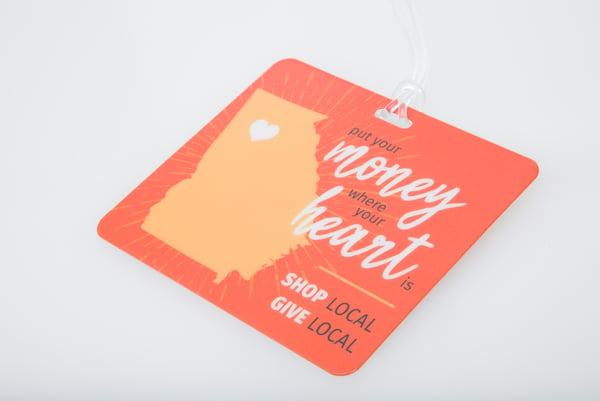 'Through the Decades' Event Themes 💃
Decade parties are a great way to celebrate some of the most memorable moments in 1900s history. Plus, guests will love having an excuse to dress up and "look the part" for the event! All you need to create nostalgia are carefully curated playlists, some decorations, and activities to get people vibing with the times.
Roaring 20s (1920s)
Flappers/Speakeasy (1920s)
Great Gatsby (1920s)
Viennese Ball (1920s)
"Gone with the Wind" (1930s)
Casablanca (1940s)
Rock n Roll Sock Hop (1950s)
Soda Shops and Car Hops (1950s)
I Love Lucy" (1950s)
Classic Diner (1950's)
Breakfast at Tiffany's (1960s)
Gilligan's Island (1960s)
Summer of Love (1960s)
Disco Fever (1970s)
Classic Arcade (1980s)
Saved by the Bell (1990s)
Tip: Help guests feel 'fly' with branded sunglasses as a giveaway.
A fun and classic addition to any celebration, branded sunglasses will always be the life of the party when it comes to great giveaways and favors. We love these ultra-stylish sun ray glasses because they can be printed with any word, phrase, or logo you'd like. Plus, they'll come in handy after your event is over.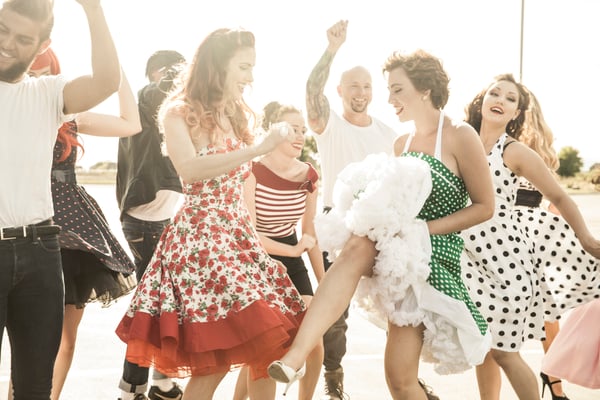 Food-related Event Themes 🌮🍕
Tacos, pizza, burgers, oh my! What's a party without delicious food? Offering different foods and beverages is a Party Planning 101 fundamental. From upscale dinners to casual backyard BBQs, fuel your party-goers by serving themed dishes that revolve around a specific location, season, or time in history.
Classic Summertime BBQ
DIY Taco Fiesta
Taste the World
Food Truck Nation
Oktoberfest
Retro Diner
Bite-sized Snacks
Wine and Cheese Tastings
Fall Harvest Dinner
Game Day Dinner
Farm-to-Table
Fish/Seafood Boil
Chili Cookoff
Master Chef Cookoff
Tip: Print your event logo on reusable cups and paper napkins.
Forks, spoons, knives, plates: Every foodie event needs these utensils. Since you'll need them anyway, why not add some pizzazz to your drinkware and napkins? We like plastic stadium cups because they're brandable, reusable, and come in many sizes. Use these customizable beverage napkins at your beverage station.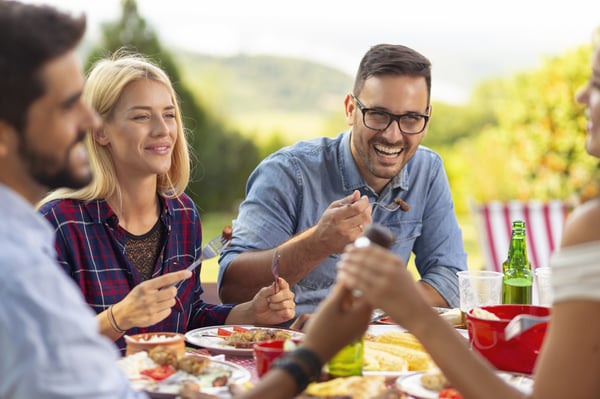 Interactive Event Themes 🕵️‍♂️️
We know that getting people involved in your event can be a challenge, especially if guests aren't familiar with one another. Activities like the ones listed below delve into peoples' interests while also putting a fun spin on getting everyone to chat, interact and work together towards a goal. May be best team win!
Murder Mystery Party
Dance Through the Decades
Escape Room
Night at the Museum
Speakeasy
America's Got Talent
MythBusters
Oregon Trail
Clue
Game Show Frenzy
Wine and Paint Night
Yoga-thon
Karaoke Bar
Emoji Party
Tip: Host a raffle to give guests the chance to win prizes.
One of the easiest and most cost-effective activities you can host at your event is a raffle. Not only can you raise money, but you can also offer up irresistible prizes that'll get people stoked to buy more raffle tickets. Don't forget to buy a raffle drum to make sure every ticket drawing is well-mixed and fair!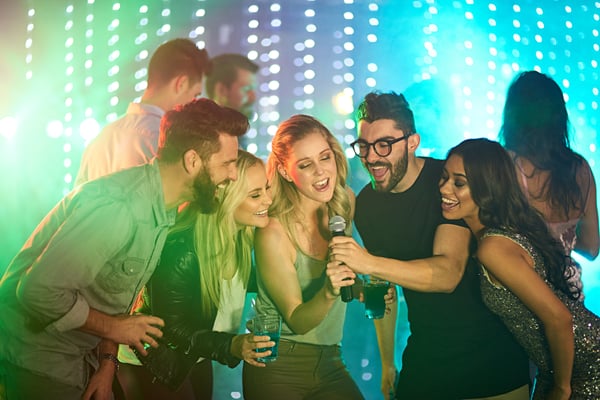 Movie-inspired Event Themes 🍿
Lights, camera, action! There's something special about the movie theater experience: smelling the salty aroma of hot buttered popcorn, sipping on a bubbly drink, sinking into your leather recliner, and finally, escaping to a new world for a few hours. Celebrate the adventure of film with these themes.
A Night at the Movies
Wild West Film
Night at the Oscars
'Golden Era' Hollywood
The Great Gatsby
Grease
Moulin Rouge
Willy Wonka
James Bond
Space Jam
Tip: Host an awards ceremony at your film-inspired event.
Just like the Golden Globe Awards, you, too, can bestow your own custom accolades to your guests! Hosting an awards ceremony is a fun way to create anticipation at your event and make attendance more exciting. Design your own awards certificates on Canva, then place each one in a certificate frame to make it official.
Music-inspired Event Themes 🎵
A music-themed event is sure to be a hit with guests who want to sing and dance the night away! Strike the right note at your next gathering with groovy activities and music-themed décor. If you're unsure of where to start, design your event theme around a specific musical era or style, like jazz or rock.
Rock n' Roll
The Beatles
American Idol
The Grammy's
Dueling Pianos
Karaoke
Jukebox Jams
Jazz Club
Hamilton
Classic Ballroom
Disco Boogie
Vaudeville
Tip: Amp up their look with a guitar pick-shaped badge.
Want to help attendees "rock" their event badge look? Give them a badge-and-lanyard ensemble like they've never seen before. This guitar pick premier event badge can act as a "VIP pass" for your event or festival, while also serving as a memorable symbol of your music-themed event.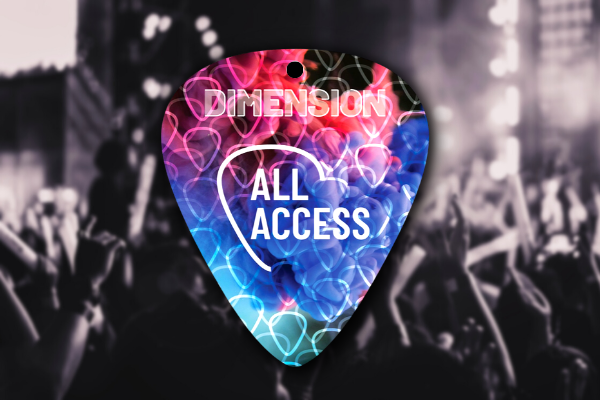 Nerd-approved Event Themes 🤓
Geeks, assemble! Do your meeting attendees identify as proud nerds? RPG fanatics? Sci-fi lovers? If so, you're in luck. These event themes aren't just limited to gamers, Trekkies or cosplayers. Whatever nerdy interests your audience has, you're bound to find something they'll love here.
Outer Space
Cosmic Galaxy
Geeky Fandom
Star Wars
Star Trek
Retro Arcade
Superhero Universe
Comic Book Experience
Video Game Fantasy
Super Mario Bros.
Minecraft
Dungeons and Dragons
Tip: Create your very own custom convention ribbons.
We're going to let you on a little secret: Everybody loves badge ribbons. Plus, we think they're a lot of fun to wear! Did you know that you can create your very own custom badge ribbons? Put any word, catchphrase, logo, or artwork you can think of, then use them to allow guests to express their personalities and interests.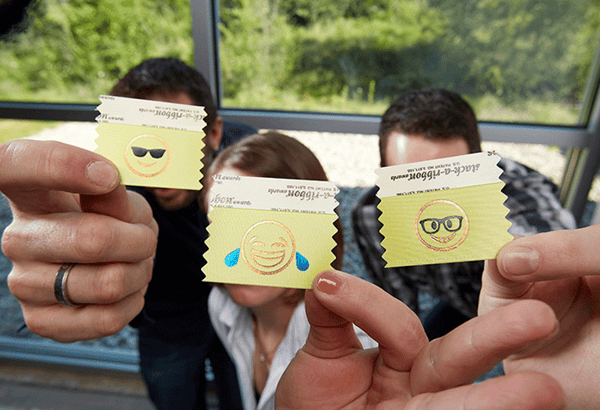 Outdoorsy Event Ideas 🌞
Did you know that the average American spends almost 90% of their life indoors? Use your event theme to get everyone outside and enjoying the pleasantries of nature! And even if the weather doesn't cooperate, you can still bring the outdoors inside with live plant centerpieces, themed décor, and engaging activities.
Winter Wonderland
Spring Has Sprung
Beach Party
Under the Sea
Glamping (I.e., Glamorous Camping)
Planet Earth
Garden Party
Fireside Stories
Roast Your Own S'mores
Scavenger Hunt
Christmas in July
Tip: Transform the fun of the outdoors into reusable gifts.
Every great party needs a fun party favor. For outdoor adventure events, we love the beach mat blanket, which includes a convenient carrying handle and a comfy pillow for a relaxing day on the shore. Include a beach ball or frisbee with your logo printed on it to add a fun touch to your outdoorsy gift table.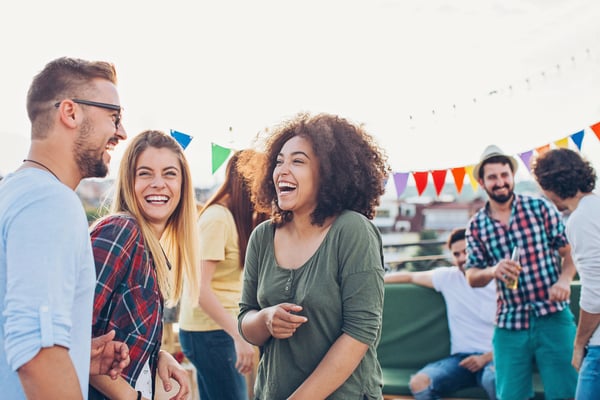 Pop Culture Event Themes 🍿
Pop culture events will always be a popular choice for party planners! Like movie themes, pop culture themes let everyone visit their favorite fictional worlds in new and exciting ways. Turn your favorite top-hit book, film, or TV show into an immersive experience (and award bonus points to guests who are willing to dress up!)
Doctor Who
Harry Potter
Lord of the Rings
Wizard of Oz
Game of Thrones
Murder on the Orient Express
Narnia
Mad Max
Indiana Jones
Hunger Games
Marvel Superheroes
DC Superheroes
Pirates of the Caribbean
National Treasure
Tip: Design your event badge to look like a movie pass.
Your guests want to feel like your event was designed with them in mind. Take your event badge to a whole new level by turning it into a customized "movie pass." Not only will guests love the aesthetic of their badge, but they'll also love using it to gain "exclusive access to behind the scenes" at your event!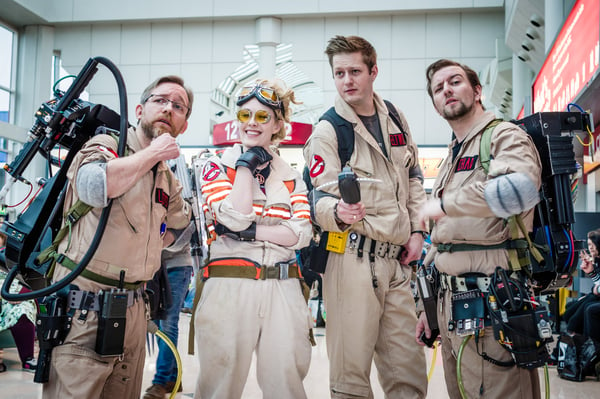 Whimsical Event Themes 🦄
We think there's real beauty in having a vivid imagination. That's why hosting a fantasy-themed event is the perfect way to bring the world of make-believe to real life. Help your guests slip into a dazzling world of fantastical creatures, twinkling night skies, and never-ending fairy tales with these event themes.
Avatar
Alice in Wonderland
Neon Lights
Mythical Creatures
Disney Masquerade
Under the Stars
Candy Land
Fairy Tale
Where the Wild Things Are
Choose Your Own Adventure
Jumanji
Crystal Maze
Add a pop of color to event badges with bright neon lanyards.
No whimsical event badge is complete without a stylish lanyard paired with it! Use your lanyard to make a statement. Start by choosing your favorite neon-colored fabric, then select your attachment. Round off your design by adding your logo, event messaging, sponsor branding, or even an attendee's designation.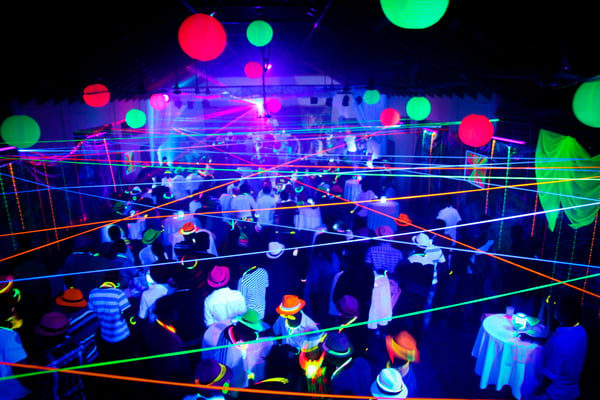 Which event theme ideas did we miss?
We had lots of fun thinking up the event theme lists in this article; so much fun that now we're ready to party! In the spirit of event planning:
What event themes have you loved in the past, either as a planner or as an attendee?
Which event theme was the most unique or memorable to you?
Let us know by leaving a comment below. For more ways to bring your event to life, check out our custom gift box creation page for virtual and in-person events.