According to the Human Rights Campaign, 29 states in the U.S. do not have laws protecting LGBTQ+ Americans from discrimination of sexual orientation in 2023. While creating safe meetings has always been a top concern for event planners, it's up to you to choose a destination that gives all attendees confidence in their decision to attend.
Prioritizing LGBTQ+-friendly destinations is a great way to openly demonstrate your commitment to hosting inclusive events. Looking for options? Here's a list of LGBT-friendly cities that champion diversity and embrace the queer community through progressive values and anti-discrimination laws.
Why Support LGBTQ+ and Gay-Friendly Cities in the U.S.?
What does it take to create a truly inclusive space where all attendees feel safe, respected, and celebrated? A big piece of the puzzle involves choosing your event's destination and venue wisely. Reasons to choose LGBTQ+-friendly destinations for your conference, event, or seminar include:
LGBTQ+-friendly destinations offer safe and accepting environments for all attendees. Investigate cities with comprehensive non-discrimination laws and policies that protect individuals, especially those with different sexual orientations and gender identities. Event participants should feel embraced in the cities you select.
LGBTQ+-friendly destinations expose attendees to vibrant cultural hubs and LGBTQ+-owned businesses. Immerse attendees in a diverse range of experiences, from discovering queer history to enjoying vibrant nightlife and entertainment. Showcase a diverse range of vendors, activities, speakers, and more.
LGBTQ+-friendly destinations serve as great inspiration for your own events. Challenge your team to tap into the rich culture of every city and celebrate it through conference experiences. Take note of how destinations are embracing and highlighting LGBTQ+ festivals, community centers, restaurants, bars, parades, and events.
If you are looking to send a powerful message of inclusion and support to all attendees, choose your event's destination wisely. Research cities (like the ones in this article) that not only offer safe communities but also back their social attitudes with LGBTQ+ policies.
Keep reading to find a curated list of our city suggestions.
LGBTQ+ and Gay-friendly Cities for Your Conference
1. San Francisco, California
Did you know that many people consider San Francisco to be the LGBTQ+ Capitol of the World? Known for acceptance and equality, San Fransisco has transformed into a vibrant, safe, and inclusive city choice for meetings and events.
"You can see LGBTQ influence in our history, in trailblazers like Harvey Milk, the fight against AIDS, and the fight for marriage equality," states San Fransisco Travel. "You can see LGBTQ influence in our present, in the creative ways we support and champion each other, in the flags that dot many of our small businesses. And you can experience and celebrate alongside the LGBTQ community at our many local icons, festivals, and bars."
From its rich history rooted in the fight for LGBTQ+ rights to its queer-friendly culture, San Francisco provides a supportive environment for hosting memorable and inclusive conference experiences for everyone who attends.
LGBTQ-friendly Event Highlight: The San Francisco Pride Parade attracts millions of visitors from around the world every year. At this massive event, you'll find a diverse group of marchers, dancers, floats, and local organizations who come together to support equality and justice for all.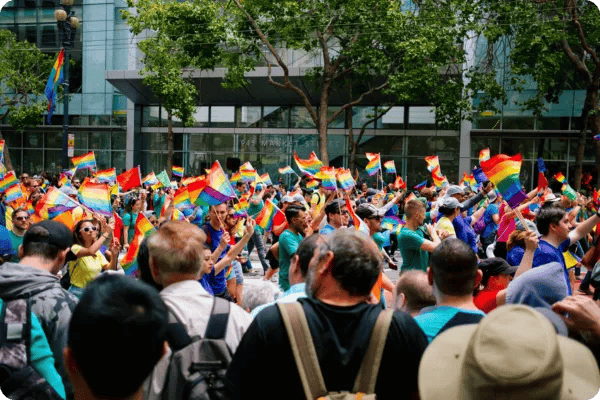 2. New York City, New York
New York City isn't just a vibrant metropolis; it's also a great choice for event planners who want a diverse setting for their next conference or seminar. Renowned for its rich history of LGBTQ+ activism and its thriving queer culture, New York City offers an unmatched atmosphere filled with plenty of activities and sights to see.
"New York is a place where history, food, music, art, culture, and people of all backgrounds come together in a vibrant melting pot," states I Love NY. "New York has thriving LGBTQ communities, rich history, and it remains one of the most welcoming places for LGBTQ visitors in the world."
If you're looking for new ways to support your team's diversity goals, New York City features an array of gay-owned businesses, attractions, event venues, and more. You'll also experience a multitude of LGBTQ+ events, including the legendary NYC Pride March, which commemorates and celebrates NYC's diverse community.
LGBTQ-friendly Venue Highlight: Every year, The Center holds more than 15,000 events, activities, fundraisers, and more hosted by individuals and organizations. This venue is an affordable, centrally located option for meeting planners looking for a variety of room options and furnishings. You'll even receive an event production and reservations team for your support.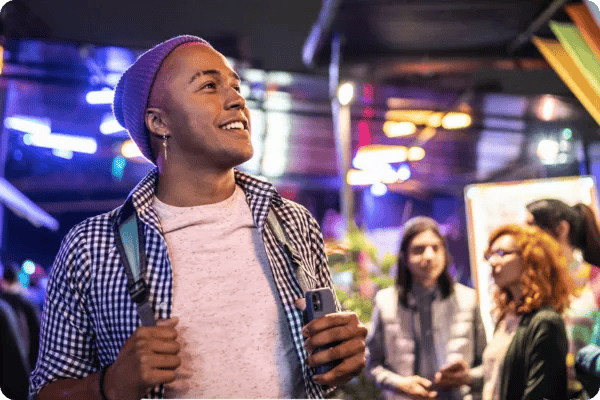 3. New Orleans, Louisiana
Named "Most Welcoming City of 2017" in the Best of Gay Cities, New Orleans offers a vibrant culture with plenty of lively festivities for attendees to enjoy. This captivating city not only celebrates individuality but also exemplifies warm hospitality and open-mindedness in a place where all people feel celebrated and respected.
"For 300 years, New Orleans has been a mecca for everything decadent and alive," states New Orleans.com. "It's a place where music, art, history, food, and people of different ethnicities, nationalities, and sexual orientation mix and mingle."
Explore the famous French Quarter, visit numerous inclusivity-friendly establishments, and enjoy some of the best LGBTQ-friendly tourism in the United States. One highlight is the 'Lavender Line,' the beginning of the LGBTQ+ section of Bourbon Street. New Orleans is also home to Café Lafitte's in Exile, one of the oldest gay bars in the U.S. Event planners can rely on this city's welcoming atmosphere and unique cultural charm to create a memorable experience for attendees.
LGBTQ-friendly Event Highlight: Southern Decadence, the largest LGBTQ+ celebration in the South, is a 6-day event that has evolved into a cornerstone of queer culture in New Orleans. This event is complete with bar crawls, drag queens, colorful parades, and celebrity performances.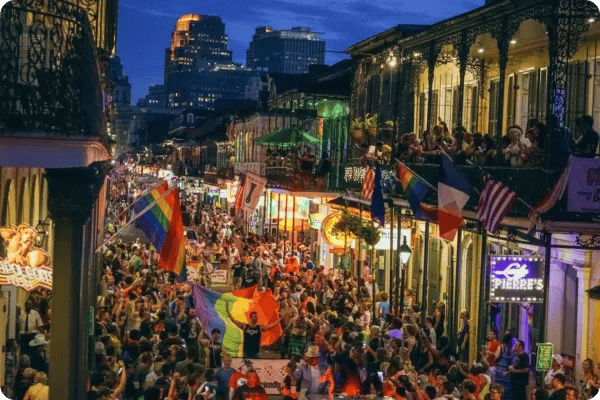 Photo Credit: Visit the USA
4. Madison, Wisconsin
Located in the heart of southern Wisconsin, Madison is a progressive and welcoming city, making it a top choice for event planners looking for a fresh city for hosting events. Wisconsin's capital is known for its vibrant museums, restaurants, outdoor activities, arts scene, and iconic UW campus. Madison is also home to many LGBTQ+-friendly organizations and businesses.
"LGBTQ+ pride is a year-round thing in Madison," states Visit Madison. "...We're a city known for its progressiveness. We recognize there's lots of work to be done, and we're proud that LGBTQ+ owned-and-operated businesses (and LGBTQ+ friendly businesses) continue to flourish here."
Madison supports LGBTQ+ visibility and acceptance throughout the city. The annual OutReach Magic Festival, for instance, showcases local queer performers, vendors, games, and activities for all ages. Madison is also located in Dane County, which announced in June of 2023 that it is now a sanctuary for trans and non-binary people.
LGBTQ-friendly Venue Highlight: The Monona Terrace Community and Convention Center is an iconic venue on the shores of Lake Monona in downtown Madison, Wisconsin. Designed by architect Frank Lloyd Wright and Gold Standard LEED-certified, this 250,000-square-foot venue can accommodate virtually any event, from board meetings to multi-day conferences and conventions.
5. Chicago, Illinois
Chicago, a dynamic and diverse metropolis in Illinois, is a go-to choice for event planners seeking a safe and inclusive environment for meetings, conferences, and events. Here, you'll find a vibrant LGBTQ+ community that celebrates PRIDE year-round. Chicago's long history of progressive activism has transformed it into a unique and welcoming place for all gatherings.
"Chicago has a way of making everyone feel welcome," states Choose Chicago. "Our LGBTQ+ communities, friendly residents, diverse nightlife, and year-long Pride celebrations make us one of the most inclusive cities in the country."
Every year, Chicago proudly hosts the Chicago Pride Parade, a four-mile procession that draws enormous crowds. Attendees can also enjoy the Gerber/Hart Library and Archives in Rogers Park, which contains rotating exhibits that cover everything from local drag icons to queer sports groups. Choose Chicago for a welcoming atmosphere that upholds equality and celebrates people from all backgrounds.
LGBTQ-friendly Event Highlight: The Chicago LGBTQ+ International Film Festival is the second longest-running film festival that showcases the artistic contributions of LGBTQ+ filmmakers. From award-winning films to experimental shorts, this film festival works to educate and counteract stereotypes.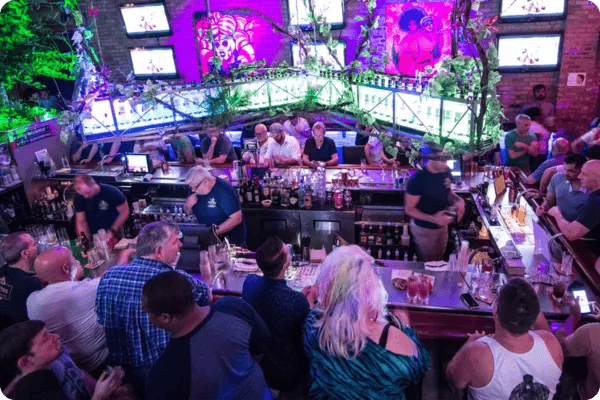 Photo Credit: Choose Chicago
6. Boston, Massachusetts
Known for its progressive values, the city of Boston has demonstrated a long-standing commitment to inclusivity and acceptance. The city embraces its LGBTQ+ community with many inclusive establishments, organizations, and events spread throughout its neighborhoods.
"As the capital city of the first state in the U.S. to legalize same-sex marriage, Boston stands proud, accessible and welcoming," states Meet Boston. "The city boasts one of the largest LGBTQ+ populations on the East Coast. In recent years, one would be hard-pressed not to find a rainbow flag proudly hanging from homes and businesses in just about any neighborhood in the city."
If you are an event planner actively seeking a city with comprehensive laws that protect individuals from discrimination, Massachusetts fits the bill. In Boston, you'll find legal safeguards for LGBTQ+ residents and visitors alike. Choose Boston for your next event to support a welcoming atmosphere and showcase your team's commitment to inclusivity.
LGBTQ-friendly Venue Highlight: The John B. Hynes Veterans Memorial Convention Center features 175,000 square feet of exhibit space, 37 meeting rooms, a 25,000 square-foot ballroom and 4,000 seat auditorium. In addition to welcoming all types of events, the Hynes promotes eco-friendly practices by conserving energy, water, and waste.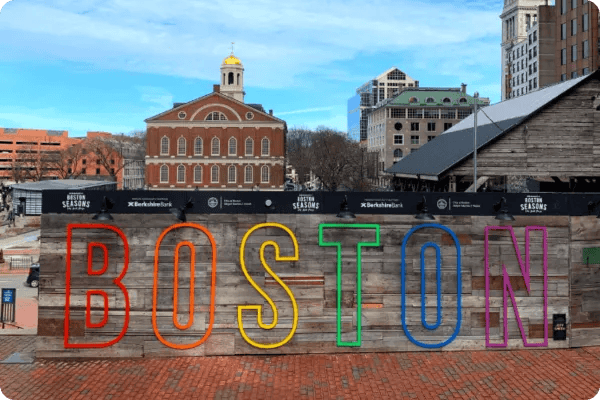 Photo Credit: Architects.org
7. Orlando, Florida
Orlando is home to a thriving LGBTQ+ community (the 3rd largest in the USA) and has become a symbol of resilience and unity in the state of Florida. This city continues to be a prime choice for conference planners and event professionals alike, thanks to its strong commitment to inclusivity and its celebratory atmosphere.
"A highly inclusive destination, Orlando has been a pioneer in LGBTQ+ tourism dating back to the original Gay Days in 1991," states Visit Orlando. "Orlando has even earned a perfect score from the Human Rights Campaign's Municipal Equality Index, which measures the LGBTQ+ inclusiveness of cities' laws, policies, and services."
Orlando features a wide variety of LGBTQ+-owned businesses, clubs, bars, and restaurants. One highlight is the Dr. Phillips Center for the Performing Arts, which features live theater, ballet, opera, comedy, and more downtown. SAK Comedy Lab is another popular attraction with shows that encourage heavy audience participation.
LGBTQ-friendly Event Highlight: Disney's Gay Days is a loosely organized, week-long event at Magic Kingdom where members of the LGBTQ+ community, their friends, and their family dress up in red and celebrate PRIDE. Typically held at the beginning of June, Gay Days has existed for over three decades and aims to spread kindness in the community.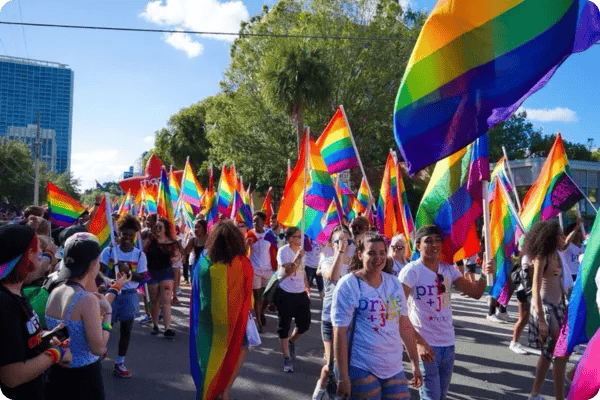 Photo Credit: Queer in the World
8. Portland, Oregon
Known as one of the most trans-friendly cities in the United States, Portland is a great choice for planners who want to host their events in a progressive city. Portland is known for its open-mindedness, commitment to diversity, and celebrations of inclusion.
"Visitors to Portland can experience huge LGBTQ+ Pride parades, drag performances, queer film festivals, dance parties, and more," states Visit Portland. "Portland's queer community includes a Guinness World Record-holding drag queen, gay dance clubs and sports leagues, community organizations, and dozens of LGBTQ+-owned businesses. Portland was also the first major city to elect an openly gay mayor (Sam Adams in 2008)."
If your event planning team is looking to host a more inclusive event in Oregon, check out the Oregon Pride in Business (ORPIB), the chamber of commerce for LGBTQ+-owned businesses in Portland. Here, you can connect with people and resources that strategically support local queer-owned and operated businesses.
LGBTQ-friendly Venue Highlight: The Oregon Convention Center is dedicated to creating a welcoming and inclusive environment for all attendees. This venue has written policies and goals around supporting LGBTQ+ communities, gender equality, racial equality, and inclusive event environments.
9. Denver, Colorado
Known as a hub for acceptance and equality, Denver is a city that supports a thriving LGBTQ+ scene. The city's strong commitment to warm hospitality makes it a top option for event professionals who want attendees to feel safe, respected, and celebrated at their events.
"Denver's laid-back, welcoming nature and vibrant nightlife make it the true queer center of the West," states Denver.org. "Denver attracts members of the LGBTQ+ community from all over the West and the world, resulting in a well-established LGBTQ+ nightlife, welcoming queer neighborhoods, queer-friendly hotels, and numerous annual events that draw huge crowds."
Looking to support diversity and inclusion at your Denver-based event? Consider offering a self-guided audio tour to teach attendees about Denver's LGBTQ+ history. This GPS-led app on Apple iTunes and Google Play guides listeners through LGBTQ+ landmarks right from their smartphones—a unique off-site activity to offer at events.
LGBTQ-friendly Event Highlight: The Denver PrideFest is considered one of the top pride events in the county and features world-class performers, a parade, exhibitors, vendors, and a PRIDE-themed 5K race. The free, two-day festival draws more than 525,000 attendees annually.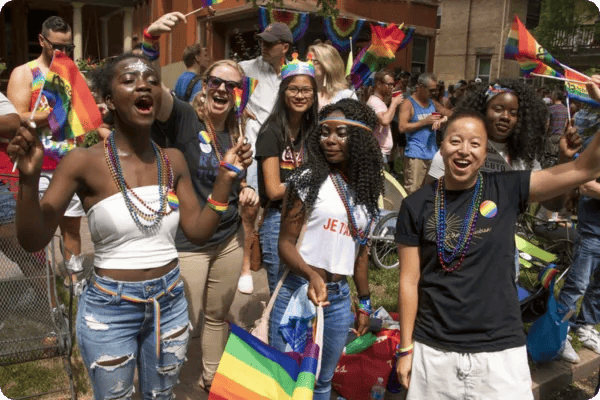 Photo Credit: CPR.org
10. Washington D.C., District of Columbia
Washington, D.C. has been labeled one of the most diverse and welcoming cities in the entire world. Here, you'll encounter diverse neighborhoods and plenty of inclusive businesses and establishments. Additionally, the city is home to numerous LGBTQ+ organizations and advocacy groups that continuously support the community.
"The nation's capital is a dynamic, exciting LGBTQ+ community filled with a never-ending list of things to see and do," says Washington.org. "The District is home to people and preferences from every color of the rainbow. Tour historic LGBTQ+ sites, grab a drink at the best gay and lesbian bars in the city, rock out at Capital Pride and so much more."
As you plan your event, consider incorporating LGBTQ-friendly activities and organizations into your agenda. We suggest starting with researching LGBTQ+-owned businesses in Washington D.C. and hiring them to support your event needs. Your attendees will appreciate your intentional support of these caterers and attractions.
LGBTQ-friendly Venue Highlight:The Walter E. Washington Convention Center is a 2.3 million-square-foot convention center equipped to handle events for 500 to 42,000 attendees. This venue is actively committed to accessibility and accommodations for people of all abilities and backgrounds.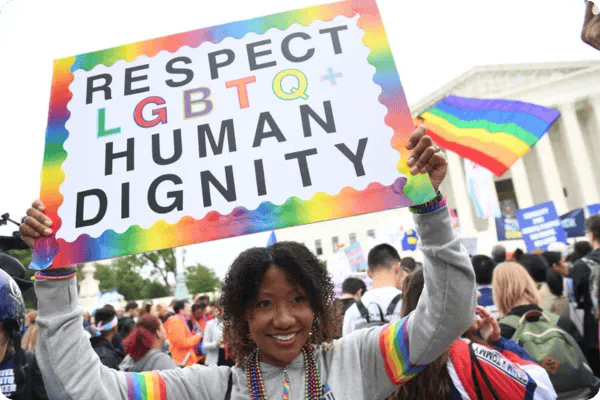 Photo Credit: American Progress
LGBTQ+ Resources for Event Planners
If you're an event planner looking to learn more about being a great ally, browse the following list of LGBTQ+ resources to inspire you. The following websites contain a variety of guides, strategies, tips, training, and more to help you plan your most inclusive event experiences yet.
Are there any resources you have used that we should add to this list? Leave a comment to let us know! We're always looking for more great websites to share with our event planners.