People love events. But what they love even more is knowing that their experience will be safe, secure, and enjoyable. It's up to meeting planners and venue managers to team up together to ensure the health, safety, and security of every guest, no matter the type of event — and we're here to help.
Safe in-person meetings have become a top priority, especially as public health and safety concerns continue to rise. That's where a solid event safety and security plan can come into play. Use the tips and tricks within this article to give your attendees and stakeholders peace of mind as in-person and hybrid events pick up speed.
Table of Contents
Event Safety vs. Security: What is the Difference?
When it comes to events, most meeting planners will agree that safety and security go hand-in-hand. But are "safety" and "security" really the same? While both refer to the protection of people, property, and assets against harm, it can be helpful to break down the difference between the two terms:
Event Safety:

The process of ensuring that people are fully protected against bodily harm, health risks, and hazard-related threats that, left unattended, could cause harm, illness, loss, or death.

Examples of event safety include wearing masks to prevent the spread of illness, sanitizing high-touch areas, eliminating trip and fall hazards, following food safety protocols, and more.

Event Security:

The process of protecting people, places, and things from external threats and criminal activities. "Security" often revolves around mitigating activity that is geared towards inflicting harm to a person, group of people, building, or assets.

Examples of event security include offering RFID wristbands, wearing social distancing wristbands, employing security staff members, using cyber security measures to protect data, and more.
In review, event safety focuses on helping people feel safe and protected from factors that may cause bodily harm, while event security focuses on protecting people from external factors (such as an active threat, suspicious package, or unruly individual) that may cause trouble or an unwelcome situation at your event.
How Meeting Planners Play a Role in Safety and Security
As a planner, you are responsible for ensuring that processes are in place to ensure people are safe, operations are secure, and environments are kept clean and sanitary. Before you can create a well-rounded safety and security strategy, however, it is important to understand the role you play in running a safe, well-protected event.
A planner's safety and security duties include:
Putting health and safety arrangements in place to control risks
Reviewing arrangements, as well as risk assessments, with the venue and suppliers
Providing teams, vendors, and attendees with health- and safety-related information
Evaluating the competence of event staff to properly uphold safety and security
Upholding health and safety compliance from vendors, exhibitors, attendees, and staff
Between overseeing health and safety regulations, providing a COVID-safe meeting space, and ensuring proper security check-ins and clearances are put in place at your event, you have a lot to handle when it comes to mitigating risk and helping people have fun at your event.
Luckily, there are ways to make the process easier. Keep reading to find out how.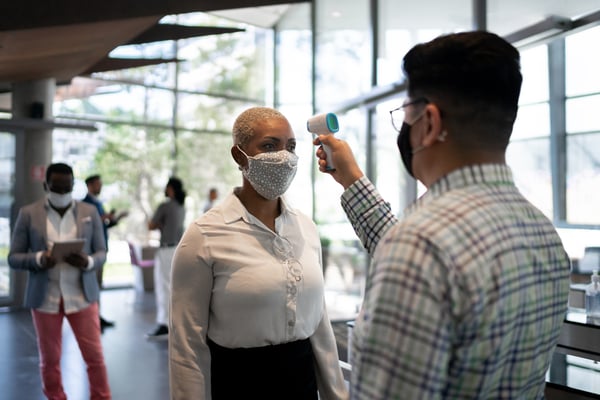 Feeling overwhelmed? You're not alone.
Event safety and security is certainly an expansive topic. That's why it's important to focus on achieving small steps along the way that complete the greater picture:
"My recommendation is don't try to do it all. Don't try to worry about getting all the information. Don't think you have to do it all by yourself. There are all kinds of ways to [manage event safety and security]."

- Alan Kleinfeld, Emergency Planning and Conference Safety Expert with Arrive Conference Solutions.
Find more insight from Kleinfeld on why "going back to basics" is the best strategy when it comes to safety and security preparation in this short video by Meeting Professionals International:


Top Meeting Safety and Security Tips for Planners
What are the best practices to ensure safety and security at your event? While there are countless strategies you can use to get ahead of the game, we narrowed down five important tactics we believe every planner can use and benefit from when looking to host safer, more secure events:
1. Conduct an event risk assessment.
Keeping everyone safe at your seminar, expo, conference or meeting is a must (and perhaps one of the greatest responsibilities any event organizer has). An event risk assessment involves (1) identifying potential hazards that could occur at your event, (2) calculating the possibility of each risk, and (3) analyzing what could happen if a hazard occurs.
Some risks you'll face may be of higher priority and importance than others. We suggest using the event risk matrix to determine the priority level of each risk according to "impact" and "probability:"
Impact: How seriously could the risk affect your attendees, venue, and assets?
Probability: How likely is it that the risk will turn into a hazardous situation?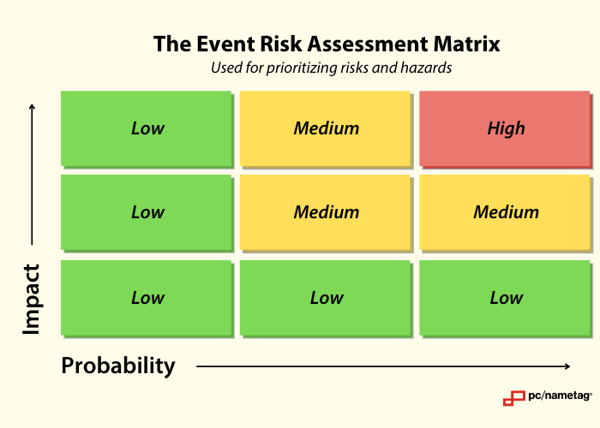 Click here to get your copy of the Event Risk Assessment Matrix.

As you'll see, a risk with low impact and low probability will likely be of lower priority to your team, while a risk with a high impact and high probability is a risk your team should prepare for or mitigate as soon as possible. The benefit of using this matrix is to decide whether your event is a "go" or "no-go" depending on safety, security, and budgetary needs.
2. Design an event risk management plan.
Once risks and hazards have been fully identified, you're ready to move on to the next step: developing a risk management plan for your event. There are endless strategies you can use to reduce, eliminate and/or mitigate risk at your meeting. Incorporate the following methods in your event's risk management plan to put you, your team, and stakeholders at ease:
Elimination: Remove the hazard entirely by implementing a new process or altering a current one.
Substitution: Replace dangerous situations with alternatives that are less dangerous.
Design Alteration: Mitigate or contain the hazard through environmental design improvements.
Administration: Work with your team to create safe operating procedures that benefit everyone.
Training: Use effective methodologies and monitoring to help your team identify risks quickly.
Personal Protective Equipment (PPE): Use masks, hand sanitizer, health and safety signage, barriers, thermal temperature scanners, and other PPE to keep everyone safe.
Don't underestimate the power of multiple minds when creating your event risk management plan.

Hosting discussions with your team can help you discover innovative and money-saving solutions

to tackle any issue you may face! At your next event safety plan meeting, cover the following questions.
Questions to consider in your event's risk management plan:
Does our team have an adequate budget to support security needs at the event?
Have we developed a checklist that outlines safety-related tasks and logistical needs?
Have we identified safety- and security-related equipment and emergency items we will need?
Have we conducted a needs assessment for how many event staff we'll need to uphold safety?
Have we coordinated with sanitation services to ensure proper cleanliness at the event?
Do we have protocols for handling threats (I.e., weapons, explosives, active shooter, etc.)?
Do we have an adequate evacuation plan in case of emergency or severe weather?
Do we have cyber security measures in place to protect computer functions and data?
Have we identified a public information specialist who will coordinate all media information?
Have we surveyed the venue to identify hazards that could contribute to a potential threat?
Is the venue easily accessible to police, fire, emergency rescue, and ambulance services?
Does the venue allow for crowd control by means of security measures and physical barriers?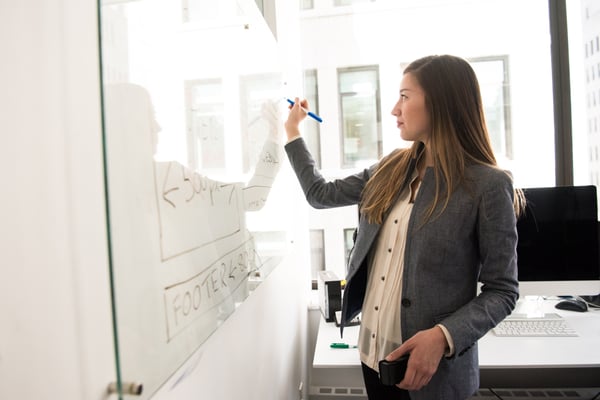 3. Refine your event crisis management plan.
Crisis management is one of the hardest challenges planners face when it comes to safety planning and risk mitigation in the events world. The goal of having a crisis management plan is simple: to determine the best way to prevent and mitigate unanticipated situations to best protect people, property, reputation, and assets.
You'll want your crisis management plan to be systematic and well-integrated into your team's overall safety and security plan. This way, you'll be well prepared to handle sudden situations with a calm demeanor. Use the following tips to start creating your crisis management plan today:
Create a list of emergency key contacts for distribution. This will help your team quickly find and identify important information, especially when time is of the essence.
Identify team members to join a crisis planning committee. This committee will be responsible for helping take action in case of an emergency.
Create a crisis communications plan. Who will serve as your organization's media spokesperson? How will information be shared with stakeholders in the event of an emergency?
Establish systems and best practices to help your team detect early warning signs of a potential crisis. What "red flags" should your team be looking for before, during, and after your event?
Identify crisis response procedures for everyone at your event. What actions should be taken in an emergency? Make sure to devise a "plan B" just in case.
Do emergency simulations to test effectiveness. What worked? What didn't? How could processes be made smoother and more efficient? Make changes as necessary, and test frequently.
Remember, although you may be calm, large groups may panic when faced with an emergency. Use your crisis management plan to help keep unanticipated situations under your control or consult with a professional for help.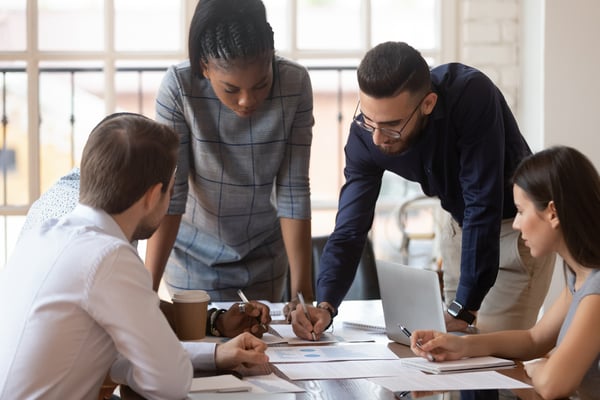 4. Communicate your safety plans with your venue.
Now more than ever, attendees want to know that the events they are attending have been planned with safety and security as a top priority. However, even the most robust event safety and security plan is rendered useless if the venue itself is not up to par.
With many new requirements in place for hosting events (such as social distancing measures, temperature scans, limited capacity, and secure entrances), make it a priority to communicate your safety plan to your venue to make sure you're both on the same page.


Did you know? 💡
It's a smart idea to work with venues that hold the Global Biorisk Advisory Council® (GBAC) STAR™ accreditation. This program is viewed as the gold standard for cleaning and outbreak prevention, response, and recovery in the events industry. The program provides venues with expert-led training and assesses their readiness for bio-risk situations like COVID-19 and other illnesses.
"We chose to pursue the GBAC STAR™ accreditation to find innovative ways to give guests and employees peace of mind, while also proving that we have the best cleaning and sanitation protocols in place. This accreditation shows we are serious about providing a safe environment that guests can feel confident using."

- Meg Statz, CMP, Events Services Manager at the Monona Terrace Community and Convention Center
Ask to schedule a walk-through and identify ways to increase security and eliminate touchpoints. Discuss ways to incorporate health and safety products, like instructional signage, event masks, hand sanitizer, attendee health kits, and sanitizing stations.


5. Share safety and security protocols with exhibitors and attendees.
One of the easiest ways to build trust and credibility with your attendees and exhibitors is to keep them in the loop, not only on general event information but also on your meeting's safety and security protocols. This way, everyone will know what to expect when they arrive (such as health screenings, security clearances, sanitization protocols, physical distance requirements, etc.) Find additional top tips for safety information sharing below:
Consider sending a code of conduct statement to event participants.

This accomplishes two goals: to tell attendees what they can expect from the event host and the venue regarding health and safety measures and to convey what is expected of them while attending the conference. Be clear about safety and security expectations before, during, and after the event.




Design a safety plan for each event.




Advance planning is everything when it comes to attendee safety. Consider the attendees' journey from the minute they come through the door. How should they move throughout the building to improve safety and security? Safe spaces for events are important to attendees, and advance planning is a must.




Post safety and security information in easy-to-find locations.




Promotional emails, e-newsletters, text messages, social media pages, your event's website

or app

: These are all places that can feature safety- and security-related information for your meeting. Use these platforms to share what protocols your team is taking to help attendees relax, have fun and make connections.




Use wearable technology to your advantage.

Radiofrequency identification (RFID) is a low-cost security option that event planning teams can use to gather attendee admission information and detect security access permissions. You can find

full-color RFID wristbands for your event here

.
Free Download: Get Your Copy of the Event Safety Plan Checklist
Every planner knows that taking proper precautions is a must when creating safe environments for event attendees to enjoy. To help you plan down to the finest detail, we've created The Meeting Planner's Event Safety Plan Checklist – a resource designed to help you collect and manage the following information:
Emergency contacts
Vendor and supplier information
Venue safety planning tasks
Risk management tasks
Health and safety tasks
Communication plan tasks
Event safety plan circulation
...and more!
Download your copy today, then shop pc/nametag's health and safety supplies including brandable face masks, social distancing badge ribbons, custom imprinted hand sanitizer, attendee wellness kits, safety signage, and more!