Today, radio-frequency identification (RFID) technology is everywhere. It's found in key fobs, your pet's microchip, your tap-and-go credit card, and your car's electronic toll device. It's even found in places you'd least expect.
Take Walt Disney World's MagicBand+, for example. This wearable band uses RFID to eliminate paper tickets, enable park admission, unlock "magic" interactions throughout the resort, and even let guests "tap" to make cashless payments. Cool, right?
Like at Walt Disney World, RFID technology is quickly becoming a go-to way to improve the attendee experience. Event professionals are already using the same capabilities at music festivals, conferences, trade shows, expos, seminars, and more. The result? Real-time, invaluable data reports, and insights that improve future meetings.
So, what's all the buzz about RFID among event planners? To find out, we interviewed event technology expert Leslie Baltzley of American Tradeshow Services to learn how RFID can streamline events, gather real-time data, impress sponsors, and boost ROI.
Meet the Trade Show Expert
Leslie Baltzley serves as the Senior National Sales Manager at American Tradeshow Services (ATS), an organization that provides technology solutions for conferences and

trade shows

. With nearly 20 years of industry experience, Leslie brings a wealth of knowledge, passion, and professionalism to every client she works with. She says her favorite part of her role is having the chance to connect with people and discover their unique stories.
pc/nametag: "Leslie, what is RFID technology?"
Leslie Baltzley: "RFID is an acronym that stands for radio-frequency identification. While there are countless applications for RFID in the events industry, one of the most common is tracking attendee movement throughout an event.
This information is especially helpful for recording dwell times (I.e., the amount of time each attendee spends within a room or area), room occupancy, exhibit hall traffic, and general knowledge of attendee movement throughout an event. RFID software can even be used for session tracking, which can be useful for tracking continuing education credit."
PCN: "What are RFID event badges and name tags?"
Baltzley: "In most cases, an RFID tag is pre-adhered or embedded in the event badge prior to arriving at the event. During the badge printing process, event attendee information gets associated with the RFID tag on their individual badges. This can be done with real-time RFID encoding printers or a multi-step encoding process."
PCN: "Is event RFID tracking a 'touchless' technology?"
Baltzley: "Yes and no. In the event space, the most used form of RFID is long-range RFID tracking, where the attendee does not have to present their badge. They simply walk through an RFID gate or portal that automatically checks them into a session or area.
The other RFID tech that is used is near-field communication (NFC) RFID technology. This option requires attendees to present or 'tap' their badges to be checked into a session or area within the event. The difference is that NFC requires action by the user, while long-range RFID tracking does not."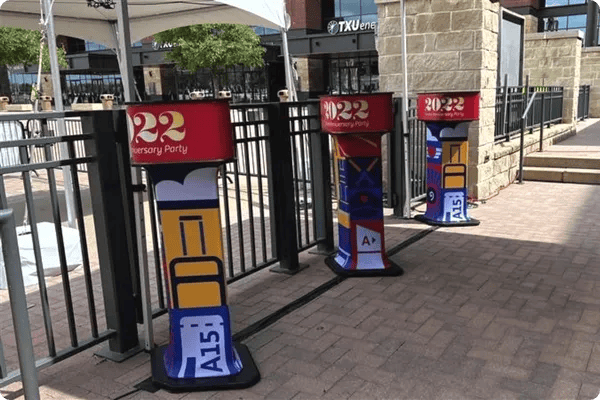 Three RFID portals from American Tradeshow Services, wrapped with event branding.
How RFID Technology Benefits Events
PCN: "How is RFID technology used in event management?"
Baltzley: "RFID allows for passive tracking of attendee movement, which provides a major boost in real-time and post-event metrics for the event organizer. For instance, data can reveal which sessions were most heavily attended, or which times on the floor were most popular.
Your team can use data like this to improve future events based on real-life data analytics. Even the slightest changes can make a big impact on attendee satisfaction. Data tracking empowers your team to provide more experiences they crave, and fewer experiences they do not find highly useful."
PCN: "What data points can event planners track with RFID technology?"
Baltzley: "In our experience, most event teams utilize RFID technology to track attendance to general sessions, breakout sessions, exhibit halls, and ancillary events (like parties, off-site education, and more).
The best part is that you can track as little or as much as you'd like. For instance, we have clients who track all the aforementioned areas, but we also have some who use RFID to just simply track the number of attendees inside their event at a given time.
Regarding the granular data, we can provide reports representing all demographic fields collected, as well as attendee movement in the areas tracked. The opportunities are endless."
PCN: "How can RFID technology benefit event planners?"
Baltzley: "There are countless advantages of using RFID in an event setting. The best part is that RFID technology doesn't just benefit event professionals with great data; it also benefits attendees by providing a more seamless experience. Here are the top five benefits of using RFID at events:
RFID technology lets event organizers gather real-time event data.

For instance, event managers can gather immediate insight into foot traffic and event flow without altering attendee movement. You'll also learn which areas of your venue are most heavily visited, as well as which sessions were most popular.

RFID badges eliminate queuing and bottlenecking.

No attendee enjoys waiting around in long lines. With passive RFID tracking, there is zero disturbance to the attendee experience. Simply print your RFID badges on-site and get attendees in the door in an instant—no physical scanners or additional personnel are needed.

RFID helps planners improve event programming.

RFID software empowers teams to improve agendas year-over-year by providing valuable metrics from sessions, monitoring room capacities, observing attendee profiles, and tracking dwell times. Attendees can also earn continuing education credits for showing up to a session.

RFID creates a safer, more secure conference environment.

Using RFID for room occupancy is a surefire way to get in the good graces of the local fire marshal. Give emergency teams accurate, real-time reports that display the number of attendees in each area. RFID tracking allows event managers to watch these numbers as well.

RFID technology helps measure the impact of event marketing campaigns.

Event planners love creating incredible opportunities for attendees to gather, network, and gain knowledge in their respective industries. Use RFID analytics to discover the success (or identify areas of improvement) of each opportunity you create.
Most event professionals are eager to create more memorable event experiences. RFID is just one of many technology tools you can use to identify areas of growth, impress stakeholders, and maximize attendees' time at your events."
PCN: "Can RFID data tracking benefit exhibitors too?"
Baltzley: "Most exhibitors will agree that the location of their trade show booths matters. Every exhibitor wants great foot traffic to their booths. Use this to your advantage with RFID technology. Data tracking will help you observe foot traffic patterns, not only for your team but also for the benefit of exhibitors.
For instance, which area of the trade show floor had the heaviest traffic? Advertise this information to exhibitors to help them boost their own return on investment."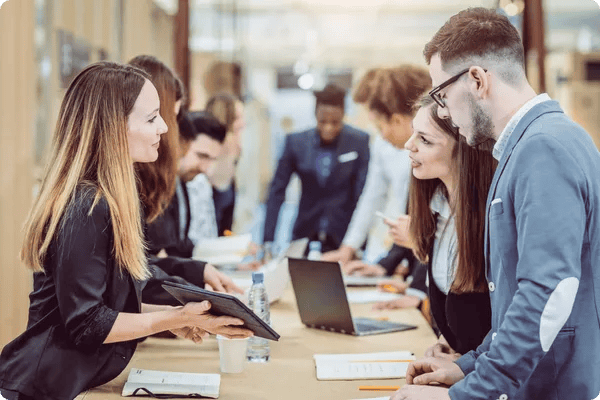 PCN: "Can event planners rent RFID tracking devices for events?"
Baltzey: "Absolutely. Most event organizers partner with a provider like American Tradeshow Services. We request a few items, including a detailed layout of the venue along with the rooms and areas in which they plan to track attendee data via our RFID tracking systems.
We then schedule a call to understand the event planner's goals and explain the metrics they'll receive during and post-event. Our team provides an estimate of how many RFID readers you'll need to accomplish your goals. Lastly, our team will come on-site to deploy all the readers. We'll ensure all reports are feeding through to your team as promised."
PCN: "Can badge RFID improve event safety and security?"
Baltzley: "Definitely. The RFID tags embedded in a badge only contain a numerical number so if a badge is lost or stolen, there is no personal information that anyone can steal. RFID can also technically be used to improve event safety, especially with abiding by room capacity limits. Event professionals can also use RFID for contact tracing and knowing who is in an area at any given time."
PCN: "How much does RFID technology for events cost?"
Baltzley: "The cost of RFID technology ranges quite a bit. We have some clients that add this service for under $10,000. At ATS, we create custom packages based on each event's individual goals. Most groups that inquire about RFID have an idea of the cost and a budget in mind, but we are always willing to help create a budget. Rarely are we unable to meet the goal of the event and not stay within budget. We are happy to help."
PCN: "Is there any way to offset the cost of event RFID?"
Baltzley: "As with any event, never underestimate the power of sponsorship opportunities. One of the smartest ways to make RFID more affordable is to 'blanket' your portals with fabric that features sponsor branding. While attendees do not typically notice our portals, they will notice eye-catching wraps that advertise an organization's logo or branding. Consider including this as part of a sponsorship package, especially if you are hosting a large event with dozens of scanners."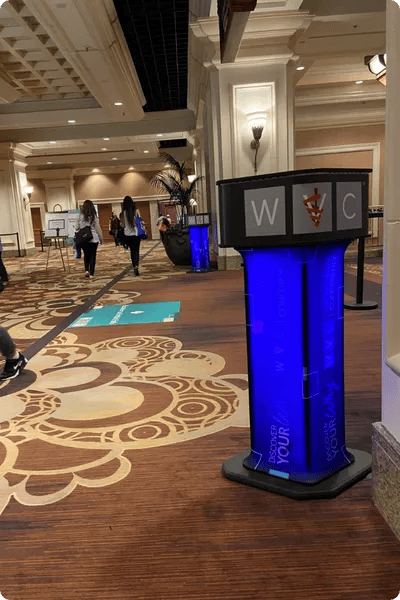 An example of a sponsor-wrapped RFID portal from American Tradeshow Services.
PCN: "Is RFID technology worth an event planner's investment?"
Baltzley: "I believe RFID can be an invaluable tool, especially if you are looking to track attendee movement throughout an event and gather robust metrics in real-time. Data is king in the event world; the more data you can collect and apply usefully to your event, the more it will transform into an unforgettable experience.
Also, utilizing RFID data can potentially help your team cut costs in certain areas that aren't performing well. Stakeholders will appreciate that you are focusing your budget on improving aspects of your event that reflected attendee engagement."
Discover RFID Event Solutions by American Tradeshow Services
If you're in need of RFID event solutions, American Tradeshow Services is here to help. ATS provides accurate RFID attendance tracking for events of all sizes with contactless or passive RFID technology that adds speed, accuracy, efficiency, and security to any gathering.

Contact American Tradeshow Services today to learn about the many event services they provide, including the ExpoMetrics dashboard for data tracking.
RFID Wristbands, Name Tags, and Supplies from pc/nametag
Using RFID at events is easier than ever, especially when RFID products and event supplies are available with a click of a button. Explore the following products from pc/nametag to help you get started:
These full-color imprinted RFID bracelets are compatible with RFID event software that provides attendee tracking, event access security, cashless payments, social media integration, and more.

RFID Badges with Direct Thermal Paper

Simplify attendee tracking, lead capture, and lead retrieval at your next event by printing RFID name tags on direct thermal paper stock. Perfect for on-site badge printing.

Make on-site name badge printing a breeze! Thermal printers do not require any ribbon, ink, or toner. Pair them with compatible direct thermal paper and you're set to go.
CHOOSE YOUR NEXT READ: