Event technology is evolving faster than ever before—and for good reason. Today, 90% of event professionals agree that technology can have a positive impact on the success of their events. However, with so many new technologies being developed and released, it can be difficult to know which ones are worth your investment.
Read on to discover the event technology trends and how they can help you to increase efficiency, improve engagement, and maximize your event's return on investment (ROI).
Table of Contents
What is event technology?
Event technology involves a wide range of digital tools, software platforms, and devices used to streamline and enhance the planning, management, and execution of events.
The goal of using event technology is to elevate the overall attendee experience for in-person, hybrid, and virtual events alike. For example, event organizers can use platforms to expedite check-in procedures, boost attendee satisfaction rates, and foster meaningful connections among participants.
How Event Planning Technology is Used:
Use registration software and event check-in apps to simplify attendee sign-up processes.
Target the right audience and track campaign effectiveness with event marketing software.

Streamline event planning, logistics, and real-time analytics with event management software.



Increase participant interaction and participation with attendee engagement tools.
Broadcast live content and provide on-demand access within an event live streaming platform.

Create engaging virtual exhibition experiences with virtual reality and augmented reality.

Gather attendee feedback and insights with pre- and post-event surveys.

Improve accessibility and inclusivity with live captioning, assistive listening systems, etc.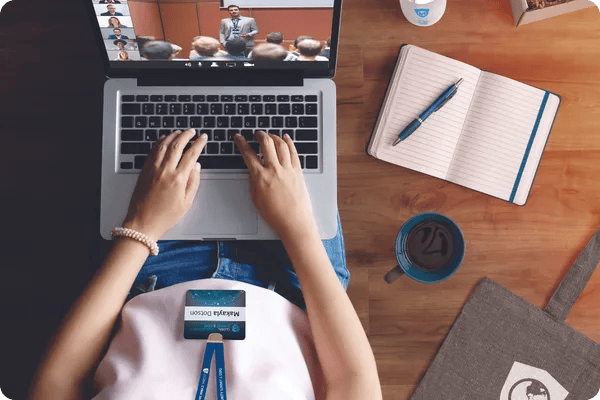 14 Event Technology Examples
Because event technology services cater to various aspects of an event, meeting planners may use a combination of tools to cover many functionalities and applications. An event planner's goal is to use event technology to optimize the entire event lifecycle, from inception to conclusion.
Examples of event technology include the following:
Event Registration Software: Specialized software platforms and event check-in apps that simplify attendee registration, ticketing processes, and on-site event badge printing.

Event Marketing Technology: Comprehensive digital marketing tools that facilitate event promotion, audience targeting, and communication strategies to boost event visibility.

Social Media Automation Tools: Applications that harness the power of social media platforms for event promotion, audience engagement, and real-time interaction with attendees.

Audience Engagement Tools: Innovative solutions designed to enhance attendee engagement through gamification, interactive sessions, and audience polling.

Virtual Event Platforms: Virtual event technology that enables seamless hosting of online events, exhibitions, and webinars, complete with interactive features and networking opportunities.

Streaming Services: Technologies that facilitate event live streaming and on-demand access to content for remote participants, expanding event reach and accessibility.

AI Chatbots: Artificial intelligence-driven messaging tools that provide instant responses to attendee inquiries, assist with event navigation, and offer personalized recommendations.
Website Builders

: User-friendly platforms for creating event websites and landing pages that showcase event details, schedules, and registration options.

Mobile Apps

: Customized event applications that offer attendees access to event information, interactive features, and networking capabilities on their mobile devices.

Floor Plan Diagramming Software

: Tools that assist in the design and layout of event spaces, optimizing spatial arrangements for exhibitors, attendees, and logistical efficiency.

Electronic Safety Equipment

: Advanced safety and security technologies, such as access control systems and surveillance, that ensure the physical safety and well-being of event participants.

Event Management Software

: Comprehensive software suites for event planners, encompassing tasks such as budget management, vendor coordination, and scheduling.

Wearable Technology

: Innovative wearables like smart badges or

RFID wristbands

that enhance attendee experiences by enabling personalized content delivery and networking.

RFID Event Software

:

Radio-frequency identification technology for events

used to assist with streamlined check-in processes, session tracking, and engagement analytics.
This list of event technology tools can be used to create an elevated experience for attendees, virtual audiences, and planners alike. By leveraging tools like the ones on our list, event organizers can expedite check-in procedures, boost attendee satisfaction rates, and foster meaningful connections among participants.
Tag Tip: When assessing event technology services and solutions to incorporate at your event, ask yourself what your main objectives and event KPIs are. How can you use technology to expedite the process and improve your chances of success?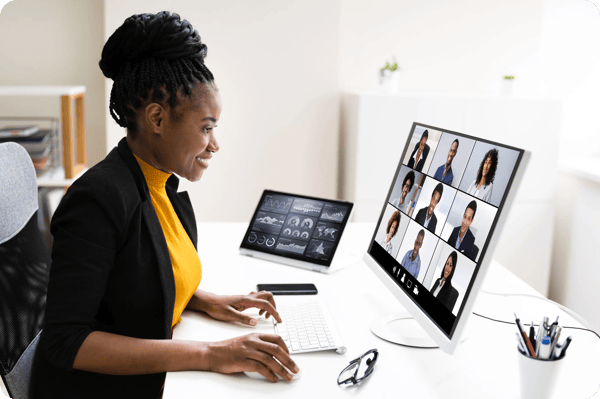 How Technology Improves Event Engagement
In the past, event planning was a very time-intensive, manual process. Thankfully, we now have access to data-driven solutions that make event marketing, planning, and data analytics faster, easier, and more effective than ever.
These tools don't just affect the ease of your job; they also affect the satisfaction of your attendees. They expect personalized experiences that operate smoothly with few tech hiccups.
Congested registration lines, clunky mobile apps, lack of access to online information, and choppy streaming services can leave attendees feeling frustrated. An unsatisfactory experience could even put your future events at risk for lower participation.
Mistakes can and will happen, but it's never a bad idea to brainstorm ways to leverage technology to smooth out the "wrinkles" you've experienced in the past while planning events. Our next section will cover some of the innovative ways you can use technology to make your next event more tech-driven than ever.
8 Event Planning Technology Tools to Consider
Whether you're hosting a webinar or planning a full-scale conference, there are a variety of ways to leverage new technology in events and create an experience to remember. Read on to discover some of our favorite event technology solutions that are on the market today.
1. Use email marketing tools to personalize event messaging.
Event marketers know that marketing strategies are all about bringing value to attendees and aligning their needs with useful products, services, and information. It's up to you to determine creative new ways to reach attendees, gain their attention, and tailor your event to their specific interests.
Email marketing tools (like MailChimp, HubSpot, and Constant Contact) are perfect for personalizing communication with your attendees. Start by acknowledging your audience's pain points and appealing to the topics they're interested in within your event marketing emails. This way, you'll be more likely to catch their eye and convince them to attend your event.
"One of the easiest ways to create excitement around the event experience is to use personalized emails, texts, and event app to increase event registrations. You can also customize your social media marketing tactics to increase online engagement."

Brooke Ihlefeld, Digital Marketing Manager at pc/nametag
2. Use event registration software to simplify sign-ups.
The registration process is everything. At this stage, people are still deciding whether your event is worth their time and attendance. They're also exploring your event website and social media pages to see what your event is all about. What does your event aim to accomplish? What will attendees get out of the experience?
Make event registration simple by using software like Cvent, or creating a simple form for attendees to fill out. A complicated registration process can turn potential attendees away. Make sure to remove any unnecessarily complicated processes during registration. Your attendees will enjoy having the option to book digital tickets in advance (and you'll eliminate the need for physical tickets).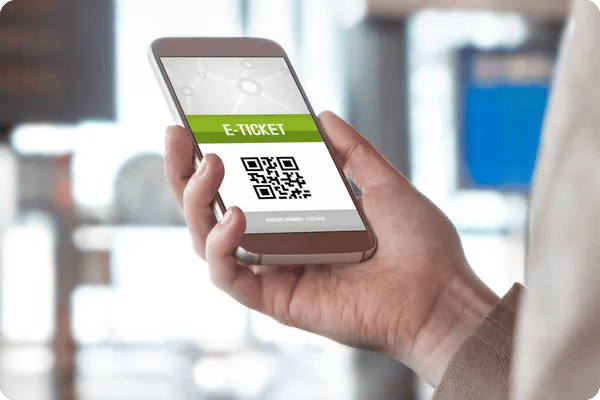 3. Leverage event diagramming software to design your floor plan.
Event diagramming software makes event space design simple by allowing your team to visualize where tradeshow booths and exhibits will be, where furniture and registration tables will be set up, where buffet lines and banquet tables should be placed for optimal foot traffic, and more.
Event diagramming software gives your team a complete, detailed picture of how your event will approach seating, floor plans, foot traffic, lighting, cabling, furniture, décor, and other room elements. Many planners opt for drag-and-drop diagramming, but you can also play around with 3D walk-through software and interactive seating software to get a better idea of how your space design plan will work.
Tip: Ensure your conference set-up is designed with diversity and inclusion in mind. For instance, make sure conference room aisles are wide enough to accommodate attendees who use mobility aids. Reserve seating at the front of the room for attendees with a need to sit closer to the stage.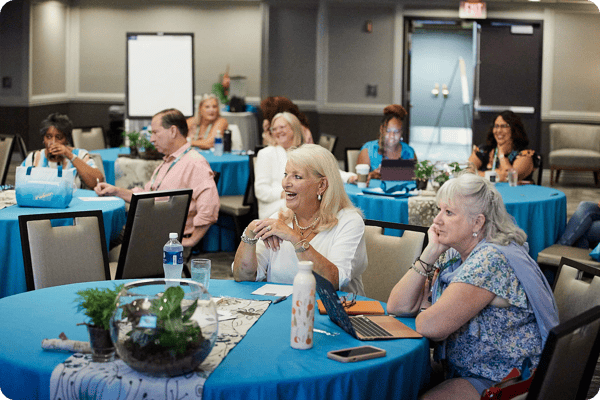 4. Use facial recognition software to strengthen safety and security.
Facial recognition technology is one of the newer technologies coming to the industry, especially for improved event security and faster event registration. After attendees consent to facial recognition, they can scan their faces to gain access to the event. The machine now recognizes their features, making entering and exiting the venue faster.
Many attendees are already familiar with AI technology, especially those who use facial recognition systems to gain access to their smartphones. AI systems can streamline key attendee touchpoints, collect important information to improve future events, speed up check-in, and improve security.
Photo Credit: CVENT
5. Create a mobile event app to reduce waste and engage attendees.
Mobile event apps are revolutionizing the attendee experience, and there are a variety of ways they can be used to increase efficiency and make your event experience more enjoyable for attendees.
First, event apps make it easier to distribute information and conduct an eco-friendly event. By providing digital access to announcements, session information, speaker bios, exhibitor information, and resources, you'll cut down on paper and reduce your event's environmental impact.
Mobile apps are also great for amplifying attendee networking and keeping attendees engaged with your event. Not only can attendees receive personalized alerts and push notifications, but they can also create their own session schedules, participate in live questionnaires, provide real-time feedback to presenters and planners and connect with other attendees with a click of a button.
"Amplify your event's social reach by giving attendees the option to connect their social media profiles to your event app. This provides an easy way to share their experience with others and form connections with people they meet at your event. Don't forget to advertise your event's hashtag for them to use."

Nicole Jacobson, Director of Marketing, Web, and Digital Operations at pc/nametag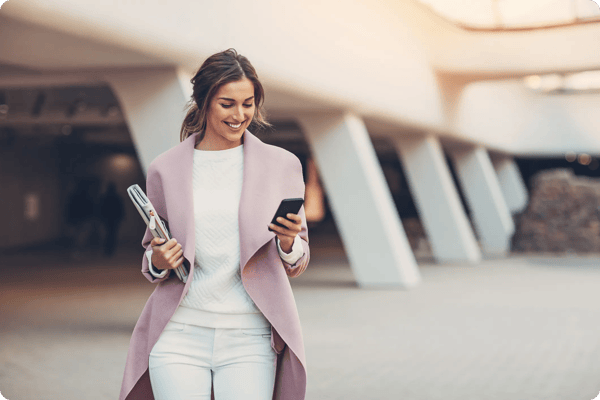 6. Use wearable technology for attendee data tracking.
Wearable technology is any device that brings tech-based functionality to something people wear at an event. Smart badges, wristbands, smartwatches, earwear, eyewear, and clothing can all be classified as wearable technology when designed with a tech-driven purpose.
While many wearables are still in the works, others are already available for integration with your event strategy. RFID wristbands, for instance, use chips to scan attendees into sessions quickly and efficiently, which can increase attendee engagement and satisfaction. Other wearables can be used to control security access, monitor attendee behaviors, and draw data for event planners to use.
Did you know? Wearables can reveal a lot of information about foot traffic at your event. For example, use a wearable to reveal patterns of how attendees tend to navigate your tradeshow floor. Which booths get the most traffic? Which ones don't? Use this information to help exhibitors drive more foot traffic in the future.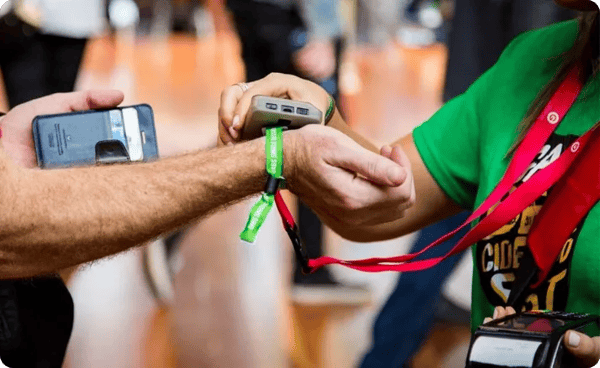 Photo Credit: Event Architecture
7. Provide RFID wristbands or badges for data tracking.
Radiofrequency identification (RFID) is a low-cost technology option that any event planning team can use to gather attendee admission information, detect security access permissions, and even streamline access to your event. "Beacon technology" is a similar concept and allows teams to track attendee preferences and record attendee behaviors to create a more personalized experience.
RFID wristbands and name tags with RFID direct thermal inserts are two cost-effective options your team can use to gather useful attendee behavioral data. Review this information to validate the success of your event and highlight any areas that could use future improvement. For example, planners can use RFID technology as an analytics tool to track session popularity or the length of attendee visits at each booth.
Did you know that

RFID wristbands

are compatible with RFID event software?

This can help you to provid

e attendee tracking,

event access security, cashless payments, social media integration, and much more.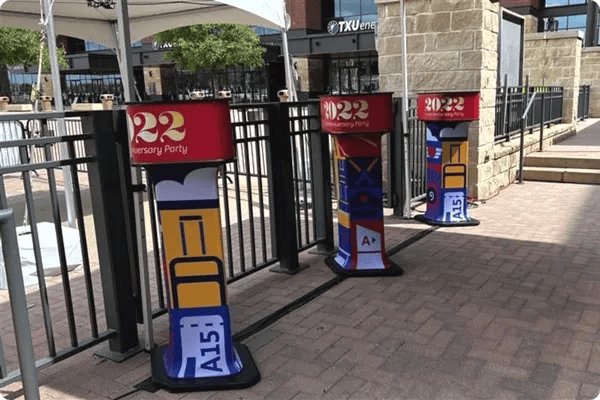 8. Use gamification to improve attendee engagement.
"Gamified" events are in! Gamification is all about using gameplay to create a fun, immersive experience for attendees while also generating leads and booth visits for exhibitors. Digital quizzes, polls, scavenger hunts, and trivia games are just a few examples of interactive games you can use to create excitement and audience engagement at your event.
Not only will attendees enjoy playing these games, but you'll also be gathering important information at the same time. A "spin-to-win" game, for instance, is a great way to give attendees the opportunity to win a prize. In turn, they'll give you their information so you can start building a relationship with them down the road. Incorporate games into your event theme to create a cohesive experience.
Tip: Want to get attendees to download your branded mobile event apps? Let attendees know there are interactive games within the app they can play with other attendees. Kahoot is a great website to use for live trivia your attendees are sure to love.
Event Registration Technology for Meeting Planners
As an event professional, it's up to you and your team to leverage technology solutions to streamline processes, improve security, and support data capture. With so many different technology options on the market today, you're bound to find a combination of tech applications that work for you!
Looking for cost-effective ways to incorporate technology into the attendee experience? Set yourself up for success with the following pc/nametag products: