Our to-do lists get longer, work becomes stressful, relationships get rocky...and we wish things were different.
Sometimes, life can feel heavy, especially when we fixate on our shortcomings, or focus on how things could have been if we made a better choice. In situations like this, one of the best things we can do is make a warm drink, get comfy and crack open an impactful book to help ourselves feel better.
This week, we compiled a list of our favorite life-changing books to read in the upcoming year. We included something for everyone, from self-reflection books to self-discovery books, empowering books, and powerful books that make you think. Here's to a year of keeping a healthy mindset and practicing self-care when we need it most!
Empowering Books to Read in 2023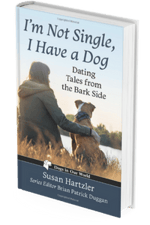 I'm Not Single, I Have a Dog: Dating Tales from the Bark Side
Author: Susan Hartzler
At age 60, Susan Hartzler has learned that true happiness comes from having good friends and a dog or two by her side. After recovering from several disappointing romantic relationships, Susan makes a trip to the animal shelter to find a dog that she hopes will give her a renewed sense of purpose in an uncertain world.

"My hope in writing this book was to show that it is possible to have a fulfilling life being single," Hartzler says. "Yes, you can have your 'happily ever after' without a human partner, and you don't need to waste your life fixating on something that might not be in the cards for you. Put yourself first and love yourself as much as your dog loves you."
"I'm Not Single, I Have a Dog" Review:

"Hartzler's heartwarming memoir is a must-read for anyone looking for a fresh perspective on self-care, acceptance and the unconditional love we get from our pets. Recovering from heartbreak starts with healing from the past, kindling our passions, and leaning on the support of the people (and dogs) we love most. As a dog parent myself, I cannot agree more that there's no better remedy for life's woes than a few wet kisses from our four-legged friends."

Meaghan Maybee, Content Marketing Specialist at pc/nametag
Becoming
Author: Michelle Obama
We love books about successful women! In her memoir, Michelle Obama describes the experiences that shaped her, from her childhood in Chicago to her years as the first African American First Lady in the USA. Discover her story of how she aimed to create the most inclusive White House in history, while also advocating for women and girls around the world. Read her triumphs and disappointments as she lived them, in her own words.
What I Know for Sure
Author: Oprah Winfrey
From the wise Oprah Winfrey, this book for empowerment has wonderful advice on learning self-acceptance, knowing your worth, and sharing your kindness with others. If you are looking for an inspiring yet comforting read, this book is the perfect pick-me-up. You'll find advice on joy, resilience, gratitude, possibility, and power as you pursue your passions and discover what you love.
Everyone's a Aliebn When Ur a Aliebn Too: A Book
Author: Jomny Sun
This charming, illustrated story follows a lonely alien named Jomny who has been sent to observe Earth. Here, he meets all sorts of creatures with different perspectives on life, love, and happiness, while also learning how to feel a little better about himself. Always feeling "different," Jomny finally feels at home for the first time among the earthlings.
"Everyone's a Aliebn When Ur a Aliebn Too" Review:

"This is a sweet, graphic story about an "aliebn" learning about the complexities and beauty of what it means to be a "humabn". I come back to this book every time I'm feeling anxious or stressed to remind myself that being sad isn't a bad thing. My favorite quote is "i was so woried about wat I woud become in the future that i didnt realize i can be anything i want to be right now."

Brooke Ihlefeld, Digital Marketing Manager at pc/nametag

How to Be an Imperfectionist: The New Way to Fearlessness, Confidence, and Freedom from Perfectionism
Author: Stephen Guise
From an early age, we are taught to color within the lines. Any color that strays outside the lines is seen as a mistake. In this book, Stephen Guise teaches us that perfectionism can be a limiting mindset.
Instead, it is more productive to embrace "imperfectionism" to empower us to live outside the lines, make mistakes and minimize self-judgment. Discover how "mini actions" can empower you to gradually and effortlessly let go of your perfectionism through behavior change.
The Confidence Code
Authors: Katty Kat & Claire Shipman
In this practical guide to confidence-building for women, you will learn how to achieve success at any stage of your career. You'll find cutting-edge research in genetics, gender, behavior, and cognition—with illustrative examples—to help you close the gap and achieve the careers they want and deserve. If you are someone who lacks confidence, the insight within this book will help you change your thought processes to help you become more confidence prone.
The Midnight Library
Author: Matt Haig
Between life and death, there is a library with shelves that go on forever. Every book provides a chance to see another life you could have lived had you made other choices. Nora Seed finds herself faced with this decision. She must face the possibility of changing her life for a new one to follow a new career path, undo old breakups, or realize her dreams of becoming a glaciologist. How will she choose to travel through the midnight library?
"The Midnight Library" Review:

"I loved Midnight Library because it really makes you think about the path of your life. It teaches us that even the smallest choices can make a big impact on our lives. It also teaches us to realize what truly makes life worth living."

Kindra Evans, Director of Sales and Customer Service at pc/nametag

Goodbye, Again: Essays, Reflections, and Illustrations
Author: Jonny Sun
The author of "Everyone's a Aliebn When Ur a Aliebn Too" gives us another masterpiece: A collection of touching and hilarious personal essays, stories, poems about mental health, happiness, and what it means to belong.
His unique, funny and heartfelt writing style (paired with his trademark illustrations) brings new light to heavy topics like loneliness, anxiety and depression using short humor pieces, conversations, and memorable one-liners.
How to Break Up with Your Phone: The 30-Day Plan to Take Back Your Life
Author: Catherine Price
Is your phone the first thing you reach for when you wake up and the last thing you use before bed? Do you find yourself picking it up "just to check," only to spend forty-five minutes mindlessly scrolling? Do you say you want to spend less time on your phone but have no idea how to start?
If so, this book is for you. You will find a practical, hands-on approach to "break up and make up" with your phone in a way that feels good. Learn how to make customized changes to your settings, apps, environment and mindset to help you take control of your habits.
The Mountain Is You: Transforming Self-Sabotage into Self-Mastery
Author: Brianna Wiest
Self-sabotage: Why do we do it and how do we stop it for good? This book builds on the "mountain" as a metaphor, and how we must climb it to take on the challenges we face (especially ones that seem impossible to overcome).
You'll discover that before you can scale your own mountain, you must start with excavating trauma, building resilience, and adjusting the way you show up for the journey. In the end, it is not the mountain we master, but ourselves.
Daring To Take Up Space
Author: Daniell Koepke
No matter what you have been through, you are enough. In her first poetry collection, Daniell Koepke gives a voice to fear and anxiety, perseverance and strength, self-love and acceptance. On days where you struggle to realize your value and worth, this easy-to-read book will serve as a reminder that you deserve to take up space in the world and that you are enough.
101 Essays that Will Change the Way You Think
Author: Brianna Wiest
If you are looking for a growth mindset book that is simple to understand, this book is it. Discover how to commit to change, pursue purpose over passion, embrace negative thinking, see the wisdom in everyday routine, and become aware of the cognitive biases that affect your life.
Unique in its honesty, simplicity, and approaches, each mini-essay is designed to leave readers thinking about life and its meaning.
How to Be Yourself: Quiet Your Inner Critic and Rise Above Social Anxiety
Author: Ellen Hendriksen, Ph.D.
Did you know that up to 40% of people consider themselves shy? If you become introverted, quiet, or awkward in certain social situations, you may have been told in the past to "Just be yourself." However, this is easier said than done when you are prone to social anxiety.
Dr. Hendriksen provides science-based insight, tips, and compelling stories to help people rise above their social anxiety. After reading, you will find that you already have everything you need to succeed in any unfamiliar social situation; you just need a new way to approach the obstacles you face.
Never Get Angry Again
Author: David J. Lieberman, Ph.D.
Sometimes, a change in perspective is what we all need to prevent ourselves from flying off the handle. In this book, Dr. Lieberman reveals how to illuminate the underlying components of anger, as well as practical tools to snuff it out before it occurs.
Discover techniques for bouncing back when you are emotionally drained, anxious, frustrated or angry in situations when emotional regulation matters most.
The Energy Bus: 10 Rules to Fuel Your Life, Work, and Team with Positive Energy
Author: Jon Gordon
According to Jon Gordon, there are ten secrets to approaching life and work in ways that lead to true accomplishment. An enlightening and inspiring ride, this book provides an engaging story that teaches readers how to overcome adversity and bring out the best in themselves and their teams.
See Our Leadership and Professional Development Book List
No one is born brilliant at their job. If you want to hone your skills and grow in your career, check out our article on 37 Must-Read Books on Leadership and Professional Development for ways to remain competitive in your field and practice continual learning throughout the year. Booklist topics include the following:
Business culture books
Leadership books
Motivational books
Problem-solving books
Sales and marketing books
Diversity and inclusion books
Self-care books
If you are short on professional development funds this year, remember to use your local library or an app like Libby to read these books for free. We have also included a pc/nametag tools and resources section for access to free educational resources for meeting professionals that you can download today.
What are the best life-changing books you have read?
As a team of bookworms, we are always looking for empowering books that make us think or see life differently. Did any of our book suggestions sound intriguing to you? What other books have you read that you would recommend we add to this list? Leave a comment below with your suggestions and how you enjoyed ours. Chances are if the book was useful to you, it will be useful to other readers as well!

READ NEXT