I had the opportunity to attend "Future Forward, a New You in 2022," an outstanding webinar hosted by Meeting Professionals International (MPI). This virtual event was one of the best I have attended, covering the following wellness topics:
Recovering from Burnout
Cultivating Confidence
Overcoming Fear
After facing traumatic challenges in 2020 and 2021, many professionals are still reeling from job loss, work-related stress and anxiety, burnout, and loss of personal identity. The lessons I learned from this event transformed the way I view myself, my value, and my worth (and I am hoping they'll help you too!)
Read on to find the ten most important takeaways I learned on burnout recovery, confidence building, and overcoming fear that I hope you will find useful in your life.
Meet the Speakers
| | |
| --- | --- |
| | |
| Burnout Recovery Coach and Founder, LIFT Wellness Consulting | Author, Leadership Speaker and Professional Coach |
| | |
| Inspirational Speaker and Facilitator | Motivational Keynote Speaker, Author and Researcher |
10 Lessons on Conquering Fear, Stress and Anxiety at Work ❤️
1. Burnout is part of the human experience and can't be avoided.
Let's face it, we have all had stressful days at work. Between looming deadlines, difficult projects, and other stressors, it's no wonder why we become mentally exhausted! Employee burnout can affect anyone, especially people who consistently feel stressed, frustrated, and anxious at work or in their personal lives.
According to Dr. Kate Steiner, burnout can bring out the worst versions of ourselves. When we become sad, irritable or angry due to burnout, we may lash out or communicate poorly with others. This can lead to even more frustration, angry outbursts, reduced performance, and even loss of personal identity. It's a difficult cycle to break.
A common misconception is that burnout is something we can avoid or something we need to push through until we fail or give up. This simply isn't true. Everyone experiences occasional activities, events, people and situations that make them feel overwhelmed. The key is to practice self-care before, during and after each stressful situation. By knowing how to be your healthiest self, you will have more to give to yourself and others at the end of the day.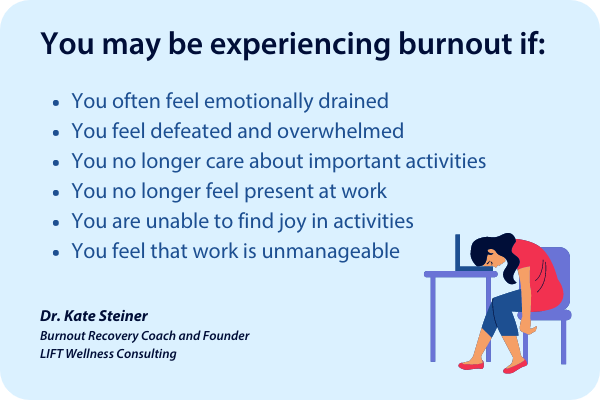 2. "Workmares" are becoming more common among stressed employees.
Have you ever had a dream about botching a project at work, forgetting a deadline or arriving late to a big presentation? If so, you've experienced a "workmare" — a stress-inducing dream that often leaves your mind racing over every item on your to-do list or dozens of "what if" scenarios.

After a stressful day, there's nothing I want more than to enjoy a restful night of sleep (and waking up in a cold, panicky sweat is the last thing I want to experience). What I have come to realize, however, is that I cannot control what I dream about, but I can control how I react to stressful thoughts once I wake up.

If you ever find yourself lying awake at night worrying about work, remind yourself that fixating over every "what if" or "should have" situation is not a helpful use of your time. Instead, give yourself permission to rest, relax and unwind. Write down your worries on a notepad or in your phone's notes app, then revisit them in the morning.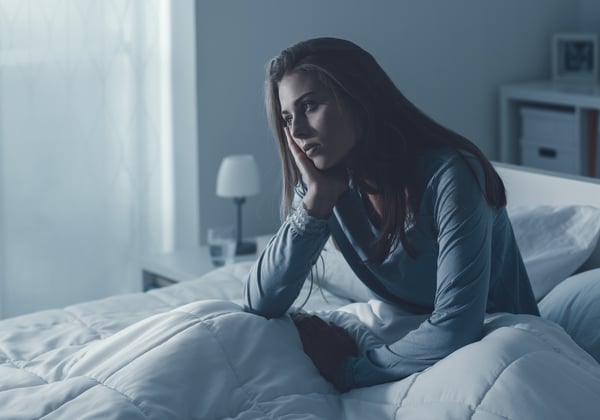 3. Developing a recovery strategy can help you manage stress, anxiety, and fatigue.
During the "Future Forward" webinar, Dr. Kate Steiner asked participants to describe the state of their wellness in one word. Most attendees responded with words like lacking, burnout, tired, struggling, missing, unhealthy, anxious, non-existent, tense, unbalanced, irritable, long gone, uneasy, and mentally drained.

If any of these words sound like your state of wellness, you are not alone. Luckily, Dr. Steiner has an excellent, three-stage wellness model she uses with clients to help them regain control of their wellbeing:
Stage 1: Observation

Observe the situations in your life that cause you the most burnout. What emotions do you feel in these situations? How do you interact with others when you are feeling stressed? Are there any patterns between your experiences?

Stage 2: Preparation

Prepare a plan of action for how you will respond when you experience a burn event. Remember, burn events can be expected (I.e., events on your calendar) or unexpected (I.e., situations that catch us off guard). Make sure you are prepared for both.

Stage 3: Recovery

Recover from stressful situations by implementing rituals, practices and daily wellness exercises to help you return to a recovery space. This could involve watching a movie, baking, listening to music, doing yoga, making a craft, reading a book, spending time with pets or taking a walk.
When in doubt, ask yourself the following questions: How do I define burnout? How does my burnout affect me mentally, physically and emotionally? How can I get myself back to a state of peace? Maintaining daily wellness practices will help you feel more prepared for unexpected burn events. Self-care isn't just for when you're in crisis mode.
4. Setting boundaries and expectations can help you address work burnout.
One attendee of the webinar asked: "How can I advocate for myself in the workplace to prevent burnout?" Dr. Steiner had the perfect answer to this question. She suggests identifying what you need in order to turn your workplace into a healthy space. Ask yourself, what are my non-negotiables? Do I need to adjust my work hours, recreate my space or add recovery time to my routine in order to be most successful?
One thing I learned is the importance of discussing your plan not only with your supervisor but also with your colleagues. Having this conversation may seem awkward, but you cannot expect those around you to know what you need unless you discuss it. Try brainstorming expectations as a team in order to lay ground rules.
Another attendee asked for tips on how employers can prevent burnout to attract and maintain workers. Dr. Steiner suggests considering your organization's culture and employee engagement strategy. Are team members resigning often? Are they burned out? If so, it is time to re-engage your employees (pssst...find tips in our Employee Engagement Toolkit)!
5. Rest, recovery, and self-care are necessary to your mental health.
Have you ever met someone who wears the concept of "overworking" as a badge of honor? If this sounds like you or someone you know, it may feel satisfying to accomplish such an immense amount of work every week. But is there such thing as being too productive? While you may be getting a lot done, you likely aren't doing effective work towards the end of the day because you have not allowed yourself to rest and recharge.
Remember, rest and recovery are productive uses of your time. Dr. Steiner says "Instead of overworking yourself, make your new badge of honor that you practiced plenty of self-care that day. I use the pomodoro method throughout my workday to allow myself to drink water, move around and take little brain breaks."
When it comes to office meetings, conferences and other gatherings, remember to incorporate wellness program activities into your agenda. Provide water bottles for hydration, incorporate movement breaks, do breathing exercises or encourage attendees to "wind down" their day by writing down what they are thankful for in a journal.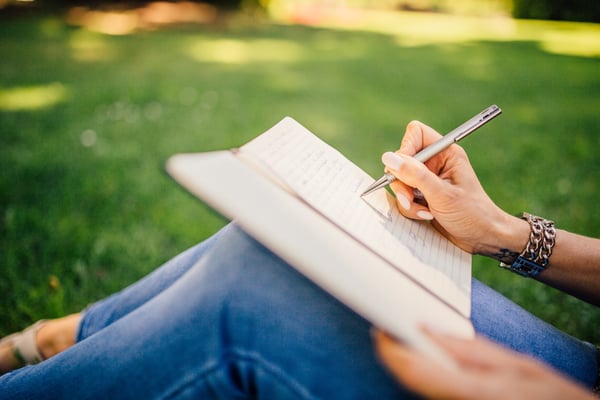 6. Sharing funny or embarrassing moments can be a great ice-breaker activity.
One of my favorite webinar activities was hosted by speakers James T. Robilotta and Tina VanSteenbergen, who instructed participants to reveal a funny or embarrassing moment that happened to them in the chatbox. The results were hilarious! I laughed when one woman said she ended a call with her boss by saying "love you" on accident (yikes!)
I noticed that this activity was a fantastic way to get people laughing and connecting with one another. I was reminded that not only am I strong and resilient, but I have survived and prospered through 100% of my tough days. Try this activity at your next department stand-up or event; you may be surprised how much people enjoy it.
Does the thought of playing office team-building games still make you cringe? If so, I get it. Playing ice breakers and corporate games is not everyone's cup of tea. But the good news is that team bonding doesn't have to be awkward. In fact, it can build trust, improve employee engagement, and create familiarity among colleagues when done right.
7. Allow yourself to be proud of yourself and your accomplishments.
If you are a worrier like I am, then you will understand that it is often easier to worry about the future than to look back and see how far you have come. This is why the "Three Cs of Resilience" concept (as presented by Robilotta and VanSteenbergen) had a significant impact on me and how I will view my self-worth going forward.
Capability, Capacity, and Creativity: These are the three Cs of resilience. These prescriptions are specifically designed to help us foster personal growth, inspire innovative ideas and challenge us to become better versions of ourselves. Here is a Reader's Digest version of what I learned so you can implement them too:
Capability: You are capable of remarkable things and worth honoring! List out all the things you have succeeded at this year. Celebrate them. This is proof that you are wildly capable of anything you put your mind to.

Capacity:

You have the

capacity

to do awesome things. While "persisting"

will not

always mean that you succeed, know that

it is

okay! Sometimes, it is impossible to "have it all" and give every task your full attention.

Creativity: Look back at what your creativity did and look forward to what your creativity will do. Do not let what is happening get you down; let it fuel you. Your power of creativity is limitless.
If you are someone who constantly runs through the "what ifs" for every situation, I challenge you to follow up with something positive instead of something negative. As humans, we are prone to think about all the terrible things that will happen to us. Let's challenge ourselves to rewrite our possibilities and potential. 💪🔥
"Remember, you were selected for your role not because you are perfect, but because you are the most trusted."

- James T. Robilotta, CSP
8. You are valuable, even if someone does not recognize your value.
Have you ever found it hard to be proud of yourself and the work you have accomplished? For many people, this can be difficult, especially when team members, managers or leadership team members fail to recognize the value you bring to the table.

One thing I learned from the "Future Forward" webinar is that it is not always about what others think of me. Instead, it is more productive to focus on doing my best and having a positive mindset in the process. Oftentimes, it isn't a matter of not trying or not showing up; it's a matter of showing up for yourself and making yourself proud.

One lesson we can all learn is that just because a person doesn't see your value, doesn't mean you do not have value. "Imposter syndrome"—the feeling that you don't fit in, or you are not enough—is very real for many people (particularly women). Just remember that you deserve to be in every room you are in, and the people around you will have your back. 💖

Stop what you are doing and write down a few of your fears. (Really... write them down). Look at your list. While some of you may have written "spiders" or "heights," some of you may have written complex fears with deeper meanings. During the webinar, Daryll Bellamy invited attendees to share their fears. Here's a sample of what people wrote:
I fear that I'll fail.
I fear that I'll disappoint others.
I fear that I'll lose my job.
I fear that I'll let people down.
I fear that I'm wasting my time.
I fear that I'm a roadblock to others.
I fear that I'm not good enough.
I fear that I'm not reaching my full potential.
I fear that I'll look stupid.
I fear that I'll fail my expectations.
I fear that I'll be rejected.
One person even wrote, "I fear that I no longer can do the job I love because the cost is my health." With work stress and burnout on the rise, realize that you are never alone in your journey. Other people likely have the same fears as you do; they just don't feel comfortable talking about it. Don't be afraid to initiate a crucial conversation!
10. Remember to "Operate in the gain, not the gap."
With meeting planners and event professionals primarily in attendance at "Future Forward," I noticed a pattern in the chat during Bellamy's breakout session: Event planners are big worriers! This makes sense, seeing as the finest details matter when it comes to events. Room block mess-ups, vendor issues, food complaints, post-event surveys and discontented attendees can be a meeting planner's worst nightmare.
One article even listed "event coordinator" as the 6th most stressful job after military, firefighters, pilots, police officers, and broadcasters. Due to the nature of their jobs, event planners want everything to be perfect. And when they fail, they find it incredibly difficult to take negativity with a grain of salt. According to Bellamy, this is when professionals operate in the "gap." They fixate on their shortcomings, their fears, and what they could have done to make a situation better.
Instead, Bellamy encourages professionals to operate in the "gain." When you are doubting yourself, think of the accomplishments and wins that remind you of how awesome you are. Stay positive by asking yourself "How can I become better? How can I grow? Who can I rely on for help?" You have gained more experience than you could ever imagine.
"You can only 'connect the dots' of your success by looking backwards, not forwards. In difficult situations, remember the things you can control and put your body and mind in situations that calm you."

- Darryl Bellamy
"Whatever happens to me given any situation, I can handle it."
This quote by Susan Jeffers, PH.D. is just one example of a great motto to live by this year. Despite past trauma and the hardships we have faced in our industry, we are wildly capable of achieving more than we think; we just need to take the first step. This week, listen to your body cues when you are nervous or fearful. Manage your breathing, correct your posture and relax your muscles. Then, give yourself five seconds to act. Challenge yourself to face those fearful moments!

Readers, share with us in the comments:
What is your strategy for overcoming fear and doubt?
How will you "operate in the gain, not the gap" this week?
How can you practice more self-care and wellness?
If you enjoyed reading this article, don't forget to send this to a friend who could benefit from this advice. Then, subscribe to the Tag Talk Blog for weekly insight on meeting and event trends, professional development, business strategy and more! Have a great week, everyone.