For many people, there's nothing more fulfilling than giving back to the community and creating a positive impact on the environment. The good news? You can accomplish both of these things at your next event as long as you have the right activities and strategies in place.
Incorporating social responsibility, philanthropy, and sustainability into your gathering is possible. If you're unsure of where to start, we've rounded up a list of our favorite ways to go green and give back to the community at your next event, starting with your event decor, activities, and workshops.
Eco-friendly Event Décor, Activities, and Workshop Ideas
1. Host a DIY terrarium or succulent workshop.
Want to host a breakout session attendees won't forget? Let them test their "green thumbs" with a handmade terrarium, fairy garden, or succulent planter workshop. A mini terrarium is a fun, eco-friendly way to help your attendees incorporate greenery into their homes or offices. Not to mention, they're fun to look at, decorate and care for once completed.
Pick up containers from a craft store or garden center, gravel, moss, soil, and plants (like air plants, cacti, or succulents). Provide instructions on how to assemble the planter, or feature a local agriculture aficionado as a speaker. No matter your approach, this environmentally friendly giveaway is sure to be a hit.
Tip: Personalize each planter with an event-branded sticker. Mirror the geometric shape of your terrarium container with a 4" Pentagon Satin Sticker attached to your packaging or to the bottom of the container.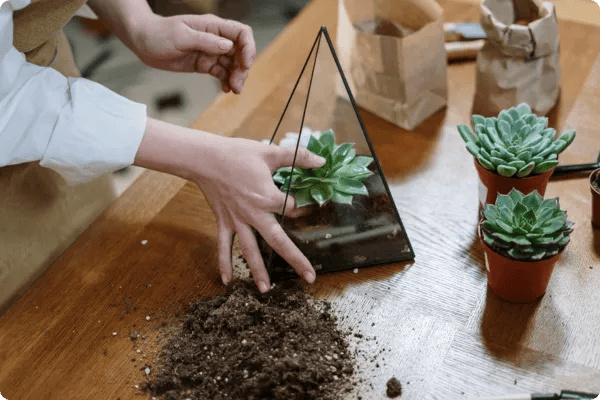 2. Feature a living plant wall as a fun photo opportunity.
Today, social media marketing plays a big role in a successful event strategy. People want to post photos of themselves having fun and enjoying your event, so make sure to use event design and installations to your advantage. This is especially important if you plan to invite social media influencers to your event.
One of the easiest ways to create an "Instagram-able" event is to give people the best photo-ops possible. Featuring a live plant display is a unique, sustainable way to create a gorgeous portrait opportunity that your attendees will be eager to post! You'll also be able to advertise your organization and event branding in an eye-catching way.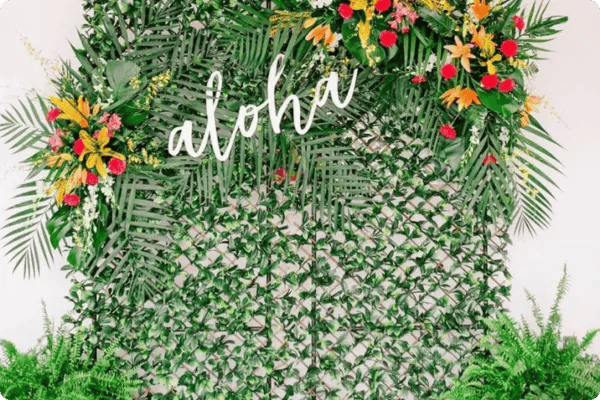 Photo Credit: WedBoard
3. Provide therapy animals or feature local rescue dogs.
Studies have shown that the simple act of petting an animal can help decrease blood pressure, lower anxiety, and make us feel happier. Inspired by emerging research pointing to the health benefits of spending time with animals, many planners have begun to incorporate animals into their event schedules.
Partner with a local animal shelter to see if they'd be willing to bring adoptable pets to your event for meet-and-greets. This is a great way to add that "philanthropic" element to your event. Alternatively, work with a therapy dog association or take this activity one step further by partnering with a local farm to feature miniature horses, alpacas, goats, or rabbits in your venue's outdoor space.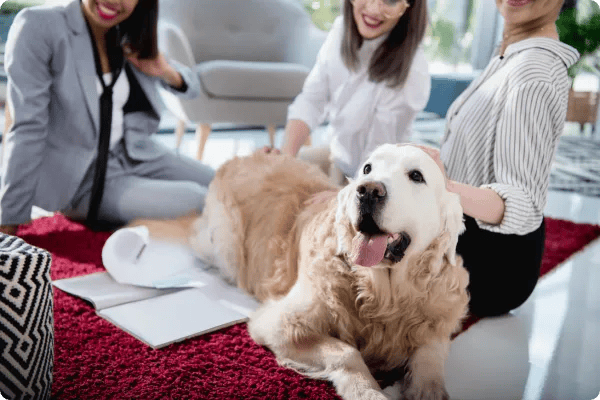 4. Support locally-owned event vendors and businesses.
Hosting a green event starts with cutting down on travel whenever possible. In addition to providing local transportation options for your attendees, try to hire vendors within a short distance from your venue. This may involve a bit of detective work, but the effort is worth it, especially for organizations looking to decrease their carbon footprint and emissions.
Once you've selected your vendors, choose food options with smaller carbon footprints. Chicken, turkey, and vegetable dishes tend to be more sustainable than beef or lamb dishes, which carry higher environmental costs. Work with your caterer to identify ways to keep food miles to a minimum.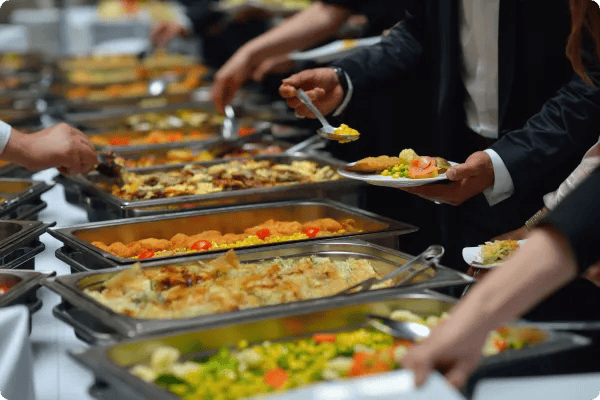 5. Organize a food recovery program to donate excess products to those in need.
If there's one thing people really look forward to at events, it's the food and beverage options. While many planners prefer to over-cater to ensure there is plenty of food to go around, this can lead to an incredible amount of food waste. Uneaten food is sent straight to the landfill, creating an unnecessary amount of greenhouse gas emissions. Plus, throwing away perfectly good food means that more food must be transported into the area.
According to Bel Hanson, CMP, it's important to accurately estimate how many people you'll need to feed. She suggests donating clean, uneaten food to local causes like homeless shelters, food pantries, food-insecure neighborhoods, or other charities. Watch the following video to learn more.
6. Get crafty with living herb centerpieces on banquet tables.
When it comes to decorating tables at your meeting or event, you want the items at the center of the table to draw attention and make a statement. If you're looking for a long-lasting centerpiece option, consider creating a living herb centerpiece! Not only are they a fun focal point of a table, but they can also be created well in advance of your event. Once your event is over, guests can take the potted herbs home with them to plant in their own gardens as an environmentally friendly giveaway.
Looking for a more traditional approach to centerpieces? Work with a local farm or garden center to source flowers and greenery for centerpieces. Choosing plants that are in-season and locally grown is a great way to cut costs and decrease travel-related emissions.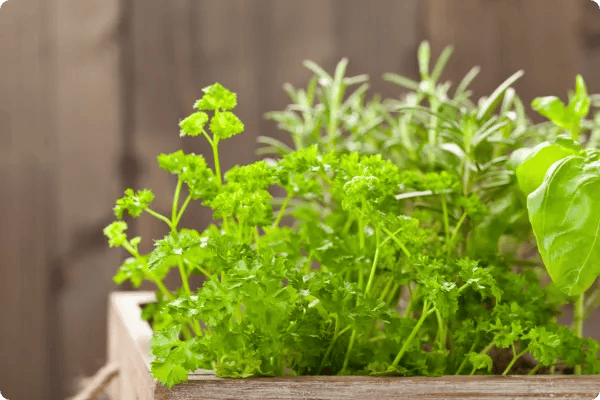 7. Rent furniture and décor to save money and decrease event waste.
You want to create a great first impression and ensure guests are comfortable, but where exactly should you start? We suggest renting furniture and décor for your event since renting is considerably cheaper than buying. You'll also find comfort in knowing that the items you rent can be used time and time again, without being sent to the landfill after.
Another great benefit of renting event furniture and décor is that you don't need to worry about incurring extra costs to manage and maintain supplies. By renting table decor, tents, tables, chairs, and other items, you'll avoid spending money on repairs, storage, and maintenance of these items.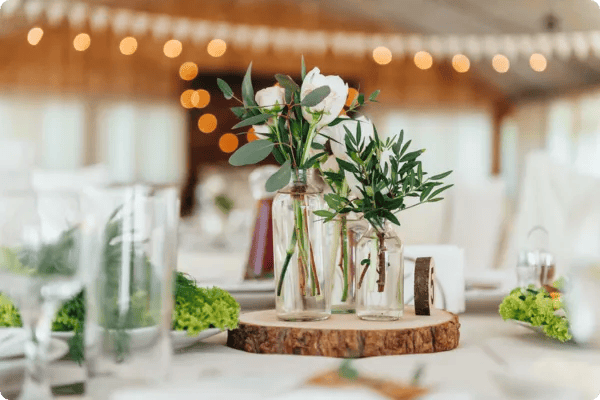 8. Incorporate clean, leftover fruit items into a juice bar.
While day-long events are filled with fun and excitement, your guests will more than likely need a nutritious pick-me-up to keep them awake and ready to participate in activities. A creative way to incorporate nutrition and sustainability at your event is by featuring a juice bar for attendees to enjoy. The key to a sustainable juice bar is to use as many elements of fruits and vegetables as possible. This leads to less waste and a very delicious drink people will love.
If your event has a morning breakfast buffet or brunch, make a point to repurpose clean, untouched products by using them later in the day at the juice bar. For example, yogurts and hand fruits that have not been claimed make the perfect addition to your juice bar later in the day.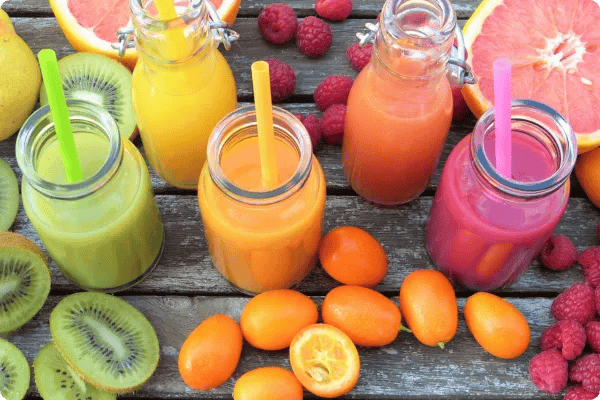 9. Incorporate sustainable volunteerism opportunities into your event's agenda.
Volunteering is one of the most rewarding things you can do, both as a person and as an organization. Giving back to the community can have a real and valuable effect on everyone involved. If you're looking for ways to make a difference at your event, consider creating a volunteer opportunity that attendees can get involved with.
For example, plan a voluntary activity to plant trees, pick up litter, serve food at a homeless shelter or collect canned goods for the local food bank. No matter the charitable activity you choose, your attendees will appreciate having the opportunity to take their social and environmental stewardship to the next level.
Social Media Tip: While volunteering, don't forget to encourage attendees to take photos and share them using your event's hashtag. Spreading the word about your organization's dedication to philanthropy is a great way to inspire others to do the same.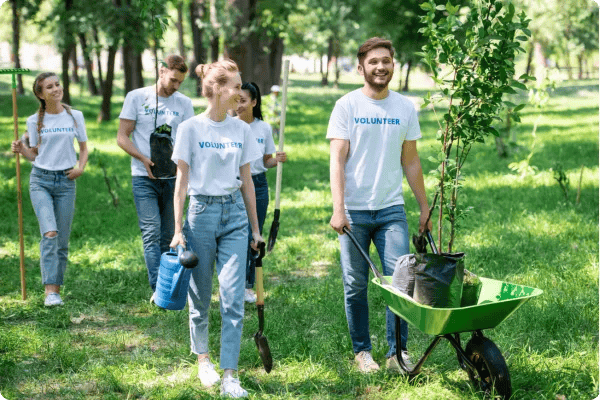 Eco-friendly Event Supplies, Services, and Resources to Explore ♻️
Hosting sustainable events doesn't need to be a headache or cost an arm and a leg. With the right strategies in place (like the ones listed in this article), your planning team can have an incredible impact on the environment. Don't be afraid to take creative risks and have fun with sustainability.
If you're looking for more ways to incorporate sustainability into your event plan, let pc/nametag help. We are your partner in planning in hosting eco-conscious events that create a positive impact, both on the environment and on attendees. Use the following resources to get started: