Event sustainability is becoming one of the fastest-growing trends in the meetings industry and for good reason. Today's event professionals are more climate-conscious than ever before, and they're already doing their part to save the planet. 🌎🌿 However, while the events industry offers awesome contributions of learning, entertainment, and networking for attendees, its waste and carbon footprint are undeniable.
Event planners play a key role in addressing some of the sustainability challenges we face in the events industry, but it can be difficult to know where to start. The good news is that putting on an eco-conscious event is easier than you may think.
With the right tools and knowledge, you'll be better prepared to reduce negative impacts on the environment while still giving attendees the same exciting event they've come to love. Keep reading to find insights you can use to plan a successful eco-friendly conference or event.
Table of Contents
What is a sustainable event?
A sustainable event is a meeting that is designed to reduce or eliminate its negative impact on the environment. Planners who host eco-friendly events use strategies to actively minimize waste, maximize resources, and promote sustainability.
Examples of sustainable event planning include partnering with a venue that leverages renewable energy resources, providing recycling and composting receptacles, partnering with local vendors to reduce travel-related emissions, maximizing water usage, and using eco-friendly event supplies.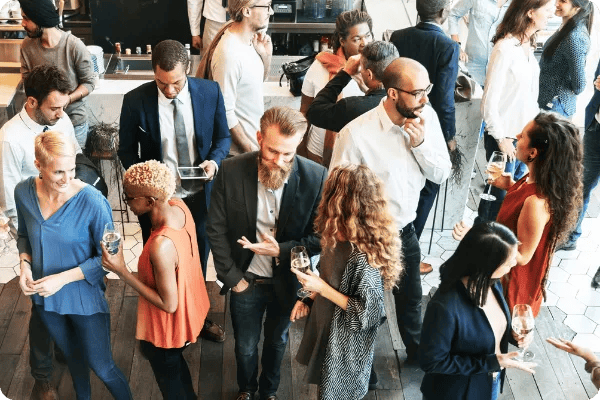 3 Pillars of Sustainable Conference Planning
Eco-friendly conferences and events are specifically designed to be environmentally, economically, and socially responsible. More specifically, an event is considered "sustainable" if it follows practices that fall within the following three categories:
1. Environmental Sustainability
Practices that safeguard our natural environment and ensure that ecosystems are sustained for future generations to use.
2. Economic Sustainability
Practices that support and improve economic growth without negatively impacting any social or cultural elements of the community.
3. Social Sustainability
Practices that support a safe, equitable, diverse, and connected atmosphere for people living within and around the community to enjoy.
By making decisions that eliminate waste and give back to the environment, planners can have an incredible impact on the health of their community, from reducing waste and greenhouse gas emissions to inspiring people to make smarter, more eco-conscious decisions.
Why Eco-Friendly Events Matter: 3 Benefits to Consider
While most event planners would say that the main benefit of hosting a green event is to protect the environment. However, the benefits go far beyond protecting the planet. In fact, eco-conscious events can be an incredible asset to your organization.
1. Eco-friendly events can save your organization money.
While it is true that some eco-friendly options may seem expensive at first, they can help you cut down on costs over the long run. For example, collecting name badge holders and reusing them at other events can save you hundreds, if not thousands, of dollars. Concerned about germs? Opt for an eco-event pass that can be recycled post-use.
2. Eco-friendly events can improve your reputation.
Many people today care about decreasing their environmental footprint. Hosting a green event is a great way to position your organization as a leader in green event planning. You want to show attendees that you've taken active steps to decrease waste or "leave no trace."
3. Eco-friendly events transform the future of the industry.
Events of any size can generate a massive amount of unnecessary waste. The right tools and resources can help you put on a more sustainable event that's just as enjoyable (if not more enjoyable) than a non-sustainable event.
Hosting an eco-conscious event can be fun, fulfilling, and meaningful — not just for your organization, but also for your attendees. You'll also find satisfaction in knowing that you're changing the industry, one event at a time. In a world where single-use plastics and water waste have become the norm, now is the time to challenge this mindset for a better tomorrow.
Watch the following video to learn from Bel Hanson, CMP, on how to creatively eliminate excessive waste at your conference or event.
Statistics on Event Industry Waste
There's no denying that the events industry has historically been one of the most wasteful industries on the planet. As global climate change becomes more severe, many people are making the decision to change their daily habits and make eco-conscious decisions that will have a true impact on the environment. The events you produce can easily follow suit with a little foresight and planning.
Any event, no matter the size, can generate a significant amount of waste. Here are a few event waste statistics we've rounded up for you to consider:
So, what do these statistics mean to you as an event professional? The short answer is that there is a lot of room for improvement in the industry.
The good news is that today's consumers want sustainable events. They want to support organizations that are committed to the cause of sustainability. They want to know that your team is committed to using resources wisely and making the world a better place—and we have a whole list of ideas to help you get there, coming up next.
10 Sustainable Event Strategies to Incorporate into Your Plan
We hope by now you are feeling fired up and ready to tackle the challenge of sustainable events. However, we also understand if achieving a 'green' event may seem daunting. Is meticulous planning worth your time? Is being environmentally friendly worth the hassle?
You're not alone and these questions are expected, but we are here to assure you that "going green" is absolutely worth the time. Putting on a green event doesn't have to be a headache or logistical nightmare.
The secret is to "think green" from the start and incorporate sustainable elements into your entire event strategy. Keep reading to discover 10 solutions for making your event more sustainable this year and beyond.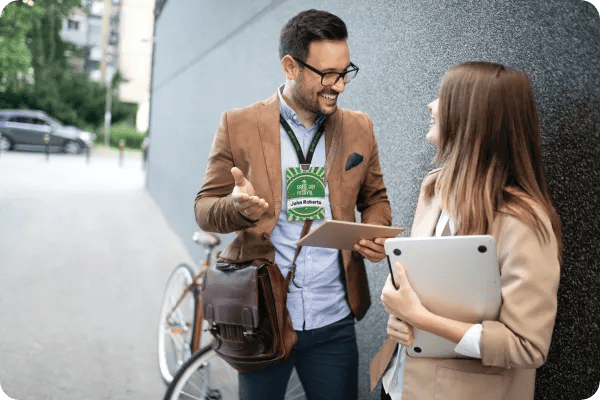 1. Partner with LEED-certified event venues.
Your event venue should always fall in line with your organization's values of sustainability. Your venue has the power to dictate a lot of choices with supply and management practices, so make sure to choose one that will help make hosting a sustainable event easier.
Selecting a LEED-certified event venue is a great place to start, as these venues are globally recognized as leaders in sustainability. No matter which venue you choose, consider the following:
Consider where the venue is located.
Is it accessible via public transportation? Is it within walking distance from your host hotels? Location plays a factor in how your attendees, speakers, staff, and exhibitors will travel to your venue. Making the location easy to access by foot or public transportation can lower your event's footprint.
Consider the venue's sustainability policies.
Decide if the venue's policies and practices align with those of your organization. For instance, how do they source their energy? Do they utilize solar power or other renewable energy resources? Look for venues that are eager to share their corporate social responsibility (CSP) as it pertains to the environment.
Consider your venue's sustainable certifications.
An easy way to validate your venue's commitment to sustainability is to ask if they have a certification for sustainable events, like ISO 20121 — a practical tool for managing events that are sustainable according to the three pillars noted earlier in this article.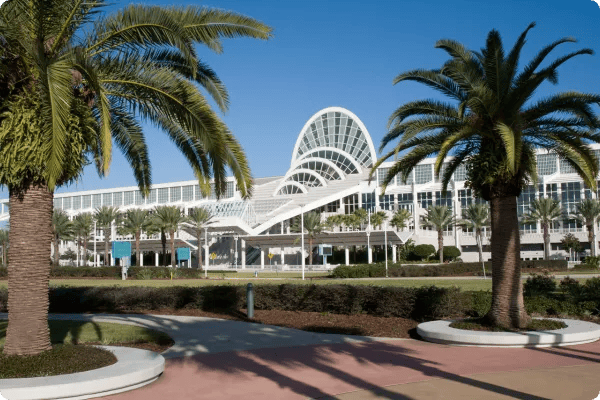 The Orange County Convention Center in Orlando, Florida is LEED-certified.
2. Create a sustainable event policy.
Sustainable events can feel overly complicated if there is a lack of intention or strategy. A sustainable event policy can ensure that your team, venue, sponsors, vendors, and stakeholders are all on the same page regarding how you plan to proceed with an eco-friendly meeting. You want to ensure that everyone functions as one unit and knows expectations of how processes will be handled.
Make sure that creating a sustainable event policy is one of the very first steps you take when planning a sustainable event. This guidance will be incredibly useful in helping elevate your "good" sustainable event to a "great" one.
3. Share eco-friendly messaging with attendees and stakeholders.
Every planner knows how important event marketing is to the success of a gathering. If your event is taking steps to go green, share it with the world! Done right, you can use this messaging as a selling point to entice people to exhibit or attend.
Part of green event management is knowing how to convey and share your event's eco-friendly messaging. You'll want the wording to be clear and easy to understand. This will help draw in the attendees and exhibitors and encourage them to practice eco-conscious decisions while on-site. We suggest sharing your intentions via your website, event blog, social media, email, or video.
In your messaging, talk about how your event will encourage attendees to think consciously about waste and resources. Talk about how your venue is taking steps to minimize energy usage, or how your event intends to implement a recycling program. Communication is key, so share as much information as you can with stakeholders.
4. Provide eco-friendly event transportation options.
Travel makes up a huge amount of the carbon emissions that events create. Eco-friendly transportation methods like public transit, ridesharing, shuttles, and walking may not work for all events and attendees, but when done right in a larger city, can drastically reduce travel stress and even save money. Not to mention, shared transportation is great for the planet.
In your eco-event plan, think of ways your guests can arrive at your event in the greenest way possible. If applicable, let guests know that there will be limited on-site parking, then give them a list of alternative ways to travel to the venue. Walking route maps will also be helpful to attendees coming from their host hotels.
5. Invest in sustainable event supplies that can be recycled, reused, up-cycled, or composted.
By opting for sustainable materials like recycled plastic, paper, glass, and metal, your team will be well on its way toward a more sustainable event. Don't stop there; take this tip one step further by selecting suppliers who use compostable or recyclable packaging.
Encourage people to recycle steel, glass, cardboard, and printed materials while attending your event. And lastly, leverage retractable banners as signage to instruct attendees on what can be tossed, composted, or recycled at your event. If you're looking for green event supplies, read this list of our favorite go-to "green" event materials that are more eco-conscious than your typical options:
Customer Favorites: Sustainable Event Supplies
6. Give away reusable, eco-conscious event swag.
Who doesn't love collecting event swag at conferences, trade shows, meetings, and gatherings? The sad truth, however, is that many of these giveaways end up in the garbage, which can be a big burden on your event's carbon footprint.
The key to eliminating this type of waste is to think carefully about what promotional materials will be offered at your event. Here are a few ideas we love for eco-friendly event swag, promotional items, and giveaways:
Sustainable Event Gift Ideas Attendees Will Love
Want to take your sustainable gifts one step further? Pair promotional products with something local or environmentally friendly. For example, provide seed packets filled with native plant species or wildflowers. Give away jars of honey harvested by local beekeepers. Include mini herb growing kits. The possibilities are endless!
7. Reduce paper waste by choosing digital alternatives.
Thanks to today's advancements in technology, going paperless at your event is easier than ever before. Opting for a more "digital" experience doesn't have to be complicated, either. Many attendees will appreciate the convenience of having a more tech-driven experience (plus, you'll be saving trees during the process.
Ideas for Reducing Paper Waste at Events
Offer a mobile conference app with mobile ticketing.
Encourage attendees to take notes on their phones, laptops, or tablets.
Send presenter slides post-event via email.
Provide digital access to session description and speaker information.
Forgo printed programs and brochures.
Email post-event evaluation surveys.
There are countless ways your event team can shift to becoming less reliant on paper this year. Before settling for printed materials, ask yourself if there is a way the process can be digitized without negatively impacting the attendee experience.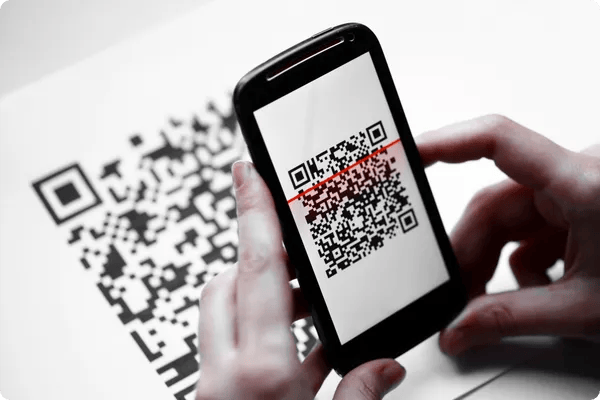 8. Minimize food waste with sustainable catering.
As we noted earlier in this article, catering is a key polluter in the events industry. Taking a more sustainable approach to your event's food and beverage plan can make a big difference in eliminating unnecessary waste. When looking for a caterer or when planning a menu, take the following points into consideration:
Does the menu include seasonal food items?
Does the menu include locally grown or produced items?
Can meat items be sourced from a local farm?
Does my caterer have a waste reduction plan?
Can any items (like tea or coffee) come from a sustainable source?
Can leftover food be donated?
If you work with your selected caterer, ask them how they plan to aid in your sustainability goals. How do they plan to keep food waste and travel mileage to a minimum? Your caterer is there to help you achieve your goals, impress guests and help them enjoy your event to the fullest.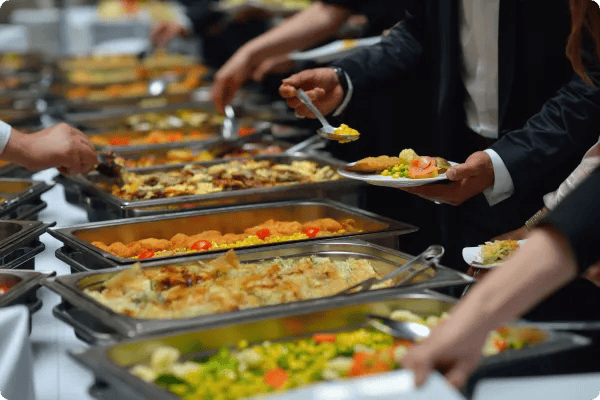 9. Create a waste management program for your event.
Every event needs a waste management program. Start by strategically placing recycling bins that are correctly marked for paper, glass, aluminum, and so on. Hire a service team to ensure that refuse is disposed of correctly depending on the type of bin. Limit the number of printed materials (and ensure that the ones you do print end up in the recycling bin by printing a reminder on the front).
Next, consider the "dirty dozen"—the most wasted materials in the events industry. Are there ways you can eliminate or provide alternatives to the following?
Most Wasted Materials at Events:
Food
Packaging and Utensils
Coffee Cups
Vinyl Banners
Vinyl Tabletops
Polystyrene
Plastic Sheeting
Shrink Wrap
Name Badges
Adhesive Decals
Carpet
AV Equipment
One way to reduce food waste is to connect with a local food bank or shelter to see if leftover food items can be donated to those who need them. For straws and cutlery, opt for options made of compostable materials or bamboo. Lastly, install water stations with reusable cups to eliminate the need for foam cups. Your venue should be able to help you navigate these concerns and achieve your goals.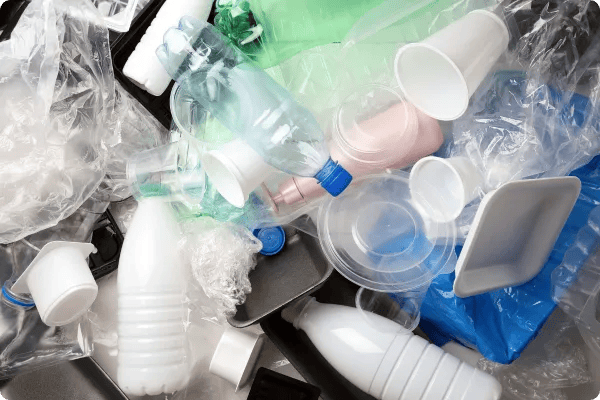 10. Share your successes with other event planners.
Was your eco-friendly event a success? What did you do to eliminate waste? These stories are important and ought to be shared with other event organizers! By posting a video, writing a social media post, or creating a blog listing your successes, you'll more than likely inspire others to follow suit (which is exactly what we want to do with eco-friendly events!)
You deserve to celebrate your successes, no matter how small they may seem. If every event took even one step to go "green," the impact would be powerful. Your goal is to make attendees feel proud of their attendance, influence industry leaders to act, and encourage other planners to follow in your footsteps.
Download the Sustainable Event Planning Guide 🌻
Creating a green event without compromising the attendee experience is possible! All you need to do is start somewhere. Take care to avoid having an "all or nothing" approach to sustainability; your event certainly doesn't have to be zero waste to be called sustainable. Focus on implementing one sustainable initiative at a time, and you'll be on the road to success in no time.
Hungry for more eco-friendly event advice? Download our eBook on How to Host a Sustainable Event. Inside, you'll find tips and tricks geared specifically toward planners. You'll learn how to reduce usage, make fewer unnecessary purchases and create less waste, the easy way. Read your copy today.
READ NEXT:
About pc/nametag: As the industry's go-to provider for all things event supplies, pc/nametag is here to help your organization take small steps toward a more sustainable event. With a wide variety of eco-friendly products to choose from, we'll guide you through the event essentials you'll need to host a green event you can be proud of. Shop eco-friendly event supplies on our website.