Events: We love them! There's nothing quite like the feeling of scoring frontstage passes to a concert, learning a new skill at a seminar, making new friends at an expo, or celebrating each other's achievements at an award ceremony. Sounds fun, right?
Yet, the sad truth is that these same events contribute to a massive amount of waste and carbon emissions each year. There's never been a better time to educate ourselves and rethink how to make events more sustainable.
This week, I made a list of my favorite sustainable event products that I believe every event planning team should use to reduce their environmental impact. Taking little steps like choosing to "go green" at events can make the dramatic difference we need in the amount of waste our industry creates each year.


1) Attract and impress attendees with eco-friendly event registration.
The registration process is everything. At this stage, people are still deciding whether your event is worth their time and attendance. They're also exploring your event website and social media pages to see what your event is all about. What does your event aim to accomplish? What will attendees get out of the experience?
To get people on board, you'll need to know your audience. For example, most millennials (53%) say they will forgo a brand if they have the option to invest in a more sustainable option. The same holds true for events; you may find that hosting a sustainable event is your "secret sauce" for getting more people in the door.
Online event registration and digital ticketing can eliminate the need for physical tickets at your event. However, I highly suggest mailing attendees a registration packet prior to the event. Not only can this be recycled, but it also ensures that attendees have their event badges, agendas and other important information in hand before the event. Plus, you'll eliminate those slow, congested registration lines on site. (Your attendees will thank you!)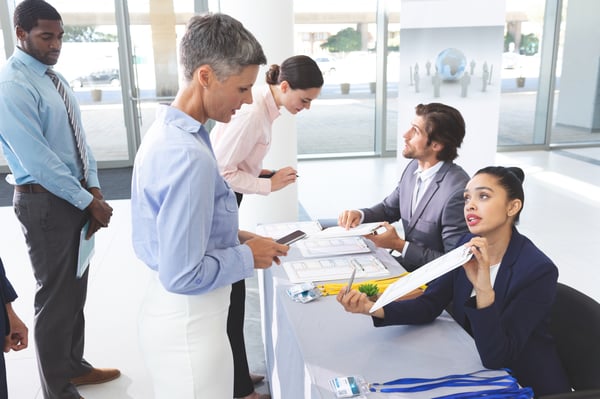 2) Reduce waste by investing in an eco-friendly conference badge that won't clog the landfill.
Did you know that burning plastic uses twice as much energy as it takes to recycle it? That's why investing in fully recyclable event passes is a win-win for event planners. Just because you opt for an eco-friendly event badge does not mean you need to sacrifice looks, quality or durability. You can have it all (and decrease unnecessary waste in the process).
It's entirely possible to recycle conference badges and keep 100% of them out of the landfill. A paper or plastic Eco Event Pass, for example, is fully recyclable and made from recycled production waste. It also offers the same easy disposal as a plastic water bottle.
For a different look, a biodegradable name tag holderis the way to go. These are an affordable, eco-friendly alternative to vinyl holders that will lighten your meeting's footprint. Put a recycled paper insert inside and you're good to go.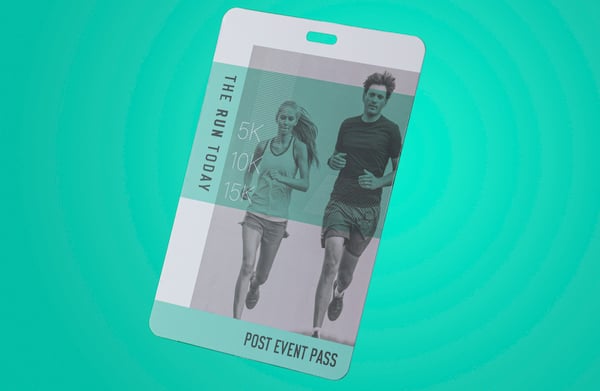 Item Shown: Eco Event Pass by pc/nametag
Insider Insight: Badge Ribbons
Give attendees the ability to personalize their meeting experience! Add a pop of color and personality to your event by offering customizable ribbons they can adhere to their badge.

A pre-made Ribbon Fun Pack is a great starting point, or create your own wording on a custom ribbon. These ribbons are made from sustainable materials that are biodegradable.
3) Pair your event badge ensemble with a custom cotton lanyard or recycled plastic lanyard.
Organic cotton is one of the most sustainable fabrics we can use in the events industry, in part because it starts to decompose in a matter of weeks when composted. I've found that event attendees love organic cotton lanyards because they're durable, soft and comfortable to wear all day. You'll also love that this lanyard option is customizable to your brand and isn't treated with harsh chemicals.
Keep it simple with a one-color imprint cotton lanyard, or go for an upscale look with a no-twist Bevl™ organic cotton lanyard. Or, if you're looking for bold, bright print, a recycled lanyard is the way to go. Believe it or not, these are made from 100% recycled soda bottles. This is a great story to tell when creating your event's brand story and leaving a lasting impression on your attendees.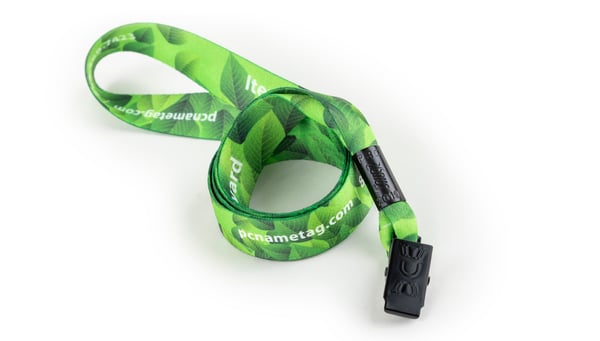 Item Shown:Recycled Lanyard with Black Metal Bulldog Clip by pc/nametag
4) Make conference registration a fun (and fast) experience with a recyclable name tag organizer.
Attendee engagement has been a hot topic in the events industry in recent years. While including activities like trivia and networking sessions are lots of fun, it's important to remember that attendee engagement starts before your guests set foot in your meeting room or on your expo floor.
Waiting in a long registration line can be a bummer, especially when attendees are eager to get checked in and start interacting. One tip for making the registration process more enjoyable is to use a badge organizer, like the OneWay Stack™ Name Tag Organizer. This product is recyclable, made from recycled materials, and turns the registration process into something guests can enjoy.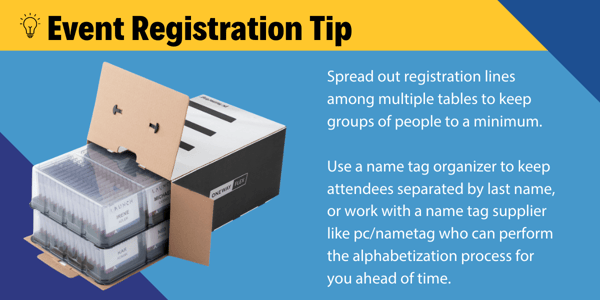 5) Give your attendees eco-friendly promotional products they'll love.
One of my favorite parts of attending a conference is getting to take home fun event swag. Unfortunately, I've noticed that many of these giveaways end up in the garbage once events are over, especially if attendees don't see an immediate use for the item.
If your organization wants to focus on eco-friendly marketing materials and promotional items, consider items like reusable shopping bags or handy metal straw sets. Or consider giving away something made locally, like small jars of honey or a branded packet of native plant seeds.
My favorite eco-friendly promotional giveaways include the following:
| | |
| --- | --- |
| | Recycled Cotton Convention Tote: This tote is made from recycled cotton collected from garment cutting waste. Through a partnership with 1% For The Planet, one percent of sales is donated to non-profits dedicated to protecting the planet. |
| | Welly® Traveler Bottle: Three percent of sales from this item go toward construction of wells in areas without clean water. These bottles are also constructed with bamboo, a fast-growing sustainable material that requires no fertilizer and regenerates from its own roots. |
| | Trendy Computer Backpack: These are made using 100% recycled water bottles and are part of the 'Eco Smart' line, which donates 1% of sales to non-profits dedicated to protecting the planet. |
| | 100% Recycled PET Sling: This useful sling bag is made from 100% post-consumer recycled PET. Plus, it gives people a way to easily carry their items during and after your event. |
What eco-friendly giveaway items do you like or use? Let me know by leaving a comment below. If it is useful to you, it will be useful to other people too.
Event Sustainability Resources to Help You Hit the Ground Running
Hungry for more eco-friendly event advice? Use these event planning resources to hit the ground running:
Read my blog "

10 Eco-friendly Conference Tips for the Sustainable Event Planner

,"

where I've written a run-down on ten sustainable event strategies you can start using right away. You might also enjoy my expert round-up on sustainability ideas to help your organization go green.



Explore pc/nametag's

Sustainable Event Supplies. As the industry's go-to provider for all things event supplies, we'll guide you through the essentials you'll need to host a green event you can be proud of.



Download my ebook on "

How to Host a Sustainable Event

."

Inside, you'll find tips and tricks geared specifically towards planners. You'll learn how to reduce usage, make fewer unnecessary purchases and create less waste, the easy way.