Attendee safety has always been a top priority for event planners. In fact, most would agree that the safest events start long before attendees arrive. From health and safety plans to touchless registration and physically distanced floor plans, the events industry has been working harder than ever before to prepare for a safe return to live events.
Despite recent strides in attendee safety protocol, research shows that 55% of planners still cite safety concerns as their biggest obstacle when hosting a live event. As more people become vaccinated this year, now is the time to think about the future of events and what it will take to make attendees feel safe enough to attend in person.
In this guide, you'll find our best tips and tricks for reimagining how you handle event space design at your next live event.
Table of Contents
Live Events are Irreplaceable. Here's What Statistics Say.
There's no denying that COVID-19 was incredibly tough on the events industry. Yet, at the same time, it also paved the way for incredible innovation and creativity that we may not have seen otherwise.
For example, 64% of event professionals say they'd never implemented a virtual event before COVID-19. However, the same industry trends report also shows the following statistics:
52% of event professionals say their biggest frustration with virtual events is being unable to match live engagement.

16% of event professionals say they see "no real value" in virtual events.

21% of event professionals say they are "unsure of the long-term benefits" of virtual events.

19% of event professionals say that virtual events can't meet their organization's goals.
While virtual events will always have their place in the industry going forward, these statistics show that many event professionals believe there's no real replacement for the excitement and engagement of in-person events. The good news is that live events will come back stronger than ever before if we as planners make attendees feel safe through cleaning protocols and safe space design. Use the ideas within this blog to help your team nail your next event's space design.
Photo Courtesy of PCMA
Why COVID-safe Event Design Matters
Meeting spaces and event venues have always been a highlight for the people who use them. Not only do they set the tone for social interaction and conversation, but they also provide a great place for collaboration and attendee networking activities for those attending your event.
Today, attendee expectations have changed when it comes to the safety, sanitization and design of social spaces. They need to be re-designed with a focus on safety in order to attract attendees and help them feel comfortable.
To facilitate the safest return possible to meetings and events, planners will need to create spaces that are safe, yet realistic and productive. They may also need to implement on-site COVID-19 testing to increase safety. Read the following sections to find space design tips you can use to bring people together safely in your venue.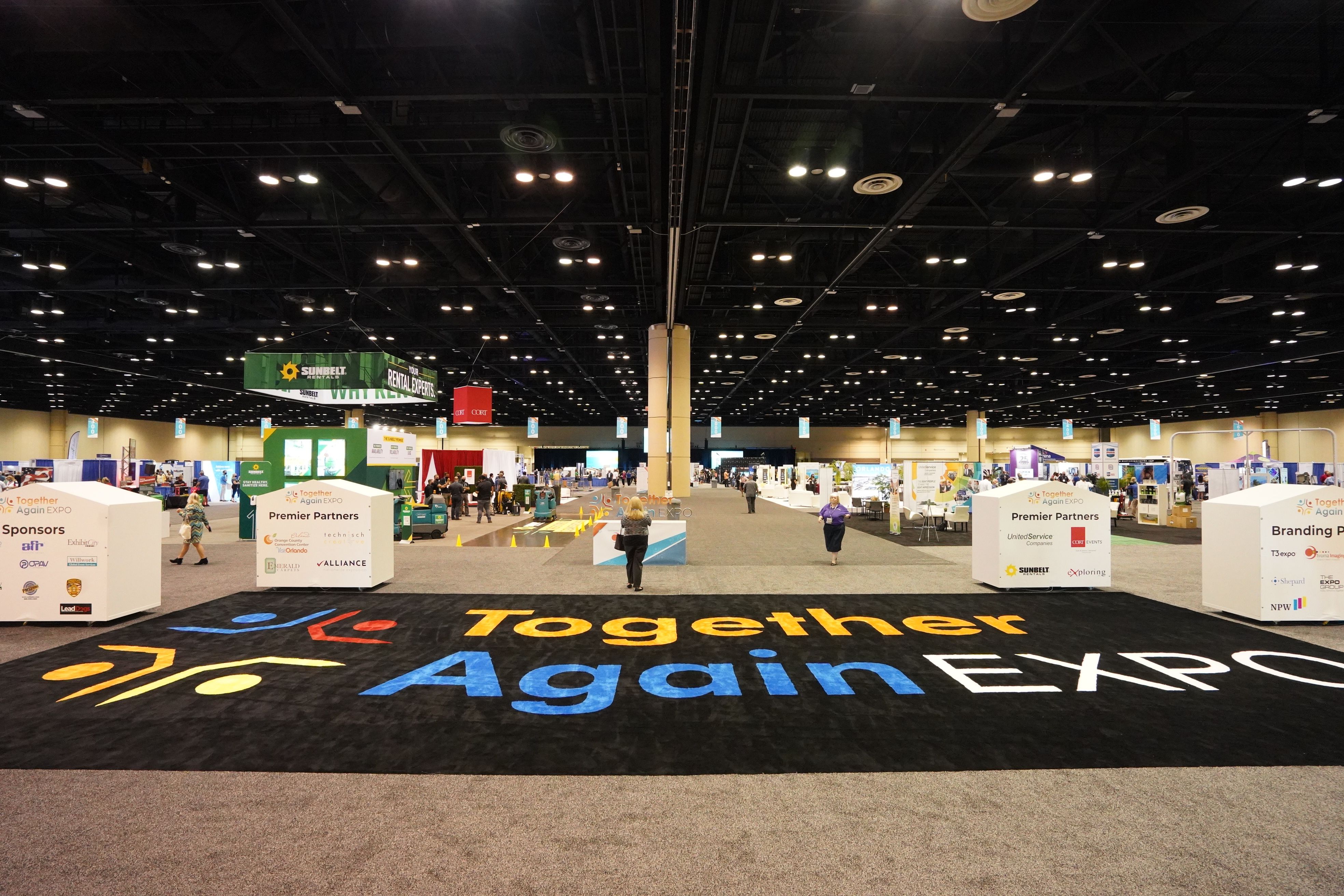 Photo Courtesy of the Together Again Expo 2020
Pre-event Safety Planning and Design Tips
As we mentioned before, safe events don't just happen; they require a great deal of planning and set-up long before attendees ever set foot in the door. Follow these tips to kickstart your safe, in-person event planning process.
1) Find a venue that will accommodate your event's space needs.
When organizing an event, choosing a venue is one of the most important decisions you'll make. You want to choose a venue that is spacious enough to accommodate all attendees while also adhering to six-foot distancing guidelines. Look for venue options that are equipped with a good ventilation system for attendee peace-of-mind (and a great value proposition!)
2) Learn what safety precautions the venue is taking.
Event venues want your business, but they also want to host events that are conducive to safety. Evaluate a variety of options and make sure to ask the venue what their approach is to attendee health and space sanitization. Most venues will have some sort of safety regulations in place (like temperature checks), but your team may need to implement additional safeguards on top of these protocols.
The ISSA, a leading trade association for the cleaning industry, now offers the GBAC STAR Accreditation Program to help venues establish a comprehensive cleaning, disinfection and infectious disease prevention program to protect staff and attendees.

Venues with the GBAC STAR certification have successfully demonstrated correct work practices, procedures and systems to prepare, respond, and recover from outbreaks and pandemics.
3) Work with the venue to create your space design plan.
Collaborate with your venue to accomplish your event's safety goals. What equipment or supplies will be needed to encourage physical distancing? How will seating and social areas be set up to reduce the spread of illness? What pathways will attendees need to take to avoid close encounters with one another? Use these questions to kickstart a discussion with your venue. Remember to have a contingency plan in place for situations that may need a plan B.
Event Floor Plan Design Tips
Once you've found a venue that meets your event's needs, start thinking about how the event's floor plan design will be set up and designed for distancing and safety protocols. Here are some ways to get creative with safe event space design.
1) Determine how your meeting room will be set up.
First, create an attendee seating plan that adheres to physical distancing guidelines. This step largely depends on what type of seating your event will require. Will you set up singular chairs in socially distanced rows or discussion tables with plastic partitions between attendees? Be mindful of aisle space when creating your plan. You want traffic to flow in a single direction without obstruction.
2) Get creative with distancing, health and safety reminders.
While social distancing is nothing new, it's never a bad idea to gently remind attendees to make smart choices. Use floor stickers, one-way directional signs, and safety posters to help event attendees understand and adhere to established safety precautions. In breakout spaces, utilize tabletop tent signs as a more subtle reminder. You'll find that a variety of signage throughout your venue is one of the best ways to reinforce safety at your event.
Attendee Pre-communication Tips
When it comes to event marketing strategies, there's no such thing as too much communication with event attendees, especially when it comes to health and safety. Attendees who are not confident in your event's safety simply will not attend, which can hurt your organization's ROI. Here's how to incorporate communication into every step of your event marketing plan and safety plan.
1) Keep staff and attendees up-to-speed on safety protocols.
Make attendees and prospective attendees aware of how you'll manage social distancing, PPE and other safety protocols. During these uncertain times, attendees want reassurance. Ease their anxieties by letting them know in advance what to expect, then be sure to deliver on those promises! Maintain communication via your event's website, conference app, email marketing, content marketing, blog posts, and social media channels.
2) Share with attendees the design of each meeting space.
Safety protocols aren't the only information you should share with attendees before your event. Sharing your event's meeting room layouts can also be especially helpful in building confidence. Allow attendees to see the layouts for each room on your website. Demonstrate how spacing will be maintained for their safety. This is also a great opportunity to highlight your venue's ventilation systems — another way to build trust with attendees.
"Justifying an in-person event and convincing attendees to come will be a challenge this year. Focus your communication on safety and attendee value propositions in your event marketing materials. For example, explain why people attend. What will they gain from coming? What steps is your team taking to maintain safety? Open communication is key."

Nicole Jacobson, Director of Marketing, pc/nametag
3) Answer safety-related questions that attendees have.
If you're hosting a live event, your team needs to be prepared to address any questions or objections from attendees regarding health and safety guidelines. Attendees will have varying comfort levels and viewpoints, so leverage space design techniques to ease their fears. We suggest creating an FAQ page on your website with in-depth explanations of what attendees can expect.
Safe Event Registration Tips
The registration process is one of the first experiences your attendees will have at your event. Since in-person registration may not be feasible for the time being due to safety, use space design tips like these to eliminate overcrowding.
1) Find ways to expedite the registration process.
Online registration is a great place to start. Allow attendees to pick a time for their arrival and check-in. You may also consider staggering registration times to limit the number of people congregating in your registration area. No matter how you choose to approach registration, make sure that attendees know what to expect upon arrival. The more information you provide, the better. Nobody enjoys a chaotic registration process!
2) Deliver registration materials to attendees before your event.
The concept of event registration is transforming; gone are the days of long, congested lines! Get crafty with how your event handles registration. If you are working with host hotels, ask if they can provide registration packets upon check-in, or deliver materials to attendees' rooms pre-event. You may also offer pop-up registration tables in common areas or mail registration packets to attendees' homes prior to the event.
3) Avoid lines and congestion through space design.
Help attendees get past registration quickly and into your event faster! Use kiosks to give attendees contactless check-in. You may also find it helpful to provide partitions between lines to encourage distancing. Don't forget to leverage floor stickers to remind attendees where to stand as they wait in line for registration, food, beverages and tradeshow booths.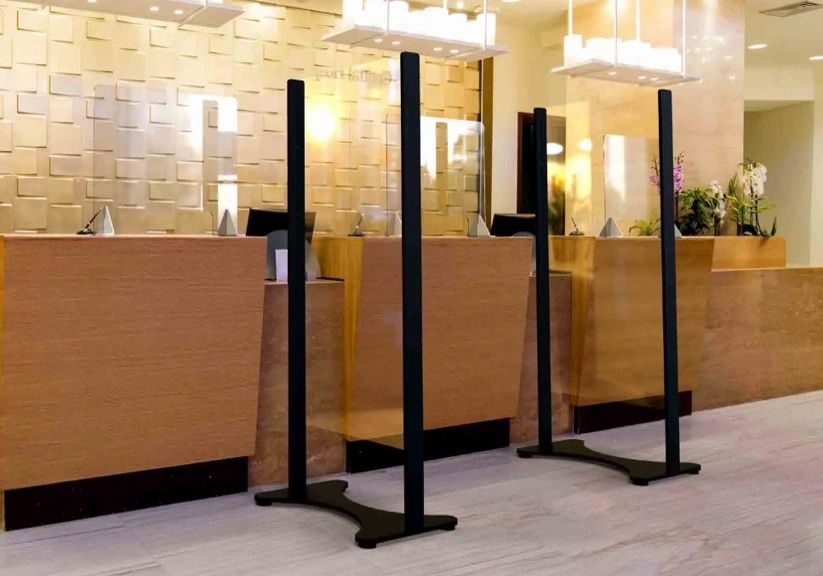 Photo courtesy of Meeting Shields, LLC.
Space Design Tips for During Your Meeting
COVID-safe event design doesn't need to be an eye-sore. Have confidence and know that your team can create an unforgettable event through the help of innovative space design for safety. Check out our list of curated tips below.
1) Assemble kits with essential PPE products for a safe social gathering.
One of the easiest ways to ensure that people have access to the personal protective equipment (PPE) they need is by mailing a pre-assembled PPE kit to their homes. Not only will a PPE kit make your event attendees feel appreciated, kits will also give people the confidence and protection they need to fully participate at your gathering. By providing safety items like face masks, hand sanitizer and nitrile gloves, your space design techniques will become more effective.
Tag Tip:

Include pre-printed name badges inside the kit or in a registration envelope. This will cut down on lengthy, congested registration lines at your event.

Attendees may also appreciate having a set of silicone wristbands included to indicate their social comfort levels.
2) Arrange furniture to keep guests safely apart.
Hosting a safe face-to-face event doesn't mean you have to skimp on style. Work with a furniture and décor rental service to strategically place furniture to encourage safe distancing. You may also find it helpful to research examples of meeting room designs that are COVID-safe. Think about how you can leverage furniture to your advantage in registration areas, stage sets, audience seating, food and beverage service areas, and trade show booths.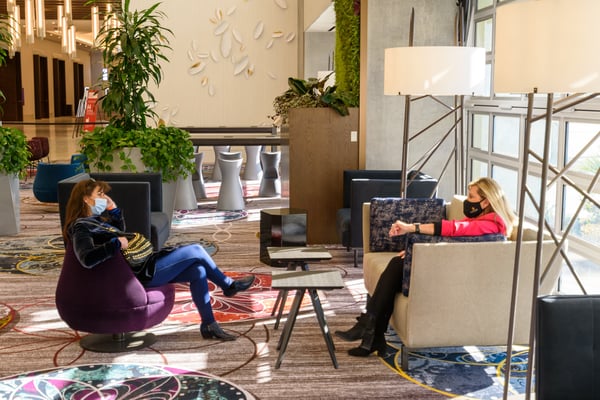 Photo Courtesy of PCMA Convening Leaders Conference


3) Use stanchions, rental walls or partitions for crowd control.
Using barriers is one of the easiest ways to create intimate spaces where attendees can gather in a safe way. Walls and partitions can be personalized to meet your safety needs and even your event's branding. For example, use clear dividers to improve distancing without making attendees feel cramped. Use drapery for an elegant look that also serves as a barrier. Leverage faux greenery walls to add color and life to your conference floor. The opportunities are endless!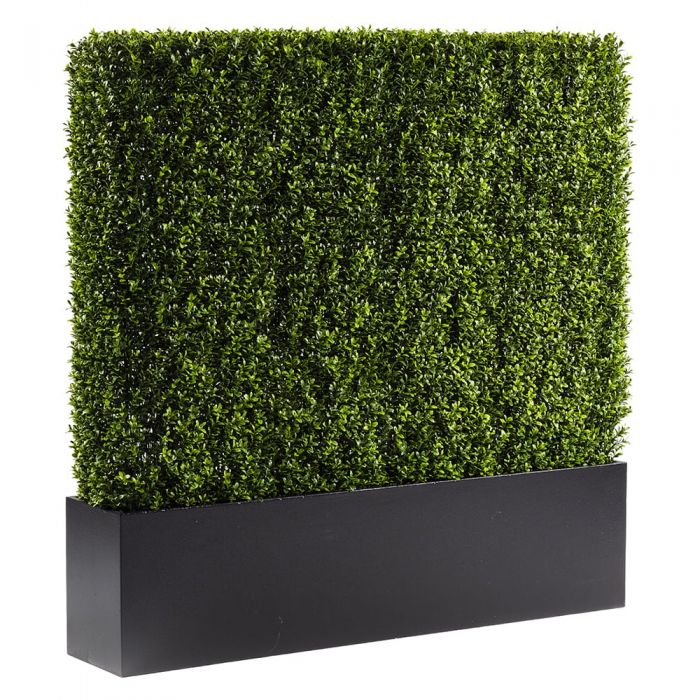 Define space and add a touch of green with a boxwood hedge from CORT Events.
4) Incorporate greenery into space design for attendee wellness.
Never underestimate the power of indoor plants and greenery. Biophilic design has become increasingly popular among event planners looking to improve attendee satisfaction. Bring a fresh, natural element to your event design by incorporating plants and greenery in breakout spaces, lounges, tradeshow booths and on stage. Strategic placement of plants and greenery subconsciously encourage distancing, but also projecting a 'wellness' environment at your event.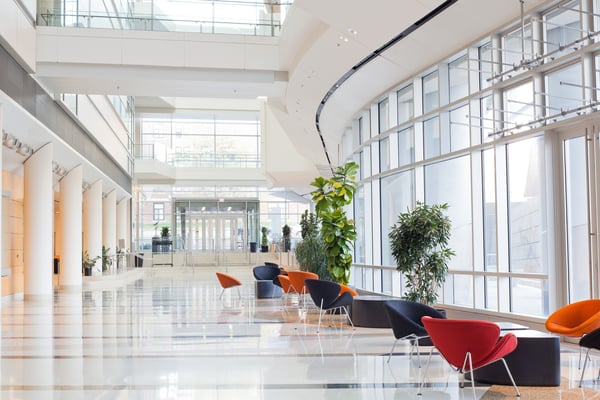 5) Place floor stickers to encourage attendees to stay 6 feet apart.
Floor decals are an ideal type of safety sign because of their versatility. Use colorful, eye-catching designs to encourage distancing and direct foot traffic. Many floor and wall stickers are repositionable, which gives you the flexibility to relocate and remove them with no adhesive residue. Your venue will thank you!
6) Leverage wearable event technology to reinforce distancing in spaces.
Contact tracing devices are quickly becoming one of the most innovative ways to bring staff and attendees back together in a safe and secure manner. A social distancing wearable leverages Bluetooth & Ultra-Wide Band technology to create a virtual perimeter around the wearer. When other users come within an unsafe distance, the wristband flashes, vibrates and alerts the wearer.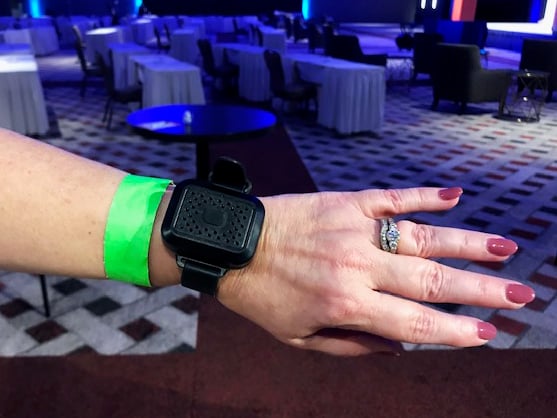 7) Use adhesive badge ribbons to create conversations around safety.
Badge ribbons have exploded in popularity at trade shows, meetings and events. Today, badge ribbons have taken on a whole new use: to indicate COVID-19 testing, encourage social distancing and keep people informed — all from an event attendee's badge. Badge ribbons are the perfect tool for conveying health-related information, providing peace of mind and enforcing safety protocols in the building.
8) Provide attendees with "owned" spaces, seating and tables.
General seating has always been popular at events. However, COVID-19 has highlighted the need for private, well-sanitized spaces that attendees can trust. Give attendees reassurance by allowing them to "claim" their own seat, which they can use throughout the event. For instance, assign one attendee to each 6' communal table in lecture-style sessions. Give attendees a "home base" they can use and rely on for the day.
Photo Courtesy of PCMA
Once your event has concluded, remember to reach out to attendees with a post event survey. It never hurts to get feedback from attendees, and you may learn a thing or two on how to improve your event's safety and design in the future.
Safety Quick Tips from pc/nametag
Pulling off a successful in-person event this year is possible if you have the right planning in place. Here are a few ways to create a great impression at your event through event supplies, marketing ideas, promotional items and safety gear:
Incentivize sign-ups an

d promote your event wi

th a fun giveaway, like event branded t-shirts.
Customize an event badge to include safety best practices on the back.
Pair your badge with a wipeable plastic lanyard for increased sanitization.
Provide hand sanitizer for cleaning hands on-the-go.
Let attendees choose from a variety of badge ribbons, including COVID-19 safety options.
Include a list of safety expectations in attendee registration packets.
Leverage health and safety signage to provide guidance to attendees.
Thank attendees for coming to your live event with event branded gifts.
A successful event will leverage a variety of attendee engagement tactics that also contribute to safety. If you're looking for more ideas, reach out to the pc/nametag team. We are here to help.


What tips do you have for COVID-safe events?
Are you planning an in-person event this year or next? We'd love to hear how your team is preparing for a safe, fun return to live events. Share your advice with us below. If it's useful to you, it will be useful to someone else too!
READ NEXT: