If you're an extrovert, chances are you enjoy attending networking events. They're a great place to have fun, meet fellow professionals, share industry trends, and build lasting connections that foster career growth. What's not to love?
But what about people who struggle to make face-to-face connections? While social hours, networking games, and interactive activities can certainly benefit your event, they can also be difficult for introverts to find their voice. The good news? Networking events don't have to be something that people dread.
Many of us have gotten a bit "rusty" with our networking skills, but according to Shideh Doerr, it's never too late to practice. Read on to find her best tips for getting everyone talking, networking, and connecting at your events with confidence.
Table of Contents:
Making Event Networking Fun Again
Shideh Doerr serves as the Co-founder and "Chief Magician Officer" of JabberYak, an organization that specializes in icebreaker activities and team-building products for event organizers.

She is a wife, mother, entrepreneur, and business owner who loves bringing people together for meaningful conversations, both in the office and at events. She is passionate about helping her clients improve teamwork, interactions, and customer retention.
pc/nametag: "Thanks for joining us, Shideh. Tell us more about yourself."
Shideh Doerr: "I have spent the last 25+ years of my career working in healthcare. But in 2018, I got restless and needed a change. My business partner and I made it our mission to get people back to the basics of talking again, and that's how the brilliant idea of JabberYak came into existence.
The story of JabberYak started with my love of connecting with people and hearing their stories. Even though I was a natural social butterfly (mostly due to my Middle Eastern culture), it wasn't always easy for me to walk into a room full of strangers and start a conversation.
It was intimidating and sometimes awkward. I found myself always looking for a way to create a connection and start a conversation. JabberYak became the very icebreaker I was in search of."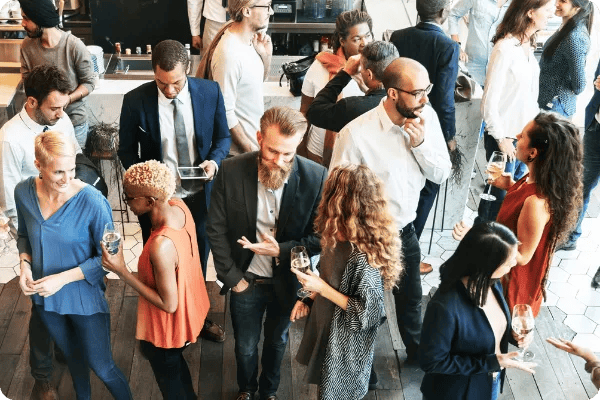 PCN: "What is it like being an entrepreneur who owns her own business?"
Doerr: "As one of the co-founders of JabberYak, I am responsible for business development, operations, finance, legal, and strategy. But we always make a point to have a lot of fun. For instance, I go by 'Chief Magician Officer' at work. We also have a 'Chief Gangster Officer' and a 'Chief Hustler Officer.'
After years of having a traditional C-suite title in the healthcare world, I decided to shake things up. Our team had a total blast at the drawing table thinking of fun titles for everyone."
PCN: "What is JabberYak and how does it help event planners?"
Doerr: "I always tell people that we are a company that has developed a concept to get people talking, both in the workplace or at events. It sounds so simple, yet we've taken things a step further with technology and data collection. At JabberYak, we help event professionals build powerful networks between attendees.
Our technology encourages audiences to select 7 personal interests that can be printed on t-shirts, badges, name tags, door/desk name plates, and email signatures. Our goal is to provide an easy way to get conversations flowing. Attendees love sharing interesting facts about themselves and sharing them with others.
Since our official launch in August of 2021, we have gained so much recognition and brand awareness nationwide. It's rewarding to see JabberYak in use at events great and small, including at IMEX and MPI. I've never been to an event where there wasn't excitement around it. We've also worked with many business councils, chambers, and destination management companies."
PCN: "JabberYak works on the Seven Degrees of Interest. What is that and why should event planners care?"
Doerr: "People don't realize that seven is a magical number. There's a cognitive psychologist by the name of George Miller who's written several books and articles about magic number seven. His theory states that people can connect on at least one out of every seven interests. It doesn't matter whether you've known each other for decades or you're total strangers; you're bound to connect over at least one topic.
This theory sparked an idea. After conducting research and focus groups, we settled on the idea of giving attendees different ways to display seven of their favorite interests right from their shirts, badges, or buttons. People think it's random, but it's not. It's the Science of Seven. It's a cool concept knowing event planners can hold a networking activity that's also backed by psychology."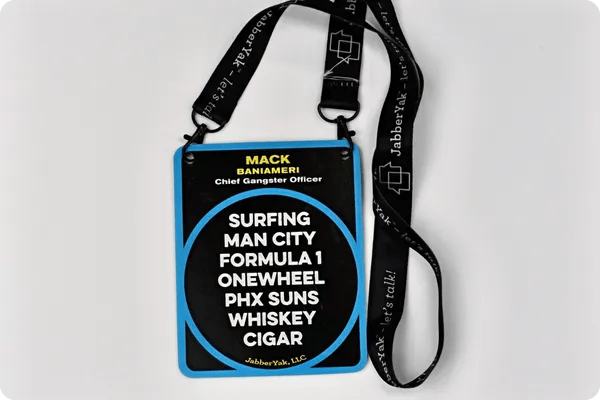 PCN: "How do attendees select their seven interests?"
Doerr: "We have thirteen main categories, each containing 11-40 unique interests to choose from. Attendees choose seven 'favorites' which can then be printed on t-shirts, badges, buttons, or office name tags. In the past, we've created custom categories too, especially if an organization wants to add additional activities for people to select.
I remember one time, someone mentioned that they wished we had ax throwing as an option. We implemented that option within a day. Event attendees and planners love it."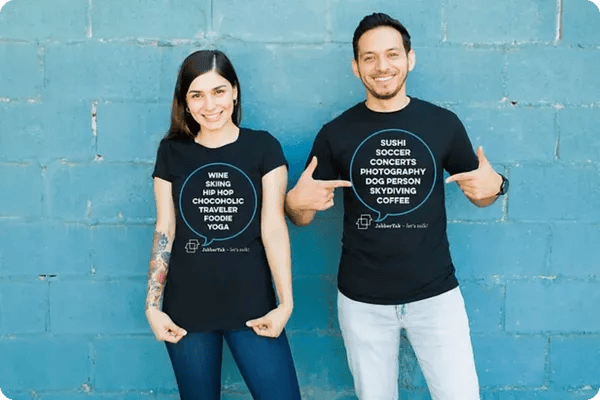 PCN: "How do attendees show off their seven interests?"
Doerr: "For corporate events, we really lean into badges, t-shirts, buttons, and sometimes name tags. Our t-shirts are great for retreats, onboarding, employee engagement activities, and social gatherings. It gives the event a casual, welcoming feel.
We also offer name plates for the office. Team leaders love our nameplates because they can be used as a networking tool among employees. Plus, you can take it with you when you move offices."
Networking Ideas for Conference Planners
PCN: "Why are networking activities important at events and in the workplace?"
Doerr: "I describe myself as an extroverted introvert. I love bringing people together for events and parties, but I also love stepping back and seeing everything come together. Inclusive networking activities are a must for people like me. It's so uncomfortable walking into a room and not knowing someone. Meetings are intimidating, especially when someone doesn't recognize or know other attendees.
Networking activities are important because no attendee should have to 'go through the motions' at a conference. Introverts and extroverts alike deserve to make connections without it being awkward. That's where JabberYak comes into play.
Imagine seeing someone with 'paragliding' as one of their interests. You may have never done it, but it's still a conversation starter. While you may not share the same interest with someone, you can still share a respect for others' differences."
PCN: "How can networking games benefit introverted attendees?"
Doerr: "While some people are naturals at networking, others need a bit of a 'crutch' to get started—and that's okay! We have such negative connotations around the word, but we need to let that go. It's a scary feeling when you're alone and don't know anyone. Imagine spending the entire event thinking 'Ugh, I can't wait for this to be over.' Nobody wants to be a wallflower.
It's up to event organizers to give introverts the tools they need to make connections. My advice is to give introverts something they can wear to give extroverts a 'visual cue' for conversation. For example, a JabberYak button empowers everyone to participate equally. Even if an introvert doesn't go up to other attendees, people will still engage with them to learn more about their seven interests.
My goal is to help people realize 'Hey, that really wasn't that bad! I had a good time!' To me, that is such a cool feeling to give someone."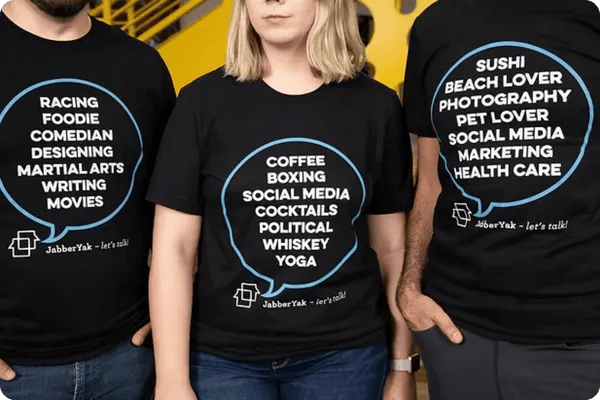 PCN: "What are your favorite networking games for large groups?"
Doerr: "Organizing a scavenger hunt is one of the best ways to get attendees talking. You can keep it simple with a game of People Bingo. Or you can take it a step further by giving attendees a QR code that launches an app-based scavenger hunt.
JabberYak offers a mobile scavenger hunt that encourages people to identify seven unique people from your gathering. For example, it might say 'Find someone who's a foodie' or 'Find someone who likes Formula 1 Racing.' Attendees must interact with one another, discuss their displayed interests, write down each other's names, and submit them to complete the activity.
People love brand activations, gamification, and earning prizes. Event planners can improve participation by announcing that anyone who completes the scavenger hunt will be entered to win a prize. Push yourself to find unexpected ways to encourage networking."
PCN: "How can event organizers engage attendees of online networking events?"
Doerr: "Building relationships with online attendees is hard. Whether you're using GoTo Meeting, Microsoft Teams, Zoom, or another virtual event platform, you can still plan virtual networking ideas that get people involved.
One idea is to utilize virtual event backgrounds that spark conversation. This conversation starter pushes virtual attendees to break down barriers and build relationships. Even if there are lots of people on a screen, you can still click on a person's screen to see it closer. Planners can even place attendees in randomly generated private chats or small group chats.
Another idea is to create virtual signatures that show a person's seven degrees of interest along with your name, title, and company logo. JabberYak offers custom virtual backgrounds and signatures at no extra cost to planners."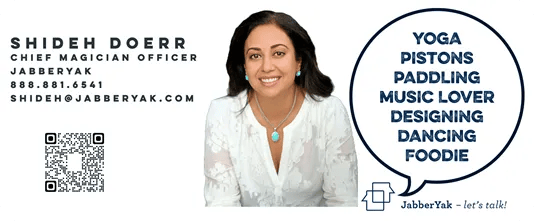 PCN: "What speed networking ideas can you share with conference planners?"
Doerr: "Group attendees into breakout sessions based on their interests, then give them a colored lanyard or a special badge ribbon to represent their group. In their groups, write a list of questions or topics to discuss. For instance, if a group of people like reading, have them discuss their favorite books. It's like a secret passcode to better conversation.
We have an awesome new app coming out called the 'Connect Now' app that'll do just that. When you go to a conference, you'll be able to open the app and see people with the same interests as you.
It's like matchmaking. Just click on any of your seven interests and you'll see people that match you. Mobile apps are a great tool for letting attendees organize their own meetups and connect with others."
PCN: "Many event planners want to learn how to measure event ROI more efficiently. How do you measure event success?"
Doerr: "Let me start with a story. One time, a client of ours hosted a conference with several activities including Zumba and walking tours. However, when they reviewed their JabberYak data, they saw that Zumba wasn't a top activity choice among attendees. 'Yoga' and 'Running' were selected more often.
The planners hired a local yoga instructor for a pre-meeting class. They also assembled a sightseeing running group before the conference began. Lastly, they organized a list of local wineries for the large group of people who identified as wine lovers.
As planners, it's nice to give people options. Attendees want to know the experiences you plan are tailored to their unique needs and interests. The planners in my story took their conference above and beyond, and all it took was a little extra planning. My suggestion is to send a post-event survey to get attendee feedback.
PCN: "Is the attendee data that JabberYak collects safe and secure?"
Doerr: "Yes. We collect a lot of data, but we never share it or sell it. That data belongs to the event planner or the employer. It's your data and you deserve to have it to make event planning easier. How you use it is up to you.
It's also important to note that there are lots of rules around sharing data, especially from international attendees. We sign necessary agreements to ensure everything is compliant.
Between our 'seven interests' ice-breaker product, our scavenger hunt, and our Connect Now app, there are so many ways for event planners to collect valuable data from attendees. Use these results to further engage your audience and improve your chances of them returning to your next event."
PCN: "What is your greatest advice for fellow meeting planners?"
Doerr: "Planning and executing a business event is hard. There are so many aspects that go into making it happen. But sometimes, we fail to create events that are truly engaging. Why? Because we don't understand our audience.
Remember, people are taking time away from their families to come to your event. It's up to you to make the experience meaningful. Start by giving people options. One size doesn't fit all. For example, a brewery tour and a wine tour won't appeal to people who aren't drinkers.
While sessions are great, sometimes people's brains need a break. Make sure to plan networking activities where there's something for everyone. It sounds like a lot of work, but it's not, especially when you work with local companies near your venue."
Get Connected with JabberYak!
"I'm a firm believer that people need human interaction, yet we've seemed to have fallen out of love with it," Doerr says. "JabberYak gets people back in practice. It also helps build your brand gain trust, develop relationships and take the awkwardness out of networking."
On behalf of Tag/Talk, we'd like to thank Shideh for her contributions to this article. No matter your event goals, the JabberYak team would love to chat solutions with you! Explore JabberYak's website and learn about their icebreaker activities, mobile scavenger hunt, digital solutions, and data analytics.