Event marketers know that creating brand engagement takes thought, hard work, and ingenuity. After all, you may know your target audience, but what if they don't know you? What strategies can you use to build meaningful connections, generate event engagement, and boost sales?
Brand activations may be the answer, especially if you're looking for a creative way to get customers excited about your organization. Not only are brand activations fun, but they're also highly interactive—the perfect method for getting customers and prospects more familiar with your brand, its products, and services.
If this sounds difficult, expensive, or confusing for your team to consider, we challenge you to keep reading. 💪 This article covers cost-effective ways to recreate some of the coolest brand activations we could find, no matter your event planning budget.
What is brand activation?
"Brand activation" is an immersive marketing strategy that uses events, campaigns, and activities to generate brand awareness, boost customer loyalty, and build lasting connections with target audiences. Brand activation is typically a one-off, in-person experience with a hands-on, branded activity for people to participate in.
The biggest goal of hosting an activation is to elevate your brand. When it comes to brand activations and other types of experiential marketing, it's all about fostering engagement through immersive experiences. It's up to you to determine the best ways to make your brand more meaningful, memorable, and trustworthy to your target audience.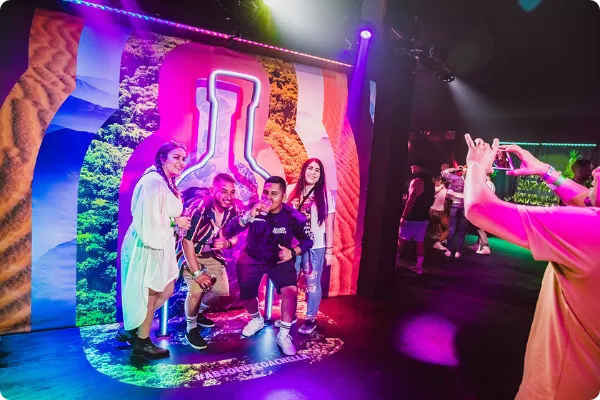 A neon-themed photo spot at Coachella, provided by Absolut.
Types of Brand Activation, Plus Examples
Done right, event activations can help raise brand awareness, foster meaningful connections, nurture business opportunities, and build long-term customer loyalty.
Types of brand activations include the following:
Experiential Marketing: Any strategy that fosters brand engagement through immersive experiences. Examples of experiential marketing include challenges, social media contests, fun booths, and interactive displays.
Experiential Events: Face-to-face social gatherings that empower organizations to promote their brand, products, and services in interactive ways. Examples of experiential events include auctions, ceremonies, community events, conferences, festivals, fundraisers, lunch-and-learns, networking events, open houses, pop-up shops, and retreats.
In-person Games and Activities: Playful, interactive activities that keep prospects and customers engaged from the moment they arrive to the second they leave your booth or pop-up. Examples include raffles, claw machines, photo booths, spin-to-win games, arcade-style games, and other sponsored activities. Read a full list of interactive trade show games here!
Samples and Free Trials: Free giveaways delight prospects, introduce them to your offerings, and give them the confidence to pay full price for your item later. Samples are highly effective since you are physically putting your product or service in the hands of people who are likely to use them. Pair your sampling strategy with a useful demonstration or feedback survey.
Remember, the best brand activations help bring your brand to life. Use them to draw the attention of new audiences and reengage existing ones.
Focus on using activations like these to create a memorable event experience that will leave people wanting to interact with your brand in the future (which, in turn, will boost event ROI).
3 Brand Activation Ideas to Recreate at Your Event
When it comes to creating a unique brand activation, there's no need to recreate the wheel. Start by taking note of what popular brands have done! While everyone's event budget is different, a lot can be learned from successful brand activations executed by top-trending brands.
Read on to find out what we loved about these experiential marketing events by Netflix, Sephora, and Salesforce.
Stranger Things is one of Netflix's most successful shows. If you're not yet familiar with it, the story takes place in the 1980s and follows a pack of kids as they investigate strange and supernatural occurrences around the town of Hawkins, Indiana.
In Stranger Things, November 6, 1983 was the day Will Byers, one of the main characters, first goes missing. This is how "Stranger Things Day" came to be on November 6, 2021. This social media-based brand activation took place online and was filled with exciting news about Season 4. The event featured sneak peeks at upcoming episode titles, new products, and changes coming to the main characters.
Recreate This Stranger Things Event on a Budget:
Use Canva to design eye-catching social media posts and stories that celebrate your event.
Design a themed video chat background for Zoom, Microsoft Teams, or Google Hangouts.
Tease any big surprises or main events that attendees can look forward to.
Provide exclusive sneak peeks at any new product launches.
Open a pop-up shop with gifts, samples, and products for purchase.
Develop a Snapchat or augmented reality filter for social media users to use.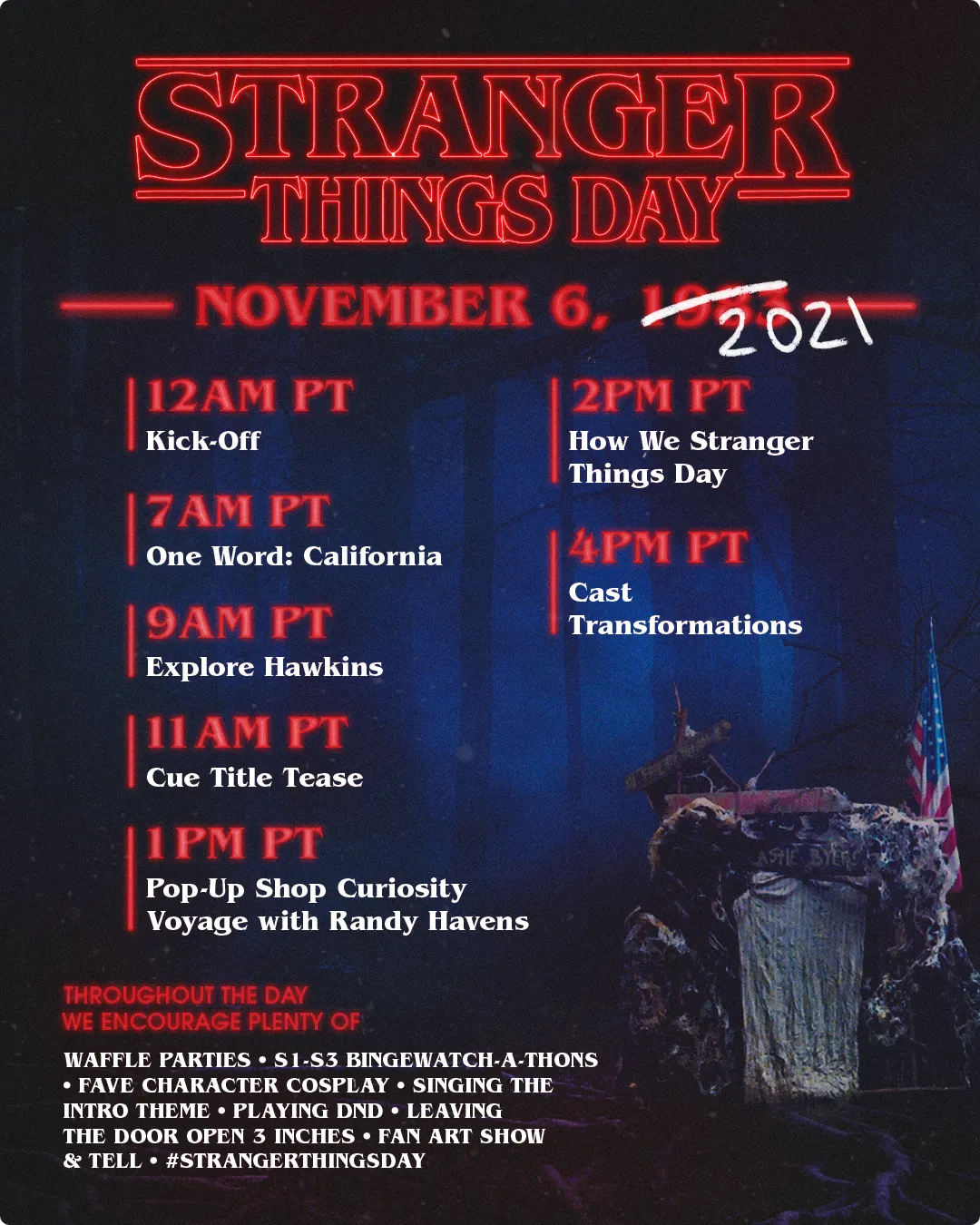 2. Sephora Experiential Marketing: "Outdoor Beauty Maze"
On Aug. 20 and 21, 2021, the beauty brand "Sephora" held a unique brand activation to toast its new retail partnership with Kohls. The two-day event included a "beauty maze" filled with gamification and touch-free, interactive experiences.
Attendees received push notifications on their devices through geo-location beacon technology, which provided instructions on how to interact with product displays, make shareable content and request songs from the live DJ. An outdoor maze featured eight QR code-generated experiences, which empowered guests to take quizzes and have fun.
After completing the maze outside, Sephora drove event attendees inside the Kohl's store through gamification elements, which incentivized attendees to find the eight brand touchpoints, scan and collect the codes, then redeem them for spin-to-win prizes in the store.
Recreate This Sephora Event on a Budget:
Use event technology, like a mobile app, to bring your event to life.
Generate leads and booth visitors with immersive gamification activities.
Disperse QR codes around your event to create a digital "scavenger hunt."
Let attendees collect points to join a leaderboard and potentially win a prize.
Create nostalgia with arcade-style games, like spin-to-win prize wheels.
Use a tool like Kahoot to host live trivia about your brand or industry.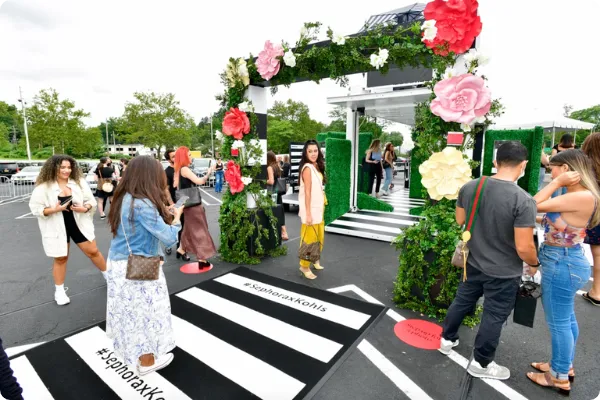 Photo Credit: Eugene Gologursky and Getty Images
3. Salesforce Experiential Marketing: "Dreamforce"
Many sales and marketing professionals will agree that Salesforce, the enterprise cloud computing company, is one of the most innovative companies in the world when it comes to experiential events. Their annual conference, Dreamforce, serves as their flagship marketing event and involves four days of learning, innovation, and fun.
The Dreamforce conference celebrates and inspires the Salesforce customer base (whom they call "Trailblazers") to learn more about Salesforce products and services. Each year, the company transforms a convention center into a themed experience, full of interactive exhibits, demos, activities, and installations.
In 2019, for example, the Dreamforce conference took on a National Park theme. Hands-on experiences and interactive installations came alive through campground-themed spaces. The sounds of crickets and birds could be heard through the space as staff dressed in ranger outfits staffed product stations disguised as park lodges. They even had a functioning indoor waterfall!
Recreate This SalesForce Event on a Budget:
Choose a fun event theme to add a "wow factor" to your gathering.
Design themed event tickets (I.e., Movie stubs for a cinema-themed event).
Hand out raffle tickets and draw a winner from a raffle drum.
Customize luggage tags to feature a themed design or event phrase.
Use sound effects and music to bring your brand activation to life.
Invite exhibitors to dress up in a stylized outfit or party theme.
Offer fun beverages, snacks, and Happy Hour drinks that tie into your theme.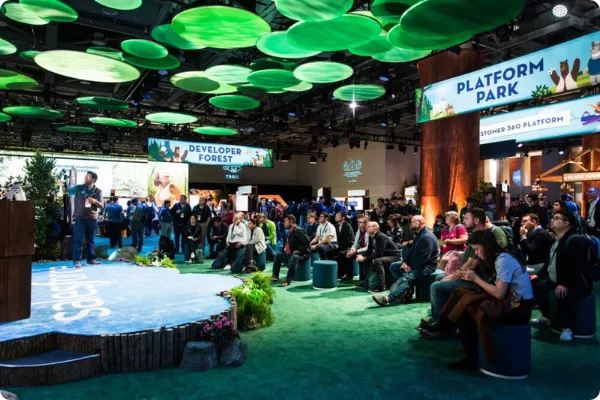 Brand Activation Campaign Tips Every Marketer Should Know
As you brainstorm ways to bring your brand to life, keep in mind the following tips for creating a successful brand activation. Knowing your audience, their challenges, and their passions can help take a "good" marketing activation to a "great" one.
1. Meet your target audience where they're at.
It's a good idea to be where your customers already spend their time. Start by researching popular events in your area that draw in your target customer base. Then, engage the audience with an experience they're bound to enjoy. For instance, if your audience includes social media enthusiasts, create a photo-worthy backdrop or interactive photo booth experience for them to use.
Get Your Free Marketing eBook

Need help identifying your target audience? Our free ebook on Surefire Marketing Tactics Any Team Can Use covers how to formulate buyer personas and more.

Learn how to build brand loyalty, boost web traffic, generate sales leads, and strengthen your marketing strategy by downloading your free copy today!
2. Use marketing activation to solve customer challenges.
What problems do your customers experience? Use an interactive activity to prove your offerings can help. For instance, if your business sells athletic gear, set up a "misting station" at the end of a marathon, then give out branded water bottles to runners. Not only will you solve the problem of dehydration after the race, but you'll also provide a gift that helps prospects recall your brand long after the event is over.
Highlighting the need for a product through a creative brand experience is both strategic and effective. Your mission is to help customers and prospects come to the realization that they need your products or services without being overly salesy.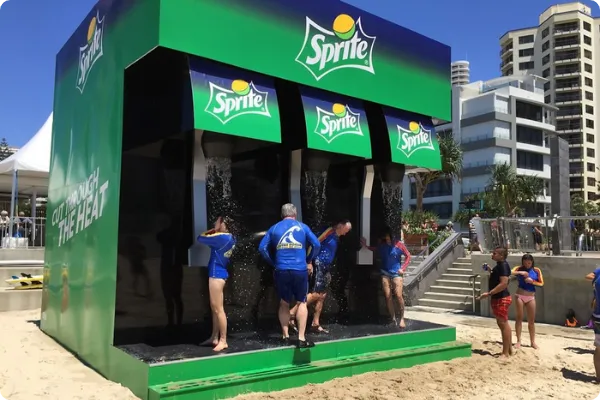 This brand activation by Sprite promotes the soft drink while also helping consumers cool off at the beach.
3. Use social media marketing to improve brand recognition.
Social media marketing is your best friend! Pair your brand activation with trending social media concepts to expand your brand's reach. For example, if you're exhibiting at a trade show, create a custom Snapchat geofilter or lens for your booth, then encourage visitors to publish their photos on social media using the event's official hashtag.
How to Create a Snapchat Geofilter
Go to create.snapchat.com to create a filter.
Either upload your own design or use Snapchat's template to get started.
Select your event's date range and times.
Select your event's location.
Submit your geofilter and wait for your confirmation email.
The size of the area that your geofilter covers as well as the duration of your geofilter will impact how much you'll pay, but costs start as low as $5 per day! In addition to your filter, create an on-site TikTok video of people participating in your brand activation. Don't forget to use fun, trending hashtags to help spread the video.
4. Delight customers with an unexpected activity or theme.
When it comes to designing brand activations, don't be afraid to do something weird, silly, or completely unexpected. Consumers are much more likely to remember an odd yet satisfying experience than a "run-of-the-mill" event experience. Make it your goal to draw attendees' eyes to your booth and intrigue them enough to participate.
Start by creating an activity that surprises, delights, and grabs your audience's attention. For example, instead of handing out food or beverage samples at a table, try setting up a makeshift "food truck" display or a picnic-themed booth area. Play into your theme with a photo spot and social media hashtag.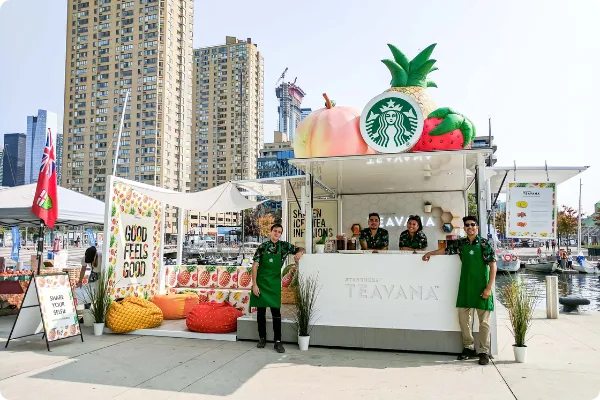 Starbucks used a juice bar-themed stand to bring fun and excitement to their Teavana products.
5. Use brand activation campaigns to promote your brand's values.
Consumers love brands that take a stand for their beliefs and values. When in doubt, use brand activation to highlight what matters most to your brand. For example, if your organization values sustainability, gift a reusable stainless steel straw set or recycled cotton tote bag to anyone who books a demo or makes a purchase.
Not only will this gesture create awareness for the environment, but it will also highlight your brand's dedication to hosting or participating in sustainable events. No matter your organization's values, provide brandable gifts and giveaways that tie into your mission.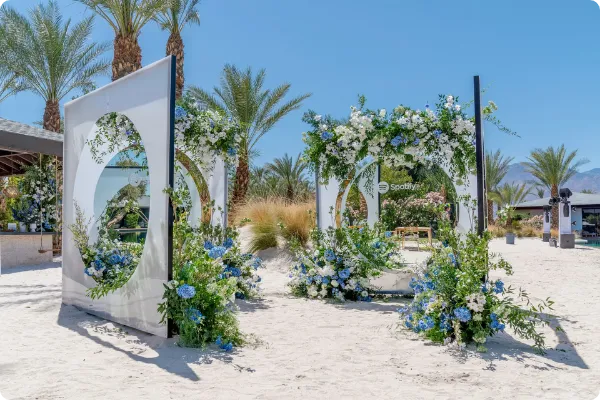 Spotify provided eco-conscious, nature-inspired photo spots at Coachella 2022.
Event Branding, Made Easy
Here at pc/nametag, "customization" is the name of our game. We're constantly on the hunt for ways to make custom-curated event supplies easily accessible to business and event professionals. If you're looking to create a branded experience for your customers, we have the supplies to make it happen:
Custom Badges: With a variety of shapes, sizes and finishes, you're bound to find the perfect solution for any meeting or event. We even have eco-friendly event badges and passes!
Custom Lanyards: Make a splash at your event! Use your lanyard to highlight event sponsors, show off your event's hashtag, and feature messaging unique to your brand.
Custom Badge Ribbons: Who doesn't love badge ribbons? Take advantage of this affordable customer favorite by printing a fun phrase that resonates with your target audience.
Custom Printed Promotional Gifts: Ordering branded gifts and giveaways just got easier. Explore our options, including drinkware, bags, technology, apparel, outdoor accessories, luggage tags, and more.
Before you shop, take a moment to subscribe to the Tag Talk blog for more event planning insights like this, plus 10% off your next event supplies order. Then, contact the Tag Team to learn how to build memorable and meaningful connections with attendees, no matter your budget. We are happy to help!