Your event is over. Exhibitors are packing up, speakers are closing out their presentations, and attendees are saying their final goodbyes. But is your event really over?
Now's the time to initiate one of the most critical components of the event management cycle: your post-event strategy. Unfortunately, this is an area where many planners struggle. Keep reading to find several ways to use post-event engagement strategies to drive value and maintain connections with attendees, even after festivities have concluded.
1. Send a follow-up email to show appreciation and highlight successes.
Never underestimate the power of a well-written thank-you email! This event marketing strategy is a key part of maintaining good relations with participants and increasing attendance at future meetings. You'll also build rapport with attendees, share helpful insights, and highlight success data (such as how many people attended, how much money was raised, etc.)
If you're looking for inspiration, there are dozens of thank-you email templates you can use to follow up with attendees. You'll find that most post-event emails follow a format like this:
Subject Line: Write a short opening line to catch their eye. Include an emoji to improve open rates!
Body Copy: Summarize the event, taking care to make attendees feel valued and appreciated.
Data Points: Highlight the event's success by showing the impact attendees made by attending.
Call-to-action: Finish by asking attendees to take a survey or follow you on social media.
What tips do you have for writing the perfect follow-up email? Leave a comment below.
2. Create a post-event survey for attendee data collection.
Attendee feedback is one of the most important parts of evaluating the success of your event. Even if your event sold out, you'll still want to follow up with guests to make sure they truly enjoyed their experience. An easy way to collect insight is by creating a survey using Google Forms, SurveyMonkey, Qualtrics, or another survey tool. Remember to keep your survey to ten questions or less. "Short and sweet" is best for a great response rate!
In your email, specify how many questions are in the survey, or how long the survey takes to complete (I.e. "A five-minute survey). You can even incentivize the survey by giving respondents the chance to win something, such as an event-branded promotional gift, a gift card, a discount, or a free pass to a future event.
Not sure what to ask in your post-event survey?

Download our list of questions to include in your next attendee survey. You'll find over 40 sample questions to choose from, including several multiple-choice, free-response, and ratings-based questions.
3. Host a networking event or social activity to keep the fun rolling.
Meeting planners know that pre-event networking activities are a must for hyping up attendees and getting them excited to attend next-day activities and sessions. However, post-event networking activities can be just as fun. Social activities are a great way to extend your event and give attendees something to look forward to once your main event has concluded.
Done right, post-event activities and other team-building exercises can help eventgoers get the most value out of your event (even after it's over). You'll also be able to connect attendees with sponsors, drive meaningful conversations and leave your event on a high note.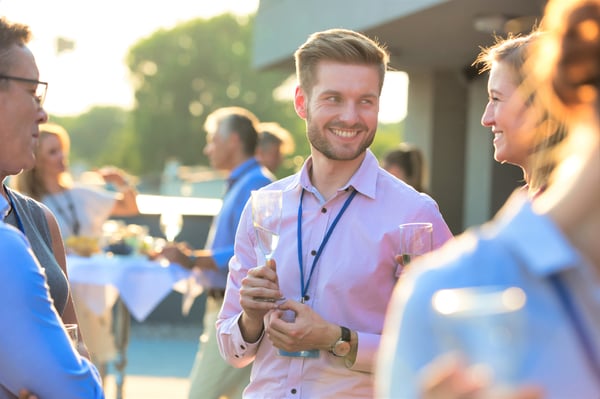 4. Create a social media campaign to excite and delight attendees.
Browsing sites like Facebook, Twitter, YouTube, Reddit, and Instagram has quickly become a go-to activity for millions of people throughout the world, especially when we're feeling bored or have some downtime to spare. Social media marketing has also become one of the most powerful facets of an event marketing plan, especially for generating sales, building brand awareness, and forming meaningful connections with your audience.
Use your organization's social media platforms to keep event attendees engaged, not just after your event, but year-round! Head over to Canva to create stunning graphics and videos, or use some of the following social media ideas to keep people talking about your event long after it's over.
Social Media Engagement Ideas for Event Attendees:
Write a thank-you message to everyone who attended.
Create a montage out of photos, testimonials, and event highlights.
Develop a highlight reel of atte

ndees having fun at your event.

Host a social media contest with an enticing consolation prize.

Boost sales by posting an exclusive offer for everyone who attended.
Get creative with on-brand memes and GIFs that reflect your event.
Help sponsors by re-featuring their products or services.
Invite attendees to follow all your organization's social media accounts.
Have any ideas we forgot? Let us know by leaving a comment below.
5. Mail attendees an event-branded appreciation gift box.
Most people would agree that getting a surprise package in the mail is exciting! An event-branded gift box is a perfect way to catch attendees off-guard at home or in the office and delight them with goodies they'll love. You can include virtually anything in an attendee appreciation kit, but if you're looking for a place to start, we've listed lots of ideas in our Attendee Engagement Kit Look Book.
The key to creating a great gift box is to include a variety of useful promotional products that recipients will love. In fact, one study by the Advertising Specialty Institute (ASI) found that most people keep promotional products for an average of eight months. Make sure to choose event promo products that are brandable and made from high-quality materials.
6. Use attendee data to create a drip marketing campaign.
If you're an event marketer, you are likely familiar with the concept of "drip marketing." Drip marketing involves sending a series of automated emails with the intention of getting people to act. For example, you may use specifically written emails to encourage attendees to buy tickets to your next event, purchase a product or service, read a blog, donate to a non-profit organization, watch a video or sign up for a demo — the opportunities are endless!
The best part about drip campaigns is that they can be automated with a marketing automation platform like HubSpot or Pardot by Salesforce, or an email marketing tool like MailChimp or Constant Contact. These programs can even help you personalize your emails with data, like the person's name or specific actions they took (like visiting a webpage).
Once your event has concluded, enroll attendees in an email drip campaign. While most email campaigns are about driving sales, remember to balance out copy with useful information and educational tools too!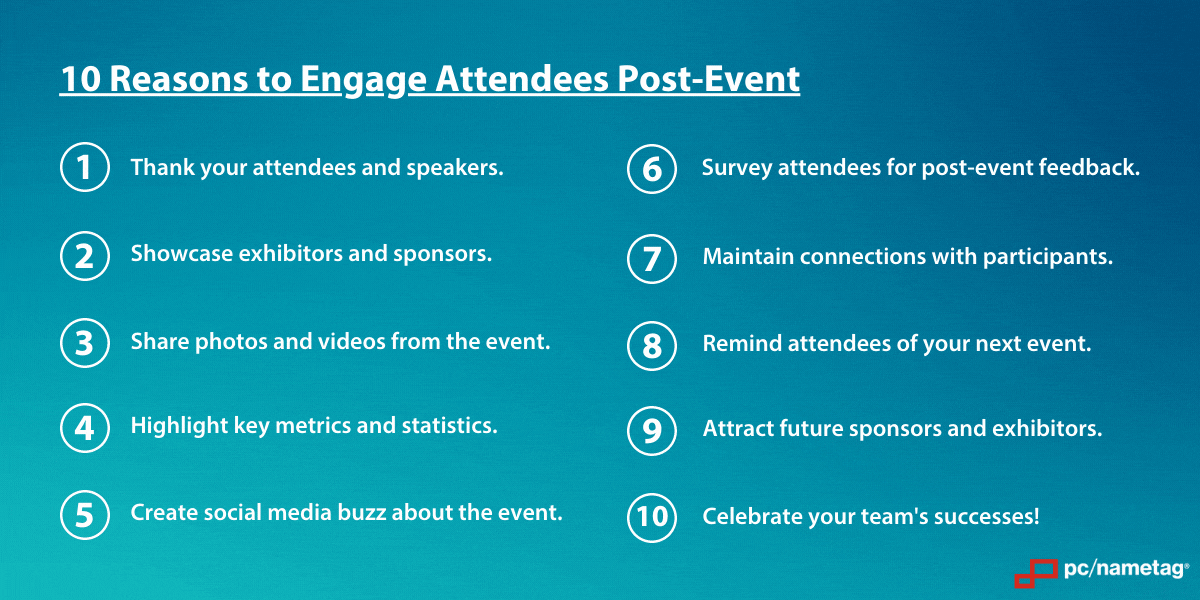 Once your event has concluded, it's up to you and your team to determine ways to form meaningful connections with attendees. By keeping them engaged with your brand, you'll be more likely to spark interest, create conversations and build your customer base. You'll also gain valuable insights you may not have had otherwise, including how to make your events even better in the future.
Free Cheat Sheet: 40 Sample Survey Questions for Your Post-Event Survey
A solid event management strategy starts with finding ways to keep your brand top-of-mind and making improvements for future events. Give your audience the best experience possible and discover what appeals most to your target audience by creating a post-event follow-up survey.
To get the most data-driven results possible, browse our curated list of survey questions you may want to consider including in an attendee feedback survey, including the following:
What factors determined your decision to attend this event?
Which sponsors do you remember from the event?
Did this event meet your personal and professional development needs?
Were the date and time convenient for you?
How likely are you to be in contact with someone you met through the networking event?
How likely are you to attend one of our events in the future?
Tell Us: What are your favorite survey questions to ask? Leave a comment below.