The world of event planning can be exciting, rewarding, and enjoyable, especially for people who love to tackle complex tasks in a fast-paced environment.
Are you someone who finds joy in creating events, bringing people together, and creating meaningful moments? Do you have event planning experience or a desire to learn? If so, then starting your own event planning business could be a great fit for you.
Starting an event planning, wedding planning, or party planning business is hard work. However, we've made the process a bit easier. If you are wondering what to know before starting an event planning business, follow these 15 actionable steps to help you get your business off the ground, spread awareness, attract clients, and earn repeat business.
How to Start Your Own Event Planning Business
1. Choose your event planning career path.
To say there are so many different types of event planners is an understatement. Most event professionals focus their efforts on one or a few different event types ranging from multi-day conferences all the way to non-profit fundraisers, corporate meetings, private weddings, and more. Examples of specialist event planners include the following:
Event Coordinator: Has a wide range of clients and is equipped to host all types of events.
Conference Planner: Oversees the coordination of seminars, expos, trade shows, and exhibitions.
Wedding Planner: Assists couples by coordinating a venue, caterer, florist, DJ, photographer, etc.
Venue Planner: Coordinates in-house events for arenas, convention centers, hotels, etc.
Non-profit Planner: Helps not-for-profit organizations raise awareness, plan fundraisers, etc.
Party Planner: Plans birthday parties, bridal showers, baby showers, and similar personal events.
Event Technologist: Leverages the event technology trends and tools for digitally driven events.
In your business plan, you'll need to define the extent of your services. Are you providing a broad range of full-service offerings? Or are you focusing on producing specific types of events? What is your target market?
Remember, don't try to offer everything to everyone. While offering tons of services sounds like it would earn you more business, you will likely quickly overextend yourself. Instead, focus on a few things you do well, then expand upon them as you gain experience.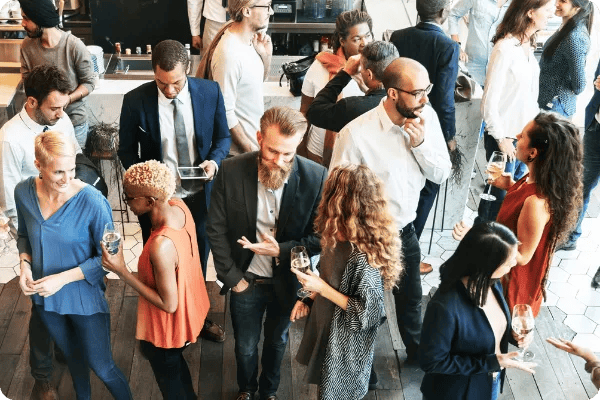 2. Conduct event planning market research.
Every great event planning business starts with data collection. After all, it's nearly impossible to understand your customers, their challenges, and what they want out of your services if you don't have the findings to support your ideas.
Market research involves gathering information to better understand your target market. Event professionals use this data to provide stronger services, improve client satisfaction, and craft an event marketing plan that attracts qualified leads and improves conversion rates.
Start by hosting surveys, conducting interviews, gathering focus groups, or simply observing your target customer base. Collect data, make observations, and create personas that answer the following:
Who are they?
What are their goals?
What are their challenges?
What resources do they need to be successful?
Your clients want solutions—so provide them! The key to happy clients that return year-over-year is providing tools, resources, and knowledge that they know will make their events run smoother.
"I use SparkToro to research my audience. SparkToro lets you identify which social platforms your audience uses most. You'll also find podcasts they listen to, websites they visit, hashtags they use most frequently, and even demographic information like gender identity, which political affiliation they lean towards, and more. Use this information to evaluate advertising opportunities and refine your brand voice."

Brooke Ihlefeld, Digital Marketing Manager at pc/nametag
3. Conduct a competitive analysis for your event planning business.
Once you understand your target customer, it's time to understand your competitors. Competitive analysis helps you understand your competitors' services, marketing strategies, general strengths, and weaknesses relative to your own. Your goal is to highlight your own unique advantages, as well as potential business strategy barriers you may face.
Look at the event planning businesses in your area. Note the following in your competitive analysis:
What are your competitor's target markets?
What services do they offer?
What services don't they offer?
What do they charge for each service?
What is their geographic reach or service area?
How do they market and promote their services?
What unique selling propositions do they have?
What are people saying about your competitors?
With all this information at your fingertips, you can start forming a unique business strategy. Utilize these findings to help yourself stand out. How will you succeed where other businesses fall short?
Remember, you don't need to offer completely different services than your competitors. You just need to make your offerings enticing enough to catch their eyes (and hopefully earn their business)!
4. Create an event business plan.
Your event business plan is the foundation of your company's success. It is a document that includes important information about the goals and expectations you've set for yourself.
An event business plan should include the following:
Your mission statement
Your scope of work
Market analysis findings
Financial objectives
Marketing strategies
A timeline for getting started
This is also the stage in which you should research the legal and financial requirements for running a business. You may need to register your business, obtain insurance, and set up a business bank account. Certain banks and investors may need to see your business plan, so ensure it is thorough.
If you want to strengthen your business plan even further, include a SWOT (strengths, weaknesses, opportunities, threats) analysis. This planning process will help you overcome challenges, discover new ideas, and create data-driven strategies.
5. Determine event planning business costs.
There are several start-up costs to consider when opening your own event planning business. These things can add up, so make sure to set aside funds to ensure the following expenses are covered:
Business formation fees
Insurance
Computer
Cell phone
Equipment
Supplies
Software

Internet
Marketing and Advertisements
Vehicle/Transportation
Website
Office space
Employee expenses
Freelancer expenses
Remember to start small, then scale your business as you grow. Focus first on providing quality services for smaller events, then invest in yourself as you save money.
6. Set your price structure and fee basis.
Knowing how to price your event planning services is an essential part of being competitive in your field. Your pricing structure should be based on three things: Your location, experience level, and the types of events you plan:
Location: Ensure your pricing will adequately cover your cost of living and expenses.
Experience Level: Clients often pay more if you have event planning certifications and experience.
Event Type: Some event types have higher fee structures than others.
Start by researching what your competitors charge to determine your rates. This will give you a basic understanding of how similar business price their services. Then, consider whether you will quote on a fee basis (I.e., a fixed charge for work) or a time-charge basis (I.e., an hourly rate for any work).
Some event planners offer set packages or have an introductory offer to entice clients. When working with a new client, make sure to get all the details regarding their project. This will empower you to calculate and provide a fair proposal. Don't forget to seek out in-kind sponsorship, partners, and funding opportunities to offset event management costs.
7. Create an event planning portfolio.
If you want to earn more clients and book higher-budget events, make sure to build an event planning portfolio. Your portfolio can take the form of a website, a presentation, a physical display, or whatever makes sense for you. No matter what, show off who you are, what you do, and how you stand apart from competitors.
Start by compiling photos, videos, references, and testimonials from past events you've planned. This will help you market your services, attract potential clients, and highlight your strengths as an event planner.
As you book clients, continue to build your portfolio in the following ways:
Create inspiration boards. Show off "collections" of your best work to inspire clients. Your gallery can be hosted on your website, on a social media site like Pinterest, or on a physical board to display in your office.
Take 'before' and 'after' photos. Show how you transformed the space into a memorable experience.
Collect client testimonials. Gather written recommendations or film short videos of client feedback. Be sure to have clients consent to having their words used in your marketing materials.
Gather media coverage. If the press covers your event, include links or snippets of the results.
Write a case study. How did you go above and beyond to help a client solve a problem? Work with a past client to put together a shareable case study that highlights the impact your business has.
Don't forget to highlight your personal biography, professional headshot, and event planning certifications and designations. This will help you build credibility and rapport with stakeholders.
8. Design a company logo, brand identity, and website.
Every event planning business needs a unique brand identity. The "look" and "feel" of your brand are essential parts of building great relationships with clients and attracting new business. People that trust your brand and share your values will be more likely to choose you over the competition. Here's how to get started.
Design a logo. Create a company logo that reflects your mission and vision. Consider hiring a graphic designer to do so, or create your own with Canva, Logo, or Wix. Make sure it can be reproduced in a variety of places (I.e. on your website, business card, marketing materials, etc.)
Develop brand guidelines. A brand guideline document details your company's fonts, color palettes, and details on how and where your logo can be used. These elements combined create your overall identity and support your brand's voice across all channels.
Create a website. There are countless affordable website-building tools to help you get started without having web experience. Look into using sites like GoDaddy, SquareSpace, Wix, Weebly, or WordPress.
Your online presence can have a massive impact on your event planning business's success. Many of your customers will visit your website and browse your social media pages before working with you. A high-quality logo, brand identity, and website will position you to generate more revenue in the long run.
9. Create social media accounts for your business.
Event planners know there are tons of social media platforms out there. Most people think of Twitter, Facebook, LinkedIn, YouTube, and Instagram as the primary channels to promote their brand, but today, there's also Snapchat, TikTok, Pinterest, Tumblr, Reddit, and others.
Do you need to be on every social media platform to stay relevant and grow your audience? The answer is no (whew!) Realistically, this wouldn't be realistic or manageable. Instead, identify which platforms your target audiences use the most and nail those first to create a successful social media strategy.
TikTok, for instance, is a newer platform and one of the better ones for growing organically. This makes it a great tool for many organizations, especially those with a younger target audience in the "Gen Z" and "Millennial" age brackets. However, if the target audience consists primarily of people in their 50s and 60s, it may be worth your time to build up other platforms first before you start creating trendy TikTok videos.
10. Identify marketing and advertising opportunities.
Now that you know who your market is and what you plan on charging, do research on how you can advertise your business to that market. Look into different associations, publications, and influencers who you could partner with to get the word out about your business. You can also explore the content produced by these groups to learn more about the needs of your market.
Certain publications will have media packages available on their websites. Don't forget to check so you can get an idea of what types of advertising they have available and how much each package costs.
11. Print event planner business cards.
Before LinkedIn and smartphones were popular, exchanging business cards was one of the best ways to exchange information with others. Your business card also showed off your unique "style" by using different fonts, color schemes, and paper textures.
While having business cards may seem old-fashioned, they're still a great tool to keep in your event planning toolkit, especially since event planning by nature involved a lot of in-person networking. There are countless websites with great business card templates. A few of our favorites include Canva, Adobe Express, VistaPrint, and Avery.
Want to highlight your brand digitally? Try creating a custom email signature using HubSpot's Email Signature Template Tool. Remember to include your social media details as well as traditional methods of contact.
12. Meet and network with fellow event professionals.
Never underestimate the power of business networking. Attending event planning conferences, building relationships, and talking with peers isn't just fun; it's also a great way to identify opportunities, learn best practices, and boost business. Build your event planning professional network in the following ways:
Join an association. Find a full list of event industry associations here!
Join a live group. Investigate your Chamber of Commerce or local association chapter.
Join a virtual group. Find one about a professional topic you are interested in.
Seek professional development opportunities. Start with these event planning resources.
Perfect your "elevator pitch." Practice talking about your business, its values, and its offerings.
Post resources on social media. Show off your thought leadership, especially on LinkedIn.
Facebook and LinkedIn are filled with great support groups for event planners, including the National Meeting Planners Group. Remember, keep your posts educational in nature. Share your insights, connect and network, and share resources with others. Part of good business involves building trust with clients and industry peers alike.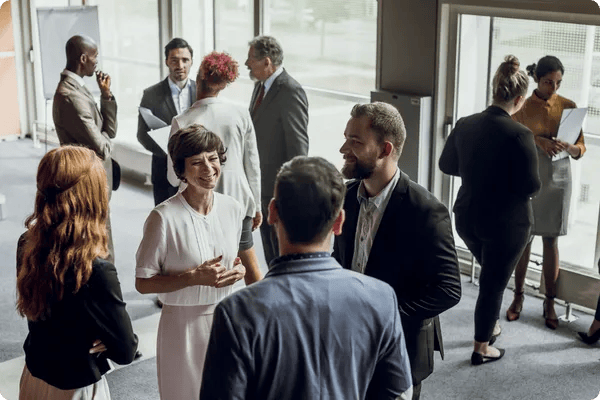 13. Connect with event vendors and suppliers.
Whether you're brand-new to the industry or a seasoned veteran, you need to develop a network of suppliers that you know and trust. From event badges to event diagramming, you'll want to have all the go-to tools you need ready.
Make a list of venues, photographers, videographers, caterers, florists, décor rental businesses, entertainers, and hotels in your area with great reviews. Establishing connections with these companies will help you turn quotes around quickly in the future. Check out our list of Black-owned Event Businesses to help you get started on your list of trusted vendors!
Next, make a list of freelancers you can work with. Freelancers come in handy with larger projects that require more time and effort. They can also help bridge the gap when you're busy, lack knowledge on a subject, or want to provide clients with additional value. For instance, you might outsource web design, copywriting, video production, administrative tasks, or legal contracts.
How do you find the best vendors, suppliers, and freelancers? Start by asking for personal referrals from peers. Then, investigate freelance marketplaces like Upwork, People Per Hour, Freelancer, and Guru. These sites will help you find temporary staff on a project-to-project basis.
14. Gain event planning experience.
It won't come as a surprise that the more event planning experience you have, the more likely you'll be to grow your base of loyal clients. Try to take on as many event planning opportunities as you can. These might be paid, unpaid, or an opportunity to shadow a more senior-level planner out in the field. Take note of things that worked, things that didn't, and how you can make future adjustments to improve processes.
Next, identify any areas of expertise that require a stronger skillset. This list of online continuing education resources is a great place to start, especially if you're brand new or know very little about a subject. You can also strengthen your knowledge by reading event planning blogs, listening to event planning podcasts, or following event industry influencers on social media.
Lastly, ensure you learn the basic workings of event planning software. Most seasoned event professionals understand how to use event management software, event registration software, email marketing platforms, social media platforms, survey tools, project management tools, and accounting programs.
15. Explore ways to get clients for your event planning business.
Despite what you may think, you don't need to wait for clients to come to you to host events. If you have a great, financially viable idea, why not produce it yourself in your community? A great event experience is bound to attract the attention of potential clients and future event attendees.
Remember, finding new clients is a never-ending part of being an event planner. Get creative with attracting potential business in the following ways:
Go live at your events. Leverage the live-streaming capabilities on your Facebook, Instagram, TikTok, or YouTube to showcase your event and garner excitement for your future events.
Create share-worthy experiences. Encourage attendees to take photos at your event, post them on social media, and use a dedicated hashtag. Read our list of event entertainment ideas for inspiration.
Secure press coverage. Invite your local newspaper to cover the event in exchange for free admittance.
Partner with non-profits. Volunteer your services with a non-profit organization to help raise money, improve awareness, and gain valuable experience.
Market your event. Read these event promotion ideas to attract more attendees to every gathering.
Once you start booking projects with clients, find ways to go above and beyond their expectations. Encourage your brand advocates to refer you to people they know. Remind clients to create a review of your services that you can display on your company website, LinkedIn, Facebook, and other public profiles.
Helpful Event Planning Resources from pc/nametag
Hello, planner! 👋 Have we met? If not, we're pc/nametag, and we're excited to meet you. If you're like us, there's nothing you love more than seeing an event come to life, and we're here to help you transform your vision into reality. We are passionate about helping our customers create memorable experiences that bring people together.
Here are just a few of the many ways our team can help you reclaim time in your day, increase efficiency, boost return on investment, and improve attendee satisfaction:
Free Tools, Resources, and Insight:
tag/talk, our weekly blog that you're currently reading, fuels curiosity by covering the latest industry trends, tips, tricks, stories, and advice you won't want to miss. Plus, you'll gain access to free ebooks, guides, checklists, cheat sheets, and more like the following sent straight to your inbox:
Same-day Shipping on In-stock Products:
Explore hundreds of in-stock event supplies, many of which ship the same day you order them. This way, you'll always have a great selection of supplies on hand for your events.
Custom Badge Printing Services:
Save time and money with Name Badges to Go®, a pc/nametag-exclusive service that eliminates the need to prepare your own name badges for meetings, events, festivals and more. We'll do the coordination, printing, assembly, organization, and packaging for you. Then, ship your order directly to you anywhere in the world.
Online Product Customization Tools:
We want you to have confidence in your purchase. From lanyards to badge ribbons, experiment with our online customization tools to see exactly how your product will look before you buy.
Need help with creating unforgettable event badges, lanyards, badge ribbons, branded gifts, and more? We'd love to help. From eco-friendly event supplies to premium quality badges, we have what you need to grow the success of your events.