At pc/nametag, we believe sustainability means more than simply producing and providing eco-friendly products and services. To us, sustainability means being stewards of our environment. It means using our resources wisely and taking a holistic approach to our social and economic impacts. It means partnering with you – our customers – to help you accomplish your most ambitious sustainability goals and initiatives.
We believe there's never been a better time to join the sustainability movement. That's why we're passionate about making it easier than ever to go green in your office or at your events. Read on to discover our history of sustainability, and what it means to go green when you partner with us.
Table of Contents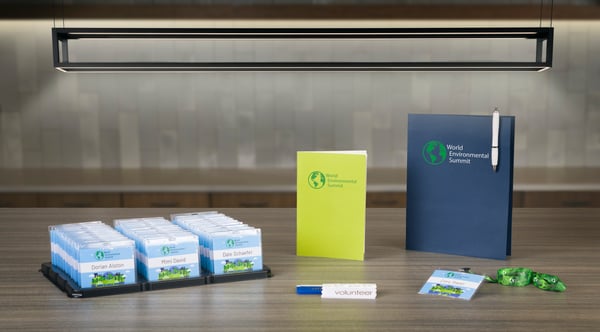 Our Mission Started with Listening to You, Our Customers
We all love the meetings industry for its learning, entertainment, and networking opportunities, but the one thing we don't love is the massive amount of waste and carbon emissions it creates. Countless tons of plastic, food waste, and other event products go straight to the landfill each year. Another portion of this waste contributes to the 8 million tons of plastic that end up in our oceans every year. Printing and packaging create even more waste, causing global climate change to worsen by the year.


Reading statistics like these made us feel uneasy.


We knew that something had to give, especially when our customers began to confide in us by asking "What can we do today to change our habits and make decisions that won't negatively impact our environment?"


We listened. We strategized. We set out to be the change.


After hearing our customers' concerns, we made it a priority to create a better future for events. Today, we embody the concerns of our customers and make them our own. We brainstorm innovative products and services to actively minimize waste, maximize resources and promote sustainability.
While we know we are off to a great start, we know that our work is never finished. We continue to collaborate with our customers to come out with new products, especially as new challenges arise, and sustainable technologies improve.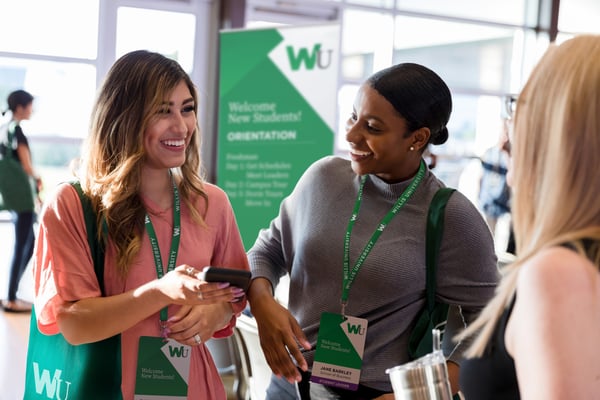 Today, our mission is to be your go-to supplier of eco-conscious products that make an impact.


Not only are we passionate about mitigating waste; we're also dedicated to leading the way towards a more sustainable future. We promise to be your customer-centric partner that works with you to provide solutions every step of the way, no matter your team's needs.
At pc/nametag, we firmly believe that hosting an eco-conscious gathering can be fun, fulfilling and meaningful — not just for your organization, but also for your attendees. We want you to feel confident in knowing you're changing the industry, one meeting at a time.
Did you know?

pc/nametag is an entity of Avery Products Corporation and a subsidiary of CCL Industries, the largest specialty packing and label company in the world. We are committed to sustainability and corporate social responsibility across all levels of our corporation.
Read on to discover how we've paired our sustainability initiatives with our passion for social responsibility.
pc/nametag's Commitment to Corporate Social Responsibility
We believe that corporate social responsibility starts with taking steps to improve our community, our environment and our economy. That's why we've worked hard to build a brand image we can believe in. Since opening our doors in 1980, we've taken steps to make pc/nametag a socially conscious cornerstone in our Wisconsin community and beyond.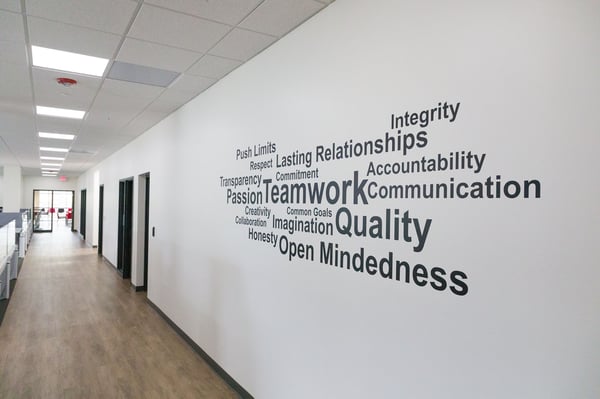 Our core values at pc/nametag include:
We build lasting relationships through teamwork and respect.
We value transparency, open communication, honesty, and integrity.
We focus on quality, accountability, and delivering our best results every day.
We use imagination to inspire innovation and enhance our growth.
Our team has made it a goal to create a corporate culture of giving back. We accomplish this by donating both our time and our resources to those in need. For example, as part of our commitment to social and economic sustainability, we have made a point to either donate or repurpose all furniture during our latest office re-model.
We have also donated thousands of dollars in excess and returned products to school programs. This way, these items are put to good use and stay out of the landfill.
"One thing I appreciate about pc/nametag is our commitment to giving back to our local community. It's great to be a part of an organization that thinks out of the box when looking for ways to give back and protect our environment."

DeLyn Schafer, HR Recruitment & Engagement Manager, pc/nametag
Our corporate social responsibility doesn't stop there. Our organization is constantly brainstorming ways to bring our team members together to create a positive impact on our community.
To date, pc/nametag and its team members have enjoyed participating in a variety of charitable activities, including the following:
Contributing monetary donations to the Second Harvest Foodbank, the United Way and the Badger Prairie Needs Network.
Serving as a sponsor of the Verona Hometown Days, an annual festival held in the city of Verona, Wisconsin.
Participating in the "Phone-a-thon" and "Sort-a-thon" for the Second Harvest Foodbank and NBC15 Share Your Holidays
Organizing a food drive within the office to support the Second Harvest Foodbank and NBC15 Share Your Holidays
Supporting warm winter clothing drives for the Verona Area School District, Badger Prairie Needs Network, the DOT, the Greater Madison Convention and Visitor's Bureau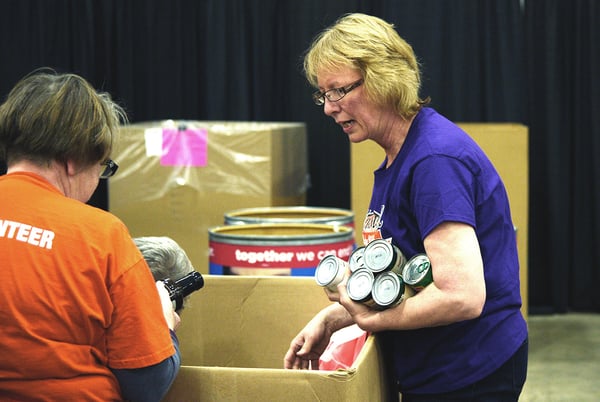 pc/nametag employees sort canned goods for Second Harvest Foodbank and the NBC15 Share Your Holidays event.
Our Approach to Sustainable Production & Manufacturing
When it comes to our commitment to sustainability, we constantly strive to stay mindful of the effects we have on our environment, natural resources, and waste creation. As a company and as individuals, we make a conscious effort to find ways to produce the smallest impact possible in order to preserve our planet for future generations to enjoy.
pc/nametag has made the choice to actively practice social and environmental responsibility when making decisions about our operations and facility. A large percentage of our supply chain operates out of North America, a choice we have made to reduce our yearly carbon emissions.
Our Partnership with EcoStar
We partner with EcoStar, a local recycling facility that repurposes post-consumer plastic. Just five miles from pc/nametag's manufacturing facility, EcoStar provides our organization with reclaimed plastic that makes its way into our products, then into your organization's hands. By leveraging locally sourced plastic, we can actively reduce the carbon footprint we create each year.
We don't just "think smart" about the plastic we use; we also leverage paper-based products whenever we can. Our products are shipped in corrugated cardboard boxes made from USA materials. Each box is filled with paper fill instead of plastic bubble wrap and sealed with paper-based tape.
"Our production team uses a cube calculator to minimize box space. This means that each product we have is designed to fit well within each box, which ultimately limits unnecessarily large boxes for smaller items. We're also able to use shipment consolidation, which allows us to send multiple shipments to one location. This actively decreases our freight costs and puts money back in your pocket."
Bill Ernzen, Senior Shipper/Receiver & Maintenance, pc/nametag
"We utilize a robust recycling program here at pc/nametag. We go out of our way to recycle as much material as we can including paper, cardboard, plastic and IT equipment. In 2020 alone, we recycled over 40,000 pounds of materials instead of sending it to the landfill."
Matt Nick, Director of Operations, pc/nametag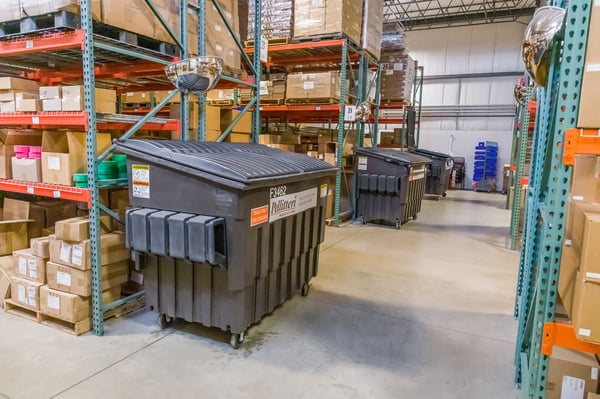 We Say "Yes" to Eco-friendly Catalogs

To build upon pc/nametag's commitment to sustainability, we've partnered with Quad to take active steps in making our printed catalog more sustainable. As many of our long-term customers know, pc/nametag started as a catalog business. However, we've since made changes to become more eco-conscious and sustainable.
Today, we live our values by shifting from a pure catalog company to an e-commerce organization.
Our Shift from Monthly Printing to Quarterly Printing


We have since moved away from monthly printed catalogs in favor of four seasonal catalogs per year with the goal of cutting down on our paper consumption.
When we do print our catalogs, we use environmentally and socially responsible wood and pulp products in our paper that is backed by the Forest Stewardship Council, an organization that ensures that products come from responsibly managed forests. All catalogs are printed using carbon-neutral, energy-efficient equipment.
For customers who prefer a digital option, we also offer online access to our catalog, which saves thousands of trees each year.
A Look Inside pc/nametag's Eco-conscious Office Facility
Attached to our in-house manufacturing facility and distribution center is our employee office, which features a variety of eco-friendly amenities that help us decrease our carbon footprint year-round.
In our most recent office renovation, we incorporated a variety of eco-friendly additions including the following:
Skylights for natural light
Solar shades to maintain internal building temperature
Motion-activated LED lights to save electricity
Dry-erase walls in break rooms to eliminate paper waste
We have also upgraded equipment like our HVAC, kitchen appliances, toilets and sinks to high-efficiency models. Mechanical upgrades like these have only further helped us to decrease our negative environmental impact.
pc/nametag's water bottle refill station

Did you know?

Since installing a water bottle refill station, the pc/nametag has helped eliminate waste from over 85,000 disposable plastic bottles (and we don't plan on stopping any time soon!) We also remain mindful of our waste by using reusable glasses, plates and silverware in our kitchen.
Our Dedication to Eco-conscious Products and Supplies
For 40 years and counting, pc/nametag has helped office and event professionals create meaningful connections through custom-branded products and unique service offerings. Our extensive line of eco-friendly products is specifically designed to help you achieve your sustainability-related goals while also bringing people together for memorable experiences. That's why you can put your trust in us as your sustainable products supplier and partner.
Meeting planners play a key role in addressing some of the sustainability challenges we face in the meetings and events industry, but it can be difficult to know where to start. That's why we're constantly brainstorming new ways to incorporate sustainability into our products, including the following:


Curated Gift Boxes with Biodegradable Packaging
Each eco-friendly cardboard box is carefully assembled by hand in our manufacturing in Verona, Wisconsin. Items are protected using recyclable crinkle paper, not bubble wrap or foam packaging that can add unnecessary waste to our landfills. Once each box is packed, our trained team of packing experts secures the package shut with a strong, paper-based tape that uses a water-based adhesive that will break down quickly after disposal.

Eco-friendly Name Badges, Lanyards and Other Essential Supplies
We know that as a planner, you want to choose sustainable event products that you can believe in. You want to invest in items that will help you, your organization and your attendees reduce their environmental impact. Taking little steps like choosing to "go green" at your meeting can make the dramatic difference we need in the amount of waste our industry creates each year.
Item Shown: Eco Event Pass by pc/nametag

No matter your sustainability goals, pc/nametag has the products you need to reduce your footprint or go carbon net neutral. Just look for the sustainability icon next to products on our website, which designate that they're recyclable or biodegradable.

Some of our promotional products even feature give-back programs to continue your organization's effort to make a positive impact.
Taking little steps like choosing to "go green" at events can make the dramatic difference we need in the amount of waste our industry creates each year. For more examples of pc/nametag's eco-friendly event products, read our article: Must-have Green Event Supplies to Reduce Meeting Waste.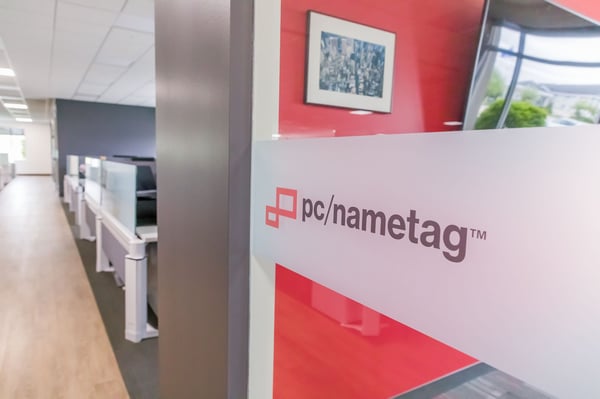 Reduce Waste. Make an Impact. Partner with pc/nametag. ♻️
The sustainability trend continues to grow and shows no sign of stopping. When you're ready to hit the ground running with your sustainability goals, pc/nametag is here to help. Our team partners with you to implement sustainable initiatives one by one, ensuring your success along the way. We'll also help you discover creative ways to reduce your footprint while maximizing your budget and having fun!


Our Part is Little, But Together We Can Make a Difference.


Remember, it's not all or nothing when it comes to going green. Even the smallest changes can make a big difference, especially if we band together to make green products and practices the new normal in our industry.
To learn more about pc/nametag or to shop eco-friendly products and services, pcnametag.com/eco-friendly-products or call 888.354.7868. We look forward to working with you!