Many businesses would agree that hosting or attending events is one of the most successful revenue drivers, especially when teams walk away with a healthy list of quality leads to work from. However, capturing those quality leads can quickly become stressful if you don't have a solid strategy in place from the start.
If you're looking to capture the best possible leads and get attendees excited to interact with your brand, you need a plan. We interviewed Ryan Schefke, CEO of Captello, to get his best tips and tricks for making universal lead capture at events both fun and successful. We'd like to thank Ryan for contributing insight to this expert interview.
Meet the Event Lead Capture Expert:
| | |
| --- | --- |
| | With 25 years of experience and counting, Ryan Schefke provides the insight and technology tools organizations need to meet their most important sales and marketing goals. Ryan's passions include sales, marketing, technology and adding value to the customer experience. He received his bachelor's degree in electrical engineering from Michigan State, then his master's degree in business with a concentration in finance from New York Institute of Technology. |
pc/nametag: "Ryan, tell me more about yourself and your professional background."
Schefke: "My passion for sales, marketing and technology began over 25 years ago. Since then, my team and I have established Lead Liaison which offers marketing and sales automation solutions that help attract, convert and close business. We have also established Captello, which focuses on solutions for event planning professionals.
My favorite part about my position as CEO is having the opportunity to help people meet and exceed their goals. I'm always looking for ways to add value, especially within sales and marketing teams."
PCN: "What inspired you to launch Lead Liaison and Captello?"
Schefke: "When we first launched our organization, we realized that there was something missing at the top of the marketing funnel. This portion of the funnel revolves around brand awareness, and we saw the need for more efficient lead capture processes, especially at tradeshows and events.
Since then, we've evolved to help organizations understand their sales, marketing, and lead management pain points. Our goal is to help customers implement the technology tools they need to address their most important business process gaps."
PCN: "What do you enjoy most about the meetings and events industry?"
Schefke: "My favorite thing about the events industry is that it is ever-evolving. Meeting planners, event sponsors, and exhibitors continue to find new and exciting ways to incorporate technology into their programming.
Many manual processes—like lead capture and gamification for example—have now gone digital; an excellent strategy for increasing efficiency and improving ROI. Event technology is growing, and I can't wait to see what it looks like ten years down the road."
PCN: "What is universal lead capture and why should event planners care about it?"
Schefke: "Universal lead capture at events is all about streamlining your lead management processes. If you talk to any event planning team, you'll likely find that lead capture is one of the most stressful parts of their jobs. Having an easy way to collect leads, analyze them, and import them into a CRM system is a game-changer for these teams and their clients.
In the events industry, time is money. Planners can't afford to spend hours processing leads after an event. By having universal lead capture software, the process is automated and streamlined so they can spend more time planning their next event and improving their organization's total cost of ownership."
PCN: "What data points can planners collect with universal lead capture software?"
Schefke: "There's really no limit to what types of data your organization can collect by using lead capture software. No matter your industry, the main objective is to collect whatever information is most meaningful to you and your organization.
For example, ask a variety of qualifying questions about your product, your business, or your industry. This way, you can prioritize your list of leads and distribute them to the most appropriate member(s) of your sales team."
pc/nametag: "How has universal lead capture evolved over the years?"
Schefke: "A decade ago, if your team was attending a conference or tradeshow, you'd be handed a handheld scanner to collect information from people who stopped by your booth. Once the event concluded, you'd hand back your scanner, download your leads, and sort through data manually. The problem with the traditional way of capturing leads is that these handheld scanners aren't 'smart' or customizable. They're also only available to designated personnel in the exhibit booth.
Today, your team can avoid the hassle of manual lead capture by using technology to go digital, save time and increase revenue. Investing in a fully customizable universal lead capture software solution is one of the easiest ways to allow all attendees (not just exhibitors) to collect information from one another while putting the power of lead capture in the hands of every employee at your event."

PCN: "What are the benefits of using a universal lead capture app at your event?"
Schefke: "Meeting planners are always looking for ways to foster engagement at events. Using a universal lead capture app allows you to capture information in a variety of ways. For example, some organizations prefer to scan business cards or event badges, while others may prefer to use audience engagement tools to collect information from attendees. No matter the method you choose, an app allows you to have a more holistic lead capture experience.
Another benefit of having a universal lead capture app is that everyone at the event can capture leads. It's no longer restricted to specific exhibitor staff or event organizers. Now anyone can have a universal strategy for meeting new people, collecting information, and building relationships with others."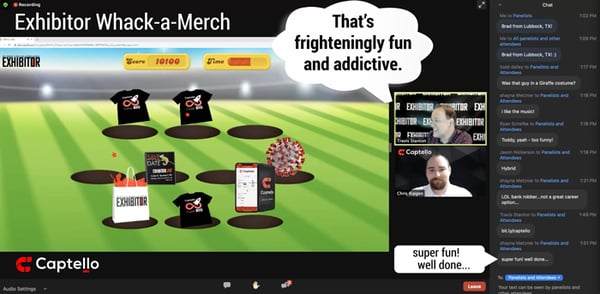 Explore Captello's Arcade of Marketing and Events games.
PCN: "Can investing in a universal lead capture app improve your event's overall ROI?"
Schefke: "Typically, organizations participate in events because they want to capture quality leads. Using universal lead capture software can save your team significant money. For example, many event organizers charge a per-user fee to rent a traditional scanner or basic mobile app. The right universal lead capture app allows unlimited users, which means you're paying a much lower cost per user than if you were to rent a physical scanner.
Businesses also fail to consider the high costs of mismanaging trade show leads (I.e. not following up at all, delays in follow up, errors in manually exporting/importing leads, etc.), which are reduced when using universal lead capture
Once you've concluded your event and captured your leads, your team will want a way to instantly connect with attendees. Having an app is the perfect way to quickly reach out to people you've connected with and send them a personalized message that will make an impact.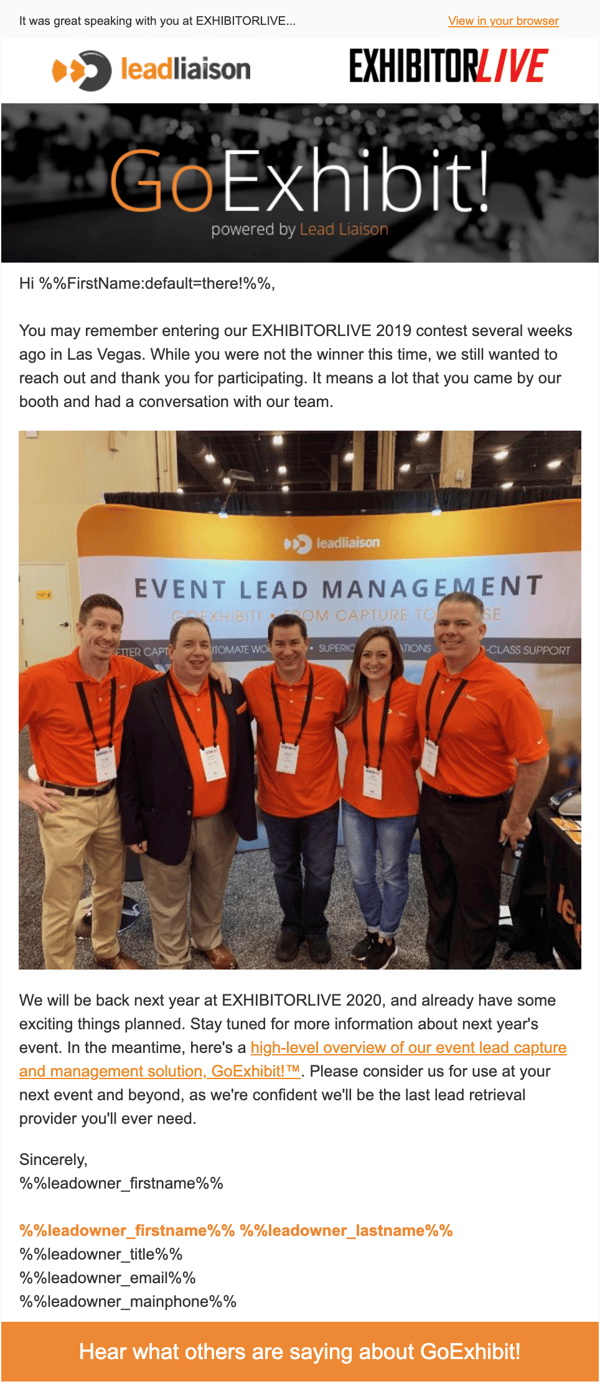 pc/nametag: "Can using a lead capture app contribute to your event's sustainability goals?"

Schefke: "Absolutely. The key to hosting a sustainable event is to find ways to go digital. The most competitive organizations create digital-centric events because they recognize the positive environmental impacts these choices can make.

For example, opt for digital solutions that help you accomplish more. Instead of collecting hundreds of business cards, use an app to scan business card data. You'll appreciate having this information automatically transcribed, which eliminates the need for data entry after your event.

You can also use an app to eliminate paper waste. If your organization provides brochures or other printed materials at your booth, consider offering these items virtually via your lead capture app. This way, you can distribute them to prospects by email or SMS without creating unnecessary paper waste. Don't forget to use your app to give out digital gift cards and prizes; a great way to gamify your event programming."

PCN: "How can event planners and others make the lead capture experience fun and engaging for attendees?"
Schefke: "My best advice is to convert event activities into digital destinations. Consider a scavenger hunt, for example, where attendees are encouraged to follow documentation or maps to specific booths or experiences in order to complete a journey and collect a reward.
Here are a few more ways universal lead capture apps can create an exciting experience:
| | |
| --- | --- |
| | Use QR codes to hide throughout the event. This encourages attendees to visit exhibitors or different areas they may not have otherwise visited. |
| | Gamify different "stops" throughout your event. Participants can be rewarded with points that contribute to an overall leaderboard. Top earners can win prizes like a virtual gift card. |
| | Take advantage of brandable games that are customized to your organization. Your goal is to create a game that's fun, yet uniquely suited to your organization's lead capture needs. |
| | Leverage rewards for playing lead capture games. Use scavenger hunts and immersive games to capture lead information, while also gamifying your event and encouraging active participation. |
I'm a big fan of leveraging digital games, QR Codes, and leaderboards to enable event attendees to better participate in immersive programming. Done right, you can use these elements to create friendly competition between attendees, whether they attend your event in person or online. These solutions are in high demand with the growing presence of hybrid (live and virtual) events."
PCN: "How can lead capture increase engagement on the show floor and at an exhibitor's booth?"
Schefke: "When it comes to attendee engagement, the first impression to matters. It's up to the exhibitor to catch the eyes of attendees and draw them into your booth. If they're not sure where to start, recommend ways they can turn their booth into an experience. Take the following analogy to illustrate:
Think of the last time you visited the food court at your local mall. Which restaurants caught your eye? Was it the restaurant with little-to-no people in line, or the restaurant that is teeming with hungry customers?
Chances are you'll gravitate towards the restaurant with the long line. While there may be a wait, you know the food will be worth it. This same concept can be applied to your exhibitor's tradeshow booth. Make the experience worth the wait and time.
My advice is to keep people engaged through fun games that capture the information your exhibitors need. They can then use this information to market to people before and after the event and in no time, they'll drive more traffic to their booth and nurture leads more effectively."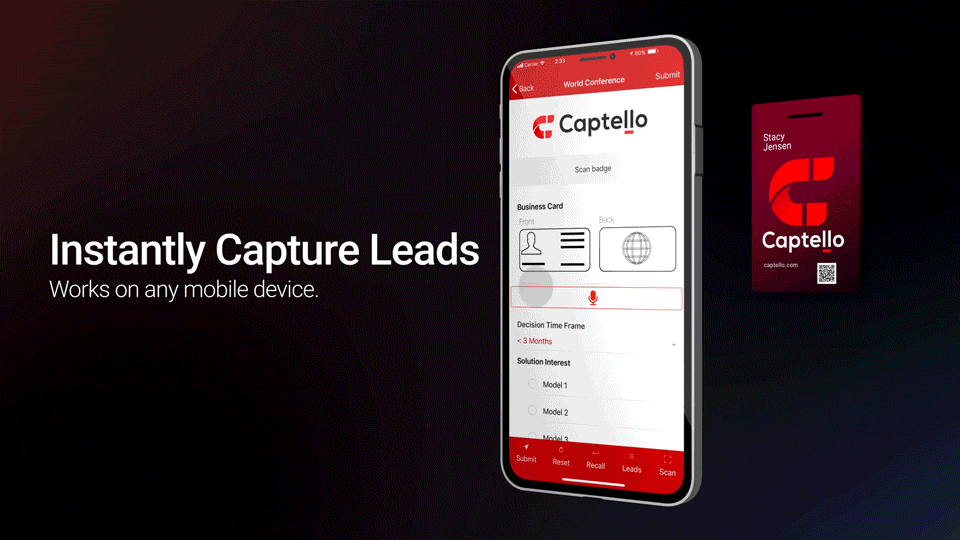 Discover Captello and pc/nametag
pc/nametag is excited to have formed a partnership with Captello to bring maximum value to our events industry customers. Click here to learn more about Captello's "event in a box", which features hardware-software bundles delivered on-site in convenient travel-proof packaging. pc/nametag serves as the provider for all badge labels.
Captello provides creative all-in-one solutions for marketing & event professionals. Gamification and universal lead capture solutions from Captello help businesses create meaningful experiences that attract new opportunities and engage people in a deeper way with company branding, values, products, and solutions.
A flexible builder enables rapid customization of interactive games, QR codes, and lead capture forms that send data through user-defined workflows. Instantly export information to your CRM and marketing automation platforms. Click here to learn more about Captello's e-gift card rewards and other offerings.
A visual handshake. A wearable introduction. Every direct, fulfilling human connection begins with a "Nice to meet you!" At pc/nametag, we make the name tags that make that happen. Our vision is a more satisfying, connected world, made possible through flawlessly executed meetings and unforgettable events. With decades of expertise and deep industry knowledge, we aim to offer far more than customized name tags and event supplies. We want to be your partner in planning – together imagining and creating events that build authentic, memorable connections.
For 40 years, we've been helping planners create extraordinary events, everything from week-long conferences and corporate board meetings to three-day music festivals and community fundraisers. Our customized products not only connect attendees to one another, but also to the sensorial experience surrounding them.