Think about the best job you've ever had. What made it so enjoyable? If one of your answers was "my coworkers," then you're in good company. People spend an incredible amount of time with their colleagues over the course of a lifetime — approximately 90,000 hours to be exact!
People want to feel included and appreciated at work. This is why peer-to-peer recognition is so important in the workplace. Team members want to feel motivated, supported and appreciated by their peers at work. Any type of peer recognition program, whether formal or informal, can help your team get there.
Not sure where to start? This article will give you all the basics you'll need to know. Keep reading to find the definition of peer recognition, the benefits of having a program in place, and innovative ways to kickstart your program today (the easy way).
What does peer recognition mean? 🤔
Peer recognition is the genuine expression of appreciation or gratitude exchanged between co-workers. This type of praise can be delivered face-to-face, in writing, or even virtually. The goal of peer-to-peer recognition is to empower team members to freely recognize one another and actively celebrate the "little wins" and "big wins" that make up an organization's overall success.
Peer recognition is one of the many facets of a well-rounded employee appreciation program. These interactions are typically done informally without the need for managerial sign-off.
Does peer recognition matter? 🤷
Yes, peer recognition matters, especially in the workplace! The right peer recognition program can even help your organization produce real results and improve its bottom line. One study by SHRM, for example, found that "peer-to-peer recognition" models are nearly 36% more likely to have a positive impact on financial results than manager-only recognition models.
The benefits of peer recognition don't stop there. Peer recognition can have a positive impact on mental health and well-being too. The reality of the workplace is that people cannot help but be affected and influenced by the people around them. People who consistently receive praise and positive affirmations at work will feel more engaged, motivated, happier, healthier and stress-free.
Peer recognition is no longer a "want," but a "need" in today's business environment. With work stress and employee burnout levels at an all-time high, organizations need to get creative with fostering an environment of recognition, inclusion and gratitude.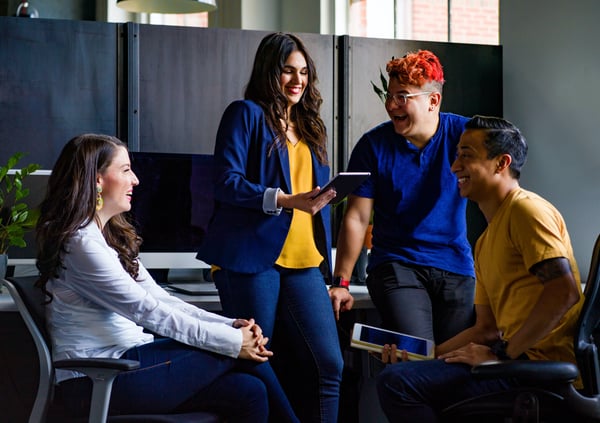 Top Benefits of Peer-to-peer Recognition 🏆
Did you know that 81% of organizations say they have an employee recognition program in place, yet less than half say theirs includes a "peer-to-peer" recognition component (WorldatWork.org)? If you're looking to boost team morale and engagement, your employee engagement program should have a peer recognition component to be most successful.
Benefits of having a peer recognition program at your organization include the following:
Give employees an outlet for sharing feedback and praise. Having a clear, concise way to uplift others can create a more meaningful employee experience and inclusive culture that your team will love.


Reinforce your organization's principles and values. Employees respect organizations that actively pursue their mission and ideals. Show your team that appreciation is a top priority.


Give yourself the power to attract great talent. Today's business environment is competitive. Set yourself apart and show prospects that your organization goes out of its way to care for employees.


Reduce employee turnover and workplace exhaustion. Your team members want to know their work is valued. The right recognition can help your organization build loyal teams and brand ambassadors.


Boost profits and ROI year-over-year.

Research

show that c

ompanies with highly engaged

teams can see

between

a

21% increase

a

nd

29% increase

in profit

ability, according to

a variety of

studies.




Create meaningful interpersonal connections between employees. Team members who praise one another are more likely to feel satisfied with the work they do throughout the year.


Maintain a happier workforce. Organizations love when their employees are happy. Peer recognition is one of the easiest ways to foster great communication within the workplace.


Increase employee confidence, satisfaction and validation. Never underestimate the power of congratulating someone for a job well done. These encouragements can change an employee's day.

There's a reason why peer-to-peer recognition can make 90% of staff feel more satisfied with their work. Peer-to-peer recognition is one of the key components to building an engaged workforce and improving your bottom line. Keep reading to find advice on how to get started with your program today.
Best Practices for Creating Your Organization's Peer Recognition Program 🌟
Receiving feedback is gratifying. Everyone loves having their "shining moment" in the workplace, being named MVP for the month, or receiving a meaningful pat on the back.
But how, exactly, can you encourage your team members to follow through with providing positive feedback and praising one another? The process is easier than you might think. Here's our best advice for getting started along with peer recognition ideas.
1) Recognize that the concept of "employee appreciation" varies from person to person.
For many employees today, traditional "top-down recognition" from leadership and management isn't enough anymore. These individuals crave acknowledgment from their peers — the people they work with every day. They want validation from the people who work on the "front lines" of projects. Peer-to-peer recognition is a great way to meet these needs, while also instilling team spirit on a linear level.

2) Take the time to understand your audience.
Different generations have varying needs, goals and priorities when it comes to peer recognition. For example, Millennials report that much of their happiness at work comes from the connections they make with co-workers as opposed to direct supervisors. Millennials also crave recognition that they perceive as "true" and "genuine." To better understand what your team members want to gain from your program, ask them! Email a survey asking what recognition means to them, and how to best meet those needs.

3) Know that a successful peer recognition program doesn't need to be expensive.
We know that it's easy to make excuses that a peer recognition program cannot fit within the budget this year. However, we encourage you to revisit your plan. There are ways to take a budget-conscious approach to employee rewards and recognition ideas. All it takes is a little creativity and foresight. Your employees will thank you for giving them an avenue to share their successes with one another!

4) Create a list of peer recognition ideas that employees can use.
If you're looking for guidance on how to get employees excited about peer recognition, look no further. We've curated a list of our favorite peer recognition ideas you can incorporate into your program:
The "Handwritten Thanks"
Handwritten notes have always been a tried-and-true way to show you care. Write a personalized note, letter or card to express gratitude.
The "Digital Thanks"
Is writing not one of your strong suits? Use a website to create a free, digital thank-you card to send via email. Check out Blue Mountain, PunchBowl and 123Greetings for templates.
The "Trophy Winner"
Award a fun figurine or trophy to employees who demonstrate excellence on a certain project. Let the recipient choose a peer to pass it on to at your regular stand-up meeting.
The "Virtual High Five"
Create a virtual recognition board where employees can share kudos with one another. "Pinning" recognition via virtual notes is a great way to build awareness and improve morale.
The "Vending Machine Run"
Stopping by the break room for a coffee, soft drink or snack? Encourage team members to surprise one another with a little treat on their desk.
The "Thanks in a Box"
People love getting surprises in the mail. For big "wins," send a custom-curated gift box with a small gift, a gift card, company swag or apparel, and a thank-you card.
(List continued below)
The "Huddle Up"
When someone's done something great, create an impromptu team huddle to highlight the person or ream's success. Give a "toast" to their accomplishment.
The "Cheers for Peers"
Use a recognition platform like Tiny Pulse to help employees easily highlight each other's successes. Need a free option? Leverage personalized channels in Microsoft Teams or Slack. Here, employees can give informal shout-outs to one another.
The "Operation Sticky Note"
Give each employee a stack of sticky notes and encourage them to leave kind notes or words of encouragement on their co-workers' desks.
The "Video Producer"
Instruct individuals to submit short videos of themselves expressing thanks to a colleague for a job well done. Assemble the videos into a longer video and gift it to the recipient.
The "Tag, You're It"
Take recognition beyond your department. For example, nominate another department to celebrate for a week. Celebrate with a virtual coffee break or happy hour.
The "Swag Bucks"
Leverage a token, ticket or card system that allows employees to earn swag bucks for giving feedback. The points can be traded in for rewards like a prime parking spot, PTO or a sweet treat for their team.
The "Share a Smile"
Encourage employees to take a short amount of time each week to call, email or instant message a co-worker with an uplifting message or words of encouragement.

Whether you're putting together a custom employee appreciation gift box or writing a heartfelt thank-you, a little bit of recognition goes a long way. Just remember that sharing praise should be encouraged among employees, but never mandatory. Nobody enjoys compliments that feel forced or insincere; make sure that feedback is honest, uplifting and helpful to the person's success.
Resources to Help Improve Employee Engagement and Retention
No matter your industry or company size, peer-to-peer recognition can directly improve employee happiness and satisfaction year-round. Maintain your momentum with your peer recognition program by downloading our free e-book: The Employee Engagement Toolkit. Inside, you'll find innovative tips on how to build employee engagement, while also motivating your workforce and driving business success.
Also, don't forget to visit the pc/nametag website to peruse hundreds of customizable and brandable employee engagement gift ideas your team is sure to love! With these peer-to-peer recognition examples, your employees will feel recognized!
SUGGESTED FOR YOU: