Every conference deserves an upbeat motivational keynote speaker. The best presenters know how to captivate an audience and bring unique perspectives to the table. What better way to do that than by inviting Black and African American keynote speakers to participate in your next event? 🙌🏿

If you're unsure who to hire, here's a list of reader-recommended Black inspirational speakers who have proven track records of captivating, uplifting, and empowering audiences. Don't forget to leave a comment at the end of this article with your favorite keynote speaker suggestions!
3 Reasons to Hire BIPOC Speakers for Your Conference
In event planning, embracing diversity and inclusion is an essential part of creating experiences that truly resonate with attendees. Conference-goers expect that every gathering they attend will feature representation that reflects the world around them. Hiring people of color as speakers, vendors, and suppliers is just one part of the conference planning puzzle.
Black, Indigenous, and People of Color (BIPOC) have the power to significantly enhance the quality of your event. Here are three reasons to hire a diverse set of speakers for meetings and events:
Highlight unique industry perspectives. Add depth and authenticity to your event by hiring speakers who support thought-provoking discussions. Your attendees will appreciate hearing personal stories and unique insights that resonate with their interests.
Improve representation of your audience. By featuring a diverse panel of event speakers, you'll help foster an inclusive environment where everyone feels heard and valued. Your attendees come from many different backgrounds, and they deserve to see their own diversity reflected in the speakers and presenters at your event.
Support your event's diversity, equity, and inclusion goals. Actively hiring BIPOC presenters sends a powerful message of support to communities who may not always feel included. Make it a goal to outwardly demonstrate your commitment by being intentional with who you hire.
Event professionals have the power to use conferences as a platform for change. Make the choice to uplift underrepresented voices to inspire change, break down barriers, and create a truly transformative experience for your attendees.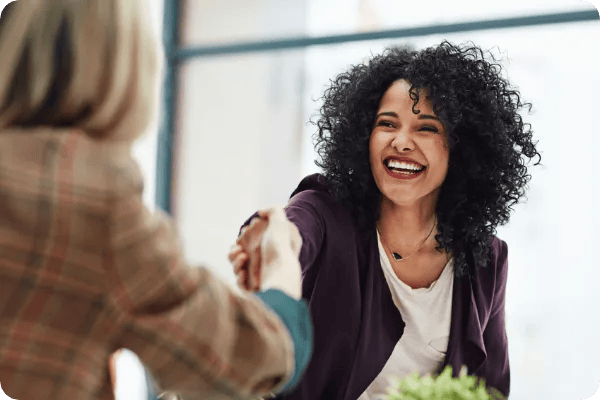 Black Motivational Speaker List: Top Professionals to Hire
By incorporating diverse voices into your event agenda, you'll create an inclusive event where everyone feels seen, heard, and valued. Send a powerful message to attendees by hiring the following keynotes for your next speaking engagement.
With 25+ years of experience, Aurora Archer specializes in presentations around innovation, leadership, diversity, corporate culture, representation, health equity, and more.

Her passion for technology, marketing, and DEI led her to become a Co-founder of The Opt-In™—an organization that helps companies identify cultural gaps and strategies for a stronger workplace.

Caroline A. Wanga is a business leader, equity strategist, and thought leader who teaches audiences to listen courageously, celebrate authenticity, and design strategic impact in the areas of diversity, equity, and inclusion.

Caroline has been named Top Executive in Corporate Diversity by Black Enterprise and recognized by Savoy as one of the Most Powerful Women in Corporate America.




Chiriga "Zoe" Moore, MS, CDP is a Strategic Equity, Diversity, and Inclusion (EDI) Consultant at Grow with Zomo. She helps leaders operationalize policies, develop training, establish committees, and implement strategies that support inclusion.

She also is proudly trained as a Certified Diversity Practitioner by the National Diversity Council and helped launch the Event DEI Strategist Course powered by Event Leadership Institute.

Crystal Washington specializes in presentations on using social media and technology tools to increase profits and productivity.

Hired by companies including Google, Microsoft, and GE, Crystal uses approachable language and humor to inspire listeners to become more efficient and connected. Crystal has appeared in numerous publications including Entrepreneur, Bloomberg Businessweek, and Forbes.
Darryl Bellamy Jr. is a keynote speaker who believes that being fearless doesn't involve the absence of fear; it involves feeling fear and moving forward anyway.

Darryl is known worldwide for his high-energy presentations that get audiences laughing, thinking, and feeling inspired. Darryl's movement "Fearless Inside" encourages belonging, community, happiness, and the willingness to embrace fear.

Dawn Dickson is an entrepreneur and inventor with 20+ years of experience in technology, marketing, and business development. Known for her business-savvy pitching skills, Dawn has founded six successful cash-flow-positive companies since 2001.

Dawn has presented on female entrepreneurship, creating resilient businesses, "perfecting your pitch," non-traditional ways of raising capital, and more.

Deanna Singh is a social entrepreneur who is passionate about finding solutions to complex social challenges. She is the founder of Flying Elephant, a company with a mission to shift power to marginalized communities.

Deanna has been featured in Forbes, Inc., Thrive Magazine, and countless podcasts—teaching people how to be agents of change in their work, lives, and society.

Dellasie Aning is a Ghanaian philanthropist, artist, and CEO of PANALOVE, a thriving fashion business.

After losing a close friend and business partner, Dellasie fought through months of depression before pushing herself to build a store that catered to women and reflected her vision, personality, and style. Dellasie speaks about pushing the boundaries of leadership and taking risks in the face of adversity.

Denene Rodney is the CEO of Zebra Strategies, a full-service market research firm that gives underserved and vulnerable groups a voice. Since the firm's founding in 2000, Denene saw that many people do not draw a great "ticket" in the "lottery of life." Denene uses her organization to shape the world into a better place.

Known for her warmth and humor, Denene is an award-winning researcher who encourages audiences to be curious, not judgmental.

Eric Thomas, Ph.D. is a critically acclaimed author, world-renowned speaker, and educator. His presentations draw on his firsthand experiences with homelessness, the absence of his biological father, academic struggles, and other obstacles.

He teaches audiences how to live successful, satisfying lives by exchanging "cycles of failure" for patterns of success.
Kahlil Green is a New York Times featured social media influencer with over 450k followers and 15MM views on TikTok. His unique leadership experiences and Gen Z perspective provide a youthful, forward-looking intervention to antiquated workplace inclusion strategies.

Kahlil's past speaking engagements have covered "Diversity in the New Decade," Black History Month and Juneteenth, and advocating for change.

Kimberla Lawson Roby is a motivational speaker who helps audiences become their best selves. In 1995, she wrote her first book but was rejected by every publisher she contacted.

Kimberla persevered and has now published 29 books and sold more than 3 million copies. She candidly shares her own personal journey about discovering your passion, pursuing your purpose, and overcoming obstacles.

Mariama Boney, LMSW, CAE, CPEC is an award-winning educational administrator, executive leader, and coach. She brings 20+ years of experience to the table, helping associations, non-profits, and corporations flourish through transformative processes.

Mariama's content spans over 100 topics in leadership, well-being, and Diversity, Equity, Inclusion, and Accessibility (DEIA+A). She is the author of three books: I'm Worth It: A Journey to Refocus, Realign and Restore, VENT: I'm Worth It: Leadership Edition, and VENT: Our Resilience Is Enough.

Nyemade Boiwu is an award-winning speaker, writer, and digital content strategist. As a female, plus-size positive African immigrant, Nyemade is passionate about using her voice to help bridge cultural gaps.

Her presentations raise awareness about social issues, spread positivity, and encourage people to view ideas from the perspective of others.

Shola Richards is an accomplished keynote speaker who inspires leaders to adopt beliefs and systems that inspire people to do their best work and deliver exceptional results.

Hired in the past by companies like Microsoft, SHRM, Salesforce, and Fidelity Investments, Shola uses stories to share his practical approach to building and sustaining joyful workplace cultures.

Tamika Blythers is passionate about educating and encouraging audiences. Her past presentations have covered topics ranging from women's empowerment to self-care, personal development, mindfulness, harmonious living, and more.

Tamika runs a consulting business called EduVizon, LLC, which provides empowerment education, as well as hosting/emcee services for conferences and events.

Wendee Lee Curtis is a keynote speaker, host, and moderator for live event entertainment. Her keynote, "Let the Show Begin: How Teams Can Unite & Thrive Through Broadway's Inspired Lessons," explores her experience performing on Broadway and how to create strong team cultures through theatrical principles.

Wendee was named one of the Top 100 Highlights according to the Black in Events Network and has emceed events for numerous Fortune 100 companies.
William Deck is an organizational coach, consultant, and inspirational speaker with a passion for helping people become the best version of themselves. He draws on "mental fitness" exercises to host workshops, team-building exercises, and more.

His keynotes cover a wide range of leadership topics like pushing through failure, maintaining a growth mindset, manifesting success, and more.

Raven Schwam-Curtis is a Black & Jewish educator who uses the power of intersectional histories to guide their keynote speeches.

Raven has amassed 170,000+ followers across Instagram, TikTok, and YouTube, using these platforms to create conversations around cultural heritage, marginalized communities, racial and gender equality, LGBTQIA+ topics, and more.
Who are your favorite African American motivational speakers?
There are countless reasons to actively hire a diverse panel of keynote speakers for your next conference. Not only will you promote diversity and inclusion, but you'll also enhance the overall quality and impact of your event by exposing attendees to new perspectives and experiences.
Which speakers have you hired or listened to during an event? What resonated with you? What was their presentation style like? Let us know in the comments so we can continue to expand this article with great keynote suggestions.
Diversity Resources for Event Professionals
Looking for more tips, insight, and resources? The pc/nametag team has you covered. Take advantage of the following sites to continue learning more about DE&I in the events industry:
Browse the Black Speakers Network Website: Discover a list of top black motivational speakers within the Black Speakers Network, a global, membership-based speaker development community comprised of more than 10,000 speakers and countless resources.
Subscribe to the tag/talk blog: Get weekly insight just like this sent straight to your inbox including tips, industry resources, original research, and more for business and event professionals. Start by reading the following articles:
Download the Event Professional's Diversity, Equity, and Inclusion Handbook: In this guide, we cover everything you need to know about hosting inclusive events, including definitions, best practices, downloadable resources, and more.