There's always been something special about shared spaces. People love the welcoming feeling of a room full of people and having the opportunity to gather for a common purpose. They love the feeling of sharing coffee with colleagues, discussing big ideas in a conference room or attending an event with like-minded individuals. Simply put, there's nothing quite like the power of an in-person gathering.
The COVID-19 pandemic, however, has forever transformed the way gatherings will happen — both in the office and at events. Safety has become a top priority, and it is up to organizations to develop strategies for bringing people back together in a way that won't compromise health or wellness.
If your organization is looking to re-envision a space to support physical distancing and other CDC-recommended guidelines, this guide is for you. We've compiled the best information we could find on space design techniques that will increase productivity and give people the sense of safety they're looking for.
Table of Contents
Space Design Challenges, During and After COVID-19
Shared spaces (especially those in offices and event venues) have always been a highlight for the people who use them. Not only do they set the tone for social interaction and conversation, they also provide a great place for collaboration and employee engagement activities.
In the wake of the COVID-19 pandemic, however, these spaces will look a little different, now accommodating Covid safety. They'll need to be re-designed and re-imagined in order to promote safety and meet local health-related mandates.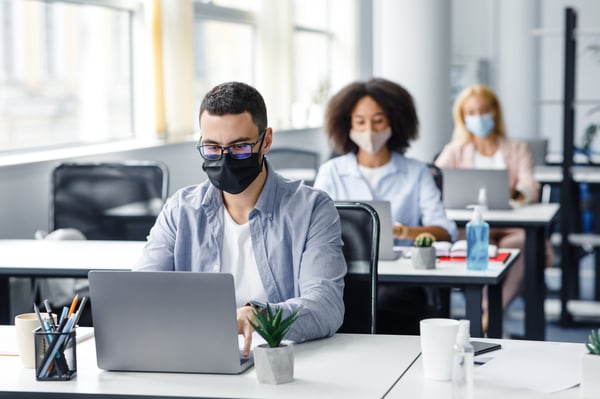 Why Safe Spaces Matter, Especially to Employees
A study by LinkedIn found that 63% of professions would choose to continue working from home in some capacity once their offices reopen. The main reason why employees feel this way is that they do not yet feel comfortable returning to the office. In fact, 57% of survey respondents cited "safety" as their top concern when returning to office. Now more than ever, employers must take active steps to help employees feel safe in the workplace.
With so much uncertainty in the world, it can be difficult to know what social spaces will look like post-COVID and how they'll need to be used once in-person gatherings begin to pick up speed. The good news is that employers, leadership teams and event planners can start revamping their spaces now in order to get ahead of the curve and help people feel safe enough to return.
The Importance of Social Distancing in the Office and at Events
While many questions remain unanswered, it's clear that much of our current day-to-day safety is based on cleaning protocols and social distancing with others. This holds especially true for indoor spaces, like office spaces and event venues. According to the CDC, limiting close, face-to-face contact with others is the best way to reduce the spread of COVID-19.
What is social distancing?
Social distancing, also called "physical distancing," involves keeping a safe distance between yourself and people who do not live in your household. The CDC recommends staying at least 6 feet from others, both indoors and outdoors.
Why practice social distancing?
The coronavirus, flu and other contagions can easily spread among people who are in close contact with one another for a prolonged period. The CDC says that the spread of illness can happen when an infected person coughs, sneezes, or talks, and droplets are expelled into the air and land in the mouths or noses of people nearby. The droplets can also be inhaled into the lungs. When combined with proper cleaning protocols, social distancing can prove effective at reducing the spread of illness.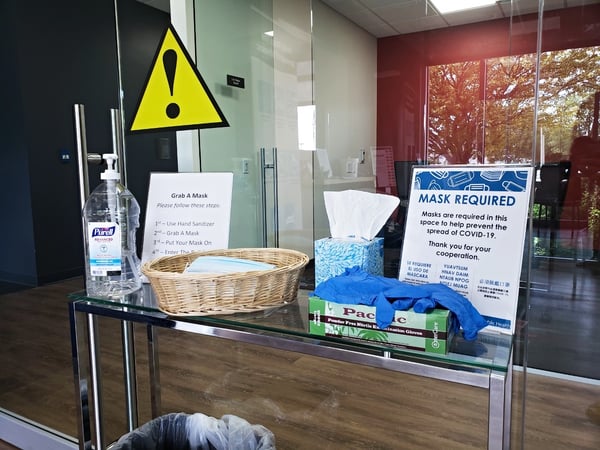 Challenges of Social Distancing at Work and Events
Many states in the U.S. have relaxed the laws around business closures and large gatherings. This means many people are now returning to work and attending more events in person. Even with adequate square footage per person in an enclosed space, practical and logistical concerns can still make social distancing tough.
Some common concerns that planners may have about bringing people back together in-person include the following:
High traffic areas, such as an elevator, that make social distancing difficult or impossible
Roles that require close contact with others, like customer service
Monitoring high-touch surfaces and keeping them sanitized
Limited access to personal protective equipment (PPE)
Thankfully, all these concerns can be circumvented with the right combination of smart space design, cleaning protocols and CDC-recommended best practices. Keep reading to learn how to leverage space design techniques in your building to give people the peace of mind they're looking for.
6 Ways to Reimagine Room and Office Design and Keep People Safe
After months working apart, many remote employees say they're looking forward to the day they can return to "business as usual" in order to interact with others, rekindle social connections and collaborate in ways that are difficult to do over video conferencing.
In order to facilitate the safest return possible to the workplace and events, organizations must create social spaces that are safe, yet realistic and productive. Implement the following space design tips to bring people together safely in your workplace, meeting space or event venue:
1) Leverage wearable technology to reinforce social distancing in spaces.
Social distancing wearables are quickly becoming one of the most innovative ways to bring staff and attendees back together in a safe and secure manner. This technology leverages Bluetooth & Ultra-Wide Band technology to create a virtual perimeter around the wearer. When other users come within an unsafe distance, the wearable flashes, vibrates and alerts the wearer. Some options even offer "contact tracing" functionality to show who might have made contact with an individual in the event of an infection.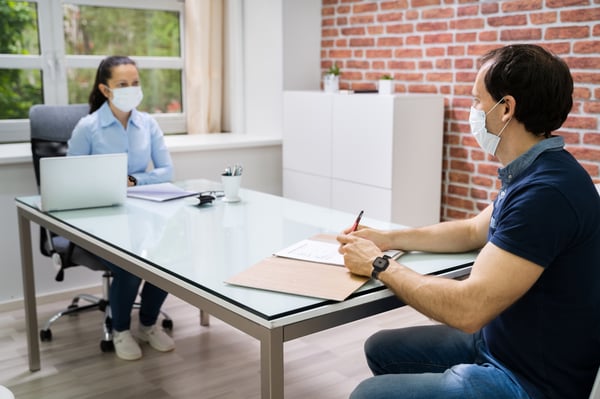 2) Assemble kits with essential PPE products for a safe social gathering.
One of the easiest ways to ensure that people have access to the personal protective equipment (PPE) they need is by mailing a pre-assembled PPE kit to their homes. Not only will a PPE kit make your employees or event attendees feel appreciated, kits will also give people the confidence and protection they need to fully participate at your gathering.
Start by including a PPE value kit that includes gloves and a disposable mask. You may also find it helpful to include wet wipes, facial tissues, clip-on hand sanitizer and a healthy snack. Kits are a perfect way to surprise and delight people from a safe distance.
3) Use floor stickers, printed signs and tabletop tents to encourage safe behaviors.
One of the easiest ways to draw attention to safety protocols in an office or at an event is to place brightly colored signs wherever people tend to congregate. In break rooms, conference rooms and breakout spaces, encourage safe behaviors with tabletop tent signs. Control foot traffic with one-way directional signs and encourage social distancing with floor stickers throughout building or venue.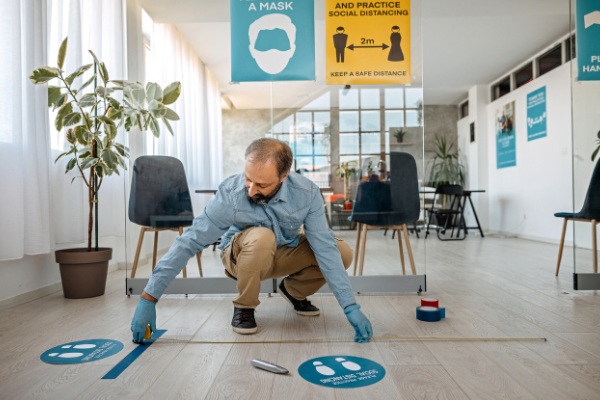 4) Use adhesive ribbons to remind people of safety protocols.
Badge ribbons have exploded in popularity at trade shows, meetings and events. Today, badge ribbons have taken on a whole new use: to indicate COVID-19 testing, encourage social distancing and keep people informed — all from an employee's or event attendee's badge! Badge ribbons are the perfect tool for conveying health-related information, providing peace of mind and enforcing safety protocols in the building.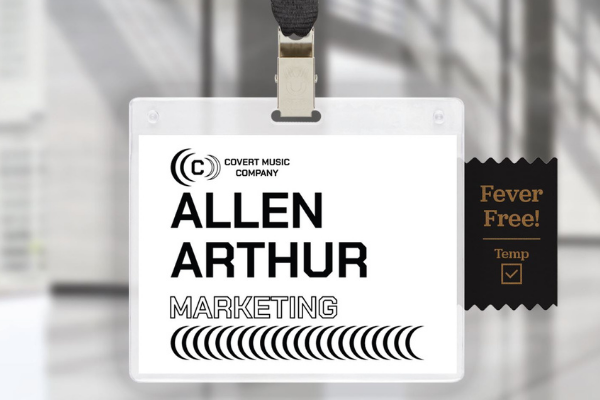 5) Use furniture and design elements to your advantage.
COVID-19 will no doubt create a new form of etiquette when it comes to minding other peoples' personal space, both in the office and at in-person events. To avoid overstepping boundaries, try to create mindful spaces that don't cause overcrowding. Do this by designating where to sit or stand in order to maintain distance or leveraging furniture to create spacing.
For example, at an event, it may be worth it to leverage a table or counter between booth workers and attendees. In the office, use plexiglass to create physical distance between individuals. In both scenarios, people will feel they are in better control over the distance they maintain with others.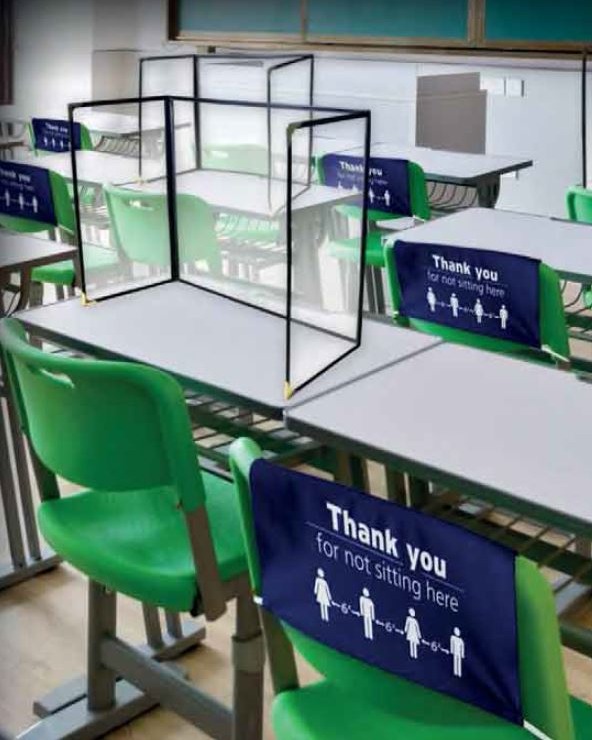 6) Ensure an ample ratio of venue space to room occupancy.
Due to social distancing, it's important to remember that previous occupancy limits in your building or event venue will need to be adjusted to accommodate new distancing guidelines. The solution? Let fewer people in so there's more flexibility to maintain social distancing.
The rule of thumb is to provide more space per person than is necessary for social distancing, but when in doubt about the safety of a gathering space, ask the following questions:
Is this room or gathering space being used in a way that poses risks to social distancing?
If so, what can our planning team do to mitigate or eliminate these risks?
How will our planning team tell if these mitigations are effective?
The goal is to strike the right balance between conducting "business as usual" while also maintaining social distancing recommendations.
For example, you might have everyone sit at their own table or space chairs in a conference room six feet apart. Give presenters their own microphones so they don't run the risk of cross-contamination. Forgo the buffet (or potluck) and provide individually packaged meals, snacks and drinks. For more brainstorming power, appoint a COVID-19 planning task force to help keep these protocols in check.
Photo Courtesy of the Orange County Convention Center
Safe Event Design in Practice: The Together Again Expo 2020
On July 24th, 2020, the Together Again Expo in Orlando, Florida paved the way for bringing back in-person events both safely and effectively. Hosted in collaboration with the Alliance Nationwide Exposition, the goal of the event was to showcase strategies for hosting events during and after the COVID-19 pandemic.
The "hybrid" approach to the event united 1,400 live industry professionals and 8,225 virtual attendees in conversation surrounding the future of live events. The Orange County Convention Center featured a revised approach to a traditional trade show experience by offering a safe, controlled environment for attendees, exhibitors, speakers and participants to enjoy.
For example, the expo featured several videos showing how staff were keeping people safe, including temperature screenings, social distancing floor stickers, mask requirements and hand sanitizer stations. Learning sessions featured chairs spaced six feet apart to maintain appropriate physical distancing.
"The Together Again Expo has successfully brought theory into practice and shown how we can come together again to do business," says Alliance Nationwide Exposition CEO Mark Yuska. "Touching on themes of safety, recovery and resiliency, we are proud to have connected our industry at this defining moment in history."
Hosting a hybrid event or office meeting is tough; there's no denying that. However, we must start somewhere, and the Together Again expo was a leading example that in-person events can happen without compromising human health. Event planners and office professionals can learn from this experience and observe first-hand how to improve events in the future.
We're in this Together.
The COVID-19 pandemic has transformed how and where we gather, forcing us to adapt and take on a more flexible approach to space design. Now more than ever, professionals are rethinking the future of how offices and event spaces will be designed to accommodate a new "normal."
The responsible thing to do is to look at how to creatively reuse our spaces in safe, effective ways. If the pandemic has taught us anything, it's that things change rapidly and the best way to approach change is to remain agile, especially when it comes to shifts to space design in a post-pandemic society.
pc/nametag is Your Partner in Planning
Times are tough, but so are we! With the proper precautions in place, you can rest assured that your employees and event attendees will be safe and well protected. Make sure to visit pc/nametag's PPE product page to learn all about the wellness items we offer.
Read Next: