Event marketers understand the importance of leveraging live event marketing to build connections, improve brand recognition, and accelerate the sales pipeline for their organizations. If you're looking to promote an event this year and create an experience to remember, look no further.
Here's our crash course in devising an event marketing plan that will help you attract more attendees, boost event ROI, and impress clients and stakeholders. Enjoy!
Table of Contents
What is Event Marketing?
Event marketing is a marketing strategy that organizations use to promote their brand, products, and services through real-time engagement with customers.
Also known as experiential marketing or brand activation, event marketing helps provide education, create connections, encourage networking, raise funds, and increase sales.
A meeting can be lecture-style or interactive, held in person or online, and feature event marketers as hosts, event sponsors, or event participants.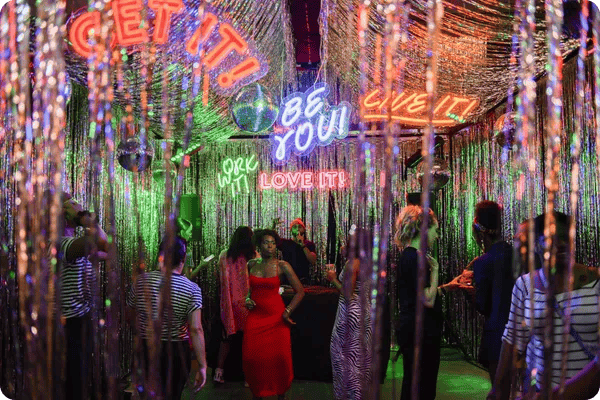 29Rooms is an annual exhibition hosted by Refinery29, featuring interactive "funhouse" rooms of style, culture, and creativity.
Event Marketing Examples
The most successful marketing events are ones that are engaging, interactive, and leave a lasting impression on attendees. While many organizations choose to host or participate in events to optimize event lead capture or increase sales, others may host events to fundraise, spread awareness or demonstrate the effectiveness of a product or service.
Examples of event marketing include the following:
Auctions and raffles
Community events
Facebook Lives
Fundraisers
Guest speakers
Interactive exhibits

Lunch-and-learns
Networking events
Open houses
Pop-up shops
Demonstrations
User conferences
Virtual events and webinars
What do all these events have in common? Experiential events use experiences to convey a message and get attendees involved with an overarching goal. If you're looking to collect quality leads, show off a product or offering, or make meaningful connections with people in your industry, event marketing is a great strategy to add to your marketing campaign.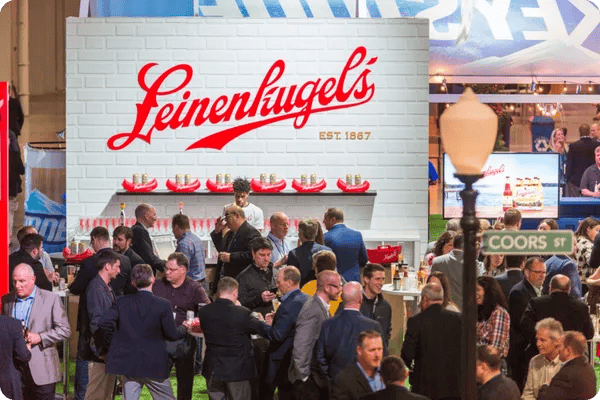 Leinenkugel's, a Wisconsin beer maker, served drinks from an outdoor-themed display at the Miller Coor's Distributor Convention.
Top Event Marketing Benefits
Event marketing, done right, should help your organization achieve a goal. Ask yourself what you want to achieve by participating in or hosting your event. Your answer will guide your approach to your event strategy. If you're looking for some guidance, the following list contains a variety of reasons you may want to consider incorporating an event into your overall marketing strategy.
Benefits of event marketing include the following:
1. "Humanize" your brand.

Nobody enjoys impersonal, robotic marketing tactics. Instead, use the event experience to showcase your organization's values, personality, and brand identity. Your customers will enjoy meeting your team and creating a connection.

2. Help your organization stand out.

Differentiating your brand is crucial, especially with increasingly fierce competition in every industry. Use event marketing to help your brand cut through the "noise" of other competitors and advertisements in your space.

3. Access your target audience.

Chances are your organization has a list of target audiences (also known as buyer personas) that are representative of your ideal customer. Use events to reach the right people at the right time with the right message.

4. Generate quality leads and boost sales.

Organizations typically participate in events because they want to capture quality leads and add to their sales pipeline. Participate in an event if you're looking to boost your lead generation strategy and add quality leads to your CRM.

Increase customer engagement.

Want to discover new customers, engage with existing ones, and re-ignite relationships with any cold leads? If so, events are the ideal way to create a more meaningful, long-lasting relationship with buyers.

Provide education to prospects and customers.

Never underestimate the power of customer education. Events can help instill customer loyalty by building brand trust and accelerating value. As you educate customers, they will discover new ways to interact with and use your products.

Gain referrals and positive press.

Referrals are a tried-and-true way to get more business, as 84% of people trust recommendations from people they know. Use the event experience to provide a positive experience that customers will rave about to their connections.

Improve client retention.

One of the greatest benefits of event marketing is forming partnerships and relationships with others. Create meaningful interactions between your brand and customers to help increase the likelihood of gaining brand loyalists.

Demonstrate your value to leadership.

If your team wants to be seen as highly valuable to your company, it needs to generate revenue and boost ROI. Events are a creative, personable way to use your time, skills, and resources most effectively to connect back to your bottom line.
When creating an event or choosing one to participate in, consider two things: Your target customer and your top goals. What kinds of events are your customers most likely to attend? What do they want most from attending? Focus your resources on bringing this type of event experience to life. This way, you'll create a memorable event experience that will leave them wanting to interact with your brand in the future (which, in turn, will boost event ROI).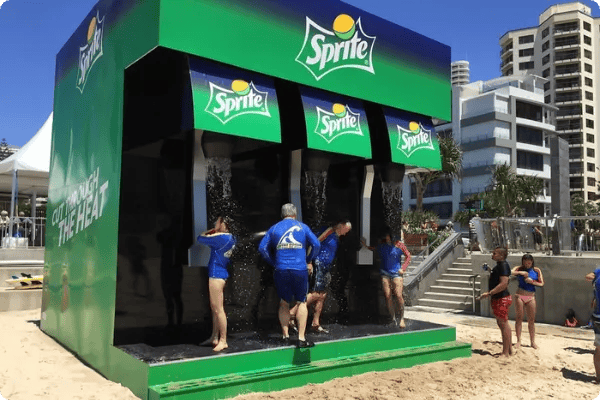 Sprite built a giant "soda dispenser" to bring their brand to life, while also cooling off sandy beach-goers.
10 Event Marketing Plan Strategies to Attract Attendees
No matter your goals, your event marketing plan should help your organization stand out and make a positive impression. The right strategies will help you create a more meaningful, long-lasting relationship with your prospects and buyers. Use the following event marketing tools, tips, and strategies to help your team gain inspiration!
1. Define event marketing strategy KPIs.
Before your team starts planning any event, remember to define your goals, objectives, and key performance indicators (KPIs). Many planners make the mistake of diving right into planning without first considering this crucial part of the event marketing process. You'll find that your ROI will be much higher if you take time to plan out milestones, as well as how you plan to measure your success.
Event KPIs to Track:
A study by CVENT suggests tracking "financial results, event attendance, lead generation, and overall awareness" by conducting a post-event analysis to be most successful. This allows you to track your conversion rate from "attendee" to "lead" so you can set a benchmark for future events.
2. Compile event details into a comprehensive document.
Most planners would agree that no two events are the same. Each one is unique and serves its own purpose. From event type to theme, there is an endless number of factors that can change from one event to the next. If your team has been assigned to plan an event (or if you are in the process of researching which events are worth your time and money), you'll need to give your team a roadmap for success.
Define the Following Event Details:
What is your event's name, purpose, and budget?

Will the event be in-person, online, or hybrid?

Will the event need a venue or

virtual event platform

?

Will the event incorporate a theme, tagline, color scheme, or hashtag?

What is the size and duration of the event?

Will your event feature special programs like an award ceremony, guest speaker, or fundraiser?
These details will play a significant role in your marketing plan. If you're looking for more tips on staying organized, read our blog that covers organization skills and tips every project manager should know.
3. Promote your event to increase attendance.
From social media marketing to advertising placements, you'll need a plan in place to help promote your event and drive attendance. Make sure to create your event promotion plan from the very beginning of your planning process. After all, without a great promotion strategy, few people will know about your event. Define which aspects of the promotion plan can be automated or scheduled. This way, as your event gets closer, you won't need to worry as much about remembering to make social posts or buy ad space.
Remember to take potential event sponsors and donors into account when creating your promotion strategy. These organizations play a key role in defraying costs and increasing attendance, so use discounts and sponsorship packages to your advantage to improve your chances for success.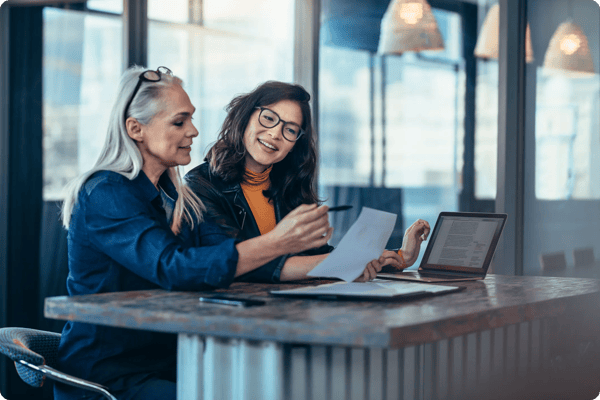 4. Optimize your event website for better engagement.
If you don't have a dedicated website for your event, you may be missing out on more than just a marketing opportunity. For example, you could be missing out on brand awareness, consumer reach, customer education opportunities, and even ticket sales. In today's digital age, attendees expect that your event will have some sort of online presence, whether this involves a Facebook page or a full-blown website with app integrations.
You don't need to spend an arm and a leg to have a great website. Facebook Events, CVENT, and Eventbrite are just a few examples of platforms you can use to create an online presence for your event. Whether your event website is large or small, remember to include critical information every attendee should know.
Event Website Information to Publish:
Add-to-calendar button
Agendas, sessions, or activities
Contact information
Cost to attend
Date, time, and location
Downloadable resources
Event description
Photos, maps, or visuals

FAQ sections
Past attendee testimonials
Registration forms
Social media links
Sponsor logos
Subscription button
Ticket purchase
Policy information
To make your website a hit, consider integrating a networking platform into your event website. This way, you can engage your attendees before, during, and after the event, as well as answer any questions they may have.
5. Leverage email and social media marketing to boost awareness.
Email marketing is one of the most essential parts of a successful marketing campaign. Today, more than 75% of B2C companies use email marketing as the number one tool to promote their events. Use carefully crafted emails to reach attendees where they are, whether that's in their office inbox or on their mobile devices. Don't forget to personalize your messaging and include a call to action (I.e. sign up, learn more, buy tickets) to drive results.
As far as using social media for your event, remember to promote your gathering in any relevant Facebook, LinkedIn, or social media group. Next, consider creating content around your event's theme or topic, seek out display ads or buy ad placement in industry newsletters.
If you've recorded content from past events, release past videos of your event's keynote speaker or other content. This will give potential attendees a "taste" of what past events were like and what they can expect. Include a link to past content in your email marketing or on your website.




"You don't need to post on every social media channel. Pick a few that make sense for your audience, stick with them, and use a platform like HubSpot or Hootsuite to post on a consistent schedule so your event stays top-of-mind for attendees.

I also recommend bringing in some social advertising as well. Upload a customer list or a previous years' attendee list to Facebook and LinkedIn so you can set up ads and market your event to those people as a reminder. Then, create a 'lookalike' audience from that list to drive new sign-ups as well."

Brooke Ihlefeld, Digital Marketing Specialist at pc/nametag
6. Leverage the event registration process as a marketing strategy.
Once you have solidified the date and time for your event, you're ready for the next step: setting up event registration. Registration is at the heart of every meeting, so make sure the experience is well planned. An efficient registration process can put you on the right track for securing potential revenue and creating a solid first impression of your event.
Although there is no perfect formula for building an event registration strategy, there are a variety of tactics you can use to deliver the best experience possible for your attendees. For example, invest in a registration app, tool, or add-on that can not only get people registered for your event but also collect event data and create reports.
7. Use experiential marketing to make events memorable.
If you're an event marketer, you may be familiar with the term "experiential marketing." Experiential marketing is a marketing technique that involves creating unique, memorable experiences between brands and consumers. Each experience typically uses an activity or activation to bring brands to life in a highly interactive way.
Product sampling, immersive experiences, artistic activities, and gamification are all examples of experiential marketing activities that get people to physically interact with your brand. Not all events feature interactive activities. However, for many attendees, having that "interactive activity" component is key to their desire to attend. Get creative with how you encourage people to participate in getting to know your organizations and products better.
Don't Forget About Attendee Gifts and Giveaways:
Looking for a cost-effective gift to attract attendees to your booth? Custom badge ribbons will delight attendees by giving them a fun way to highlight their unique personalities, break the ice with fellow event-goers, and generate conversation around your brand. Shop promotional products for events here.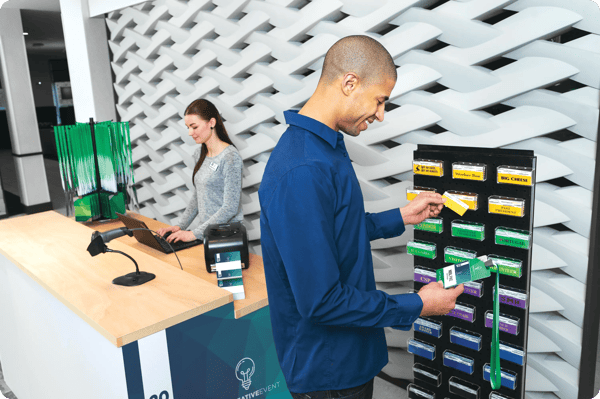 8. Improve attendee engagement through event technology.
The key to creating a memorable meeting is to use audience engagement tools to your advantage. Gamification, for example, is a great event technology tactic for enhancing digital marketing strategies and audience participation. Many game apps can be customized to your organization to engage new prospects and capture new leads. Consider adding digital scavenger hunts, QR code routes, arcade games, "spin to win" or other immersive games that add excitement to your event's agenda.
You can even leverage your event's mobile app to create a point system or leaderboard. Attendees are rewarded with points for participating in activities, using a hashtag, entering giveaways, stopping at booths, or checking in to different areas of the venue. Top point earners win a prize at the end of the event (a great way to keep people around throughout your entire event!)
9. Develop a post-event survey for attendee feedback.
Once your event has concluded, there is still work to be done! Your post-event engagement strategy is (arguably) the most important part of your event program since you'll be able to build off the buzz of your event and take time to nurture attendees down the sales and marketing funnel. Throughout your follow-ups, you'll begin to see which people are most engaged with your brand which, in turn, helps your sales team prioritize and distribute leads appropriately.
Post-event landing pages, emails, social media posts, surveys, and polls are all examples of tools you can use to reach out to attendees and ask for their feedback. Ask them what they liked and disliked. What suggestions do they have for making your next meeting a success? Did the event meet their expectations? Assemble answers into a shareable report.
10. Analyze your event marketing data and ROI.
There's proof in the numbers. That's why it is so important to gather and analyze data from every event. Your findings could help highlight your event's effectiveness and provide insight into how to improve future performance. Post-event data evaluation can help you accomplish the following:
Identify whether the event has achieved its goals
Ensure the event met attendee expectations
Collect data on how to improve future event strategies
Analyze logistics and year-over-year success metrics
Confirm increased brand awareness among your audience
Once you have gathered and analyzed your data, apply the results to your overall event marketing campaign by conducting a post-event evaluation. Compare your event to any past events. Was it better or worse, and in what ways? Moreover, don't hesitate to mention any issues or challenges to overcome in the future. Include your evidence-based recommendations for future event planning endeavors.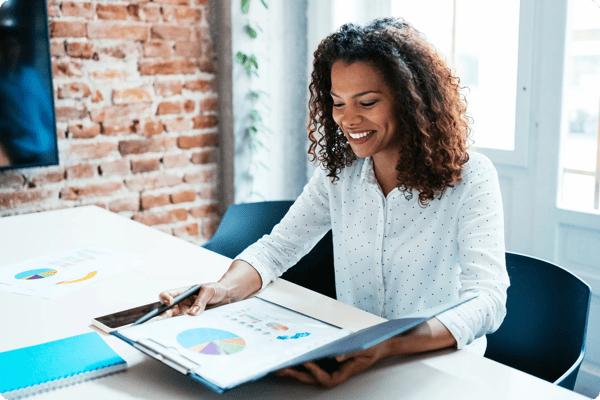 Conference and Event Marketing Tips for Planners
When it comes to event and tradeshow marketing, our best advice is to know your target market and cater to their needs through your event experience. Your goal is to put your organization and your offerings out into the world for people to experience firsthand.
Done right, your event marketing campaign can be a key component of converting potential clients into repeat buyers and providing that "special experience" that can be enjoyed, shared, and remembered by your stakeholders.
Eager to learn more tradeshow and event marketing tips? The following event marketing resources will help you create a strategy to be proud of. Don't forget to reach out to pc/nametag to learn how to build memorable and meaningful connections with attendees through customizable products for your business or organization.
READ NEXT: