Planning a large-scale event such as a conference, expo, seminar or tradeshow is no easy feat. Between obtaining permits, selling tickets, managing vendors, and more, you have plenty on your plate.
However, one aspect of your event you should never cut corners on is event security. Today, only 67% of event organizers reported that they had explicit language around safety and security in their meetings and events policy.
Knowing what poses the greatest risk to your attendees can mean the difference between a safe experience and a situation gone wrong, so read on to find our top tips for increasing security, promoting safety, and driving participation at your security-focused event.
The 10 Dos and Don'ts of Event Security
❌ Don't: Fall short on event security staffing.
✔️ Do: Work with security services to evaluate safety and security needs.
Most experienced event planners will agree that working with a professional, experienced security team can provide peace of mind, especially for events that draw large crowds. Find a security team that will work with you to make sure every major event decision is made with safety and security in mind.
As a rule of thumb, strive to hire at least one security guard for every 100 guests. You'll also want to consider the type of meeting you are hosting, as different events have different security needs. A music festival or sports game that draws thousands of people, for example, will have higher security needs than a 50-delegate business event.
❌ Don't: Assume every individual has clearance to attend your event.
✔️ Do: Require attendees to wear proper badges, IDs, or credentials.
Name badges aren't just for creating a great first impression and helping people make connections with one another. Name badges are also a critical identifier to ensure your event is properly credentialed — not just for attendees, but also for exhibitors, security staff and third-party vendors.
Have everyone, no matter their distinction, always wear their credentials. Uninvited attendees will often excuse their lack of event badge by saying they've left it in their hotel room or their car. An experienced security team will know to investigate further.
Proper credentials also have another use case; if guests have questions, they'll know who to approach. (Read our guide to choosing the right name badge for your next event).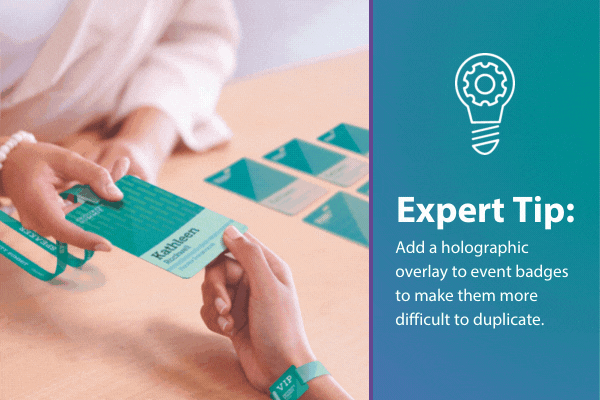 - Add a holographic overlay to most Premier Event Badges (some shapes excluded).
❌ Don't: Focus only on common risks, hazards, and threats.
✔️ Do: Create a risk assessment process to help prepare for any situation.
Keeping everyone safe at an event is a must (and perhaps one of the greatest responsibilities any event organizer has). An event risk analysis involves (1) identifying potential hazards that could occur at your event, (2) calculating the possibility and levels of risk, and (3) analyzing what could happen if a hazard occurs.
Create a system to assess the threat level of identified hazards at your event. If you need help getting started, we suggest using the event risk assessment matrix, which can help you prioritize risks and hazards, then create a security plan based on your assessment. A smaller event held inside a secure venue, for example, may be of lower risk than a large outdoor event.
❌ Don't: Allow unrestricted access to your venue from multiple doors.
✔️ Do: Create security checkpoints to control access to your event.
One of the easiest ways to protect people and property from security threats is to create security checkpoints to prevent unauthorized access to your event. This way, all attendees must confront security personnel (or even just front desk workers) long before they can cause any disturbances or damage.
Set up your registration desk in the event venue's lobby or main doorway. This way, if an uninvited person tries to enter your event, they'll be stopped before they reach the crowd. Your security team can also handle a variety of tasks, from checking guest IDs to escorting VIPs, keynote speakers and top corporate executives to where they need to be.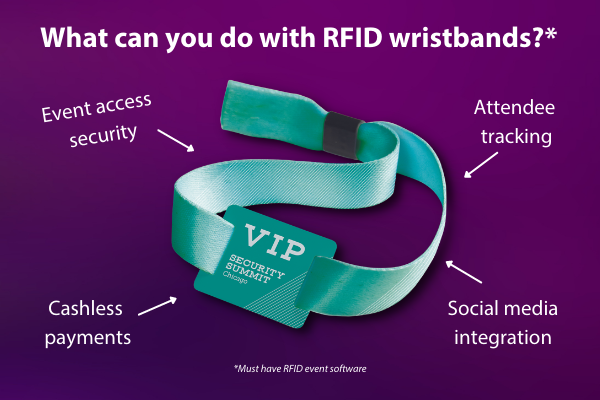 - Order your own customized RFID event wristbands here.
❌ Don't: Allow long, congested lines to form around security checkpoints.
✔️ Do: Use facial recognition technology to take the guesswork out of identification.
Remember, your attendees are vulnerable while they're waiting in line outside the protection of your venue. Therefore, it's important to use event technology like facial recognition systems to make sure registration and security run as smoothly as possible. This high-tech solution can set the tone for your event and create a more enjoyable experience for everyone.
Looking for ways to boost your event's ROI? Facial recognition software can help. First, it can cut down on security personnel labor costs by automating photo identification. Second, it can help speed up registration and funnel crowds into your venue faster, allowing you to take full advantage of your attendees' buying power. Third, you'll add an extra layer of security, since facial recognition software is more accurate than human-powered screening processes.
❌ Don't: Rely on one or two security measures to keep everyone safe.
✔️ Do: Implement layered event security techniques that work in tandem
Event security is an expansive topic, so we know it can be difficult to know where to start. Try to incorporate a variety of safety and security techniques, like a combination of metal detectors, bag checks, uniformed security officers, and camera surveillance. Your guests will appreciate not having to worry about their personal safety.
Knowing your venue inside and out can also be the key to your success. Work with the venue manager and security personnel to identify all exit and entrance points, then make sure your event staff is aware of them. Outdoor events should use temporary barricades and fencing to create strict perimeter boundaries. Don't forget to ask your venue how they plan to allow emergency responders access during your event if they need to, and how they will notify you about the situation.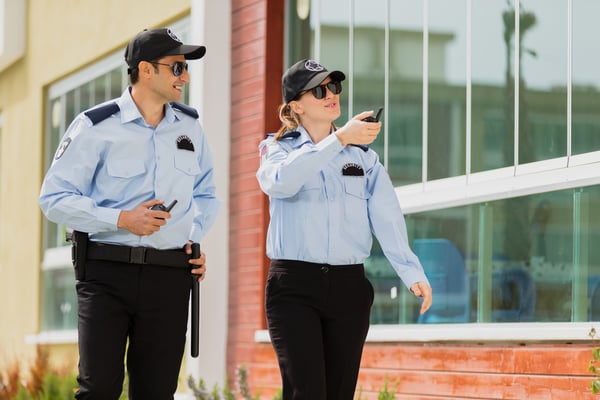 ❌ Don't: Allow dense crowds to form in common areas.
✔️ Do: Assemble a crowd management plan that decreases queuing.
Depending on the size of your audience, you'll need to create a basic event safety plan to keep everyone secure. Start by ensuring there are enough staff members to limit queues, especially in your event registration area. Next, provide adequate space between checkpoints like giveaway tables, exhibitor booths, refreshment stations, and entertainment stages to prevent crowding.
Lastly, ensure that your event safety plan includes instructions on how to keep guests calm during any situation. This includes providing adequate directional signage throughout your venue to prevent frustration, as well as working with your venue and local emergency teams to plan evacuation procedures.
❌ Don't: Assume all staff members know how to react in an emergency.
✔️ Do: Provide specialized safety and security training for event staff.
Research, Implementation, Training, and Practice: These are the four critical components of any safety and security planning process. As a planner, you want to empower your team to know how to handle any unanticipated situation. This way, your staff can serve as an extension of your surveillance team, while also directly interacting with attendees.
Start by establishing a mentoring program for on-the-job training of new or replacement staff. Follow training with a test or quiz to determine your program's effectiveness. Next, conduct safety and security training prior to every event. And lastly, encourage staff to review procedures on a regular basis and maintain training records.
PRO TIP: Establish an events handbook that clearly explains rules and guidelines. This should include needed skills and required training on basic security procedures like access control, situational awareness, attendee screening, CPR and AED training, and more.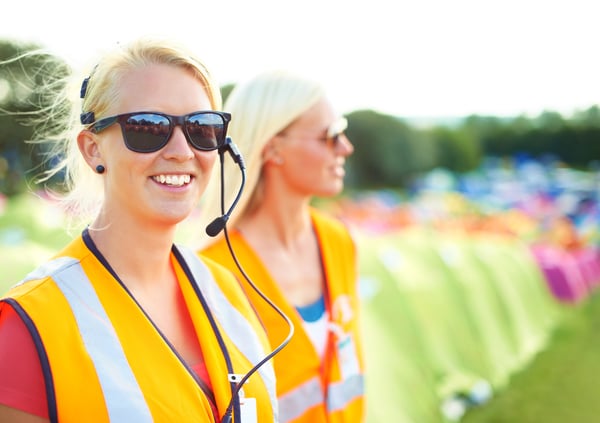 ❌ Don't: Leave suspicious situation reports to the professionals.
✔️ Do: Train ALL event staff to spot and report a suspicious situation.
While every experienced security team knows how to spot a suspicious situation, your event staff may not. That's why it's a good idea to learn how to identify and notify security if your team sees a concerning problem. For instance, do they see an attendee excessively loitering or surveying the layout of the venue? Do they see a vehicle parked in an odd location, an unattended package, or an open window that should not be open?
People who plan to disrupt an event often watch security personnel closely, continually check for security cameras and look for unguarded entrances. Your team needs to know how to be on the lookout for suspicious activity and how to report it to the right law enforcement agencies. It's never a bad idea to be overly cautious.
❌ Don't: Forget that data security is just as important as physical security.
✔️ Do: Protect your event data using digital best practices.
Event threats don't just come in physical form; they also come in digital form. Make protecting data a top priority at your event! The last things you want to worry about are hackers or unauthorized users inadvertently gaining access to sensitive information and data.
IT and Cybersecurity Expert Advice:
"Data breach and identity fraud are a major concern for event organizers. Luckily, there are a variety of ways to protect attendee data, identities and devices.

Make your next event as safe and secure as possible by reading my list of cybersecurity best practices I believe every events professional should know."

Justin Phillips, Cloud Platform Manager at pc/nametag
Keep your registration process simple by only asking for pertinent information, or relying on an encrypted system. Remember, don't ever store credit card data with user data. Credit card data should always be stored in a separate encrypted storage solution.

Password protect your event's Wi-Fi service and use enterprise-level encryption such as WPA2(AES) or WPA3. This will help safeguard against security threats by keeping unwanted parties off the network. Many of these features are commonly built into most routers and access points, including home units.

Share your event's Wi-Fi password in a secure location.

We suggest printing it on the back of your custom event badge so attendees have access to it at all times. You may also choose to print the password on a handout in custom event registration packets, or within your secure event app.

Use multiple layers of security through wireless encryption and hard drive encryption. Use built-in Windows firewalls for a strong security regime that will keep most potential attackers out.
Have IT professionals run security measures on the network to make sure no malicious parties can use it to steal data from guests' devices. If the venue provides the Wi-Fi network, ask to review their cybersecurity protocols. You'll want to ensure that devices logged into the network can't access other devices on the same network.
By following these data security best practices, you'll be better prepared to safeguard your organization, your attendees and everyone in between.
Corporate Event Security, Made Easier
People love events. But what they love even more is knowing that their experience will be safe, secure, and enjoyable. It's up to meeting planners and venue managers to team up together to ensure the health, safety, and security of every guest, no matter the type of event — and we're here to help.
Read our comprehensive resource on Safe Meetings 101: The Guide to Event Safety and Security Planning to equip yourself with the tools and knowledge you need to be successful.
Shop safety- and security-related event supplies by pc/nametag, including name badges with optional security features, brandable face masks, health and safety signage, RFID wristbands, and badge ribbons for attendee distinctions (I.e. "security," "vendor," "speaker," etc.)
Download The Meeting Planner's Event Safety Plan Checklist, a resource designed to help you collect and manage emergency contacts, vendor and supplier information, and risk management tasks.