"Has direct mail marketing become a thing of the past?"
This is a fair question. After all, why on Earth would we bother to send physical mail when we have the option to use more modern marketing methods like email, social media, blogging and video? It's no secret that these techniques have their benefits. They're generally instantaneous, low cost and drive a high ROI.
So, has direct mail marketing become old, boring and useless?
Absolutely not! Done right, direct mail can be one of the most effective ways to reach your customers and prospects, even in our digital age. If you're looking for new and innovative ways to leverage direct mail, check out my list of tips for creating a strategic direct mail marketing campaign that will produce results and save you money!
Table of Contents
What is direct mail marketing? 📬
Direct mail marketing involves sending a physical correspondence to customers or prospects with the goal of getting them to patronize your business.
Direct Mail Examples
Examples of creative direct mail marketing ideas include envelopes, postcards, poly-mailers, catalogs, brochures, and coupons.
Direct mail marketing examples include packages like gift boxes, promotional items, and product samplers. The goal of direct mail is to give consumers a tangible experience with your brand. You'll also gain exposure, build rapport and give customers more confidence in their purchase.
Did you know?
One of the best ways to help close important business deals and build credibility with clients is to send a custom-curated gift box. It's unique, it's personal and it's strategic! Take the opportunity to show your prospects you care with branded gifts, educational content and a handwritten note. This gesture is a tried-and-true way to get their attention and leave a lasting impact on behalf of your brand.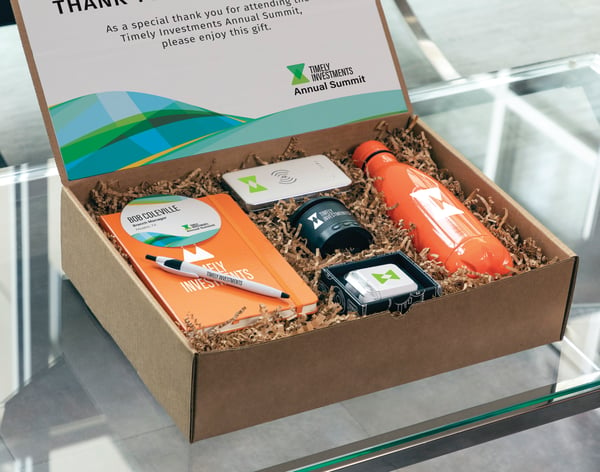 How can direct mail marketing benefit my business? 📈
Did you know that the average consumer is exposed to 4,000 to 10,000 ads per day? Between overflowing email inboxes and constant digital ads, it's no wonder that people are overwhelmed with how much media they are exposed to!
Direct mail is the winner here! A physical item can help your brand "cut through the clutter" and stand out from your competitors. You might even find that direct mail gets you more responses from consumers. In fact, one study found that direct mail campaigns can generate purchases five times larger than email campaigns.
Lastly, direct mail can be highly strategic for your team. For example, it can serve as an initial touchpoint and introduce a consumer to your brand, or it can be used to push a consumer through the sales funnel towards a purchase. This could mean the difference between making (or breaking) your revenue goals.
"In today's virtual world, having a tactile and inspiring piece of marketing land in your mailbox provides a welcome break. Direct mail allows for amazing formats, personalized content, and provides marketers with the space to tell a story that best showcases marketer's value, special products or services."

Kristie Schieble, Sales Account Executive for Quad
According to Schieble, it's important that marketers track and analyze results by overall campaign, by customer segments, and/or at the individual respondent level.
Some common trends used by marketers to more easily and quickly track results include:
Individually assigned, personalized promo codes
Individually personalized variably coded coupons
PURLs (Personalized URLs)
Smart QR Codes
7 Tips on Building a Successful Direct Marketing Campaign
Creating a direct mail campaign can seem intimidating, but once you create a plan using the steps I've detailed below, you may find that this strategy is just as effective as your digital marketing methods. Check out how to get started with these ideas for direct mail campaigns.


Tip #1: Target the right people with the right offer.
Defining your target audience is one of the most essential first steps of any successful marketing strategy, especially if you're just getting started. You'll want to clearly define what types of people you're trying to sell to. While there's no "correct" answer, it's important to draw some generalizations about your audience. For instance:
How old are they?
What is their gender?
What is their educational background?
What purchasing power do they have?
Where do they live or operate?
What are their consumption habits?
What media platforms do they use?
What motivates them to buy?
For example, if your business specializes in educational toys, your target audience will probably be parents, educational specialists and teachers.
The goal of this step is to make it clear who you're trying to sell to, then understand what motivates these people to buy. What do they want or need from you as a company?
READ MORE:
How to Create a Buyer Persona Profile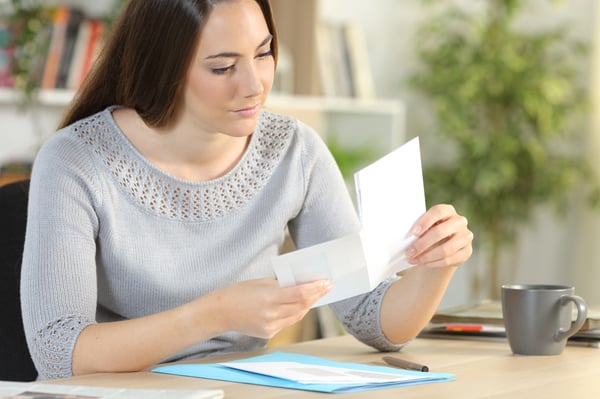 Tip #2: Nail your mailing lists and techniques.
Once you've established a set of target buyer personas, you'll need a good quality mailing list. This step is key since you can't create a successful or appealing offer without knowing who you're mailing to. Plus, if you send your mailers to the wrong audience, you'll risk alienating the right prospects and losing money.
You can choose from two types of mailing lists:
In-House Mailing List: A list that contains names of people you've already established a relationship with, such as current customers, past customers or people who've inquired about your product or service.
Third-party List Rental: A curated list of names that's purchased or rented from a full-service direct mail company.
In most cases, I'd suggest renting a mailing list if you're looking to procure new contacts outside of your database. Renting is less expensive than buying, and less of a commitment since you're not responsible for maintaining the list. While you won't own the information on a rented mailing list, you'll still receive the contact information of people who respond to your campaign!
Tip #3: Define what success looks like to you.
PRO TIP: Try tailoring your messages to different recipients. "Variable data" is a method you can use to drop in different information in your piece based on different lists, behavior or buying habits. For example, you could switch out elements like copy and headlines depending on the job role of your recipients. In most cases, variable data printing delivers better results than generalized printing.
If you can't measure it, you can't manage it! That's why data is an important part of optimizing your direct mail campaign. When you take the time to establish your key performance indicators (KPIs), you'll set yourself up for success. You'll see which tactics work and which don't. Ask yourself:
What outcomes do I want to see from this campaign?
What methods will I use to track my success?
How often will I check in on the progress of my campaign?
How will I track and report my return on investment?
How will I adjust and make improvements?
By establishing expectations beforehand, you'll be more likely to hit your goals. You'll also be able to learn from mistakes and re-direct marketing dollars toward your most effective strategies.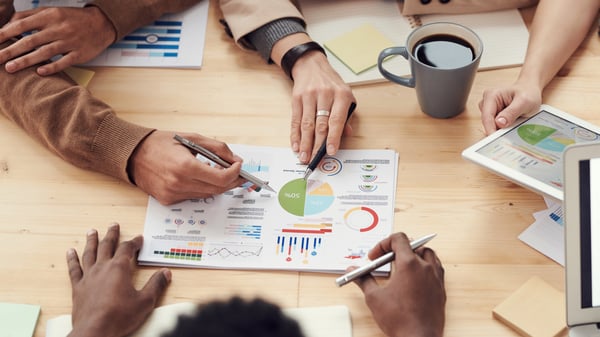 Tip #4: Incorporate branding into the design of the piece.
Now comes the fun part of the process: designing your piece of direct mail! Design plays a huge role in a great direct mail campaign. The right design can catch your prospect's eye, guide them through your advertisement and ultimately get them to act, all in a highly visual and appealing way.
Not sure where to start? Great design should always adhere to your brand standards and be easily recognizable in the mailbox. Here are a few pointers I can share with you:
Incorporate your organization's colors and logo.

Make it obvious that the piece of mail is coming from your company! This is a great way to orient consumers and grab their attention.

Play around with basic color theory.

Use different colors to have different psychological effects on consumers. For example, use red for urgency, orange for enthusiasm, purple for luxury or green for eco-friendliness.

Avoid using too much white or a lackluster design.

Take advantage of pops of color and eye-catching designs. If you can't catch their eye within a few seconds, your piece of mail might go straight in the recycling bin.

Leverage a QR code for easy website access.

Using a matrix style barcode like a QR code is a great way for smartphone users to gain instant access to your website without having to type a URL.

Add personalization.

People want to feel special when they open your mail. Use variable data to drop in a person's first name. This way, the mail will feel more personal and meaningful.

Use A/B testing.

Not sure which design will work best? Create two options and see which design fosters the best response!
When in doubt, keep tweaking your designs until you find something that works. You'll have greater success if you keep your designs fresh and intriguing.
Tip #5: Provide clear, concise messaging with a single call-to-action (CTA).
In addition to design, you'll want to incorporate a clear, concise message on your piece of mail. You'll also want to include a "call to action" or CTA for short. The purpose of a CTA is to leverage command words that make it clear what action you'd like the reader to take. Here are some examples of a CTA:
Buy now.
Order today.
Shop the sale.
Download your copy.
Subscribe today.
Visit the website.
You'll want to draw as much attention as you can to the CTA. A good way to do this is to leverage a bold color or design that draws the eye down to the end of the body text. Avoid asking for high commitment upfront; make the commitment as easy as possible especially if you're speaking to a "cold" audience.
CONTENT WRITING TIPS:
How to Become a Better Marketing Content Writer
PRO TIP:

Provide a simple URL that a reader can type in to learn more about your offer. Want to add further intrigue? Offer a link to a free eBook, checklist or piece of content that's gated by a short form. This is a smart way to obtain a person's email address for future marketing efforts.
Tip #6: Track the ROI of your direct mail efforts.
Determining the return on investment (ROI) of your direct mail campaign involves much more than simply looking for an increase in sales or leads. By tracking the data associated with your campaign, you'll really be able to dig deep and examine where your successes lie. The smartest teams know how to leverage tracking methods to ensure accuracy and performance of their direct mail efforts.
If you're not sure how to accurately gauge response rates, no worries. There are a variety of ways you can track direct mail ROI. This is done through reliable tracking methods and success metrics. Here are a few methods I can suggest for tracking ROI:
Use a trackable URL.
Use a trackable QR code.
Use a trackable phone number.
Use a scannable coupon code.
Use a unique promo code.
Always make sure that any point of contact listed on your direct mail piece (I.e. the phone number, the website, the coupon code, etc.) is unique and trackable. This way you'll have an accurate way to attribute sales and leads to your campaign.
Tip #7: Understand the value of strategic repetition.
When it comes to marketing, repetition is key. You can use the power of repetition to ensure that people remember your brand. The good news? You can do this through a combination of direct mail and other marketing methods. Consider this:
Would you rather market to a smaller audience multiple times, or a bigger audience only once? Chances are that your smaller, more concise audience will remember your message rather than a large audience that only hears from you once. This is why a concise mailing list is so important!
Most businesses have a limited marketing budget, so make sure to use repetition to your advantage. Use direct mail in tandem with other media channels (I.e. email, social media, PPC, paid advertisements) to reach your audience.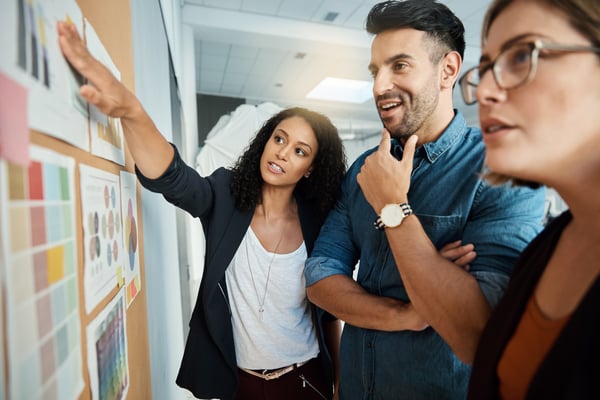 More Marketing Resources to Help You Learn and Get Ahead
Whether you'd like to supplement your existing knowledge or you're looking to learn from the ground up, it's never too late to become a professional marketer. In fact, I have an entire article on continuing education resources to help you upskill and reskill. The websites listed there will help you learn the fundamentals of marketing, as well as tactics you can start using today to become successful.
READ NEXT: