We all know that 2020 was a year like no other, especially for the events industry. With new safety protocols in place and the rise of virtual events and hybrid events, the landscape for 2021 has profoundly changed and event trends are continuously evolving.
The good news? Event professionals are no strangers to change, and 2020 has primed them to think on the fly and adapt to an everchanging industry. No matter what this year brings, there are a lot of exciting changes and event planning market trends on the horizon and we'll cover them today in this article. Keep reading to find some of the most exciting developments and trends you can look forward to in 2021 and beyond.
Table of Contents
Event Industry Trends and the Road to Recovery
In 2020, the events industry was hit with drastic change in the wake of the COVID-19 pandemic. In-person events came to a screeching halt and many event planners were left wondering when (if ever) events would be able to return to normal.
Luckily, event planners have always been known for their ingenuity, and thousands made a point to roll with the punches and convert their live events to engaging virtual events. This transition paved the way to a new future of events: one where virtual and hybrid components would become the norm.

Now, with promising news regarding the COVID-19 vaccine, the industry is looking up and once again showing exciting promise. There's plenty to do in 2021 and today, we'll cover some of the most exciting trends to look out for in the years to come.
Photo Source: Together Again Expo 2020
Before we dive in, let's get inspired. Here are two of our favorite success stories that prove that the events industry can pivot with the times and create a positive outlook for the coming years.
Safe Event Feature: MPI World Education Congress
The MPI World Education Congress (WEC) met at the Gaylord Texan Resort & Conference Center in November 2020 after the decision was made to postpone from its original date in June 2020. The event's organizers took this time to do a massive re-haul on the event, reconfiguring its format to accommodate stricter sanitation guidelines and safety protocols to keep people safe.
The event was able to successfully attract 644 in-person attendees and over 1,000 online participants. To improve safety, a pre-event attendee kit was provided with useful supplies including a mask, registration badges to avoid long lines, and other items.
Risk-free registration was offered, mandatory temperature checks and screenings were provided, and all face-to-face attendees committed to following safety requirements while on-site.
Despite decreased attendance from previous years, MPI's event organizers were excited to see the event come together in an environment that was conducive to safety.
"I would say our industry is adapting and adopting the health and safety guidance that will help give attendees the ability to travel and meet confidently ahead," says Nan Marchand, Managing Director of the Meetings Mean Business Coalition/U.S. Travel Association in an article by MPI. "Keep an open mind to change and remain flexible, because things will be different as we emerge from this crisis. We can operate productively while adhering to new health and safety practices across the industry."
Photo Credit: MPI
Safe Venue Feature: SoFi Stadium in California
Downtown Los Angeles has been steadily busy during the COVID-19 pandemic, and SoFi Stadium (also known as the home field for the Los Angeles Rams and Los Angeles Chargers) is no exception.
Opened in September 2020, the stadium has been busy developing a program they call "Embrace the Space, Return to Special Events." This promotion will focus on safety protocols and allow for hybrid and indoor-outdoor events to take place when they come back full-swing.
"We have 300 days of sunshine per year," says Darren Green, Senior Vice President of Sales and Services for the Los Angeles Tourism & Convention Board. "[For many of these days] you don't need back-up space, and planners overall feel safer in open air."
As SoFi Stadium gets ready for fans, it's also ramping up its event spaces which feature a 6,000-seat amphitheater, 260 luxury suites and more than 3 million square feet of usable space. The stadium has already implemented a variety of state-of-the-art technology to allow for easy branding and directional signage when events begin again.
Photo Credit: Los Angeles Magazine
These success stories are only two of many that took place in 2020, and even more will follow in the next year with special event trends and the latest trends in event management. For now, we can learn from the successes of others, make changes and experiment with creative industry trends that will breathe new life into the events industry going forward.
"I am excited to see events transition over from cancelled or unknown to now back on the calendar and scheduled as virtual or hybrid in 2021. Virtual events will be a great way to broaden your audience and attendees, and will create a whole new experience."

Colleen Krantz, Senior Client Relations Advisor for pc/nametag
Top Notable Event Industry Trends Likely to Stick in 2021 and Beyond
Like most trends, some come and some go. However, based on our research, we've discovered some exciting developments and ideas that will likely stick around, and we wanted to take the time to share them with you.
Get excited! Here's what's to come this year and beyond.
Trend #1: Meetings, gatherings and activities will take to the outdoors.
Did you know that the average American spends almost 90% of their life indoors? This year, event planners will challenge this statistic by getting attendees outside to enjoy the pleasantries of nature. Not only will open-air activities contribute to better physical distancing, they may even improve attendee health. Science has shown that spending time outdoors has excellent benefits ranging from improved memory to better concentration and a happier mood — benefits that can easily carry over into an in-person event.
Could outdoor activities be the answer to better attendee satisfaction?
We think so! Now is the time to improve attendee engagement with open-air breakout sessions and networking activities. For example, executive retreats could turn into "glamping" trips that feature fireside meetings. Other popular outdoor activities could include theatre-style seminars, horseback riding, ziplining, boating, cooking seminars, paint nights, wine tastings, yoga classes, food trucks and scavenger hunts.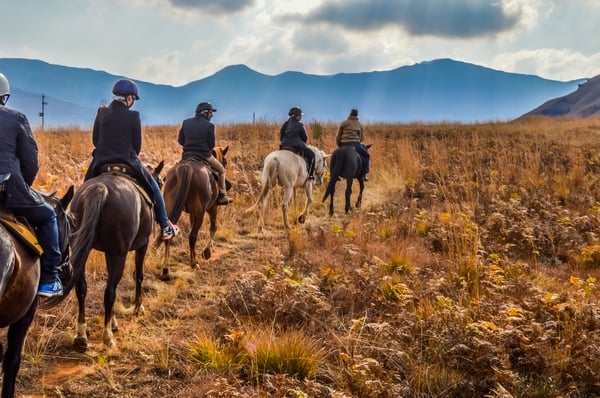 Trend #2: Regional meetings and local meet-ups will reduce the need to travel.
Imagine having a meeting take place in Orlando that's also being broadcast live to those attending smaller sessions in Seattle, Denver, Chicago, San Diego and Dallas. This is the exact concept of a satellite event. In 2021, regional meet-ups and local gatherings will rise in popularity and allow for a smarter return to in-person events.
Reduced group sizes and little-to-no travel? Count us in!
Regional meetings will be a great win-win for attendees and event planners alike. This will also be a great opportunity to re-define in-person connections and revitalize the lack of personalization often seen at very large events.
Multi-destination meetings will certainly require some planning and coordination, but the benefits will be great. For example, event planners will reserve large meeting spaces across multiple cities to let attendees connect safely and stay close to home. Programming will be broadcast across multiple meeting rooms to allow for social distancing, and streamlined video conferencing will allow people to see, listen to and contribute to programming no matter where they are.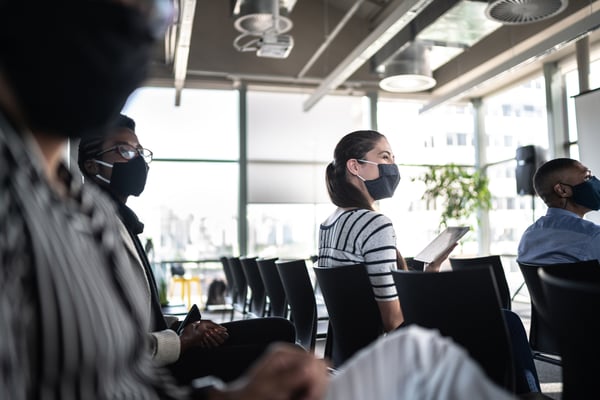 Trend #3: Attendees will expect a robust health and safety program to be implemented at events.
While the COVID-19 pandemic has presented a unique set of challenges for event planners, it's also served as a catalyst for change. As the industry continues to pivot with the times, planners will continue to take necessary steps to host meetings and events that make attendees feel safe.
Going forward, attendees will come to expect a robust health and safety program to be put in place before and during in-person events. Examples of event safety protocols that may be included in a Health and Safety Program include the following:
On-site Rapid Testing
Quickly screen attendees for COVID-19 infection the same day of an event.
Mobile Ticketing
Replace the need for printed tickets and lengthy, congested registration lines.
Proof of Vaccine
Verify an attendee's COVID-19 vaccination status within the last year.
Temperature Checks
Identify people experiencing an elevated temperature due to an illness.
Health Assessment Form
Confirm that attendees are not experiencing COVID-19 symptoms.
Readily Available Hand Sanitizer
Reduce germs and give attendees the ability to sanitize on-the-go.
Individually Packaged Meals, Snacks and Beverages
Eliminate the need for high-touch buffets and busy, time-consuming lines.
Venue and Vendor Commitment to Safety
Hold vendors accountable for safety of themselves and others.
Not only will these safety protocols and others give attendees additional peace of mind, they will also safeguard attendee health and halt the spread of germs and illness. A safe event is an enjoyable event!
"Beyond touchless registration and in-room swag boxes, I think the most important safety tool we have is communication with attendees. Health signage and floor decals have always been a part of the face-to-face meeting ambiance, but they will now be a critical tool in crowd management and communicating protocols and guidelines."

Angela Koshman, Canadian Sales Manager for pc/nametag
Trend #4: Incentive gifting will become a unique alternative to incentive travel.
Organizations have used incentive travel for decades as a way to motivate and recognize tops earners for their achievements throughout the year. However, employee rewards are changing. With travel restrictions and public safety concerns, leadership teams are returning to the drawing board and reimaging the way they approach employee appreciation programs.
Incentive gifting will be a great alternative to incentive travel in 2021 and beyond. While a relaxing trip to the beach or a ski resort getaway will always be fun, a thoughtful gift can be just as effective when recruiting top talent, managing employee performance, building brand loyalty and rewarding employees for their company contributions.
The best part? Employee appreciation gift boxes can also be used as virtual event attendee kits to boost engagement and anticipation for virtual and hybrid events!
Trend #5: Hotels and convention centers will step up to meet hybrid event needs.
Despite low occupancy rates in 2020 due to travel restrictions, countless venues across the world are pivoting to ensure a safe, digital-first environment for guests and event attendees when they eventually return for in-person meetings and accommodations.
COVID-friendly space design, sanitizing stations, improved cleaning of high-touch areas, one-way directional floor stickers, temperature scanning kiosks and touchless registration options will become an expectation.
In a time when many attendees do not yet feel comfortable meeting in person, it is up to hotels and venues to create spaces that are conducive to hybrid events and attendee health. Here's what two convention centers are already doing to aid in the transition:
| | |
| --- | --- |
| Photo Source: Orange County Convention Center | Orlando's Orange County Convention Center has already unveiled plans to offer a new "executive studio" in early 2021 that will feature state-of-the-art, ready-to-use digital broadcasting equipment for hybrid conventions and tradeshows. The studio will feature classroom-style seating with 160 seats that will accommodate physical distancing, customized lighting, digital poster boards and AV components. |
| Photo Source: Meetings & Conventions | St. Louis' America's Center recently unveiling its 2023 plans to open a "StreamStage." Not only will this theater offer 1,400 seats (or 210 socially-distanced seats), it will also offer the ability to stream high-definition video to virtual attendees. Rental of the space even comes with a production manager's expertise included! |
We're excited to see how hotels and event venues continue to pivot with the times and offer never-before-seen virtual components to their event offerings.
Trend #6: Event planners will explore the sweet spot between live experiences and on-demand content.
A rise in hybrid and virtual events will also mean that event planners will need to experiment with providing live-streamed content versus pre-recorded content. The difference between the two comes down to timing:
Live-streamed content is like live television. Attendees log into a platform, select a program and watch it take place in real time.
Pre-recorded content, on the other hand, is like Netflix®. Attendees can browse content that's already been recorded and view it on their own time, at their own pace.
While there's no right or wrong answer when it comes to the type of content that event planners will provide during events, choosing the best option will come down to market research and survey responses from previous event attendees.
For example, some events will do better with synchronous live experiences, while others may opt for asynchronous on-demand content. Available budgets and resources will also play a role in which option will best suit your event's needs.
"Though 2020 was a crippling year for the meeting industry, it taught us that now more than ever, we need to stand together and pivot together. One great lesson we've learned is that even when we can get back to holding in-person events, we can still reach attendees that cannot make the trip by offering virtual solutions for sessions. I believe that hybrid events are here to stay!"

Kyrstie Amick, Event Specialist for pc/nametag
Quick Tips for Hosting a Solid Virtual, Hybrid or Live Event
Ready to dive head-first into 2021 events? Before you begin, here are some quick tips that you can take with you as you begin to strategize:
Tip 1: Incentivize live attendance and participation, especially during virtual and hybrid events.

Did you know that the average no-show rate of virtual events is 35%? It is up to event organizers to brainstorm creative ways to improve attendee engagement and interaction. In the new year, consider rewarding live attendance with a free event ticket or exciting prizes. People will be more likely to log into the platform (and stay logged in throughout the day) if there are a variety of engaging sessions and activities to choose from and look forward to.

Tip 2: Offer on-demand content that's easy to consume and enjoy.

For some event organizers, upselling on-demand content is a great way to generate revenue. However, it's important to make sure that content is packaged correctly from an attendee's standpoint. For example, avoid offering a lengthy three-hour video which may lose attendees' interest. Instead,

break down the content into smaller, easy-to-consume segments

. You can also improve accessibility by offering audio-only access and the ability to take notes.

Tip 3: Use event technology to streamline workflows and create an integrated experience.

In 2021 and beyond, event planners will need to morph virtual and hybrid events into more of a "TV show" format. In other words, they'll need to keep their audiences engaged by

incorporating live speakers and performers, having a limited live audience for increased safety, and taking advantage of quality production equipment

for an improved user experience. Hybrid events aren't going away, so take advantage of the opportunity to allow all people to attend, even those who cannot do so live and in-person.
What's next for the live events industry?
While 2020 was a year filled with drastic change, we're hoping that 2021 will be a year of learning, experimentation and rebuilding. We're confident that the events industry will rebound stronger than ever, especially after the many challenges it has faced in the last year. Change can be scary, yet exciting and we can't wait to see all of the new developments and convention center trends that will appear in the years to come.
How have you adapted to the ever-changing events landscape?
What are you most looking forward to in 2021?
Let us know by leaving a comment below!
READ NEXT: