Employee engagement is quickly becoming one of the most important factors in gauging workplace satisfaction. Today's employees want to be involved in their work, committed to their colleagues and enthusiastic about their organization's values. They want to be recognized for their efforts and contribute to a mission greater than themselves.
But what, exactly, is employee engagement? What steps should your organization take to achieve and maintain it?
This article will cover why employee engagement is a critical driver of business success, especially in today's demanding market. You'll also find the information and tools you'll need to keep your employees happy and excited to come to work each day.
Table of Contents

What is employee engagement?
Employee engagement is the emotional commitment an employee feels for his or her organization and its goals. In other words, employees who feel engaged at work will be more likely to wholeheartedly care about the work they do for their organization.
In most cases, engaged employees don't just work for a paycheck or for their next promotion. Rather, they actively seek ways to further their organization's goals, reputation, values and interests — all through positive action.
Why is employee engagement important?
Employees want a compelling reason to stay at their jobs. In today's job market, competition for top talent is at an all-time high, and the cost of training new hires is steep. Most organizations simply cannot afford to not engage with their employees. Engaged employees are more likely to approach their work with excitement, purpose and enthusiasm.
The Research Behind Employee Engagement
A common misconception is that a "happy" employee is an "engaged" employee. While this may be true for some, it isn't always the case. Just because an employee shows up to work, actively participates, and completes his or her tasks does not necessarily mean they feel engaged with their work.
Employee engagement statistics reveal why disengagement cannot be overstated: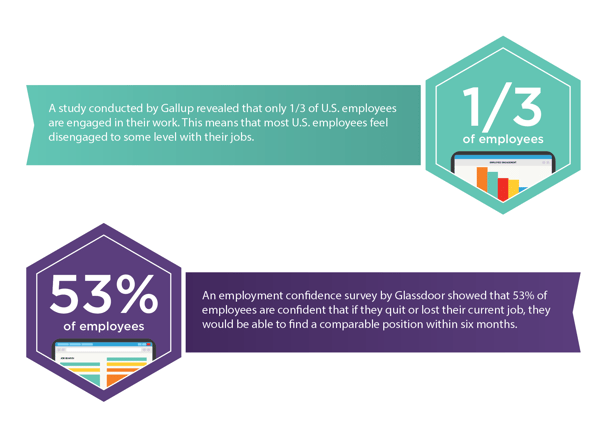 [Sources for Gallup research and Glassdoor research]
What does this research mean?
Disengaged employees are at a much higher risk for turnover and they're not afraid to leave their jobs. They feel confident that within six months or less, they'll be able to find a new employer that recognizes their talents and appreciates their performance. If your organization wants to retain top talent, it needs to place employee engagement strategies at the forefront of its priority list.
Today's Challenges with Employee Engagement
Disengagement can create numerous issues for your organization. What's worse is that the aftereffects can prove both powerful and incredibly expensive:
Disengagement takes a toll on your organization's profits.

A study estimated that disengagement costs U.S. companies about a third of the disengaged worker's salary. This means that disengaged employees are costing U.S. businesses between $483 billion to $605 billion every year!

Disengagement issues have a cascading effect on business.

Employees who are unhappy and disengaged at work are

more likely to seek new positions

with other employers. A high turnover rate can lead to significantly lower productivity and thousands of dollars of lost revenue each year.

Disengagement takes a toll on employees' focus and mental health.

The COVID-19 pandemic has been difficult on human health and well-being. Employees, especially those who work from home, may feel disconnected with their colleagues and lose motivation. They may also experience workplace stress or job burnout.
Employee engagement isn't just on the employee's end; it's a relationship between an employee and an employer. It is up to the employer to understand how employees are feeling and take actionable steps to improve (and maintain) employee satisfaction.
The Benefits of Employee Engagement
Improving employee engagement is not just about improving productivity. In fact, science proves that there are numerous benefits that a company can see from simply investing time and effort into employee engagement tactics. Benefits of employee engagement include:



Improved Employee Health

Engaged employees are less likely to be obese and suffer from chronic disease, and more likely to eat healthier and exercise. Not only is this a huge cost savings for a business, this could also prevent an increase in health care insurance premiums.

Better Employee Safety

Employers that create a work culture focused on safety can see up to 70% fewer safety incidents because employees are more committed to doing quality work in a safe manner. This, in turn, can reduce the likelihood of accidents, injury and OSHA violations.




Higher Productivity, Lower Absenteeism

Engaged employees are invested in their job and care about the success of their team. In fact, highly engaged workplaces saw 41% lower absenteeism and 17% higher productivity.




Improved Profitability

Employees who care about their organization's margins will take positive action to help the company meet its revenue goals — up to 20% higher sales and 21% higher profitability.




Greater Satisfaction

Engaged employees have happier home lives. People who have positive experiences at work perceive themselves as better able to deal with issues at home and became better companions.




Happier Employees

Employers that focus their efforts on employee recognition, one-on-one meetings and continuous feedback tend to drive better performance than those that resort to peer pressure, reprimand and termination.
3 Employee Engagement Strategies to Boost Motivation
A successful employee engagement campaign includes activities and initiatives that revolve around company values, HR experience, positive psychology and productivity. If you're looking for ways to create company loyalty and promote a more engaging workplace, you've come to the right place!
1) Assemble an employee appreciation gift box.
Most people would agree that getting something in the mail other than bills or notices is exciting! An employee appreciation gift box is the perfect way to catch employees off-guard at home or in the office and delight them with goodies they'll love. Let them know they've done a great job!
You can include virtually anything in an employee appreciation kit, but if you're looking for a place to start, consider a theme.
For example, a "work from home" box could include items that improve productivity, like a notebook, pen, ear buds, water bottle and a healthy snack. A "coffee break" box could include a coffee mug, locally roasted coffee and a Bluetooth speaker to play some relaxing tunes. And lastly, a company-themed box could include fun branded items with your organization's logo.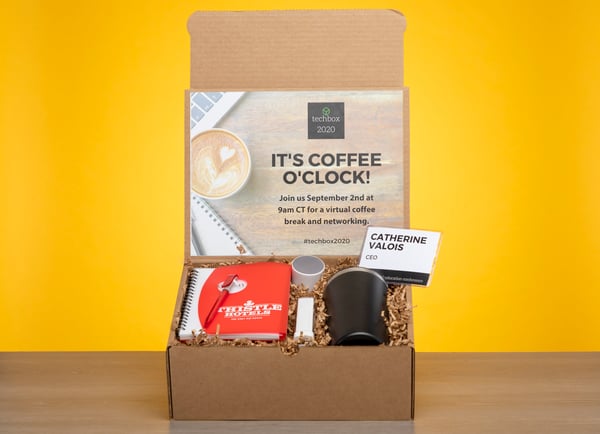 2) Plan health and wellness activities.
Studies show that engaged employees tend to eat healthier, exercise more frequently, and consume more fruits and vegetables. Since employee engagement is positively correlated with better health, do your part to help your employees continue maintaining a healthy lifestyle. A good place to start is by hosting wellness activities at work throughout the year.
Employee wellness ideas:
Invite a yoga instructor to lead an online class to help workers feel energized for their day. Offer a meditation session to encourage focus and relaxation. Host a virtual run or walk to get employees up and moving in their spare time.
PRO TIP #1: Make these activities fun by having participants snap a selfie and tagging the company with a hashtag. Authentic photos are great for company social media platforms and can even benefit you in the employee recruiting process!
PRO TIP #2: Make wellness activities into a friendly competition. Employees may be more likely to participate if they know that a fun prize is on the line.
Make sure that employees have the items they need to participate in a wellness activity. For example, include a yoga mat, water bottle and towel in an employee engagement gift box to ensure they're ready for exercise sessions:

3) Host networking activities and learning opportunities.
Networking activities and learning opportunities are perfect methods for developing mutually beneficial relationships and helping employees feel connected, especially if they are working remotely. Social activities will give employees a higher sense of empowerment, which in turn leads to improved engagement and longevity with the company.
"Lunch and Learns" which feature an engaging speaker are always a highlight for many employees. Make it extra special by offering a free lunch through a delivery service like Grubhub or EatStreet. Another way to bring employees together is by coordinating a "Coffee Chat" or happy hour for the post-work unwind. A custom-curated kit can be mailed to employees and include everything they'd need to participate, from mugs and locally roasted coffee, to a bottle of wine and a branded tumbler.
Need more employee engagement ideas? Try these.
Thinking of creative engagement ideas can be tough, so we did the work for you. Here's a round-up of some of the most interesting activities we could find to help your employees build meaningful connections with colleagues and your organization:
Conduct activities that highlight company values
Encourage teams to create their own set of values
Host team projects that promote collaboration
Assign mentors to new employees during on-boarding
Have themed office days and take team photos
Highlight team successes on company social media
Host volunteerism days with a non-profit or charity
Celebrate achievements and important milestones
Offer opportunities for personal development
Give and receive engagement feedback
READ NEXT: "The Complete List of Employee Wellness Program Activities"
Engagement tactics that work for one company might not work as well for another, so make sure to try new ideas and adapt to feedback until you find the perfect approach to your engagement strategy.
What strategies does your organization use to promote engagement?
What employee engagement strategies does your organization use? What advice can you share to improve employee productivity and happiness? Let us know by leaving a comment below.
READ NEXT: