"What do you love most about your job?"
I've asked this question of many colleagues over the years and the most common answer I get is "I love the people." This goes to show that the importance of personal connections in the workplace cannot be overstated.
Employees who feel connected with one another are less likely to feel isolated at work, and more likely to feel empowered, valued, driven and motivated. In fact, one study even found that employee networking can reduce the likelihood of turnover by 140%.
To improve your organization's employee engagement efforts, providing networking opportunities is a must. Check out this list of my favorite employee networking ideas to help people in your organization build relationships with one another.
Examples of Internal Networking
Internal networking is the process of establishing interpersonal connections in the workplace, typically done through social events and employee engagement activities between colleagues. Some internal networking event ideas include:
1) Host social gatherings once a month.
Internal networking events aren't just fun; they're also a great excuse to help employees interact in ways they may not be able to during a busy workday. A themed gathering, a happy hour or a potluck are all examples of events that can help employees build interpersonal connections with people both inside and outside their immediate departments.
2) Schedule "Coffee Buddy" or "Lunch Buddy" meetings.
Meeting new people can be daunting, especially for new employees who are not yet acquainted with other people in the workplace. Give employees the chance to meet new people by randomly assigning pairs every two weeks or once a month. Those who participate can sit down for coffee, have lunch or take a lunchtime walk. "Buddy" meetings can also take place in groups for those who prefer a larger gathering.
3) Create online chat groups for exchanging ideas.
In the age of remote working, office chat tools like Slack and Microsoft Teams have quickly become the backbone of employee interactions in the workplace. Take full advantage of these tools by creating groups and networking channels for employees to use. This way, they have a dedicated space to ask questions, create discussions, share information and post useful content for others to see.
Team channels are great for non-work-related discussions too! Many employees find joy in connecting with others over shared passions and interests. For example, leverage team channels to share photos of pets, discuss local happenings, exchange recipes, establish fitness groups or exchange gamer tags for after-work video game play. The opportunities are endless.
4) Start a professional development book club.
Looking for a way to help employees learn more about their fields and sharpen their skills? Start a book club that revolves around professional development and skill-building. This way, employees have an outlet for discussing new ideas and ways to improve current processes in their departments.
A book club is also a great way to get employees who share common interests together for meaningful conversation and continuous learning. Plus, they're easy to do, whether in person or virtually!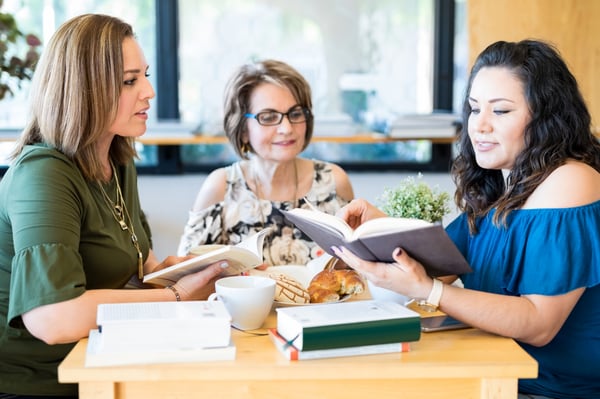 Examples of External Networking
External networking is the process of developing interpersonal connections with people outside your immediate work environment, oftentimes with those who share similar interests, job roles or industries. These networks are used for advice and support, both inside and outside the workplace. Some ideas for external networking include:
5) Encourage employees to attend work-related events or classes.
Establishing connections with other business professionals can be as simple as attending a local industry-related event, gathering or class (whether in-person or online). Many of these events are free or low cost, and they give employees the opportunity to learn new information, meet like-minded individuals and jumpstart their professional creativity.
Not sure where to start? Many larger organizations, especially software companies like HubSpot and Salesforce, have smaller chapters that meet in various cities to offer educational sessions and networking nights. This is a great place to begin your search for networking events in your area.
6) Host a happy hour event for local business networking.
Hosting a professional happy hour can be a great bonding experience not only for your employees, but also for other business professionals in your community. This is an opportunity for people to gather, relieve stress and "talk shop" without the dynamics of work getting in the way of being able to connect with one other. Done right, a happy hour can be a real crowd pleaser and connect individuals in a more relaxed environment.
Looking to get creative with your professional happy hour? Send attendees a "virtual happy hour kit" in the mail. This way, they'll have everything they need to unwind after a long day of meetings and enjoy time chatting with other business professionals.
7) Offer employees the option to sign up for a conference.
Conferences are the ultimate way for employees to meet likeminded individuals and stay up to date on the latest trends in their industry. These gatherings — whether in person, virtual or hybrid — also bring people together from different geographical locations and backgrounds.
8) Create an industry-related discussion group on Facebook or LinkedIn.
Facebook and LinkedIn groups provide a place for professionals in the same industry or with similar interests to share their insights and experiences, ask for guidance and build valuable connections with one another. When creating a group, focus on a topic that many people in your industry care about. Keep conversation educational in nature and encourage group members to post their insights on discussion threads.
Employees Who Network Together, Stay Together
Depending on your budget and employee needs, networking initiatives will look different from one organization to another depending on your goals. The main goal is to make resources available to help employees feel connected — both with one another, and with individuals outside your organization.
Did you enjoy this article? Read these next: