Employees spend a lot of time in the workplace — about 90,000 hours over the course of a lifetime to be exact! Because people spend around 1/3 of their lives working, it's important that employers find ways to incorporate health and wellness into workplace culture. When employees are healthy, they're more productive at work and less likely to take sick days.
"Offering wellness activities is a great way for organizations to show they care about their employees. By incorporating health and wellness into the workplace lifestyle, you not only support healthy habits, but also create an environment where employees tend to be more engaged, connected and productive. The right wellness program can even give your organization a competitive edge when it comes to recruitment and retaining top talent."



DeLyn Schafer, HR Recruitment & Engagement Manager, pc/nametag
Find out how to keep your staff healthy and active with this complete list of fun activities and types of wellness programs to boost employee engagement in your organization improving employee satisfaction.
Wellness Program Ideas to Use at Work
1) Start an employee walking club.
Walking is great cardio exercise and can even make your heart stronger over time! An employee walking club is great for getting people moving in the morning, at lunch or after work. Get remote staff members involved by hosting a virtual walk or run on their own time. Improving your employee's health will lead to better success in the long term.
2) Host yoga sessions or meditation classes.
Putting together a workplace yoga class can be as easy as using a guided video from YouTube or an exercise DVD. Some local yoga studios have teacher training programs as well, so make sure to check to see if any trainees are willing to donate time for teaching hours and a free class. Don't forget to provide yoga mats and fitness totes for employees to use!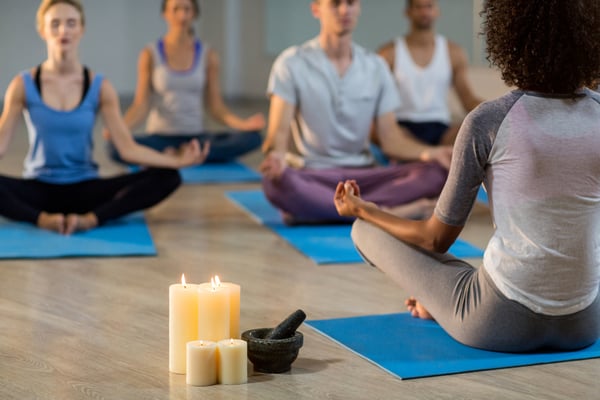 3) Dedicate a workday to volunteerism.
Donating time and effort to a charity is a fun, feel-good way for employees to give back to their community. Plus, volunteerism activities are the perfect addition to workplace spirit week. Choose a charity that aligns with your organization's mission and values: Write cards for a children's hospital or nursing home, stuff bags full of essentials for the homeless, plant trees in the park, or spruce up a local school ground.
4) Encourage walk-and-talk meetings instead of sitting in a conference room.
On average, Americans sit for 13 hours a day and sleep for 8 hours a day, resulting in a sedentary lifestyle of around 21 hours a day. Walk-and-talk meetings are a growing trend that allow employees to get moving during the day and gain some much-needed "unplugged" time away from the computer.
5) Offer fitness classes over the lunch hour.
Did you know that spending company time on fitness can boost employee productivity? Studies show that employees who are physically active during the workday self-reported increased work performance and higher satisfaction with both the quantity and quality of their work than employees who are not active.
6) Assemble employee kits with wellness items included.
If you're looking for a way to weave wellness into employees' routines and boost employee engagement, consider assembling a kit filled with everything they need to lead a more active lifestyle. Water bottles are a must for keeping employees hydrated. Yoga mats, workout towels and earbuds branded with your company's logo are also sure to be a hit!
7) Create a monthly fitness challenge that encourages healthy behaviors.
Office fitness challenges encourage employees to make healthy choices and choose healthy behaviors throughout the month. Challenges can target an unlimited number of health behaviors like drinking water, taking the stairs, going on walks and eating fruits and vegetables. Have employees with a competitive spirit? Offer prizes for participants who complete the challenge!
8) Provide healthy snacks for employees to eat during the day.
Healthy snacks provide energy in the middle of the day, which can boost employee productivity and focus. Pick a day of the week where employees can bring in a healthy snack to share in the break room. Stock vending machines with health-conscious snacks like nuts, veggie chips, nutrition bars and sparkling water.
9) Start a health and wellness book club.
Looking for a way to help employees learn more about wellness and how to apply it to their lives? Start a book club as part of your organization's wellness program. This way, employees have a way to share important health-related conversations with one another and improve their overall well-being. A book club is also a way to show employees that your organization values self-care and continuous learning.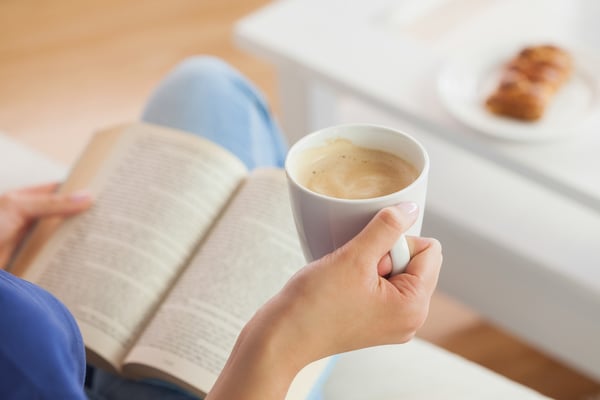 10) Have prompted journaling exercises.
Devoting time to journaling isn't just good for mental health; it's also good for developing focus, organization, patience and personal growth in the workplace. Over coffee, lunch or after work, encourage employees to reflect on a given topic or question. Have them write their thoughts in a fun notebook.
11) Encourage employees to drink up!
Did you know that your body is composed of about 60% water? Keep employees hydrated by providing a water bottle to sip from throughout the day. Get employees excited to drink water by surprising them with a branded water bottle as company swag and to reduce bottled beverage costs.
12) Plan employee "Lunch and Learns" that focus on healthy habits.
"Lunch and Learns" are an effective way to increase morale and encourage a culture of wellness in the workplace. To increase participation, give employees an incentive for coming such as wellness points, entry into a raffle or an additional day of PTO.
Lunch and Learn Topics Ideas:
Eating healthy on a budget
Decoding nutrition labels
Stretching and exercising at your desk
Living a more active lifestyle
Practicing self-care techniques
Getting quality sleep each night
Staying organized at work
Share your health and wellness ideas with us!
Employee wellness programs have become an increasingly important way for organizations to attract top talent, keep employees happy and productive, and decrease employee turnover. How does your organization incorporate health and wellness into everyday culture? Let us know by leaving a comment below!
READ NEXT