Workplace incentives are nothing new. In fact, many organizations use incentives to motivate employees and recognize them for the hard work they do throughout the year. A well-planned employee incentive program can even benefit your entire organization, not just employees. From business growth to hiring benefits, improved performance, productivity and employee engagement, offering incentives is a great way to see both short- and long-term benefits for everyone involved.
Are you looking for ways to increase sales, generate profit and keep employees excited to come to work? If so, there are a variety of program types you can implement, including incentive travel and incentive gifting. Discover the benefits of each and determine which is best for your needs in the following article.
What is an employee travel incentive program?
Incentive travel programs recognize top performers for boosting sales and driving revenue for their organization. Not only is business travel a great way to motivate employees and highlight their achievements, it's also a proven way for companies to reinvest in themselves and their employees.
For example, when an employee achieves or even exceeds a goal, others may be more likely to compete for a chance to win the next incentive trip. More sales mean more profit, and more profit means more opportunities to give back to employees for their hard work.
Examples of Corporate Travel Experiences:
Visiting a ski resort in Colorado
Exploring castles in Ireland
Discovering museums in Chicago
Tasting wines in Italy
Seeing the northern lights in Iceland
Relaxing on the beach in the Caribbean
Learning the nation's history in Philadelphia
Viewing historical architecture in Barcelona
Heading out on a safari in South Africa
Hiking at Machu Picchu in Peru
Sailing the seas on a cruise in Aruba
Many employees enjoy incentive travel because it provides an opportunity to relax, have fun and create memories in an engaging way. It's also a strategy that can be used to improve employee motivation, since they'll look forward to a chance at winning the next trip or entertainment opportunity. If you're looking for a way to boost morale and build loyalty, incentive travel may be a good fit for you.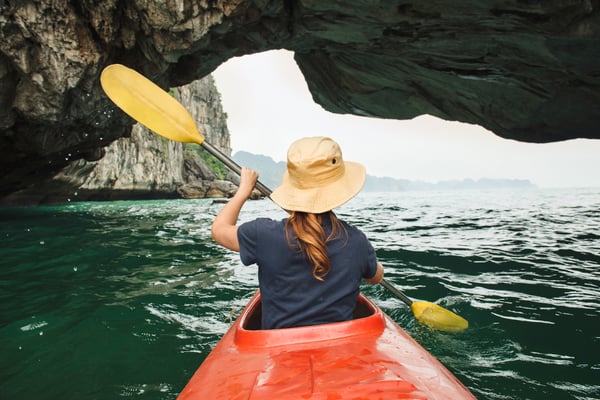 What are employee incentive gifts?
Employee incentive gifts including any item or experience of value that prompts an employee to go above and beyond what is asked of them by their employer. While raises, bonuses, stock options and profit-sharing will always be a sweet perk, many employers also want to reward, thank and praise their employees through thoughtful gifts and experiences. Gifting is a great way to counter disengaged employees and attract prospective ones.
Employee Incentive Gift Examples:
Entertainment tickets
Sports game tickets
Gym memberships
Gift cards
Fine dining
Extra PTO
Prime city parking
Spa treatments
Golf club memberships
Latest tech
Conference tickets
Cooking or art classes
Workspace upgrades (window or office)
One of the greatest benefits of employee gifts is the ability to personalize them to both the employee and your brand. Research shows that employee recognition can boost engagement, increase productivity and drive company loyalty — all goals that you can accomplish through a thoughtful present, personalized note and meaningful recognition.
Employee Gifting vs. Employee Incentive Travel: How do they compare?
When it comes to the success of your organization, your employees are everything. They are the heart and soul of operations, taking care to promote the brand in a way that's conducive to business and meaningful relationships with customers. It's important for employers to honor their employees and give back to them in ways they'll appreciate, but determining how to do so can be difficult.
Some organizations struggle to justify incentive travel as an effective use of budget dollars since most trips range from $2,000 to $8,000 per employee. In addition, employee rewards are changing, especially in the COVID-19 era and beyond. With travel restrictions and public safety concerns to consider, leadership teams much reimagine how they approach employee appreciation programs.
Incentive gifting is a great alternative to travel. Done right, thoughtful gifts can play a big part in recruiting top talent, improving employee performance, maintaining brand loyalty and recognizing employees for their company contributions. Employee gifting can also be a more realistic and attainable alternative for organizations looking to improve their recognition and incentive programs.
Benefits of employee appreciation gift boxes include the following:
Employee appreciation gift boxes are great for any budget.
Some organizations prefer to recognize as many employees as possible for their hard work during the year. Gift boxes extend your dollars further and show more people your appreciation at once.
Employee appreciation gift boxes are highly customizable.
You want your incentive program to reflect your organization's goals and values. Gift box options are endless; simply include items that you know your employees will find useful.
Employee appreciation gift boxes are memorable.
While a trip to a ski resort or sunny beach will always be a fun time, travel is short-lived. Gift boxes are personal and meaningful. Including a handwritten note, for example, is a great keepsake for employees that they'll treasure.
Employee appreciation gift boxes are flexible.Gift boxes don't need to be a once-a-year initiative. There are so many ways that they can be utilized, especially for remote employees. For example, create engagement and facilitate networking with a coffee break box, a happy hour box, or afternoon snack box. Gift boxes are also great for holidays and end-of-year celebrations.
Employee appreciation gift boxes are convenient.
Let a gift box service do the work for you! Companies like pc/nametag take the guesswork out of picking, packing and shipment. The key is to select a company that allows for personalization, such as including a handwritten note or homemade gift.
When in doubt, ask yourself
which incentive ideas best align with the needs of your employees, the goals of your organization and your brand.
Which are most effective for rewarding high performance? Every organization has certain values it stands by, and it's a smart idea to use employee incentive programs to positively contribute to those ideals.
View more curated gift box sets from pc/nametag.
Looking for employee engagement strategies?
Employee recognition and appreciation are powerful motivators. After all, there's nothing quite as motivating as a heartfelt "great job" from your supervisor after a successful project, deal or year.
It's up to leadership teams to come up with new and exciting ways to ensure employees feel valued, seen and motivated year-round. Whether you're looking to kick off the fiscal year or close a quarter on a high note, keeping employees engaged is key to hitting those targets and maintaining morale.
If you're looking to get inspired with the latest employee appreciation gift box ideas, pc/nametag has you covered. Click here to view our team's favorite gift box ideas or view our list of employee appreciation blogs below.
READ NEXT: