People love in-person events.
There's nothing quite like the hustle and bustle of a busy conference, or the thrill of watching live entertainment. Making professional connections, forming friendships, discussing big ideas and learning new things are just some of the reasons people can't seem to get enough of live events.
Event planning professionals know that safety, engagement and safe event space design are top priorities. But how, exactly, can planners maximize fun and participation without compromising health or wellness? Here are four examples of social activities you can implement at your next meeting to improve attendee satisfaction and participation, the safe way!
1) Take advantage of pre-event networking activities to build excitement.
Pre-event networking activities are a must for hyping up attendees and getting them excited to attend next-day activities and sessions. You can also use them to draw in first-year event-goers and give them a taste of what they can expect from your event.
How Pre-event Networking Works:
Host a one-time gathering or multiple pre-conference workshops that are segmented by different topics. This way, attendees can meet with like-minded people before the event begins in a comfortable, personalized setting. Many event planners find it helpful to host a pre-event happy hour or feature raffles where attendees can win a prize for participation.
Set Up Your Space:
Use an eye-catching retractable banner to designate where attendees should gather for the event. Let attendees select a fun badge ribbon, then incentivize participation by providing custom-curated gift boxes to anyone who attends.
Done right, pre-event activities and other team building exercises help people get the most value out of your event (before it even happens!) You'll also be able to connect attendees with sponsors, drive meaningful conversations and ease any pre-event jitters first-time attendees may have.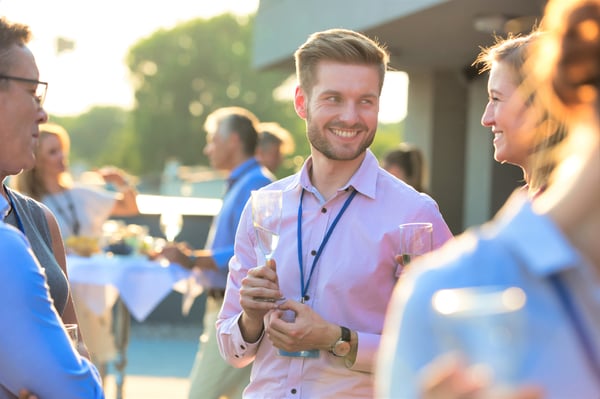 2) Discuss big ideas at an attendee "brain dating" session.
Networking events can be intimidating, especially for introverts and people attending your event alone. "Brain dating" (also known as speed networking) encourages people to bond over shared interests, job roles or industries. The goal of this activity is to give attendees the opportunity to introduce themselves in a low-stress environment, while also creating meaningful conversations at your event.
How Brain Dating Works:
Participants are asked to create attendee profiles that describe themselves and their topics of interest. Like speed dating, attendees with similar profiles are paired together for a "brain date" where they can learn more about one another and connect. This interaction can either take place one-on-one or in a small group setting.
Set Up Your Space:
Incorporate a lounge into your floor plan layout. Here, attendees can relax and speak comfortably about their interests. A team of facilitators can help participants create matches and navigate conversations. Give each participant a name badge to help form connections. Try using adhesive name tags that can be written on with permanent marker or printed last-minute.
Once finished, attendees can mix and mingle to meet other people in the room, swap business cards or connect via the conference app. Don't forget to introduce this activity to event sponsors. Brain dating is the perfect way to connect participants with sponsors, create partnership opportunities and add big value to your event.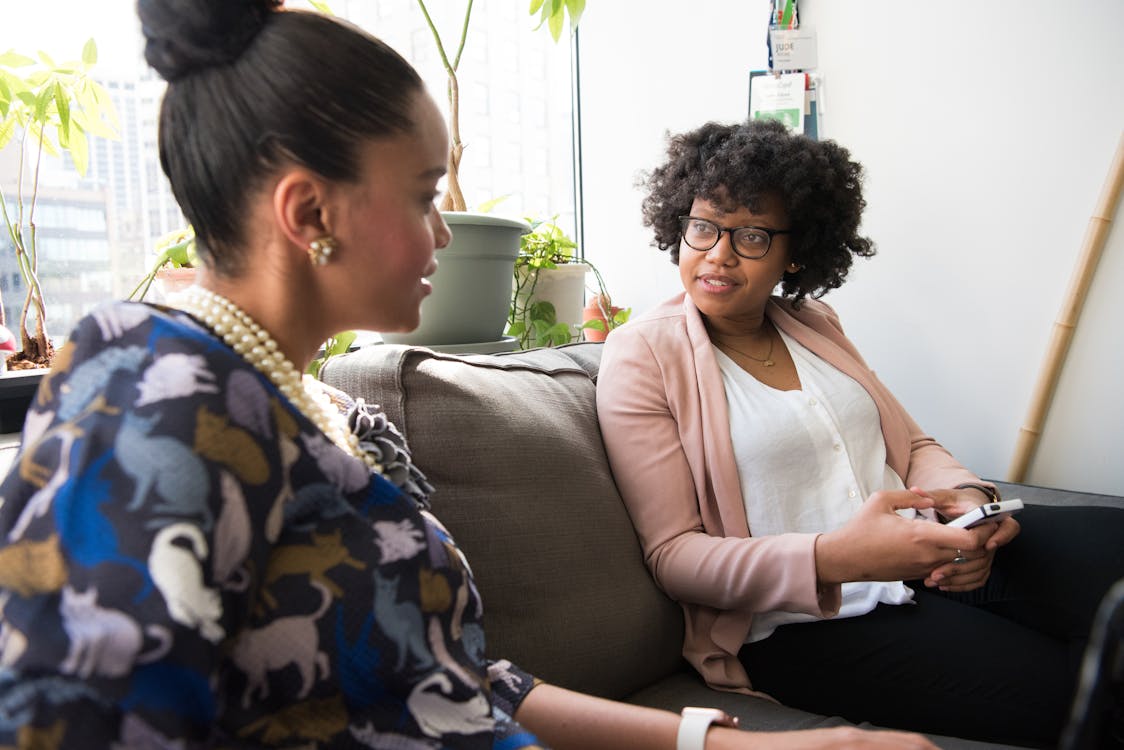 3) Gather attendees outside for a tasty picnic lunch.
Meals are a great time for people to develop connections. However, COVID-19 has created a new landscape for how event planners approach food and beverages at in-person events. An outdoor picnic lunch is the perfect way to keep people fed and hydrated, while also getting them outside to enjoy the fresh air and meet new people.
How a Picnic Lunch Works:
Turn mealtime into a networking activity by assigning participants to small groups of people (we suggest four to six attendees per group). Give each group a basket filled with prepackaged meals, drinks and snacks. Attendees can spend the lunch hour getting to know one another from a safe distance.
Set up Your Space:
This activity can take place indoors or outdoors depending on weather conditions. Set up each table with an appropriate number of chairs per table. Make the experience feel extra special with a picnic-style tablecloth and personalized name tents. For an eco-friendly option, use dry erase name tents.
A picnic meal is a smart way to breathe new life into event lunches. Attendees who are purposefully seated together are more likely to talk with one another outside the convention floor and breakout sessions.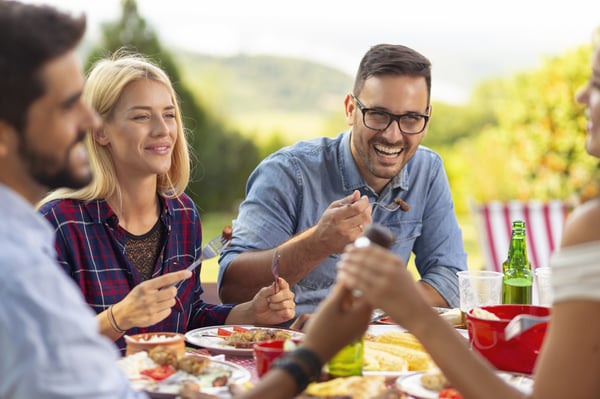 4) Create social hubs for relaxed interactions.
If you're hosting a large event that spans multiple days, your attendees will thank you for creating spaces where they can unwind during the day. Wellness areas, relaxation lounges, VIP areas and "conversation hubs" have become popular throughout the years because they give attendees a chance to take a breather between sessions and chatting with vendors.
How Conversation Hubs Works:
Transform ordinary spaces like coffee areas, snack bars and beverage stations into a memorable experience. These are spaces that attendees should enjoy using in their free time. They're also a strategic way to keep event attendees feeling energized throughout the day. Consider bottled beverages and individually packaged snacks to reduce exposure to airborne germs and particles.
Set up Your Space:
Create a comfortable lounge with tables, chairs, music and refreshments. Print conversation starters on adhesive labels and stick them to disposable coffee cups. Remember: it's always a good idea to make use of available real estate space that you know attendees will be looking at (especially when it's coffee or food). This is a great way to kickstart easy conversations and challenge attendees to flex their social skills.
If a conversation hub you create is exclusive to a specific list of attendees (or to control the number of people in a space), consider giving out a convention wristband for entry. Some wristbands even feature tear-away tabs that can be used as food or beverage tickets.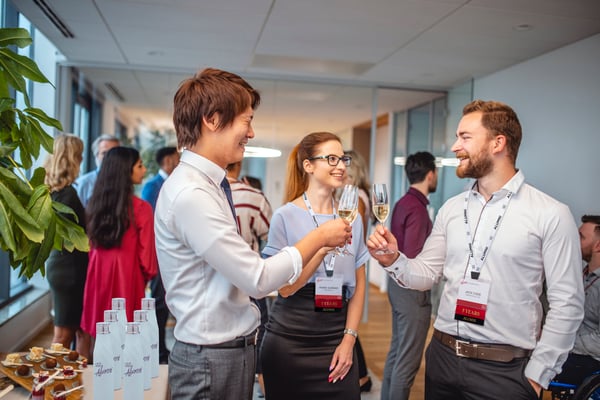 Let's Reimagine Attendee Networking Spaces and Activities
Pulling off a successful in-person event this year is possible if you have the right planning in place. Make sure to provide a variety of safe event spaces where attendees can gather, discuss ideas and form meaningful connections. If you're looking for more innovative ideas, leave a comment below. The pc/nametag team is here to help you create events that leave a lasting impression.
READ NEXT: