Take a moment and think about an interactive event you loved attending. What made the experience so memorable? Was there music, a photo booth, interactive games, or exciting activities? Were there free product samples, interesting demonstrations, or the chance to win a prize?
Chances are this event stuck out in your mind because you had fun! Creating an engaging attendee experience starts with getting people excited to interact with your brand, learn something new, or make a purchase. Get started by reading this guide to experiential event marketing, a revolutionary approach to interactive brand experiences that will help you drive growth!
Table of Contents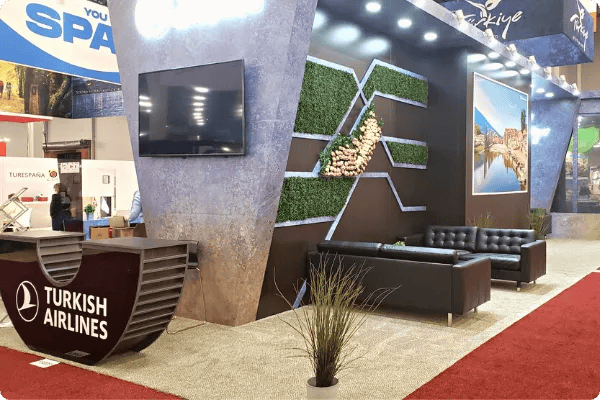 Brand activation and booth by Turkish Airlines at IMEX 2022
What is experiential marketing?
Experiential marketing (sometimes called "live marketing" or "engagement marketing") is a strategy that fosters brand engagement through immersive experiences. In other words, experiential marketing uses memorable, hands-on activities to solidify a consumer's emotional connection with a brand.
Done right, experiential marketing strategies can help raise brand awareness, foster meaningful connections, nurture business opportunities, and build long-term customer loyalty.
Examples of Experiential Marketing Include:
Claw machines
Challenges and contests
Customer interviews
Demonstrations
Information booths
In-person surveys

Interactive displays
Kiosks
Photo booths
Product samples
Spin-to-win games
Sponsored activities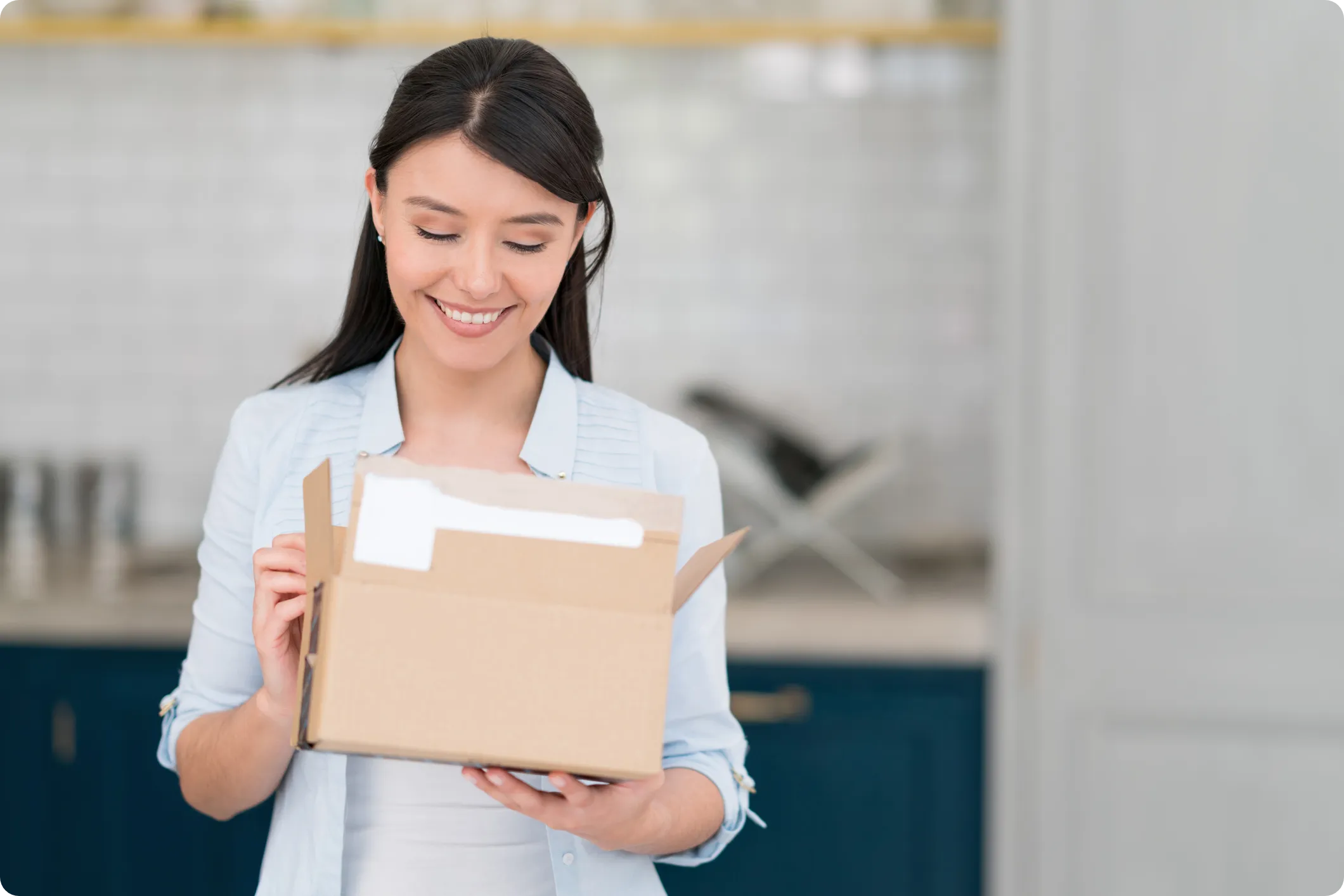 What are experiential events?
Experiential events are face-to-face social gatherings that empower organizations to promote their brand, products, and services in interactive ways. Depending on an organization's needs, events can be an effective way to provide education, encourage networking, raise funds, or increase sales.
Types of Experiential Events Include:
Auctions
Award ceremonies
Community events
Conferences
Demonstrations
Festivals
Fundraisers

Keynote speakers
Lunch-and-learns
Networking events
Open houses
Pop-up shops
Retreats
Raffles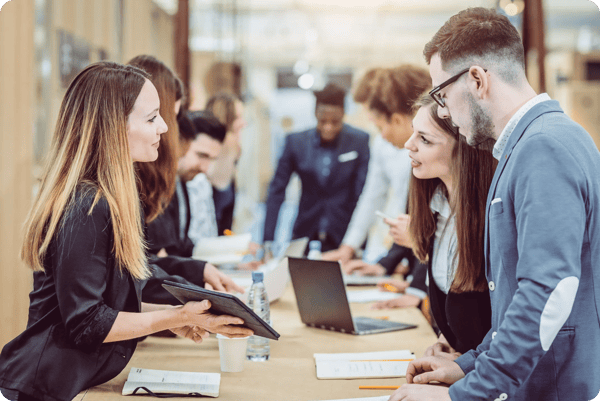 Experiential Marketing vs. Experiential Events: How They're Different
While they sound similar, there is a difference between "experiential marketing" and "experiential events." They are separate tactics that achieve different marketing goals:
Experiential marketing uses strategies to educate customers, generate buzz on social media, and create positive brand experiences that grow your audience. These marketing strategies can be used anywhere, any time, and do not require an event to be effective.
Experiential events use social gatherings to attract new customers, announce new products, generate sales, answer questions, and generate positive PR for your brand. Events may be short-lived but still pack a punch. Consumers attend events to meet vendors, discover solutions, and participate in live experiences on-site.
Neither is better than the other. In fact, experiential marketing and experiential events can be used in conjunction to increase engagement, boost sales, and maximize return on investment (ROI).
The most successful event marketers balance these strategies as part of their event marketing plan. Remember, your goal is to surprise and delight consumers with a meaningful experience instead of simply pushing a product.
Benefits of Experiential Marketing Events
Experiential event marketing is a fun, meaningful way to help your organization achieve its goal. First, ask yourself what you want to achieve by participating in or hosting an event. Your answer will guide your approach to your event strategy.
If you're looking for some guidance, the following list contains reasons you may want to consider incorporating an experiential event into your overall marketing strategy:
Marketing Benefits of Experiential Events Include:
Humanize your brand.

Nobody enjoys impersonal, robotic marketing tactics. Instead, use the event experience to showcase your organization's values, personality, and brand identity. Your customers will enjoy meeting your team and creating a connection.

Raise brand awareness.

Differentiating your brand is crucial, especially with increasingly fierce competition in every industry. Use event marketing to help your brand cut through the "noise" of other competitors and advertisements in your space.

Nurture business opportunities.

Take advantage of the event experience to boost lead generation, capture quality information for your CRM, and add to your sales pipeline.

Create personalized engagement with consumers.

People crave custom-tailored event experiences that are created with their needs in mind. Use event marketing to attract new customers, engage with existing ones, and re-ignite relationships with cold leads.

Build memorable experiences with customers.

Help your target audience build a positive emotional connection with your brand through a unique experience they won't soon forget.

Gain referrals and positive press.

Referrals are a tried-and-true way to get more business, as people tend to trust recommendations from people they know. Provide solid experiences that customers will want to share with their connections.
Focus your resources on bringing this type of event experience to life. This way, you'll create a memorable event experience that will leave them wanting to interact with your brand in the future (which, in turn, will boost event ROI).
Insider Insight:
"When planning an experiential event, consider your customers and your marketing goals. For instance, what kinds of events are likely to attract your target audience? What do these people want most from attending? Focus your resources on bringing this event experience to life. This way, you'll create a memorable event experience that will leave them wanting to interact with your brand in the future—which, in turn, will boost your return on investment."

Nicole Jacobson, Director of Marketing, Web & Digital Operations at pc/nametag
Best Experiential Marketing Ideas on a Budget
Is it possible to create a fantastic experiential event with little to no budget? The answer is yes! Experiential marketing doesn't necessarily need to be expensive or large-scale to be effective. With a bit of ingenuity, any organization can plan an experience that helps customers and prospects connect with their brand.
Are you ready to get started but don't have an unlimited event budget? Read on to find six experiential marketing ideas that are bound to wow your audience, generate buzz, and pique brand curiosity on a dime.
1. Maximize trade show ROI by partnering with another event.
Some companies have lavish budgets to easily host or sponsor huge events. But what if you're a start-up, a small company, or a non-profit with limited funds? The good news is that you don't need to create an entire experiential event on your own. In fact, partnering with another event that's already occurring can be a smart financial move.
First, research popular events in your area that draw in your target customer base. Are there any local events, expos, conferences, festivals, or seminars that suit your brand? If so, see if there is an opportunity to exhibit there (or near there).
This way, you'll get immediate access to motivated customers who are likely to love your brand. Capitalizing on established events is the ultimate way to get the most bang for your buck, while also accessing large crowds of qualified buyers.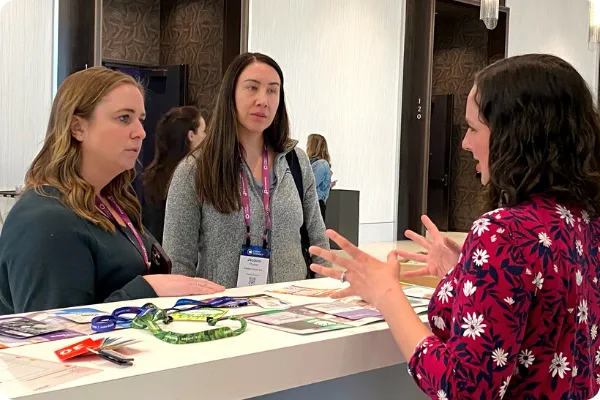 2. Create a sensory experience at your expo booth.
Did you know that appealing to the senses can help promote your brand? Sensory marketing is a fun technique that primarily appeals to sight, smell, taste, touch, and/or hearing. Done right, multi-sensory experiences can be a simple yet effective approach toward influencing consumers to interact with your brand.
Think about how you can create opportunities to see, smell, taste, touch, or hear your brand. For example:
Feature unique, eye-catching booth displays.
Use pleasant aromas that help people feel welcome.
Provide snacks or beverages while people explore the booth.
Set out product samples for people to touch and experience.
Play upbeat music to relax or excite visitors.
If you're questioning your brand's suitability for sensory marketing, we challenge you to think outside the box.
Any brand can use multi-sensory experiences to help visitors feel welcome.
Don't be afraid to do something weird, silly, or completely unexpected. Consumers are more likely to remember these types of experiences!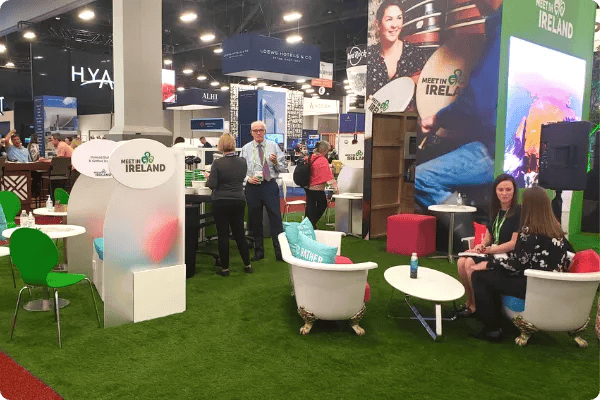 Experiential event marketing at IMEX 2022
3. Hand out product samples to qualified prospects.
Free product sampling activations are sure to delight prospects and give them the confidence to pay full price for your item later. Samples are highly effective since you are physically putting your product or service in the hands of people who are likely to use them.
When giving out samples, encourage booth visitors to spread the word about what they got from your booth. Instruct them to share information with friends, family, or colleagues, or post a review on social media. Getting free samples will help your customers feel valued—which may even help you land more repeat customers!
It's true that free samples can attract new customers, increase buying confidence, inspire loyalty, expand knowledge, and encourage repeat sales. However, the key to success is to only hand out samples where there is a high concentration of qualified prospects and buyers. The "spray and pray" method is unlikely to be effective and may end up costing your brand more money than
necessary.
4) Plan interactive trade show games to attract a crowd.
As a business owner or event professional, it's your job to ensure your booth stands out. One of the easiest ways to draw attention to your trade show booth is to set up interactive activities to keep prospects and customers engaged from the moment they arrive to the second they leave your booth.
Spin to win on the prize wheel. Invite visitors to check in to the booth, then let them spin the wheel! Include a variety of prizes at several price points, including at least one high-value prize like a gift card.
Set up a Plinko™ game. Unexpected twists and turns make this game a blast to play. Label your prizes on the board or place a "teaser" card in front of the prizes to create more mystery and excitement.
Ask industry-related trivia questions. Keep booth visitors engaged while deepening their engagement with your brand. Offer branded promotional gifts for both correct and incorrect answers to ensure everyone walks away with a reminder of their experience.
Put together a "Guess How Many" game. Have attendees guess how many items you have stored in a jar. The closest answer to the actual amount earns a prize. This affordable game is the perfect way to help attendees share their contact information with you, which you can later use for targeted marketing campaigns.
Play into nostalgia with carnival-style games. Ring toss, ball toss, or bean bag toss are sure to be a hit. Provide foam dart guns and let attendees hit a line of company-branded targets. The opportunities are endless!
Go big with jumbo-sized games. Want to encourage attendees to stick around longer? Set up a giant game set for them to play! A huge Checker, Jenga™, or Chess game will quickly draw attendees' eyes to your booth. Don't forget to cheer on players to create an air of excitement!
Remember, trade show booth games should be fun, but also teach people more about what your organization has to offer. Use fun contests and goofy games to get attendees laughing, having fun, and encouraging their peers to play. A delightful experience will easily help your booth stick out from those without activities.
Insight from the Experts:
"One of our most popular products at trade shows and conferences are our badge ribbons. They're super fun, customizable, and a great conversation starter at these types of events. To encourage attendees to stop by our booth, we put together a Buzzfeed-style personality quiz called "which badge ribbon defines you" using Opinion Stage. We then set up a kiosk where people could take the quiz on a tablet. Once a person gets their result, we give them that ribbon to add to their badge. People love it!"

Brooke Ihlefeld, Digital Marketing Manager at pc/nametag

5. Host a trade show social media contest.
Never underestimate the power of social media marketing at an event! Social media can help your brand increase exposure, earn greater booth traffic, and build a larger audience reach—especially to attendees who missed your booth or weren't able to attend the show.
Ask booth visitors to submit a photo, video, tweet, or quote about your brand using a posted hashtag. You might also invite them to engage with your brand by asking for their opinion on a subject or to ask them to vote on something (I.e., a favorite name, flavor, color, theme, etc.)
Your goal is to encourage prospects and customers to capture and share their experience with your brand with their networks. This social proof will give you free access to grassroots marketing among your audience.
TAG/TIP: Set up a flat-screen TV at your booth to display your organization's Twitter feed and event hashtag. This is a great way to improve participation and earn more followers, as people will want their social posts to show up on your screen. Finish by selecting a winner from the feed, tweeting back to notify them, then handing them a gift to take home.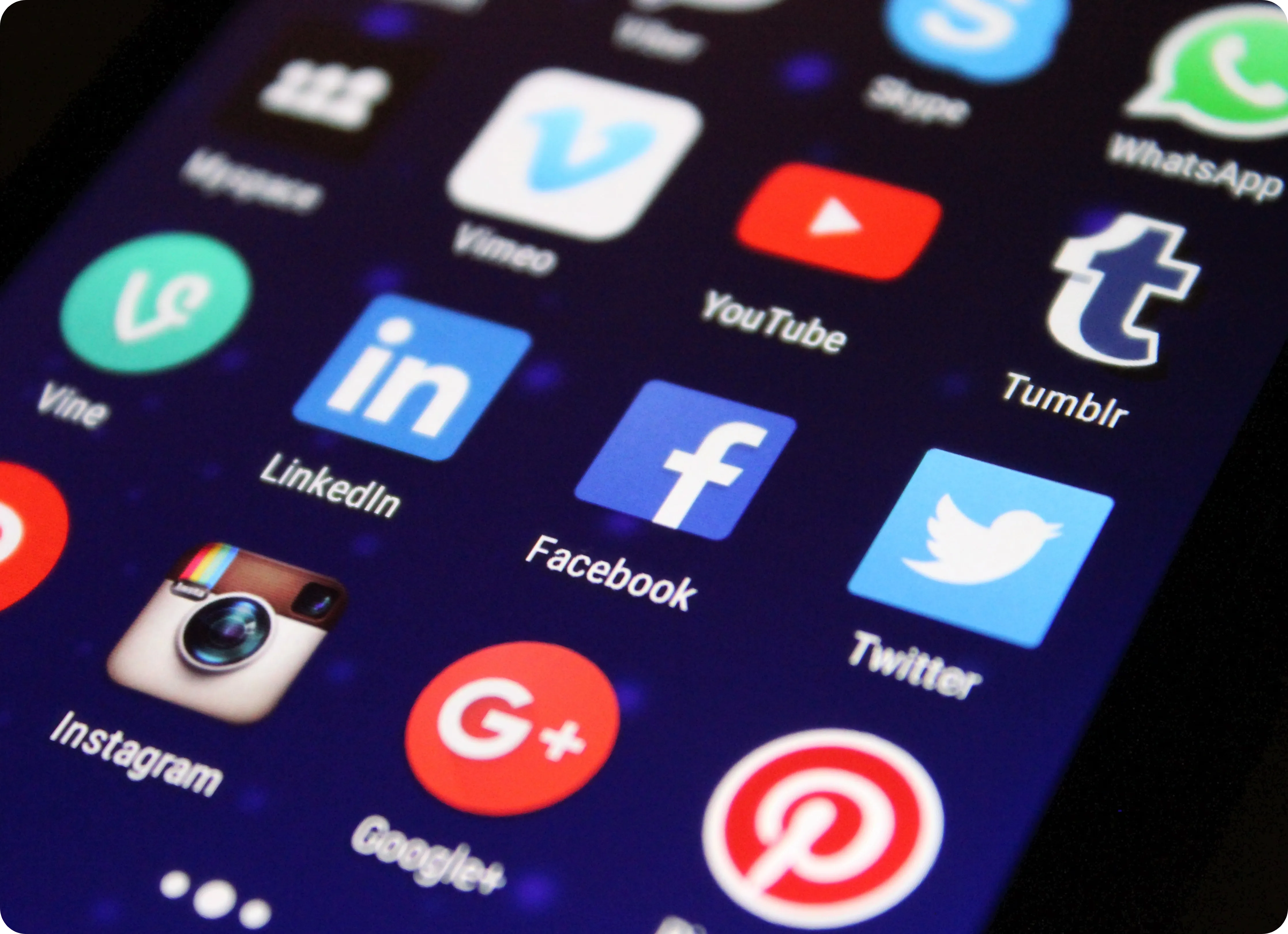 6. Drive engagement with conference giveaways and gift boxes.
People crave interactive activities that bring the event experience to life. Get creative with custom gift boxes that include marketing materials and branded gifts. Your customers will love taking getting conference mementos they'll use long after your event is over.
One conference swag idea is to offer a 'create your own gift bag' activity where attendees can choose from a variety of brandable gifts and giveaways unique to your business. Custom sunglasses, notebooks, tumblers, water bottles, and pens are sure to be a hit.
Another idea is advertising that the first 'x' number of visitors to make a purchase or sign up for a demo will get an exclusive gift box to take home. Including unique, company-branded gifts is a great strategy to make your box or bag stand out, especially among loyal customers who take pride in supporting your brand. You'll also create an opportunity for FOMO ("fear of missing out") among visitors while building your sales pipeline.
Boost Event ROI the Creative Way!
While this experiential marketing guide may be over, your chance to create unforgettable brand experiences isn't! Here at pc/nametag, we have lots of resources to help you take your event marketing strategy to new heights. Check out our list of content recommendations below:
Don't forget to subscribe to the Tag Talk blog for more event planning insights like this, plus 10% off your next event supplies order. Then, contact the Tag Team to learn how to build memorable and meaningful connections with attendees through customizable products for your business or organization. We're excited to work with you!