Event marketers know that creating brand engagement takes thought, hard work, and ingenuity. After all, you may know your target audience, but what if they don't know you? What strategies can you use to build meaningful connections, generate event engagement, and boost sales?
Event activations may be the answer, especially if you're looking for a creative way to get customers excited about your organization. Not only are brand activations fun, but they're also highly interactive—the perfect method for getting customers and prospects more familiar with your brand, its products, and its services.
Read on to find cost-effective ways to create memorable activations for events, no matter your event planning budget.
What is an event activation?
"Event activation" is an immersive marketing strategy that uses events, campaigns, and activities to generate brand awareness, boost customer loyalty, and build lasting connections with target audiences. Brand activation is typically a one-off, in-person experience with a hands-on, branded activity for people to participate in.
The biggest goal of activations at events is to elevate your brand. When it comes to brand activations and other types of experiential marketing, it's all about fostering engagement through immersive experiences. It's up to you to determine the best ways to make your brand more meaningful, memorable, and trustworthy to your target audience.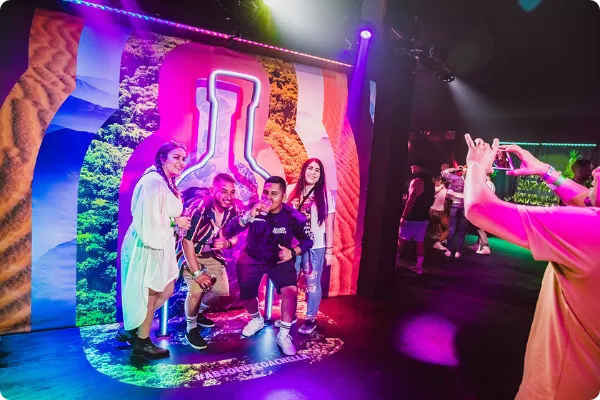 A neon-themed photo spot at Coachella, provided by Absolut.
Types of Brand Activations to Consider
Done right, event activations can help raise brand awareness, foster meaningful connections, nurture business opportunities, and build long-term customer loyalty. Read on to find a list of the best types of brand activations to host at your next gathering.
Experiential Marketing:
Experiential marketing is any strategy that fosters brand engagement through immersive experiences. Examples of experiential marketing include challenges, social media contests, fun booths, and interactive displays.
Experiential Events:
Experiential events are face-to-face social gatherings that empower organizations to promote their brand, products, and services in interactive ways. Examples of experiential events include auctions, ceremonies, community events, conferences, festivals, fundraisers, lunch-and-learns, networking events, open houses, pop-up shops, and retreats.
Interactive Games and Activities:
Playful, interactive activities keep prospects and customers engaged from the moment they arrive to the second they leave your booth or pop-up. Examples include raffles, claw machines, photo booths, spin-to-win games, arcade-style games, and other sponsored activities. Read a full list of interactive trade show games here!
Samples and Free Trials:
Free giveaways delight prospects, introduce them to your offerings, and give them the confidence to pay full price for your item later. Samples are highly effective since you are physically putting your product or service in the hands of people who are likely to use them. Pair your sampling strategy with a useful demonstration or feedback survey.
Remember, the best brand activations help bring your brand to life. Use them to draw the attention of new audiences and reengage existing ones. Focus on using activations like these to create a memorable event experience that will leave people wanting to interact with your brand in the future (which, in turn, will boost event ROI).
27 Best Brand Activations on a Budget
When it comes to creating a unique brand activation, there's no need to recreate the wheel. Start by taking note of what popular brands have done. While everyone's event budget is different, a lot can be learned from successful brand activations executed by top-trending brands.
Read on to find out a list of creative conference activations we love:
Before Your Event
During Your Event
After Your Event
Which brand activation ideas should we add to this list? Let us know in the comments. If it's useful to you, it will be useful to other professionals as well.
Event Activation Ideas Every Marketer Should Know
As you brainstorm ways to bring your brand to life, keep in mind the following tips for creating a successful brand activation. Knowing your audience, their challenges, and their passions can help take a "good" marketing activation to a "great" one.
1. Analyze your target audience and gather data.
It's a good idea to be where your customers already spend their time. Start by researching popular events in your area that draw in your target customer base. Then, engage the audience with an experience they're bound to enjoy. For instance, if your audience includes social media enthusiasts, create a photo-worthy backdrop or interactive photo booth experience for them to use.
Need help identifying your target audience? Our free ebook on Surefire Marketing Tactics Any Team Can Use covers how to formulate buyer personas and more. Learn how to build brand loyalty, boost web traffic, generate sales leads, and strengthen your marketing strategy by downloading your free copy today!
2. Use brand activation to solve customer challenges.
What problems do your customers experience? Use an interactive activity to prove your offerings can help. For instance, if your business sells athletic gear, set up a "misting station" at the end of a marathon, then give out branded water bottles to runners. Not only will you solve the problem of dehydration after the race, but you'll also provide a gift that helps prospects recall your brand long after the event is over.
Highlighting the need for a product through a creative brand experience is both strategic and effective. Your mission is to help customers and prospects come to the realization that they need your products or services without being overly sales-y.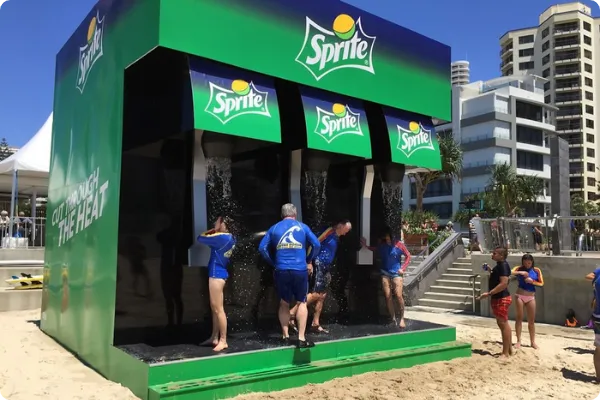 This brand activation by Sprite promotes the soft drink while also helping consumers cool off at the beach.
3. Use social media marketing to improve brand recognition.
Social media marketing is your best friend! Pair your brand activation with trending social media concepts to expand your brand's reach. For example, if you're exhibiting at a trade show, create a custom Snapchat geofilter or lens for your booth, then encourage visitors to publish their photos on social media using the event's official hashtag.
How to Create a Snapchat Geofilter
The size of the area that your geofilter covers as well as the duration of your geofilter will impact how much you'll pay, but costs start as low as $5 per day! In addition to your filter, create an on-site TikTok video of people participating in your brand activation. Don't forget to use fun, trending hashtags to help spread the video.
4. Delight customers with an unexpected activity or theme.
When it comes to designing brand activations, don't be afraid to do something weird, silly, or completely unexpected. Consumers are much more likely to remember an odd yet satisfying experience than a "run-of-the-mill" event experience. Make it your goal to draw attendees' eyes to your booth and intrigue them enough to participate.
Start by creating an activity that surprises, delights, and grabs your audience's attention. For example, instead of handing out food or beverage samples at a table, try setting up a makeshift "food truck" display or a picnic-themed booth area. Play into your theme with a photo spot and social media hashtag.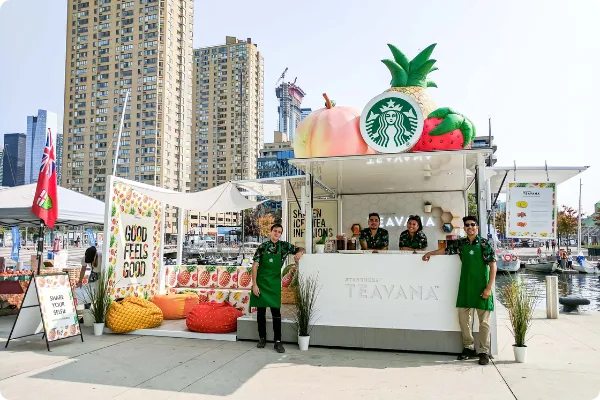 Starbucks used a juice bar-themed stand to bring fun and excitement to their Teavana products.
5. Use brand activation campaigns to promote your values.
Consumers love brands that take a stand for their beliefs and values. When in doubt, use brand activation to highlight what matters most to your brand. For example, if your organization values sustainable events, gift a reusable stainless steel straw set, a recycled cotton tote bag, a packet of native flower seeds, or a jar of locally made food to anyone who books a demo or makes a purchase.
This gesture creates awareness for the environment and highlights your brand's dedication to hosting or participating in sustainable events. No matter your organization's values, provide brandable gifts and giveaways that tie into your mission.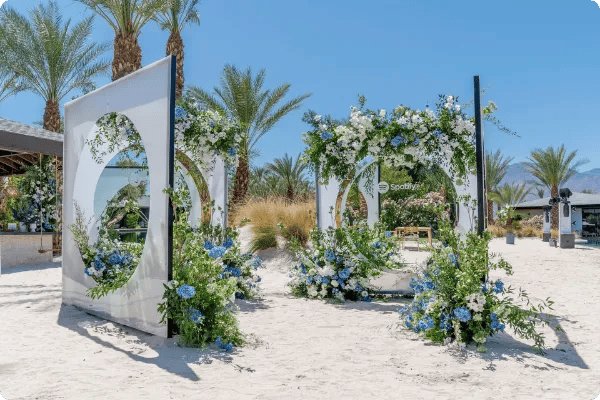 Spotify provided eco-conscious, nature-inspired photo spots at Coachella 2022.
Event Branding, Made Easy
Here at pc/nametag, "customization" is the name of our game. We're constantly on the hunt for ways to make custom-curated event supplies easily accessible to business and event professionals. If you're looking to create a branded experience for your customers, we have the supplies to make it happen:
Before you shop, take a moment to subscribe to the Tag Talk blog for more event planning insights like this, plus 10% off your next event supplies order. Then, contact the Tag Team to learn how to build memorable and meaningful connections with attendees, no matter your budget. We are happy to help!