In recent years, office space design has gone from "drab" to "digital." Gone are the days of stuffy cubicles in favor of modern, open concept floor plan workspaces that foster employee engagement, productivity and comfort. From comfy collaboration spaces, to pet-friendly offices and kombucha on tap, today's employers have gotten incredibly creative with in-office perks to keep employees happy.
With COVID-19, the concept of office design will likely take a big turn. There's no time like the present to start re-imaging the future of office design to make sure your employees have access to the comfort, safety and peace of mind they're looking for in a post-pandemic era. Here's what the future of office space design trends may look like going forward.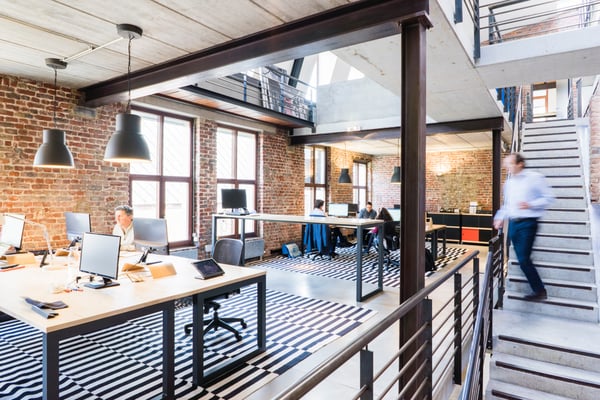 The Evolution of Office Design Beyond 2020
While COVID-19 has certainly made us more aware of health risks, cross-contamination and the safety of the places we frequent, it has also challenged us to stretch the limits of our imaginations and brainstorm new ways to bring people together safely and efficiently.
Reimaging the modern office — one where people flow freely through open spaces, share equipment and congregate in common areas — may seem challenging, but we're here to help you gain insight into leveraging your gathering spaces to accommodate safety and productivity. Let's look at some of the current challenges that office professionals should consider as they reconfigure office spaces and setups.
Top Challenges of COVID-19 Space Design
Many employees love the office because it serves as a place to gather, exchange ideas, network and collaborate. Amenities like comfortable seating, coffee bars and other aesthetic design features help employees feel relaxed and productive at work.
With over 63% of the U.S. workforce now working remotely, the future of office gatherings may look a little different. Many organizations are left wondering what will happen once they eventually reopen their offices and have workers return. The answer may partly depend on employees' willingness to return to the office.
Employees are Fearful to Return to the Office
| | |
| --- | --- |
| | A study by Gallup found that nearly three-quarters of employed U.S. adults say the coronavirus is having a very (23%) or somewhat (50%) negative effect on their workplace. The same study also found that even though workers recognize the financial and economic pressure on their employers to reopen, many employees fear for their own personal safety. Nearly half of employees feel "very" or "moderately" concerned about being exposed to the coronavirus at work, while 29% are not too concerned and 25% aren't concerned at all. |
Employees are Concerned about Personal Risks to Health
| | |
| --- | --- |
| | In addition to a fear of returning to the office, another concern among employees is exposure to illness and contagion at work. Seventy-one percent of employees say they would continue to practice social distancing even if there were no government restrictions until there are no new cases or a vaccine is developed. By contrast, 44% of those who think it's very unlikely that they would experience severe symptoms say they would return to their normal activities right now. |
Employees Miss the Connections They Once Made in Office
| | |
| --- | --- |
| | Shifting to remote work has been a difficult transition for some U.S. employees. Employees may feel a loss of community or work culture, while others may struggle with lack of access to important tools and resources they once had in-office. When it comes to employee mental health, a 2000-employee survey by the Society for Human Resource Management found that up to 35% of U.S. employees often experience symptoms of depression as they live through the COVID-19 pandemic. |
While some employees are hesitant to return to work, others are ready to return as soon as possible. Helping employees safely return to their desks will take a combination of solutions, from short-term fixes to restricted room capacities and long-term design upgrades for safety and hygiene. Let's run through office design trends we may see after COVID-19.
5 Ways Office and Room Design Will Change due to COVID-19
While office and collaboration spaces will never fully disappear, they will need a fresh, new approach in order to allow people to connect, build relationships and develop their careers safely. Many modern office spaces will change in a variety of ways due to COVID-19, including the following:
1) Temperature checkpoints and hygiene stations will become standard practice.
Symptom screenings, self-assessment forms and temperature checks will all become standard in reception areas to help lower the chance of COVID-19 transmission in the workplace, if they're not doing so already. Personal protective equipment (PPE) stations will also provide easy access to items such as hand sanitizer, disposable masks and nitrile gloves that will give employees peace of mind when interacting with others.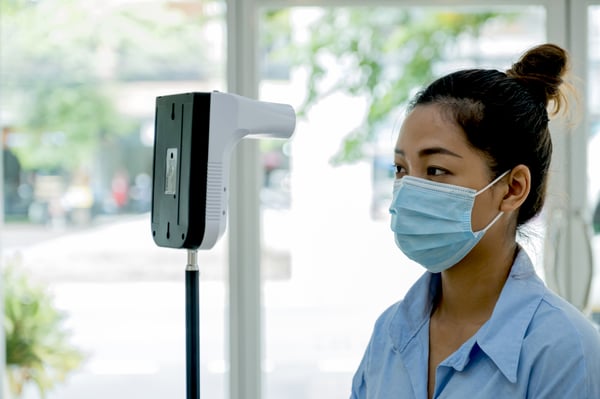 2) Bright signage will indicate hygiene, social distancing and seating best practices.
To help remind employees of safety protocols, organizations will rely on eye-catching health and safety signage to give employees the direction they need to make safe choices at work. For example, retractable banners will be placed around the office to remind employees of important health and safety information. Floor stickers will indicate where employees stand while waiting in line, while repositionable table stickers will show employees where they can sit to maintain a safe distance from others.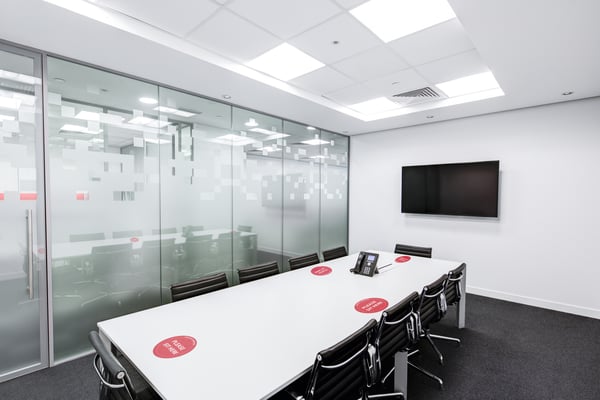 3) Employees will wear social distancing wearables to better maintain physical distance.
One cutting-edge technology that employers will begin to rely on in the workplace and at social events are social distancing wearables. Smart, technology-driven wearables will help employers take the guesswork out of social distancing.
Most often worn on the wrist, wearable devices light up or buzz when a person comes within an unsafe distance of another wearer. A highlight of social distancing wearables is contact tracing, which shows who might have come in contact with an ill individual.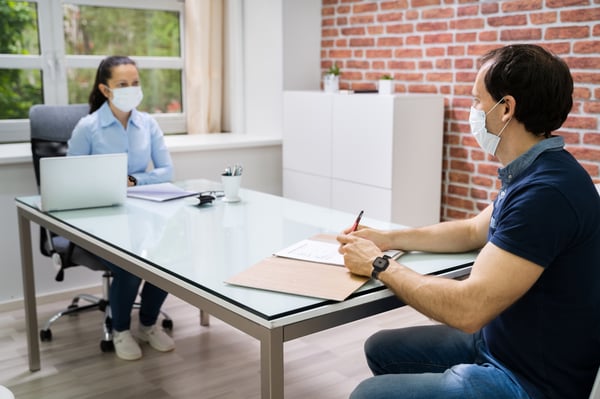 4) Employees will come into work on a rotating work schedule to minimize contact.
In a post-COVID world, many employers will implement flexible work arrangements among employees. The goal of rethinking employee schedules is to meet business demands while also limiting social contact. Employers may reduce days spent on-site, offer remote work assignments or even rotate shifts of employees. A staggered workforce could become standard, with smaller groups coming in on different days of the week to limit contact among staff groups.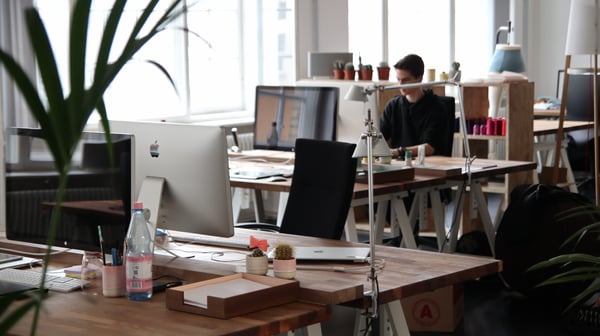 5) Employees will have access to a combination of permanent work areas, hoteling and collaboration spaces.
While the "open office" concept has saved organizations money with being able to fit more employers per square foot of office space, the latest approach to office design won't need as much office space to accommodate the workforce, especially with rotating shifts and people working from home. Instead, employees who do work in office will be able to choose from a variety of flexible workstation options, including the following:


Permanent Desks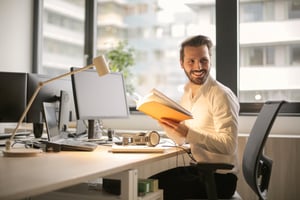 A traditional approach to office seating, permanent desks involve giving employees a single, dedicated space where they can facilitate work during the workday. Permanent desks help employees maintain distance and prevent cross-contamination. Desks are also a great solution for employees who don't have home environments that are conducive to working from home regularly, or for employees who are happier and more productive in a physical office setting.


Huddle Rooms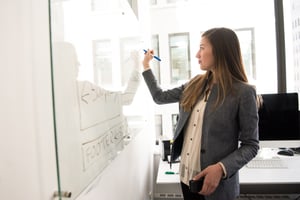 Huddle rooms are meeting spaces with white boards, projection screens and other tools to facilitate in-person collaboration activities. Employees will need to maintain adequate spacing but can continue to work together to achieve a common goal. Huddle rooms are a good solution for employees who work best in groups, but still want to maintain social distance. Desktop air purifiers can be supplied in rooms to give employees even more peace of mind.


Hoteling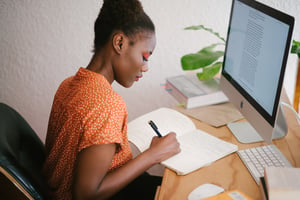 Hoteling is a method of space management where employees schedule the use of workspaces like desks, cubicles, and offices. Having a reservation-based option allows employers to save on overhead. For example, if a workforce of 50 has, on average, only 30 people in the office on a given day, those 20 empty desks take up unnecessary space. By trimming furniture and hardware costs, wasted space can be reallocated to meeting or project development spaces, saving money and benefiting the bottom line.
What design tips do you have for reimagining office space?
With so much uncertainty, it's unlikely that organizations will conduct major refits of their offices. Rather, they'll focus on small, targeted solutions that will provide employees with a sense of safety, now and in the future. Many workforces may not return to the office for months to come, but that doesn't mean we can't start rethinking and redesigning now for when that day arrives.
Has your organization begun plans to redesign its office spaces? What tips can you give to others looking to get started? Let us know by leaving a comment below. We'd love to hear from you!
READ NEXT: