If there is one thing event professionals can look forward to in 2022, it is that attendees want in-person events, and they are willing to do what it takes to gather safely. The importance of live events has only gotten stronger since the onset of COVID-19, with one study reporting the following statistics:
89% of attendees agree that live events are irreplaceable.
90% of attendees support having health and safety protocols at live events.
80% of hybrid attendees say they would rather attend in-person than virtually.
Want to transform your event into a secure space where everyone can learn, grow, and connect with confidence? Use our curated list of COVID-19 testing companies to ensure attendee confidence, reduce liability and improve safety compliance. From vaccine verification to symptom screening surveys, temperature scanning, and rapid antigen testing, you are bound to find a vendor that meets your meeting's needs and budget.
COVID-19 Screening and Testing Services for Live Meetings
Offerings: SMS-based Symptom Screening; Web-based Vaccine and Negative Test Validation; Daily Symptom Surveys
Simplify and automate screenings at your event with SMS-based COVID-19 symptom screening, as well as web-based vaccine and negative test validation. These capabilities help you ensure that every person at your venue attests to their current health status. You will also improve health and safety compliance by reducing legal liability and PR risks. This is a great option if you are in need of daily symptom screening surveys.
Highlight: No app download may mean higher compliance rates among your guests. Use this option for a low-barrier method of symptom screening.
Offerings: Temperature Scans; Vaccine Status Tracking; Symptom Screening
The Accushield sign-in and temperature scanning kiosks administer touchless temperature capture, vaccine verification, and COVID-19 screening questions to help you control the health safety of your conference. The Accushield kiosk provides a vaccine validation system to verify vaccine cards and negative test results as vendors, attendees, staff, and volunteers enter your venue.
Highlight: Accushield kiosks help capture and approve attendees' vaccine cards, test results and medical exemption forms. You will also have access to touch-free QR code sign-in and screening questionnaires.
Offerings: Vaccination and Test Result Tracking; Symptom Screening
CLEAR Health Pass is a flexible solution that provides attendees with a seamless way to upload proof of vaccination, demonstrate negative COVID-19 test results, and fill out health-related surveys. CLEAR Health Pass is modular, which means you can decide which requirements must be completed for entry to your event.
Highlight: Instead of using traditional ID documents, CLEAR Health Pass uses biometrics to confirm an attendee's identification. This process is SAFETY Act Certified by the Department of Homeland Security, so your guests will rest assured their information is encrypted.
Offerings: Vaccination and Test Result Tracking; Rapid Antigen Testing; Medical Supply Assistance
CrowdPass is an intuitive application that pre-clears attendees to participate in your event. Attendees have the option to document a negative COVID-19 test result or confirm vaccination status. Your team can even pair this application with "CrowdHealth" to provide on-site rapid testing, at-home PCR testing, and even certified medical-grade supplies for your conference as needed.
Highlight:

Once screening answers and health documents are approved, attendees can use their smartphones to display their digital health passes for entry to your event. Digital tickets are automatically added to the attendee's passport application. Simply show your QR-code and you are able to enter.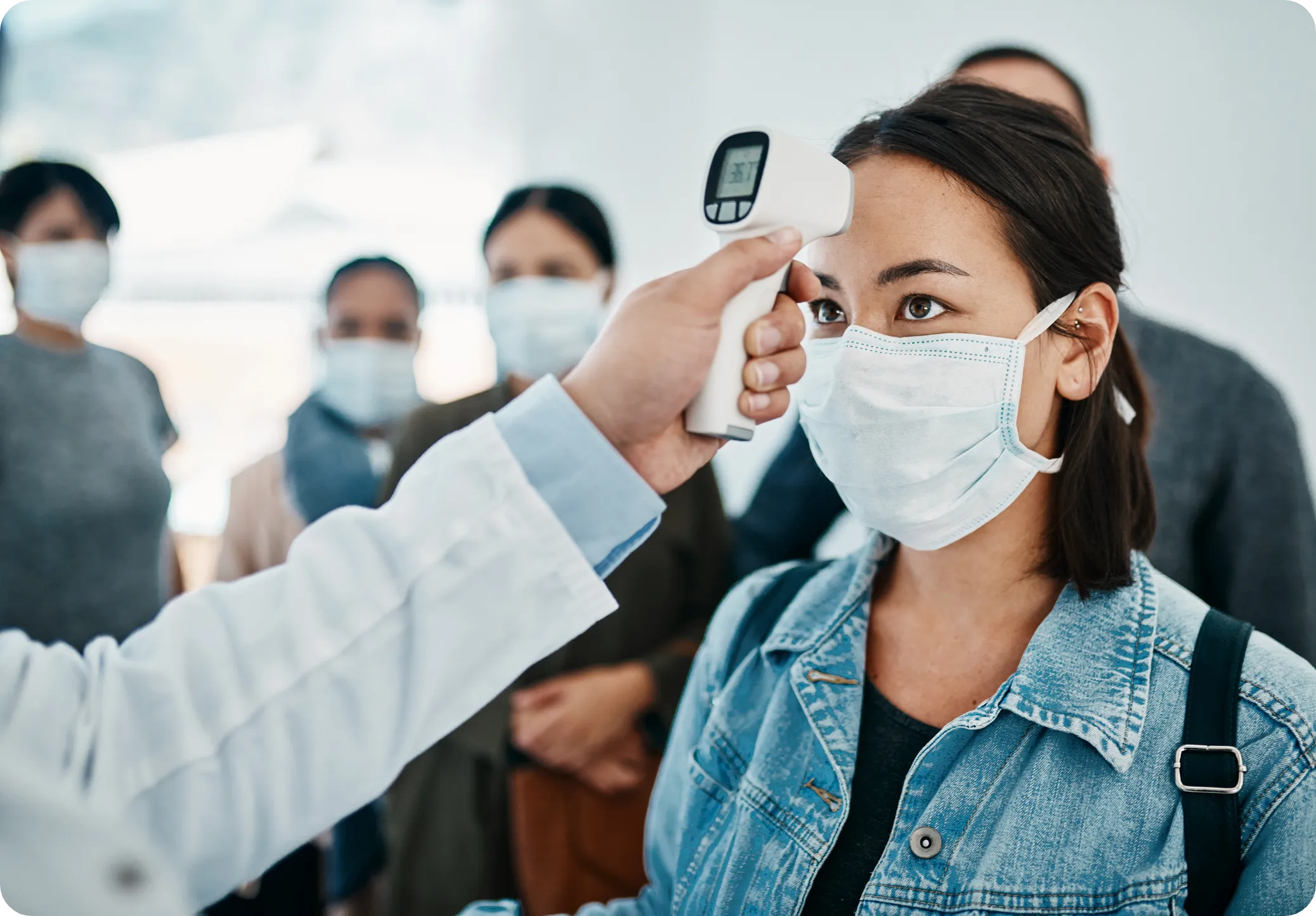 Offerings: On-site Medical Team; Rapid Antigen Testing
As a fully insured testing company, the Event Doc provides on-site medical technicians to help improve the flow of event check-in and maintain safety at your conference. This company is equipped to do both rapid antigen and PCR tests. In just 15 minutes, attendees will know their test results and be cleared to join your event once a negative test is confirmed. No mobile app is needed.
Highlight:

The Event Doc will assign an event manager to your on-site meeting to serve as your main point of contact should you have questions or concerns that must be addressed.
Offerings: Rapid Antigen Testing; Vaccination and Test Result Tracking
Ideal for small and medium meetings, Eventest provides a safe and affordable COVID-19 rapid-testing solution for your event. Eventest uses FDA-authorized tests to deliver results in 10-15 minutes, allowing you to get attendees in the door faster. Testing solutions start at $39 per test including the test, processing, and mandated reporting.
Highlight:

Eventest's offers "EventestPass," a cloud-based portal that allows event organizers to securely collect proof of vaccinations or negative test results prior to guests arriving on-site.
Offerings: Event Registration; Vaccination and Test Result Tracking; Symptom Screening
Want to streamline event safety while also expediting event registration? Use Event Farm's check-in app to scan the QR code generated by CLEAR's Health Pass. This allows you to verify that an attendee's information matches registration information and meets event safety protocols. This option costs $5 per registrant (100 registrants minimum) and includes Event Farm's Check-In App and CLEAR's Health Pass.
Highlight: Upload your registrant list to the Event Farm platform, then promote the technology to attendees prior to the event. Entrance staff can download the Check-In app on Apple or Android devices (no additional equipment needed). Attendees only need to download the CLEAR app and create a one-time account.
Offerings: Vaccination Verification; Rapid Antigen Testing
EventScan provides vaccination verification services for live events that ensure individuals are cleared for entry to your meeting. On-site testing teams administer rapid COVID-19 tests and produce results in ten minutes or less, which allows you to speed up event registration and get people in the door faster. Take advantage of a customized appointment website for guests to use or opt for vendor staff to help guests register for their appointment.
Highlight: EventScan is flexible! Their staff can test guests at their hotel, at your venue, in an outdoor tent structure or even as a drive-up testing service.
Offerings: Vaccination and Negative Test Verification; Real-time Data Tracking
Fan Check-in is a great option for stadiums, arenas, concerts, and other large venues. You can fully customize your health and safety screening questions and allow fans to upload either a vaccination card or negative COVID test. Monitor a real-time check-in dashboard and connect with attendees needing support through simple chat capabilities.
Highlight:

Fan Check-in offers branding options that allow your app to feature your brand logo. You will also receive Spanish support to create better inclusion for guests.
Offerings: Rapid COVID Testing, Vaccine Verification; On-site Medical Support
For over 30 years, Inhouse Physicians (IHP) has helped organizations ensure health security at meetings and events. COVID-19 testing, vaccine verification, and on-site medical support are just a few services that IHP offers. This organization is a solid option for planners in need of complete medical support through planning, communication, and reporting.
Highlight:

Support your meeting's Duty of Care plan by delivering on-site medical care at your corporate event. IHP's comprehensive health management services protect attendee health from a variety of angles, including daily health screenings, rapid flu testing, and even sick attendee care.
Offerings: COVID-19 Testing; Daily Health Screening; Data Monitoring
Inspire Diagnostics provides fast, accurate, and convenient COVID-19 testing for events. This organization provides daily health screenings with highly accurate molecular tests, as well as a program management application to effectively administer your program. This data platform is a fantastic way to securely manage your conference's testing and results reporting.
Highlight: Not only can Inspire Diagnostics ship tests to attendees prior to your event, but they can also offer on-site testing and post-event testing for added safety.
Offerings: On-site COVID-19 Testing; Symptom Monitoring
Mobile Health is ideal for planners in need of an on-site team that can execute COVID-19 testing end-to-end. Their team is equipped to test attendees, get results in under 15 minutes, and report them to your dashboard in real-time. Their technology also streamlines the process of screening eventgoers for COVID-19 symptoms.
Highlight:

Work with Mobile Health to customize a simple, online questionnaire for attendees to take. Track results with HIPAA-compliant technology that shows clearance statuses in real-time on your admin dashboard.
Offerings: Health Screening; Digital Reporting; Contact Tracing; PCR & Antigen Testing
SafeAccess is a HIPAA (Health Insurance Portability and Accountability) compliant platform that enables event professionals to easily create and share safety policies with attendees, perform health screenings, and leverage digital reporting for compliance and liability. This solution even offers digital health passports and contact tracing. PCR & Antigen Testing is offered as an additional service.
Highlight: Attendees must read, accept, and sign in each day based on your event's policies and procedures. This creates a simple method for allowing or denying entry to your meeting based on an attendee's responses.
Offerings: COVID-19 Testing; Symptom Monitoring; On-site Medical Support; Data Monitoring
Safe Expo offers pre-event, on-site, and post-event health monitoring services that can provide peace of mind to event organizers and attendees alike (now including COVID-19 testing services). You will be assigned a team of trained professionals, including a safety ambassador and a health liaison. These individuals will foster collaboration with contracted medical professionals and answer any questions that arise from organizers or attendees.
Highlight: Safe Expo has a robust monitoring program that allows you to maintain contact with attendees for up to four weeks post-show. Use this feature to promote self-monitoring and reporting of illness should anyone present symptoms after your conference.
Offerings: Vaccine Verification; PCR Testing; App Integrations
ShareMy.Health offers a cloud-based platform that deepens trust with event attendees, staff, volunteers, and participants. Use the platform to verify vaccine status through a secure, digital passport. Provide health status surveys and confirm lab results and vaccination records, all within an intuitive platform. ShareMy.Health also offers high-end PCR testing solutions with lab results available in less than 24 hours.
Highlight: ShareMy.Health prides itself on helping event producers and venues get attendees, artists, and fans back together by seamlessly integrating with registration, badge, mobile app, and ticketing systems.
Offerings: Vaccine Verification; Test Result Tracking; Contact Tracing
Vital Circle's web-based vaccine verification application is customized to your event and designed to maintain attendee privacy. Attendees can submit vaccine and/or test results for approval, complete daily symptom tracking, and even wear small, proximity contact tracing devices while at the event and post-event. Attendees are monitored with periodic check-ins for three weeks post-event for added safety.
Highlight:

Vital Circle deployed more than 600 contact tracing devices at a national political conference. At the event, 2% of attendees tested positive for COVID-19 while on site, but thanks to real-time contact tracing data, the event team put an action plan in motion in less than 18 minutes, which allowed 98% of those attending to proceed with the event, unaffected.


Operating on a tight budget?
Use vinyl convention wristbands to identify attendees who have passed a temperature check and signed a symptom screening survey. Provide a different color each day to ensure compliance with your event's protocols.

For added security, use fabric wristbands with a locking slider (as shown on left). These wristbands cannot be shared and are removed with scissors after use. Instruct attendees to return the next day for a symptom screening and a different colored wristband.
Remember to provide social distancing badge ribbons as a cost-effective strategy for helping attendees feel safe, comfortable, and confident at your event!
Make Your In-person Business Event Safe and Fun
There is nothing quite like the excitement of a busy conference. Making professional connections, forming friendships, discussing big ideas and learning new things are still possible, especially if event professionals design the event experience with safety in mind.
Are you planning an in-person event this year or next? We would love to hear how your team is preparing for a safe, fun return. Do not forget to implement these ideas for even greater success!
READ NEXT:
Safe Event Design: Tips for Prioritizing Attendee Health at Meetings
Return to Live Events: 5 Tips on Hosting a Safety-Focused Conference
How to Create a Safe Event Layout (with Floor Plan Samples)