The COVID-19 pandemic has thrown the world into crisis mode, but the good news is that there is light at the end of the tunnel. With time, the pandemic will decrease in severity, and organizations will begin to return to "business as usual" as best they can.
In the meantime, one of the most effective ways to keep employees safe while in the office is with the proper use of personal protective equipment (PPE), social distancing, hand sanitizing products, COVID-19 screening protocols and more. Follow these tips on leveraging PPE and social distancing signs for a safer return to the workplace.
Tip #1: Set up a personal protective equipment (PPE) station for employees and guests.
The goal of a PPE station is to provide easy access to items that keep people safe and healthy. Draw attention to your checkpoint PPE station with vibrant signage and a retractable banner with important health and safety information. Provide hand sanitizer (70% alcohol or higher) and disposable 3-ply disposable masks. Lastly, provide nitrile gloves to employees in high-traffic areas such as reception, cafeterias, mail rooms, warehouses and more. Warehouse safety PPE is just as important as taking the same precautions in the office. Taking these precautions and using PPE station signs can help your employees feel safer and taken care of.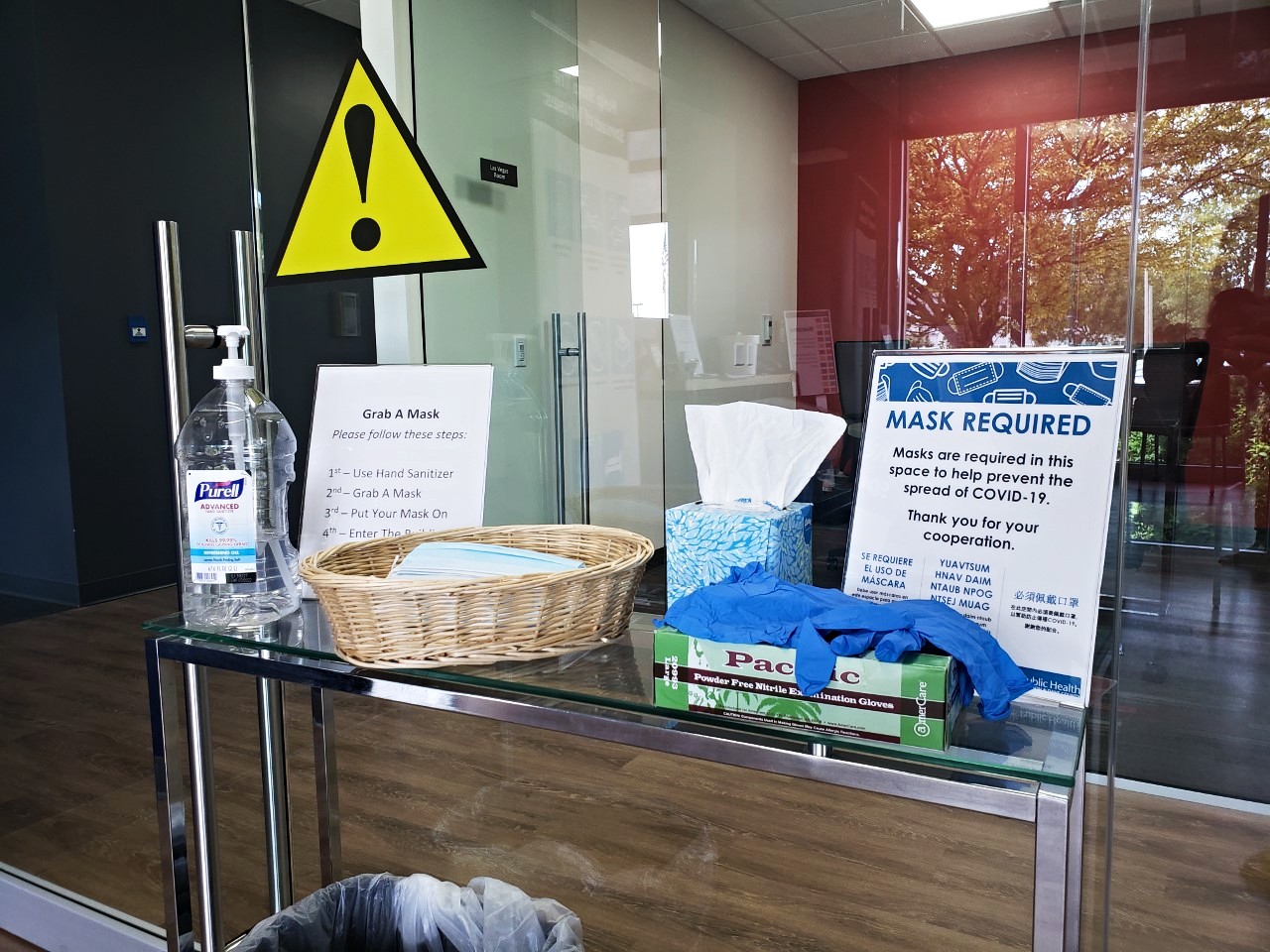 Tip #2: Have employees sign a self-assessment health form.
Symptom screenings and self-assessment forms don't just lower the chance of COVID-19 transmission in the workplace; they also hold employees accountable for reporting any health concerns they may be experiencing. Make sure to perform in-person health checks safely by utilizing social distancing, barriers or walls, no-contact temperature readers and PPE to protect the screener.
Tip #3: Offer employees a variety of durable face coverings.
People may have different preferences when it comes to face coverings. Therefore, it's smart to offer a variety of options for employees to choose from. For example, face shields can be used in conjunction with a face mask for extra protection. Tubular bandanas and fabric face masks are not only trendy, but also washable and customizable with your organization's logo or branding.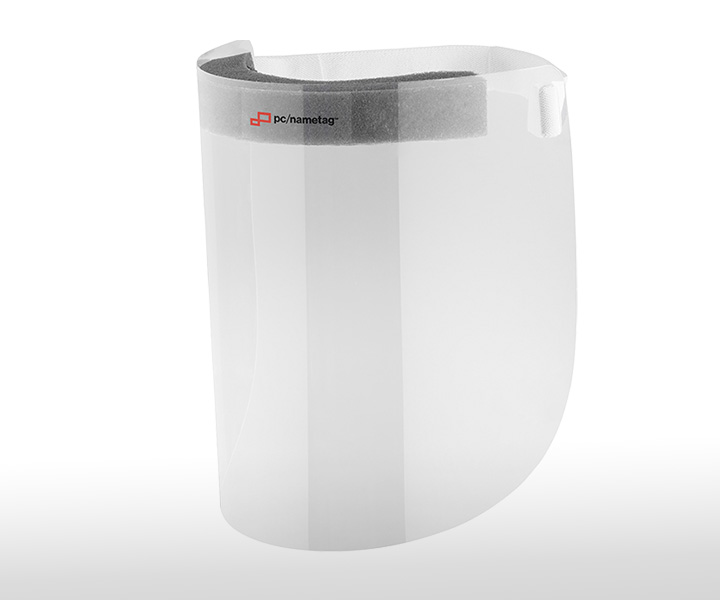 Tip #4: Make sure employee IDs are visible at all times.
While wearing masks has become common practice in the workplace, masks can also make it difficult to observe the faces of people who are coming in and out of your buildings throughout the day. Custom-designed employee IDs and credentials are an essential item to have no matter your industry. Not only do IDs maintain safety and security, they also control access to secure spaces in your office, reduce liability and decrease breaches.
Did you know?

ID cards and badges are a great way to show off your organization's branding. They're also perfect for employees, visitors and security teams.

Tip #5: Hand out adhesive ribbons for staff badging.
Badge ribbons have exploded in popularity at trade shows, meetings and events. Today, badge ribbons have taken on a whole new use: to indicate COVID-19 testing, encourage social distancing and keep people informed — all from an employee's staff badge! Badge ribbons are perfect for conveying health-related information, providing peace of mind and enforcing safety-related protocols in the building.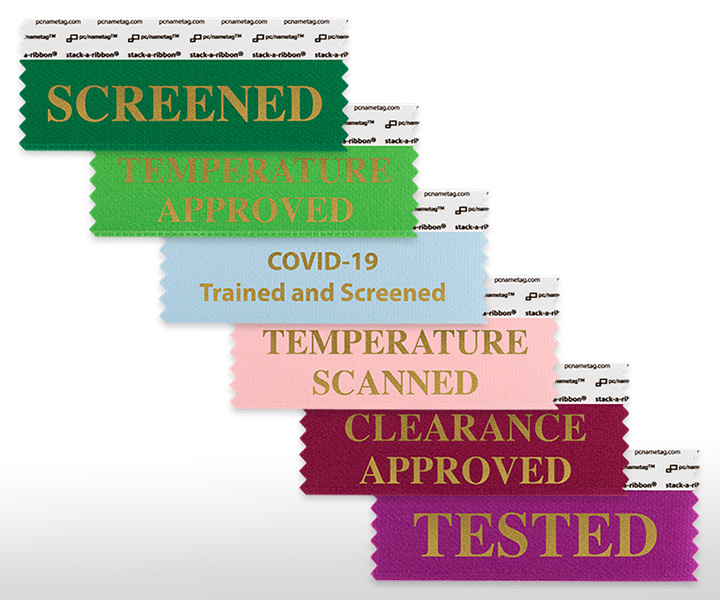 Tip #6: Distribute hand sanitizer for cleanliness on the go.
Hand hygiene is an important part of combating the spread of COVID-19. Combined with proper hand washing techniques, the use of an alcohol-based hand sanitizer can help stop germs in their tracks. Place bulk containers of hand sanitizer around your building, especially in high-touch areas. Remember to distribute portable hand sanitizer for employees on the go.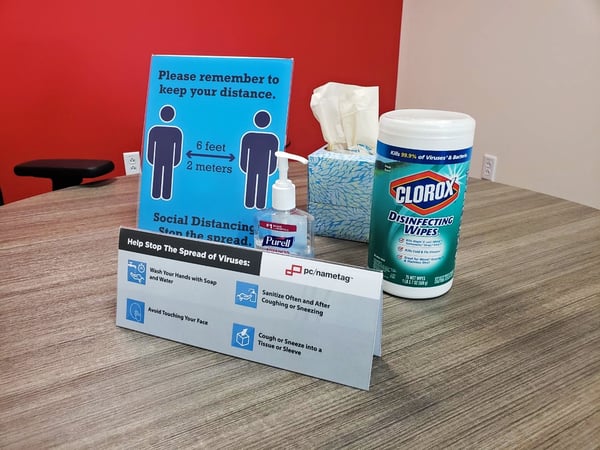 Tip #7: Use floor stickers, printed signs and tabletop tents to encourage safe behaviors.
One of the easiest ways to draw attention to safety protocols in the office is to place brightly colored signs wherever people tend to congregate. Using PPE signs can help with this. In break rooms and conference rooms, encourage safe behaviors with tabletop tent signs. Control foot traffic in hallways with one-way directional signs and encourage social distancing with floor stickers throughout building.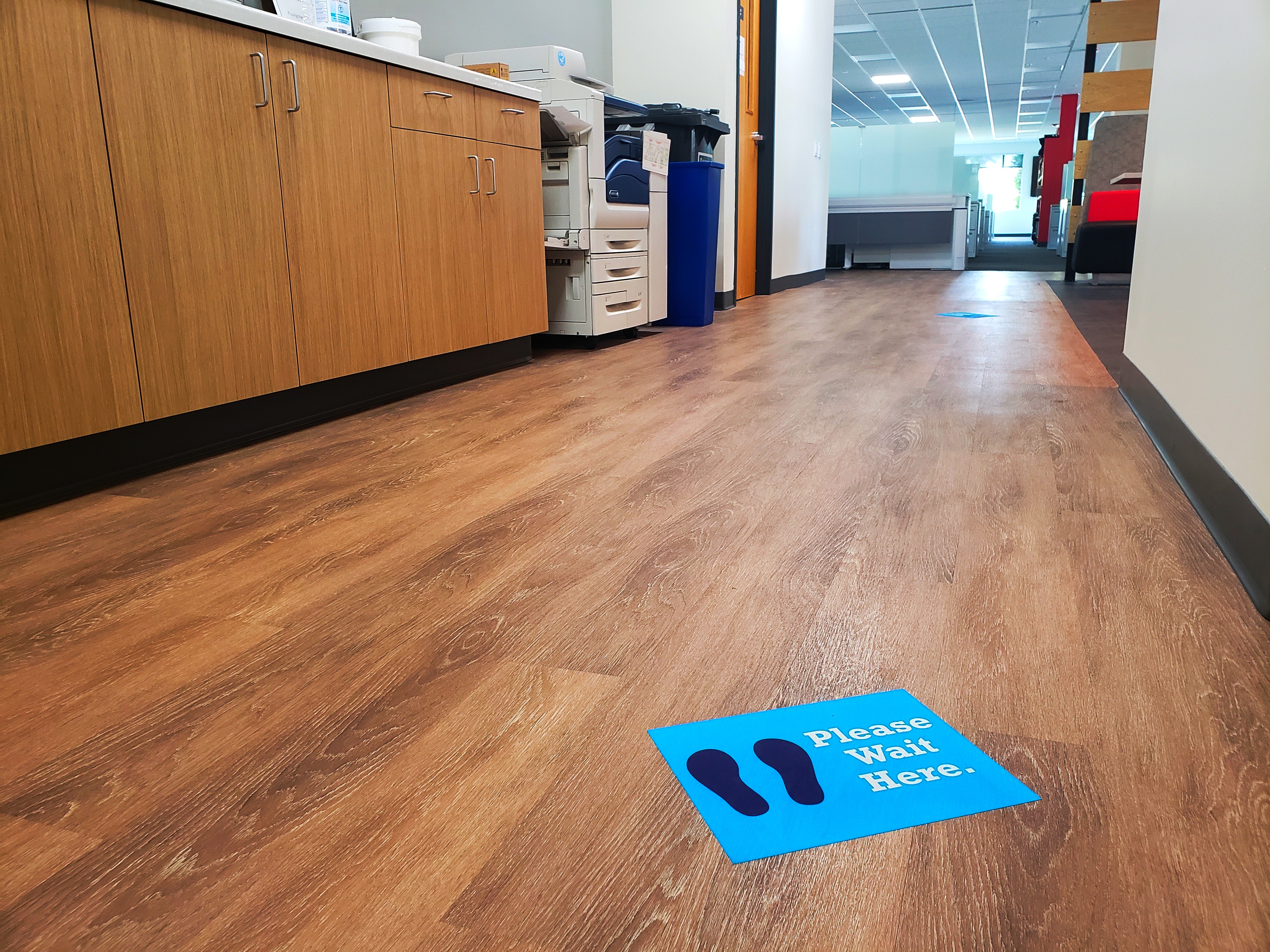 Tip #8: Send a PPE kit to employees' homes.
Are your employees working from home? Make them feel protected and appreciated by mailing a pre-assembled PPE kit to their homes. Start by including a PPE value kit that includes gloves and a disposable mask. You may also find it helpful to include wet wipes, facial tissues, clip-on hand sanitizer and a healthy snack. Kits are a perfect way to surprise and delight your employees from a distance.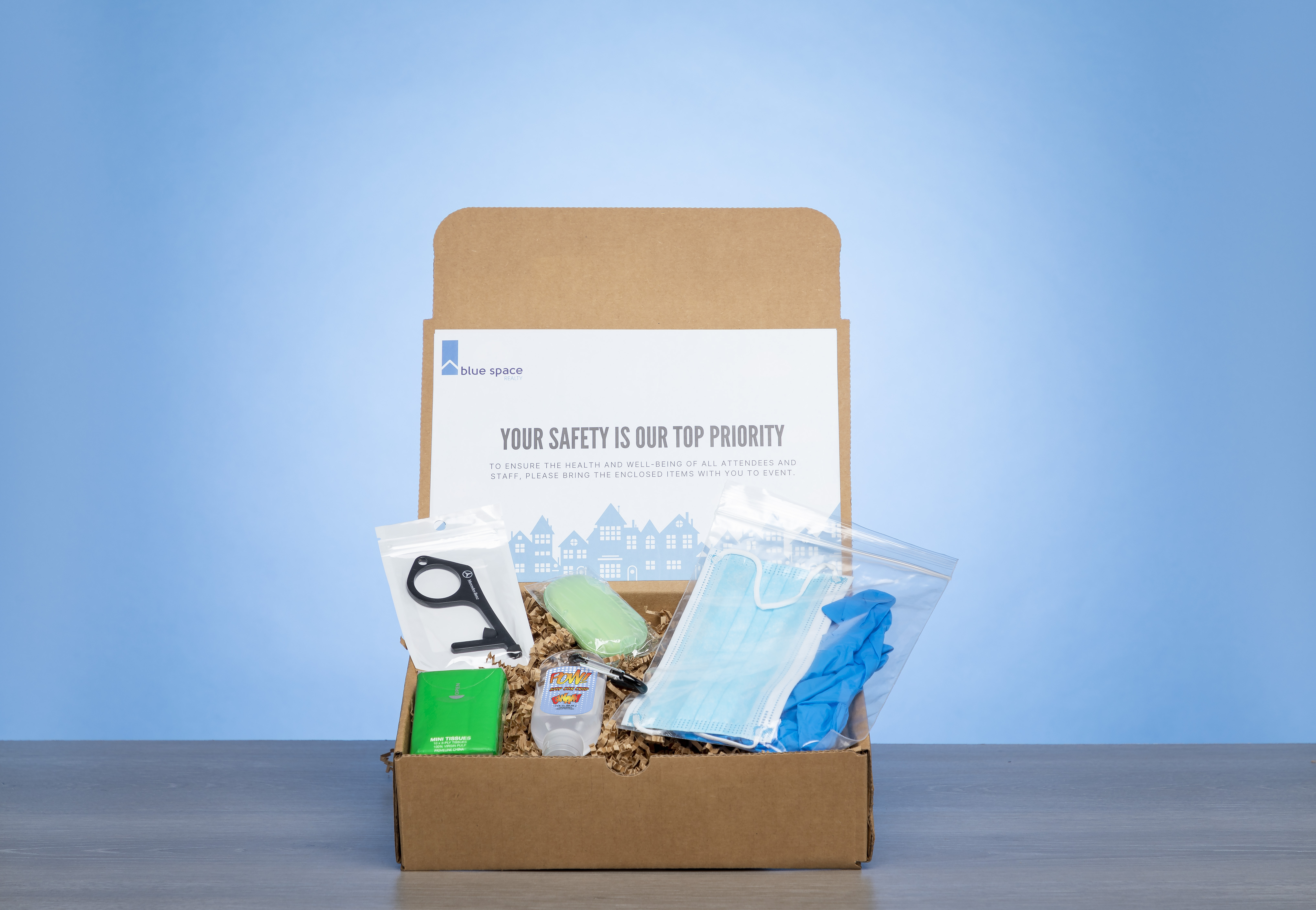 pc/nametag is Your Partner in Protection
Times are tough, but so are we! With the proper precautions in place, you can rest assured that your employees are well-protected. Make sure to visit pc/nametag's PPE product page to learn all about the wellness items we offer.
Need COVID-19 screening at your workplace?Check out our list of on-site COVID-19 testing companies that can take care of rapid testing, temperature checks, symptom screenings, contact tracing, and more.