There's nothing quite like the thrill of attending a busy conference. Making connections, forming friendships, discussing big ideas, and learning new things are just some of the reasons I can't get enough of live events.
However, as an events professional, I realize that in-person events as we have known them have changed. Attendees want to know that their safety and wellness are taken seriously, and that safe space design is a top priority at the venue.
To help planners take on the challenges of hosting today's on-site events, we at pc/nametag want to provide ideas that inspire you.
1. Use event signage and registration supplies to put attendees at ease.
The event registration process is where it all begins. As attendees approach the registration desk, their excitement builds as they read your signage, pick up their badges and lanyards, and see all the hard work your team has put into making the event a success.
A fun registration experience is a kickoff, welcome party, and event commencement, all in one. It is also an opportunity to set the stage and provide peace of mind regarding the safety of your event. Display direct signage to provide clarity, especially for attendees who are concerned about event safety protocols.
Signage, just as it always has, should direct and ease the flow of foot traffic. Consider all types of signage to allow the attendee to feel more comfortable and confident.
Types of Event Signage to Consider:
Floor Signs

Floor signs user clear, concise messaging to show attendees where to stand when waiting in lines. They are also used to guide attendee foot traffic and satisfy distancing requirements in your venue.

Door signs

Door signs are designed to catch attendees' attention the moment they enter your venue. Use these signs to share important messaging, like indoor mask requirements or locations of hand sanitizing stations.

Wall Signs

Wall signs are used throughout your venue to provide insight attendees need to stay organized. Use these signs to share safety protocols, daily agendas, breakout session locations, and more.

Standing Signs

Sign stands are used to display directions, photos, and other information. Standing signs are ideal for planners who need a lightweight signage option that assembles in seconds and transports easily.
The great thing about signage is it takes the question mark out of what to do next or where to go. When choosing signage and creating your registration desk supply list, step into the attendee's shoes. What information would you want to know? Use this insight to provide directions and guidance that every attendee needs.
2. Use touchless check-in strategies to decrease touch points.
Today's event professionals want to know the best ways to speed up event registration while also keeping everyone safe, avoiding long lines and eliminating unnecessary touch points. Luckily, there are many ways to decrease long queues and remove bottlenecking at your conference.
The first touchless event registration option is to use unique QR codes or bar codes. Once these are scanned at the event, the on-site event badge is automatically printed off on thermal printer paper, then stuffed into an on-site event badge or holder. Have registration staff handle stuffing to decrease touch points.
TIP: Should your team opt to have attendees stuff their own on-site event badges into holders, attach lanyards to badges or holders beforehand, then hang them on a lanyard stand to increase efficiency.
The second touchless event registration option is to pre-print event badges and deliver them to attendees before the event starts. You can mail badges in a registration packet, create a hotel room drop program, or set up satellite registration tables where attendees can show their ID to receive their event badge the day before. Use a name badge preparation service like Name Badges to Go to make the process easier on yourself and your attendees.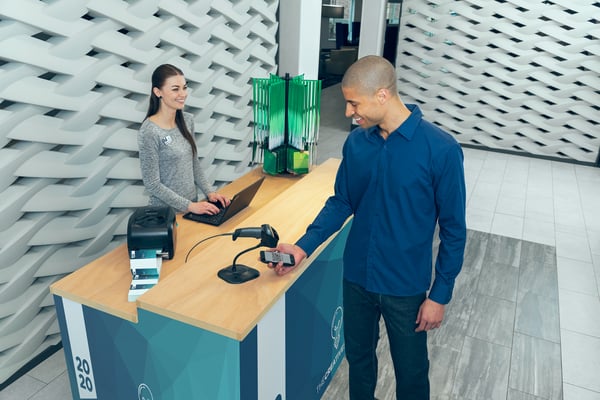 3. Use event gifts and promotional giveaways to infuse safety into your meeting.
Let's face it: Free stuff is where it's at. Attendees have always loved collecting items like branded drinkware, notebooks, pens — which are still a fun and welcome delight.
However, today's attendees want more than just these classic gifts. They want health and wellness items too, like personal hand sanitizers, wipes, or a fun, branded mask that matches your event.
If masks will be a requirement at your event, I suggest providing face masks and other health and safety items at your registration desk area. Offer them freely throughout the event in case attendees lose their mask or wish to switch it out for a fresh one.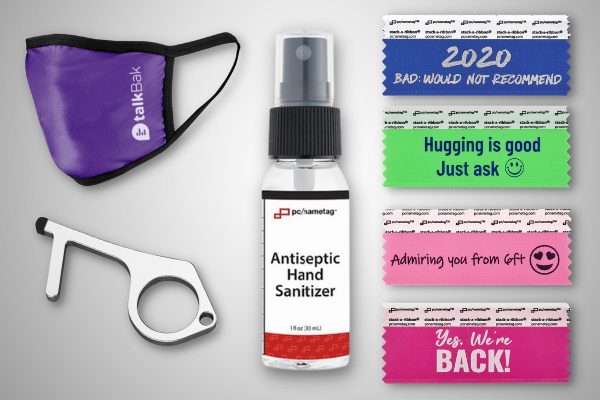 Featured Health and Safety Gift ideas: Customizable Event Mask, No-touch Door Opener, Customizable Hand Sanitizer Spray, and the "Glad to be Back" Badge Ribbon Pack
4. Design conference badges and IDs to be legible from a distance.
Name tags and badges have never been more important. Safe meeting protocols like physical distancing and face coverings have impacted how attendees interact, network and recognize familiar faces.
Badges now need to be larger in size than before since they need to be easily seen from 6 feet away. You may also consider adding a photo to your badge design so other attendees can see each other's smiling faces even if they're masked up. Photos can help with recognition, especially since sometimes, it's a smile that we remember versus a name. A photo will help spark those memories.
The information on your event badges is just as important as the name. Use the back of the name badge as your "reminder zone". Include safety reminders or a map to where hand sanitizing stations are.
Lastly, at the bottom of your badge, allow for attendees to add their social distancing preference in the form of a ribbon.Our "Glad to Be Back" Badge Ribbon Pack, for instance, is a fun way to show others whether you prefer to shake, elbow bump or keep your distance.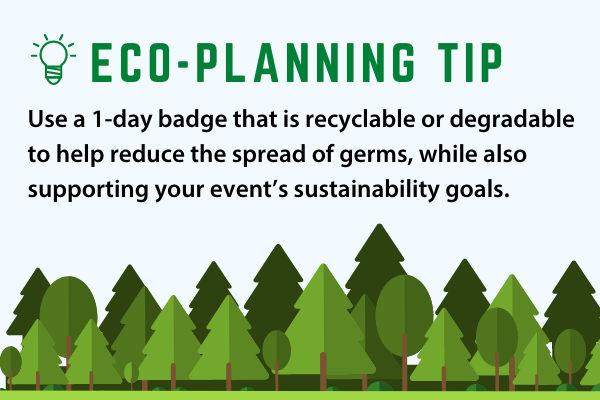 5. Provide custom lanyards that are easy to clean.
No event badge is complete without a stylish lanyard paired with it! However, I've found that keeping them clean is a brand new concern.
With a wipeable lanyard from pc/nametag, attendees have the option to grab a cleansing wipe and clean their lanyard. Always keep attendees safe by giving them products that can be easily cleaned and disinfected.
You can also help your lanyard make a statement by adding your logo, sponsor branding, an attendee's designation, or event messaging. You can even make an eco-conscious choice by selecting an organic cotton lanyard, or a recycled lanyard made of 100% recycled plastic bottles. No matter the choice you make, choose a lanyard that supports your event's mission and values.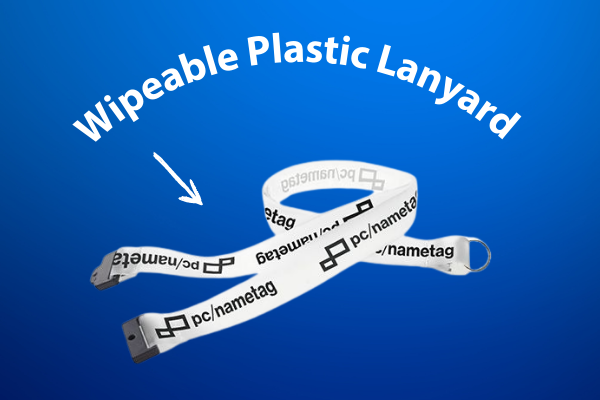 Planning a live event? pc/nametag is here to help.
In-person events will look a little different moving forward, but solutions like the ones listed above will allow your attendees to relax and enjoy your event to the fullest.
Working with a partner like pc/nametag is a great way to take the guesswork out of safe event planning. Our team is here to provide the products you need to host an event that keeps people safe and creates an impression, including the following:
READ NEXT: