If there is one word I would use to describe the events industry after 2020, it's "resilient." Years ago, none of us would have ever imagined that live events like conferences, tradeshows, music festivals, sports games and wedding receptions would practically disappear in the blink of an eye.
Overnight, event bookings practically disappeared, countless gatherings were cancelled and a record number of events transformed from live to virtual. We all wondered if our industry would ever recover after such a devastating blow. Yet here we are, emerging stronger than ever before. Event professionals have already begun to adapt to our new reality and implement incredible strategies for bringing people together — even if they cannot physically be together.
To celebrate the ingenuity of meetings and events professionals, I interviewed 17 industry event experts to ask them for their most notable event advice. We hope this round-up will inspire you this year and beyond. Enjoy!
Topic Navigation

How has COVID-19 impacted and transformed the events industry?
| | |
| --- | --- |
| | "The new mission? Help people to feel 'normal' again — safely." |
"Once the initial shock of event cancellations passed, plenty of companies and organizations got creative to keep themselves in business and serve their customers. From socially-distanced outdoor concerts with attendee pods to creating a self-isolation/quarantine environment where attendees feel safe at longer gatherings, companies have been exploring ways to meet and exceed CDC guidelines while giving event attendees an enjoyable, comfortable experience. With the mental and emotional health of so many suffering as isolation continues, finding ways to help them safely feel normal has become important."
Georgianne Austin, Communications Director, Escapees RV Club
| | |
| --- | --- |
| | "We've learned to improve events for a better experience and more impactful return." |
"COVID-19 brought the event industry to a complete halt in March 2020. Although some events resumed in the virtual space via online events, and later a few in-person, most event professionals were furloughed, laid off or experienced significantly reduced workloads. Unlike many industries that were able to quickly transition to remote work, the event industry survives on in-person experiences and with meetings, conferences, concerts, live sporting events and other experiences on hold, many didn't have the luxury of just working from home.
It will be a long road back for the event industry. Many people may not find livable wage work until we can return to full-capacity, in-person events. I do, however, believe that many people in the industry have been extremely resilient and will take the lessons from the pandemic to improve their events for a better guest experience and more impactful client return."
Lara Smedley, Owner & Event Producer, Smedley Events
| | |
| --- | --- |
| | "The market for mediocre events has become exceedingly small." |
"Many events are obviously online now, and many people expect they will switch back to in-person events after COVID-19. This is not going to happen, unfortunately. There will be a rise in hybrid events, where in-person events will be combined with their parallel online versions. The engagement of online participants is going to be the main challenge, however. We've also come to the realization that many events are useless and can be organized online better, faster and cheaper. The market for mediocre events will be exceedingly small."
Peter Fabor, Founder of Surf Office
| | |
| --- | --- |
| | "Listening-only webinars simply don't work. If people can't talk or do activities, they'll return to their email and other work." |
"The COVID-19 pandemic really tested the industry and showed which companies were willing to experiment and adapt, and which companies tried to wait things out. When it comes to effective virtual training, it is best to make virtual events as interactive as possible. We've come to learn that listening-only webinars do not work. They are boring. People want things to do. If attendees don't get to talk or do activities, they will return to their email and other work.
Our organization, Knowmium, had experience doing virtual training before 2020 and was able to expand our virtual offerings, convert more in-person programs into virtual formats, and create an entire resource page of virtual facilitation resources including a free eBook, virtual activity guides, virtual tools and links, and video tutorials. We also created a series of free, online courses including one focused on virtual facilitation."
Robert Kienzle, Senior Consultant at Knowmium
| | |
| --- | --- |
| | "Venue providers are competing for new labels like 'Safest Event Venue in Town,' and 'Best Online Streaming Technology'." |
"The number of companies offering virtual activities and other digital event solutions has literally exploded, and physical event venues have invested in the latest online streaming technology, built new outdoor facilities with heating lamps etc. and bought portable air cleaners to purify their inside air. Safety and COVID-compliance have been lifted to the core of event suppliers' marketing outreach, and event venue providers are currently competing for statuses such as Safest Event Venue, venue with the cleanest air in town and We have the best online streaming technology, which are all totally new selling points."
Jaakko Salonen, Head of Global Operations at Venuu
| | |
| --- | --- |
| | "We had to learn, pivot and become experts in this brand-new industry." |
"Like so many, COVID-19 threw us a major curve ball. For at least two months, all events were cancelled. The event industry just stopped dead in its tracks. On top of that, there were so many questions about rescheduling events and scheduling new ones, that absolutely everything felt tentative. And here we were, a SaaS that serves clients in an industry that was completely turned on its head. We had to learn and become experts in this new industry and then create so that we could maintain our clients. And we had to do it fast.
We went to work to continue to help them with these new obstacles at the forefront of our mind. We created an online wish list integration that allows folks to have a digital version of their showroom while showrooms are closed and allows more sales to be made with scaled down staff. We upgraded our blog and newsletter efforts to include business tips and tricks to do during this crazy (and scary) season. One of my favorites was helping event rental companies repurpose their rentals during the pandemic."
Karen Gordon, VP of Growth at Goodshuffle Pro
| | |
| --- | --- |
| | "Event professionals have gotten more creative than ever with virtual attendee engagement and interactive experiences." |
"As an event professional, rolling with the punches, making real time adjustments, and executing last minute shifts is nothing new. However, with the onset of the global pandemic, our industry was forced to transform in a new, never-been-done-before way. Unlike years past where events were all about bringing people together in person, our new normal shifted to a virtual one, where we were forced to curate compelling on-line events that are engaging and hospitality driven from the comforts of a computer screen.
Aside from curating interesting online content, our daily planning has shifted into a world where we had to get creative in how people engage and interact in virtual venues, along with the added challenge of delivering amenities and tangible products to multiple locations. For example, instead of ordering catering to one venue, we have been faced with the challenge of sending meal kits, gift boxes, and other virtual event amenities to people in many different places all at the same time."
Gauri Sarin, Director, Events + Activations at Streetsense
What health and safety protocols will help in-person event attendees feel safe again?
| | |
| --- | --- |
| | "We are already accustomed to safety protocols, so why not keep them a while longer?" |
"Even with the vaccine making its way through the population, it'll still be a while before we can go back to events exactly as they were before. The good news is, we've all gotten accustomed to the safety protocols required for gathering. Masks are an accessory we are used to. Maintaining a social distance from others is second nature. And washing our hands is a regular habit (that we all should have had all along if I might add). Simply keeping those practices in place for a while longer will make people feel safer attending parties and other social events going forward."
Heather Roonan, Content Manager at GigSalad
| | |
| --- | --- |
| | "Attendees may attend events later in the day when there are smaller crowds." |
"The first thing that people are looking for when coming to an event is a mask requirement. For those that might not have masks, we are happy to provide them. Secondly, we have a lot of wellness signage and floor decal stickers reminding people to stay six-feet-apart. People need the reminder! Third, we also have temperature check machines. These were not used at our events because they were outdoors, but we have seen them at a lot of our community events. We had hand sanitizer stations throughout our event where people could restock on this.
The main thing that we have found is that people prefer outdoor events over indoors one. And when marketing an event, we reminded people to stay home if they weren't feeling well. Attending an event later in the day where there will be less people is a smart idea. For our event, most of the attendees come in the morning, so coming in the afternoon is a suitable alternative for those who still want to attend."
Michelle Greenwell, Tourism Specialist at the Moberly Area Chamber of Commerce, Visit Moberly
| | |
| --- | --- |
| | "A strong pre-event safety program is a must to make people truly feel safe." |
"Intuitively, I'm inclined to structure a pre-event safety program where all attendees must pass a clear report on their health-set status prior to any event attendance. To motivate attendees to feel safe prior to arrival, I would distribute a floor plan that directs attendees to feel safe with a social distance blueprint; whilst reassuring them that complimentary of the event planning team, there will be the necessary tools and resources to help maintain a safe and comfortable environment."
Jenny Chang, Founder and CEO at ROCKNEVENTS
| | |
| --- | --- |
| | "Shaking hands and hugs will be replaced with physically distanced greetings." |
"To make people feel safe at events in a post-COVID world, we'll likely still see social distancing and outdoor events with a limited capacity. Also, plenty of hand sanitizer, and shaking hands/hugging will be replaced with a physically distanced wave hello or goodbye."
Stephanie Thoma, Leadership, Life Coach, and Hypnotherapist for Stephanie Thoma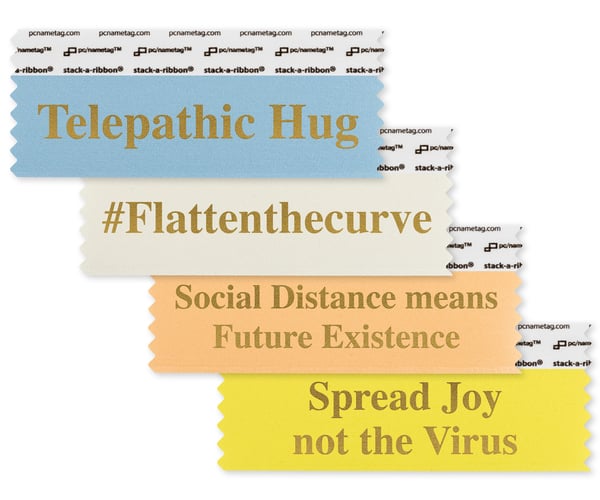 | | |
| --- | --- |
| | "Grand openings may be replaced with several smaller, outdoor installations that people can experience over time." |
"Virtual components are here to stay. Events that were once all in person (pre-COVID) and then became virtual only (during COVID), will now likely take on hybrid execution where attendees can join in either capacity. For those attending in person, sanitation and social distancing measures will continue to be vital in ensuring attendees feel safe and, ultimately, comfortable. Traditional, one-time events will also continue to be replaced by longer term activations, that allow people to experience initiatives on their own terms. For example, instead of executing a large, grand opening event for a new product launch, brands may curate safe, outdoor installations that people can experience over an extended period.
A recent example our team created is the Winter Wonderlights installation at Washington Harbour in DC. In years past, the fountain area at the Harbour was turned into an ice-skating rink, but with the COVID regulations, the Harbour team wanted an alternative to this festive holiday installation. Streetsense teamed up with Creative JunkFood, a creative Black owned agency, to create a light installation that is free and accessible to all. This outdoor exhibit draws guests to the area and offers a way to celebrate the merriment of the season in a safe, socially distant way."
Gauri Sarin, Director, Events + Activations at Streetsense
| | |
| --- | --- |
| | "The key is to create a space for others to feel safe." |
"Since COVID-19 hit last year, the events industry took a lot of damage. Capacity laws make it hard to host an event where hosting may cost more than the revenue generated from attendees would cover. Not to state the obvious, but everyone's afraid of having fun one night, and becoming sick the next. In my opinion, if event companies want to appeal to attendees, they must implement everything that's recommended by the CDC. Social distancing, limited capacity, temperature checks, masks enforced. Instead of hosting in a small center that has limited space for social distancing, try hosting outdoors in a large parking lot or grass lot.
My best advice is to create the space for others to feel safe. Physically create little socially distanced squares that will allow attendees to stay in. Make sure your attendees know they have a designated area for them to do whatever they want while respecting others too."
Tim Denman, Chief Marketing and Sales Officer at ServGrow
| | |
| --- | --- |
| | "Creativity and flexibility has become the new normal." |
"We still hosted a live CampExperience™ Fall Retreat September 18-20, 2020 in Colorado Spring, CO for 108 people. We had no sickness and only 30 fewer people on-site then a normal year. Those people joined us for a Saturday Night 'Live' Virtual event where we had about 50 from around the world as far as Norway and Australia. To be 'Sisters Safe,' we rebuilt the event to include:
Small groups of 10-15 to eat, shop, drink and attend classes.
Masks provided, reminder signage, cleaning stations and distanced seating.
Outdoor classes and outdoor music art and ideas festival.
Temperature check every day with health survey and tracking in place if needed.
We were able to safely raise $30,000 for our Charity Partners at the retreat. A Fall Retreat is planned for 2021, but the format will depend on the status of COVID-19."
Betsy Wiersma, CSEP, Owner/Founder of Wiersma Experience Marketing; Founder of CampExperience Network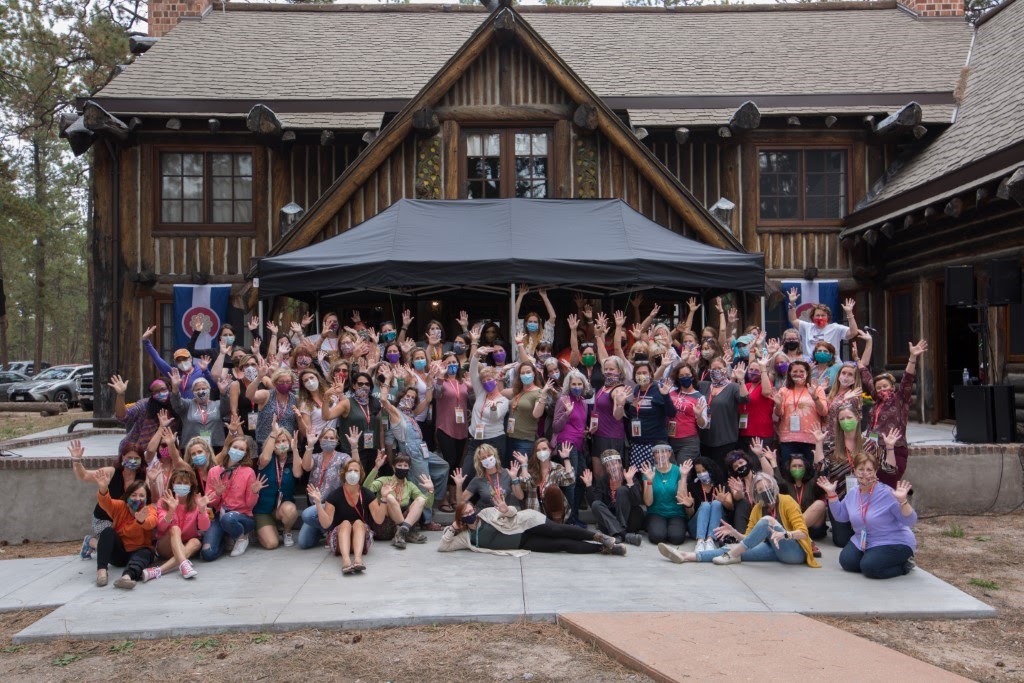 Attendees of the CampExperience™ Retreat gather safely in Englewood, Colorado in September 2020.


What is your best advice for event planners during COVID-19 and beyond?
| | |
| --- | --- |
| | "Stay positive. The post-COVID era will be amazing for our industry and there will be more in-person events than ever before." |
"The good news is that in the countries where restrictions were momentarily lifted in the summer of 2020, our event booking volumes returned to normal and briefly went to record-levels. That moment gave us assurances that people will indeed return to organizing in-person gatherings as soon as there is a chance to do so safely and within local restrictions. We are confident that the post-COVID era will be amazing for our industry and there will be more in-person events than ever before. There's suppressed demand, and the need to connect face-to-face with other humans is deep-rooted in our DNA. I believe there's definitely light at the end of the tunnel and with the vaccines, it's now closer than ever."
Jaakko Salonen, Head of Global Operations at Venuu
| | |
| --- | --- |
| | "There's no such thing as overcommunication when it comes to attendee safety." |
"Always overcommunicate. Demonstrate what safety precautions will be put into place to create a safe environment. In essence, let the attendees know in advance what to expect and be sure to deliver on those expectations. That includes that all attendees will be required to wear a mask, temperature checks, ample signage to communicate procedures, etc. Safety has always been foremost to the success of any meeting and extra precautions are needed in moving forward. The attendee will need to feel completely safe before returning to in-person meetings.
My suggestion is to let attendees know you are working with professional health and medical professionals in developing your event plan. Communicate that medical professionals will be on site to help ensure safety protocols are practiced. This will also involve security to enforce all protocol."
Greg Jenkins, Partner at Bravo Productions
| | |
| --- | --- |
| | "Keep pre-emptive measures in place should a different plan need to occur." |
"Consider the number of people who will be attending, then assess whether the location, space and size of the venue will be sufficient for accommodating social distancing. Remember to keep pre-emptive measures in place should something different occur. Make sure that the space will be enough to carry all these people without making it too crowded. Physical distancing will remain one of the most important things to consider in hosting an event."
Alicia Hough, Corporate Wellness Expert at The Product Analyst
| | |
| --- | --- |
| | "Leverage a workable cancellation policy to give attendees more confidence." |
"Moving forward, event planners need workable cancellation policies. By workable, I mean policies that encourage those who fall ill with COVID to stay away from the event while also not putting the hosting company/organization in a financial bind over refunding tickets. This can be a complicated issue to work out and varies company-to-company. A refund/cancellation policy that is as comfortable for attendees as it is for the company also lends a sense of safety and confidence to healthy attendees, knowing people aren't financially incentivized to attend the event even if they are infected."
Georgianne Austin, Communications Director for Escapees RV Club
| | |
| --- | --- |
| | "Plan on a virtual 2021 and socially distanced, limited capacity, outdoor event 2022." |
"My best advice on planning for COVID-19 events is to not plan any huge indoor events for the duration of 2021. In 2022, this may be possible. But to deliver amidst uncertainty, plan on a virtual 2021 and socially distanced, limited capacity, outdoor event 2022. People who feel sick will be actively discouraged from attending.
Events that previously touted +1s welcome and 'the more the merrier' will now be more exclusive and at a higher price point in order to sustain the same quality at lower quantities of people in attendance. Even when things are seeming 'back to normal,' there will be an awareness of our health and these changes I envision for 2022 could easily carry over into the next 5-10 years."
Stephanie Thoma, Leadership, Life Coach, and Hypnotherapist for Stephanie Thoma
| | |
| --- | --- |
| | "Now is the best time for event professionals to upskill and reskill." |
"Take this time to future-proof your career and invest in experiential marketing knowledge and even as a career, if interested. This is the best time to redesign our values to expand on experiential marketing whilst realizing that there will be more required than to just throw a great event. The change in mindset will now be in how to create the most RELIABLE event by coupling security, comfort, design, and experience."
Jenny Chang, Founder and CEO at ROCKNEVENTS
| | |
| --- | --- |
| | "Plan based on current mandates, then adjust as your event approaches." |
"Predicting the future is a slippery slope during these times. My best advice for anyone looking to plan an in-person event in 2021 is start by following all mandates or protocols set in place to-date. As your event approaches and mandates lift or change, you can adjust. This also helps better manage your budget and expectations of your clients, attendees or partners."
Lara Smedley, Owner & Event Producer at Smedley Events
| | |
| --- | --- |
| | "Communication instills confidence." |
"Like past resistance to bag checks and security checks, the public eventually came to accept these intrusions as best practices for their safety and well-being. The same culture shift is occurring with the present pandemic, and communication is the key to understanding and acceptance. The attendees must be willing partners with the venue and comply with the rules.
Widespread messaging is required to inform them of new rules and protocols for their protection before they arrive. Send the message repeatedly prior to arrival through multiple sources: websites, social media, emails, push notifications and mobile apps. Continue sharing the message when the event is onsite through announcements, signage, photos, video boards, story boards and guest service interactions."
Cheryl Swanson, Vice President & GM at the Columbia Metropolitan Convention Center
| | |
| --- | --- |
| | "Now is not the time to slack on safety protocol." |
"My advice for anyone planning events during COVID and beyond is to take your audience's opinions seriously. Describe clearly what you're going to do in order to protect your consumers during the event, and follow through with these promises. If any potential attendees request additional procedures for their safety, investigate those procedures and seriously consider them.
If you can show your audience that you care about their safety both before, during, and after the event, they'll be much more likely to attend others. If you do this properly, you'll also avoid falling into serious legal trouble and will likely build stronger relationships with attendees."
Peter Horne, Content Lead at Geoff McDonald and Associates


Explore the Future of Safe Events
Feeling inspired? We thought so! The future of events is bright, which is why we dedicated an entire article to How the Events Industry Will Evolve in 2021 and Beyond. We are already seeing evidence that the industry will rebound stronger than ever before, and we can't wait to see how event professionals continue to create events that have a true impact on attendees, no matter the challenges at hand.
We want to hear from you next! Tell us:
How has your organization adapted to the ever-changing events landscape?
What are you most looking forward to most this year regarding virtual, hybrid, in-person and satellite events?
Let us know by leaving a comment below.
Read Next: