Today, most people would agree that looking after the planet, making eco-conscious choices, and going green is not only the moral thing to do but the smart thing to do — especially when it comes to good business. One study even found that 54% of millennials will choose a sustainable brand over a non-sustainable brand, especially when they have the option to choose.
Creating sustainability initiatives at your organization isn't just about protecting our environment; it's also about saving significant money, boosting your reputation, promoting a healthier workforce, and reducing your reliance on unnecessary resources.
But where, exactly, should you start? Read on to find what 15 eco-conscious business experts had to say about transforming your organization's approach to sustainability this year and beyond.
Sustainability Initiatives to Implement at Your Organization

| | |
| --- | --- |
| | "Use a composting system to create nitrogen-rich soil for employees to use in their gardens." |
"Our team has begun composting with composting worms. Because we specialize in breeding feeder insects for reptile owners, we've decided to take the initiative to build more compost bins and use our worms to break down the material into nitrogen-rich compost.
What's great about our composting worms is that they'll even compost meat and dairy products. There are no limitations to food scraps, and we can build a supply of organic compost for anyone looking to go green in their own gardens."
Jeff Neal, Founder of The Critter Depot
| | |
| --- | --- |
| | "Offer plant-based food and drink options for employees to enjoy." |
"While we all think that using reusable straws and cups is the biggest help in reducing environmental impact and encouraging a sustainable livelihood, what triggers even more environmental waste is our reliance on dairy products. The dairy industry is responsible for a large amount of methane, which can trigger damage to our ecosystem.
Our organization has decided to remove dairy products from our pantry and instead replace it with plant-based options that are more eco-friendly. This is a big step towards encouraging our employees to discover plant-based options, live a more sustainable lifestyle, and reduce their carbon footprint."
Sherry Morgan, Founder of Petsolino
| | |
| --- | --- |
| | "Expand your event swag or corporate gifting program to include eco-conscious options." |
"Before the pandemic, I was on a quest to reduce waste in the events industry. I was watching my clients exhibit at trade shows and wasting money, opportunities, and trees. One of the most glaring problems was brochure waste. It was often less expensive to leave undistributed print collateral behind than it was to ship them home. I called several venues and found that this was a colossal waste issue many of them struggled with.
We created GreenShows™, the world's first carbon-neutral virtual conference, meeting, and networking platform that also plants trees.
We offset the server electricity for each virtual event we create, plant 5-10 trees for each virtual booth we build, and offer exhibitors the option to donate trees. The recipient can then dedicate the trees they receive in our virtual forest with a message and a photo."
David Betke, Founder of GreenShows™️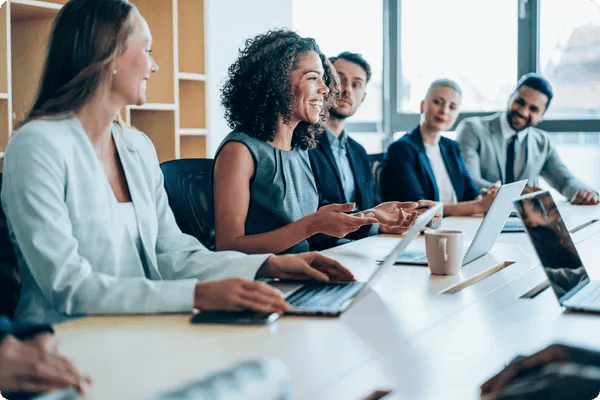 | | |
| --- | --- |
| | "Replace disposable utensils with reusable utensils in the breakroom." |
"Our company now provides reusable utensils to employees, including coffee stirrers and stainless steel straws since these items contribute to a large amount of waste each year. While we do not force people to avoid straws, we still want to make access to reusable utensils as convenient as possible. Offering these alternatives is important to our team members since consuming beverages while working has become a big part of our culture."
Alex Perkins, Co-founder of All the Stuff
| | |
| --- | --- |
| | "Research tools and resources to help your team reduce paper waste." |
"Part of our going green journey is reducing the amount of paper waste at the workplace. That's why we decided, from the onset, that we would have only minimal paper usage in our offices. Everything from onboarding to contract signing is done digitally. Our software tool is also part of the sustainability journey. We can't market our sustainable document management tools without being sustainable on our own, can we?
On estimate, more than 80% of office waste comes from paper. Aside from being expensive and somewhat cumbersome, the use of paper also increases the business' carbon footprint. A paperless process can also help with productivity. People tend to work better where things are fast and dynamic.
My greatest advice is to use a document management system. This sets the stage for the transition from paper to digital document systems. Next, undertake periodical reviews and audits of the paperless journey. This will help with tracking costs and managing any leakages in the process."
Alina Clark, Marketing Director and Co-founder of CocoDoc
| | |
| --- | --- |
| | "Stay organized and increase efficiency by using digital notebooks." |
"We have officially gone totally waste-free! As a marketing agency, you'd think this is easy but we love to make notes, plan new media, and send proposals and pitches via mail. Now, we send proposals digitally and have swapped paper notebooks for digital notepads. This strategy can save your organization money in the long term, while also cutting down on paper waste.
Next, we've made the decision to work 100% remotely. We've also formed partnerships with coworking spaces, which are a more energy-efficient option than hiring a separate office. This is like the idea of taking a communal bus instead of driving a car. Plus, these offices are positioned centrally, which makes them easy to access via public transportation."
Aled Nelmes, SEO Consultant at Lumen SEO
| | |
| --- | --- |
| | "Use virtual engagement activities to reduce your organization's carbon footprint." |
"In today's digital age, remote team building and online engagement have become a hot topic. Using digital games and leaderboards has quickly become one of the easiest ways to keep your event attendees or employees engaged, whether they participate in person or online. At Captello, we've found that offering these interactive experiences can help improve remote connectivity without sacrificing community or involvement opportunities — all of which are crucial to interpersonal relationship building.
With the re-emergence of in-person gatherings, it's important to focus on finding solutions that will save resources, reduce costs, and provide simpler approaches to everyday operations with less hardware waste. Our organization is on a mission to make marketing and events easier to execute, better for the environment, and more profitable than ever."
Ryan Schefke, Chief Executive Officer at Captello
| | |
| --- | --- |
| | "Improve the customer experience with digital signature capabilities." |
"As a company that runs through daily paperwork, my company's goal in going green is to have a paperless process. My company started reducing the use of papers even before the pandemic. When we were still operating in our office, we leveraged technology in order to get our projects done in our virtual workspace.
We also created digital signatures to avoid excessive printing and instructed our vendors to submit their billings online. We created a process for our documents to be processed without using any hard copies. Now, we have achieved 100% paperless transactions and have even saved operating expenses for office supplies like paper and ink."
Charles McMillan, Founder of Stand with Main Street
| | |
| --- | --- |
| | "Make sustainability fun by personalizing eco-friendly gifts for your team." |
"We use dedicated ceramic cups instead of plastic cups to decrease pollution. Every team member gets his or her own cup on the first day of work, with an illustration showing how they'd look cartooned. Besides being an eco-friendly solution (since it erases the need for cardboard cups and plastic cups), it's a nice way of growing team spirit and welcoming people.
We also offer remote days for up to three days per week. Since many of our employees come to work by car, we decided to help them manage their schedule better, practice sustainability and decrease their gas consumption."
Nebojša Ćalić, Founder at CyberCrew
| | |
| --- | --- |
| | "Provide customers with access to eco-friendly promotional products." |
"Try reusable products like customizable tote bags if you're a retailer. To promote your brand, include a company logo and/or slogan on the bags. Green alternatives that are offered to them or available for purchase at a low cost are more likely to be used. Reusable products often reduce the amount of waste that ends up in landfills."
Carole Murphy, Creative Content Designer at Top Sewing Machines UK
| | |
| --- | --- |
| | "Switch to LED light bulbs and Energy Star appliances." |
For large businesses, utility costs may run into the thousands of dollars each month. Switch out your light fixtures for energy-efficient rated fixtures with LED light bulbs to save money on your electric bills. LED light bulbs have a 20-year lifespan, require less electricity to operate and have a purer source of light. Companies who go green can also help communities. Green communities encourage the growth of green businesses."
Julia Newman, Desktop Technical Support Specialist at FixThePhoto
| | |
| --- | --- |
| | "Make eco-friendly corporate travel a priority." |
"As a company whose business is travel, we have to be very aware of being as green as possible when traveling. We avoid flying whenever possible. We also take advantage of walking, cycling, and public transport when we can.
We try to take advantage of mobile ticketing when we travel to waste less paper and support local businesses in whichever location we are in. Each country will always come with its own challenge, and part of our learning is to consider the eco-friendly possibilities available to us in each place, which is something we can also bring into our writing when sharing with our audiences."
Will Hatton, Founder & CEO at The Broke Backpacker
| | |
| --- | --- |
| | "Create a grab-and-go supply of reusable items your team can borrow." |
"We joined Ecologi four months ago to offset our entire company's carbon footprint. So far we have reduced 17.8 tons of carbon in the atmosphere and have 348 trees in our forest!
We have also invested in reusable cups, lunch boxes, and business-branded reusable bags for our team. Although local cafes aren't accepting external cups to fill right now, as restrictions lift the team should be able to take their cups and lunchboxes out rather than acquiring more plastic waste.
Lastly, we have new branded tote bags for the team, which we will leave in the office if anyone needs to nip out for some shopping, which happens frequently given that we are based in a town centre surrounded by shops and supermarkets."
Matt Tomkin, Founder of Tao Digital Marketing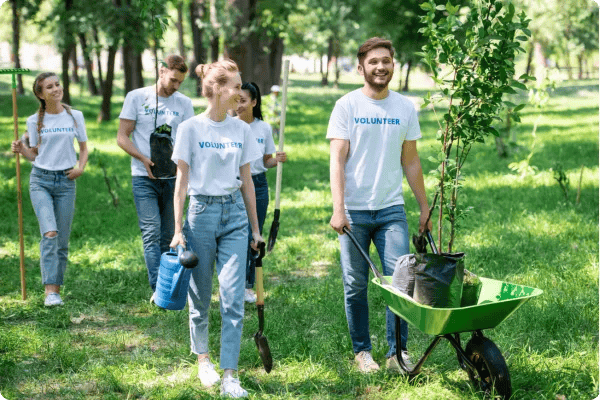 | | |
| --- | --- |
| | "Make sustainability activities a part of company culture." |
"We have a 'bike-to-work scheme to encourage our staff to use this eco-friendly mode of transportation and be rewarded for it. We're currently renovating our office space and using eco-friendly paints and upcycled furniture, and the design is conducive to natural light and warmth. And lastly, we will be planting trees later this year to offset our carbon emissions. We also have plans to do vegan days to make our diet environment-friendly."
Antonio Wedral, Co-founder at NOVOS
| | |
| --- | --- |
| | "Use sustainability initiatives to improve customer engagement and brand reputation." |
"As a company, Stasher has fully offset its employees and operations with Treepoints carbon offsetting service. We are officially carbon negative because we offset more than our total emissions. In addition, we're currently working on integrating tree planting with Treepoints into our checkout flow so that we plant a tree with every booking. The idea here is that our customers can have a positive climate impact with every booking and reminds them to take the climate into account when making decisions on their travels."
Anthony Collias and Jacob Wedderburn-Day, Co-founders of Stasher
Read Simple Strategies for a Greener Business or Event
Going green may sound intimidating, but the good news is that it doesn't need to cost a fortune in order to make a big impact on the environment. Taking simple steps towards sustainability (like the ones listed in this article) is just what your organization needs to kick off its commitment to protecting the environment this year.
For more tips and tricks, download our eBook on How to Host a Sustainable Event. Inside, you'll find tips and tricks geared specifically toward planners. You'll learn to reduce usage, make fewer unnecessary purchases and create less waste, the easy way. Get your copy today.
READ NEXT:
About pc/nametag: As the industry's go-to provider for all things event supplies, pc/nametag is here to help your organization take small steps toward a more sustainable event. With a wide variety of eco-friendly products to choose from, we'll guide you through the event essentials you'll need to host a green event you can be proud of. Shop eco-friendly event supplies on our website.