Back to Blog Listing

Rachel Bernadskii
As pc/nametag's Digital Marketing Intern, Rachel is passionate about leveraging data to identify marketing trends and using this knowledge to drive effective marketing campaigns.
Whether you are looking to generate buzz for your event or boost attendance, social media is a powerful tool that can help you reach your event marketing goals. In this blog, we are going to equip you with all the knowledge you need to make your own social media marketing plan for your event.
When choosing which social media platforms to utilize, there are several factors you should consider.
What platforms does my target audience use?
What kind of content do I want to create?
What essential information do my attendees want to know?
Considering these questions will help you align your strategy with your attendees' preferences and social media habits, and to build out an ideal timeline for your event's social media strategy.
Social Media Event Marketing Timeline
Promoting your event on social media can be broken down into three phases – before the event, during the event, and after the event – each with its own distinct purpose.
Take a look at the timeline below for guidance on what you should be posting to social media, and when. Keep scrolling for inspiration from one of our favorite events! Can you guess what it is? 👀
Before Your Event: Promote Your Event and Attract Sign-ups
8 months out:
Create social media accounts for the event on the platforms you intend to use such as Facebook, Twitter, Instagram, and TikTok.
Promote early bird specials and/or any VIP packages.
Post highlights from the previous year's event to ramp up the excitement.
Begin promoting the event using relevant hashtags.
Highlight and tag partner organizations or sponsors in posts.


6 months out:
Post updates and announcements about the event.
Highlight general information about the event.
Start using paid advertising to reach a broader audience and drive ticket sales.
Share behind-the-scenes footage or sneak peeks of what attendees can expect at the event.
Launch a social media contest to encourage attendee engagement and generate buzz.
Post recommendations on flights, transportation, accommodations, etc.
Address any FAQs that arise.


3 months out:
Highlight the benefits and value of attending the event through social media.
Reveal speakers by engaging with your attendees and having them try and guess keynote speakers before revealing them through speaker social media posts.
Post more FAQs.
Create Instagram highlights for valuable information attendees can reference at any time.
Give a comprehensive guide to the city where the event will be located.
Post recommendations for hotels, transportation, restaurants, etc.
Collaborate with influencers in your industry to expand your reach and engage with potential attendees.
Post about the event schedule.


1 month out:
Ramp up your social media activity with more frequent posts and real-time updates leading up to the event.
Use Instagram and Facebook Stories to share live updates and give attendees a behind-the-scenes look at the event.
Engage with attendees by responding to their comments and questions on social media in real time.
Use a variety of industry and event-specific hashtags in posts.
Begin a countdown.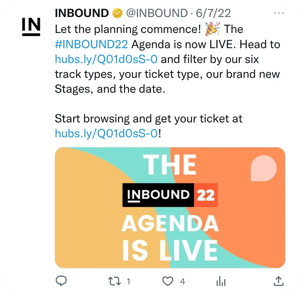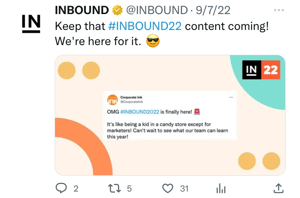 During Your Event: Drive Engagement Among Attendees and Followers
Ask followers to share their excitement for the event on their social media channels and tag your account.
Encourage attendees to share their experiences on social media by using a specific event hashtag and tagging your account.
Share real-time updates, photos, and videos.
Host a social media scavenger hunt or contest to encourage attendee engagement.
Use live streaming platforms like Facebook Live or Instagram Live to share keynote speeches, panel discussions, and other important event moments.
Repost what your attendees share on social media.
Post the daily schedule so attendees can access it with ease.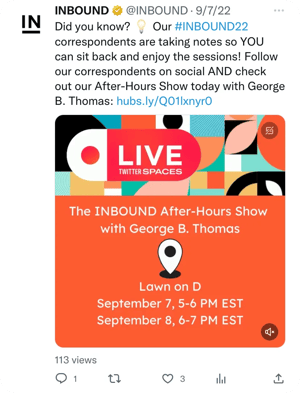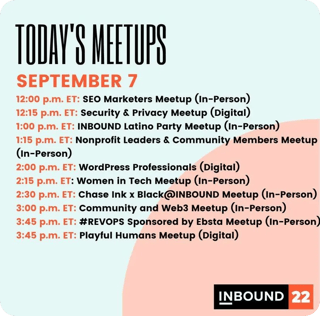 After Your Event: Share Highlights and Get People Excited for Next Year
Share a post-event wrap-up on social media, highlighting key moments and thanking attendees, sponsors, and partners.
Share photos and videos from the event on your social media channels and encourage attendees to share their own using the event hashtag
Ask for attendee feedback via a post-event survey and share it on social media to gather feedback from attendees, speakers, and sponsors.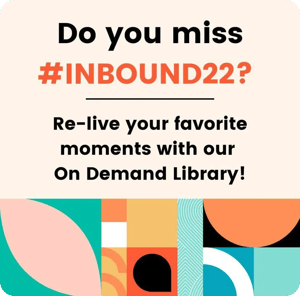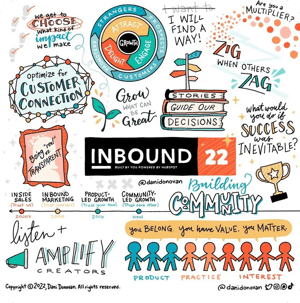 How to Choose the Right Social Media Platforms For Your Event
You have a timeline, you know what type of content you plan to post, but how do you pick which social media platforms to use?
Good question! Below, we have outlined the key features and strengths of each social media platform so you can decide which platform or combination of platforms will allow you to best engage with your target audience.
Please note: Demographic data is provided by Statista and Sprout Social. pc/nametag acknowledges gender identities outside of the male/female binary, however, data outside this scope is still limited.
How to Promote Your Event on Instagram
Instagram is an excellent platform to promote your event, particularly when targeting Gen Z or Millennial attendees.
Instagram Demographics:
Age: 60% of Instagram users are aged between 13 and 34
Gender: Even split between male and female users
Monthly Active Users: Over 2 billion
What to Post on Instagram:
Live updates from keynote sessions during your event
Behind-the-scenes footage of speakers, staff, and attendees
Shared content from attendees
Tip: Update your event's story regularly to make sure it's always at the top of your followers' feeds.



How to Promote Your Event on LinkedIn
LinkedIn is an ideal platform for promoting your business or professional development conference, as it allows you to target users based on job-related contact information.
LinkedIn Demographics:
Age: 54% of LinkedIn users are aged 30 to 49
Gender: Slightly more male-dominated user base
Daily Active Users (US): 137 million (monthly active users not given)
What to Post on LinkedIn:
Post articles and media that highlight the benefits of attending your event and the great content that will be featured
Share posts from keynote speakers and relevant industry highlights (don't forget to tag influencers and companies!)
Tip: LinkedIn's advanced targeting options make it a great way to generate leads. Promote your event to specific industries, job titles, locations, and more!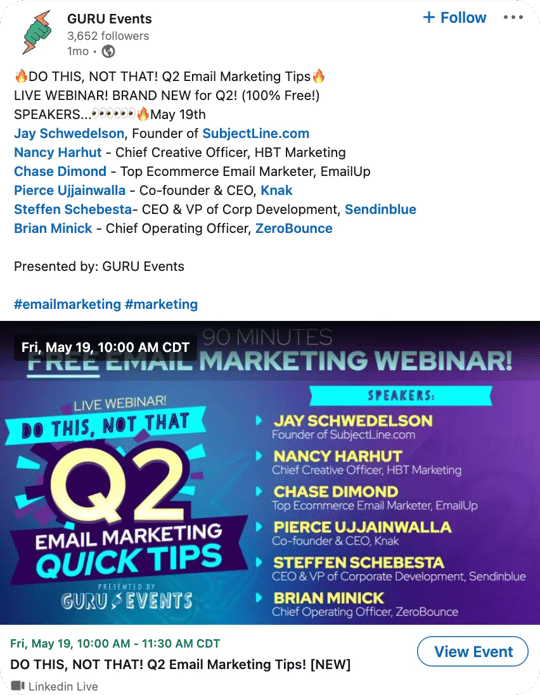 How to Promote Your Event on Facebook
Despite declining in popularity among younger audiences, Facebook remains the most widely used social media platform globally and is highly effective at promoting events.
Facebook Demographics
Age: 42% of Facebook users are aged 25 to 44
Gender: Slightly more female-dominated user base
Monthly Active Users: Nearly 3 billion
What to Post on Facebook
Use Facebook Live to share keynote speeches, panel discussions, and other key moments
Post photos and videos that generate engagement, shares, and interaction
Tip: Post compilation videos from previous events to Facebook to drive up engagement and excitement for upcoming events.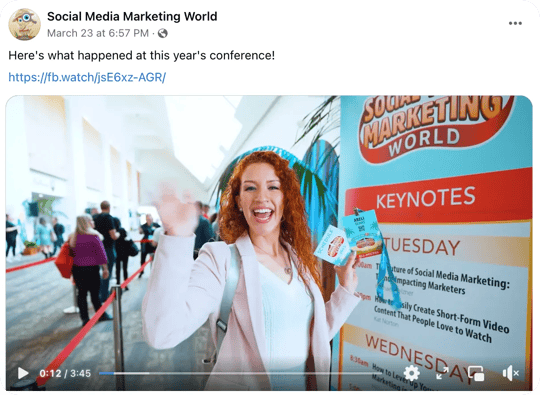 How to Promote Your Event on Twitter
Twitter's fast-paced and interactive nature makes it a platform for providing real-time updates, responding to questions, and engaging with attendees.
Twitter Demographics
Age: 39% of Twitter users are aged 25 to 34
Gender: Heavily male-dominated user base
Monthly Active Users: 556 million
What to Post on Twitter
Collect feedback from attendees by encouraging interaction and using Twitter polls
Use hashtags and share important updates about your event, such as schedule or room changes, traffic updates, etc.
Post real-time responses to attendee questions and concerns
Tip: Use Twitter to post live updates about your event and respond to attendee questions in real time.
How to Promote Your Event on TikTok
With its rapidly growing user base and emphasis on creative and engaging video content, TikTok offers a unique opportunity to showcase your event and reach a wide audience of potential attendees organically.
TikTok Demographics
Age: 60% of TikTok users are aged 16 to 24
Gender: Heavily female-dominated user base
Monthly Active Users: Over 1 billion
What to Post on TikTok
Playful and engaging videos that showcase your event
Clips of speakers and unique event activities
Compilations of lighthearted, funny, and memorable moments
Tip: Keep up to date on trending sounds and memes and use them to your advantage to build your audience organically.
Start Promoting Your Event!
Each social media platform offers unique advantages for event promotion depending on the event's target audience and their social media preferences.
By understanding the strengths and weaknesses of each platform, event planners can choose the best platform or combination of platforms to effectively promote their event and engage with attendees.
Share with us in the comments: How do you promote your event on social media? If you have tips that have worked for you in the past, we'd love to hear them!