You have your venue scoped out, your schedule in your head, your eye on keynote speakers – this whole event thing is pretty much figured out. But how do you get butts in seats?
Conferences, meetings and events are most fun when they're buzzing with likeminded individuals learning, networking, and having a great time together, but sometimes getting people through the doors can be the most daunting part of the entire process.
If you're overwhelmed with how to go about promoting your event to the right group of people, you've come to the right place. Here are 11 juicy tips from me, a seasoned digital marketing manager, on how to market your event and get people to actually show up.


1. Determine your event goals and KPIs
I know it's a boring place to start, but it's crucial. The first step to promoting your event is determining what the point of your event is in the first place. Ask yourself: "What defines a successful event for my organization?" For most, the number of registrations is key, but you might want to break it down further into different categories, like:
Total number of registrations
Total number of early bird discount vs. late registrations
Total number of virtual vs. in-person registrations
Number of registrations by marketing source
Marketing ROI or marketing cost per registration
Total number of engaged attendees
Consider what your goals are, and what would make your event a success in the eyes of stakeholders. This way, you can determine the successes and failures of your marketing strategy after your event and adjust it accordingly for next time.


2. Create your event branding
Your conference or event's brand is incredibly important. For instance, if your event is already an annual affair (or if you want it to become one), you want your branding to be something people in your industry will recognize for years to come.
One company that does a great job of marketing their conference is HubSpot with their annual INBOUND event for marketers. While the look of the event branding changes each year, the consistent tie in of HubSpot's culture, brand colors, and the short and simple name makes it stick out in my mind.
Here are a few other aspects of the brand that I like: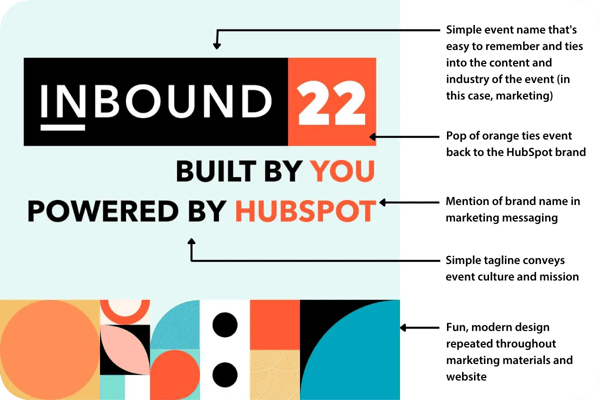 Once you've figured out your branding, determine what your event hashtag will be so you can start incorporating that into all social posts and messaging regarding your upcoming event. Most event organizers keep their hashtag short and simple, like #INBOUND2022, but you could also do a fun little tag line like #MarketersINBOUND22 or something along those lines.
Lastly, a small but simple way to get your event branding in front of potential attendees is to incorporate its elements into your email signature, as well as the signature of other key people associated with the event.
It may seem minor, but people notice changes to your email signature if you keep in regular contact with them. Adding your branding and linking it to your event website or landing page is an easy way to drive up traffic and intrigue.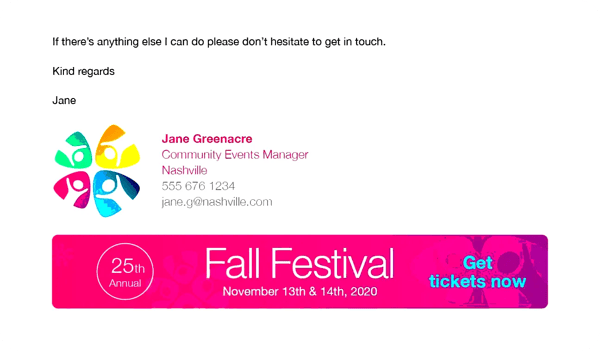 An example of event branding and a call-to-action being used in an email signature
3. Create a search engine optimized event landing page
Speaking of event websites and landing pages, you should make one!
If you don't have the capabilities to create an entire website dedicated to your event, a landing page can work just as well. I would recommend a content platform like MailChimp or HubSpot, which will also allow you to easily incorporate a form into your page for people to either register for your event or sign up for an email list. Your mailing list allows attendees to get updates from you on things like early bird registration information, speaker announcements, travel information, and more.
One event that I'm attending soon is the Guru email marketing conference hosted by subjectline.com. Here's a screen grab from their event website: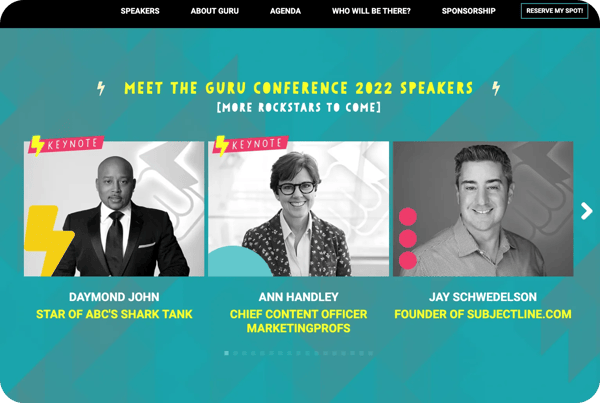 Check out the full website here.
A few of the things I love about this event website are:
There's a colorful, attention-grabbing header, which captivates the site visitor immediately.
The primary call to action ("Reserve Your Spot") is clear and consistent throughout the site.
Speakers are highlighted at the top of the website with clear headshots and credentials.
The agenda is easy to find and understand.
Other items you might want to add to your event's landing page are any photos or videos from previous events, testimonials from past attendees, clear pricing, and an FAQ section so prospective attendees can get quick answers to any questions they may have.
When it comes to building your landing page, make sure you are targeting your ideal attendee. The Guru site works well for marketers, who tend to be more motivated by fun colors and graphic design. However, the same design might not work as well for something like a medical conference. To make sure you are attracting the right audience, do a little bit of keyword research ahead of time, and ensure your website is SEO-friendly.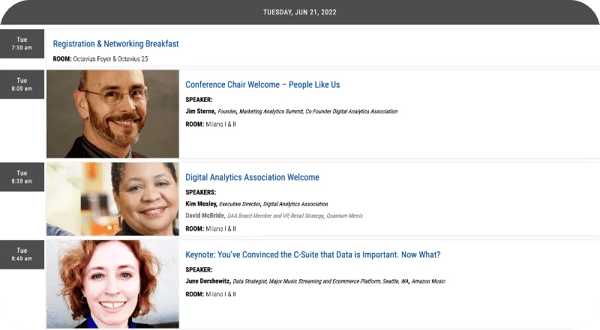 An example of a great event agenda layout from the Marketing Analytics Summit website
Here are a few tips for how to make an SEO-optimized landing page:
Use a site like MOZ or Semrush to find a unique target keyword that you want your page to organically rank for
Include that keyword in things like your URL, H1 and H2 headings, meta description, and site copy
Use a site like Answer the Public to find out what questions people are asking about your keyword, and answer those questions on your website
Use an SEO tool like Keywords Everywhere or Google's "related searches" to find related keywords or other content your website should mention too (this can also help you learn what topics should be included in your session agenda!)
SEO Tip: When you're looking for a good target keyword, try finding one that has a balance of search volume and keyword difficulty. In the example below from Semrush, you'll see "digital marketing conference" gets about 1,600 searches per month in the United States. However, the keyword difficulty is high at 66%, meaning it will be hard to rank for on the first page of Google.
If your conference has a focus on content marketing, "content marketing conference" might be a better target keyword, as it still has a decent search volume, but a lower difficulty at 50%, so it will be a bit easier to rank for.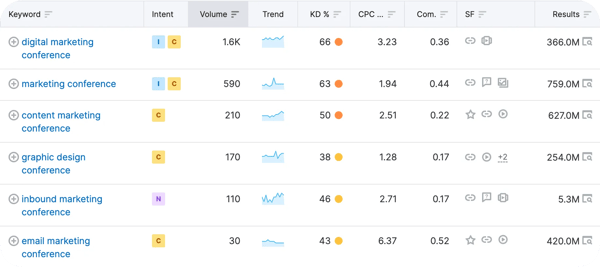 4. Create a pre-event email workflow
Once you've created your website and built your email list, you'll want to have an automated email workflow in place. An email workflow or "drip campaign" is a series of automated emails that are sent to people on a mailing list, like your event attendees, at pre-determined intervals of time. An automatic email workflow will ensure nobody misses information as you get closer to your event. You can use a tool like HubSpot or Mailchimp to get started.
When someone fills out your landing page form to register or get on your mailing list, make sure you are sending an automated email reply that goes out right away. This email should encourage them to follow your social profiles, share your event, and highlight key upcoming dates such as discount dates, keynote speaker announcements, registration deadlines, and so on.
If you really want to maximize your email potential, try segmenting your contact list based on information like job title, location, or industry. One study in 2019 revealed that personalized emails receive 139% higher click-through rates than non-personalized ones.
This goes beyond just using their name in the subject line. For instance, if you know some attendees are coming from out of state, try including travel information in their emails, like the best hotels and restaurants in the area. If you know your attendees have multiple types of job functions, highlight the speakers and sessions that are most relevant to their specific roles.
Here is an example of a personalized email I received about three weeks before the INBOUND 2022 conference, which goes on to highlight sessions that I had specifically shown interest in by either adding them to my schedule or clicking links in previous emails: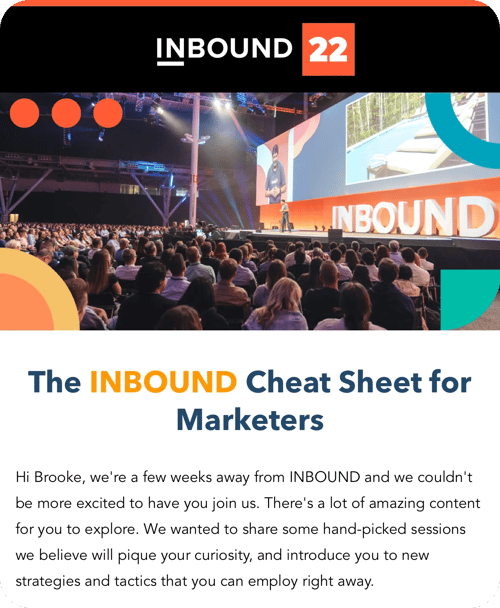 Another simple way to get more engagement out of your emails is to create a sense of "FOMO" (fear of missing out) in your subject lines. Try something like, "Create your personalized schedule while you can!" or "Your fellow marketers can't wait to meet you!" rather than something generic, like, "Our schedule builder is live" or "Set up your attendee profile." Add an emoji too to really make your email stick out in their inbox.
Make sure you are also sending your emails during optimal send times. For us, sending emails on Tuesdays, Wednesdays and Thursdays works best, but it might be different for you. I have found that 11:30 am – 12:30 pm tends to be the best time to get good open rates, but click-through rates are the highest at the beginning or end of the workday.
Lastly, don't forget to send follow-ups to anyone who signed up for your email list but hasn't registered yet for the event. Try early bird discounts, last-minute reminders, and past attendee testimonials to encourage them to register. Be sure to filter out anyone who already has registered for the event to eliminate confusion or redundancy.
5. Promote your event on social media
Social media can be a beast, but it's crucial to your event marketing strategy before, during, and after your event.
To get a better feel for what your social media strategy should entail, try using a website like SparkToro to do some audience research. This tool will help you find topics and hashtags your ideal audience is already using on social media. It will also highlight popular figures and profiles in your industry. Use this information to find speakers and influencers who can help promote your event.
Here is an example of how SparkToro highlights key accounts and influencers based on what your audience is talking about online: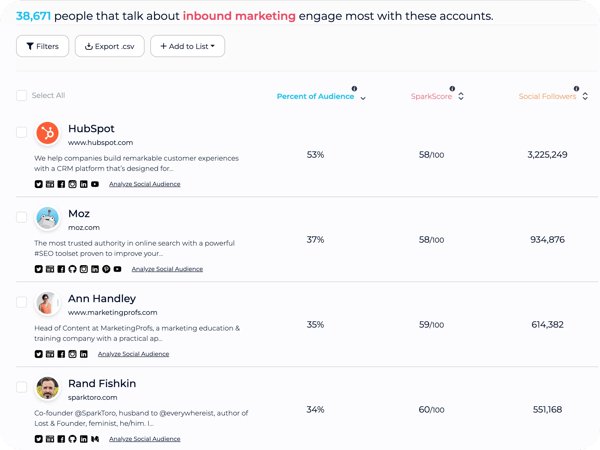 Don't forget to start using your event hashtag in your organic posts early and often, and to set up your social profiles accordingly. For instance, you can tweak your bios on Twitter, Instagram and TikTok to link directly to your event's landing page instead of your usual destination while you're in event promoting mode.
Make sure to post interesting content over the six months leading up to your event. Everyone loves seeing behind-the-scenes content, especially on TikTok or in stories, so post sneak peeks of the venue, décor, planning process, hints to upcoming speaker announcements, and so on. It's hard to get traction on organic posts, so think outside of the box.
Another best practice is to use a social media scheduling tool to plan out your posts, such as Hootsuite, Buffer, or (the one we use on our team) eclincher. Keeping up with social media can be a struggle, especially if you are actively using multiple platforms. A scheduling tool can help ease stress by monitoring all your inboxes in one location, and by helping you schedule multiple posts across multiple platforms all at once.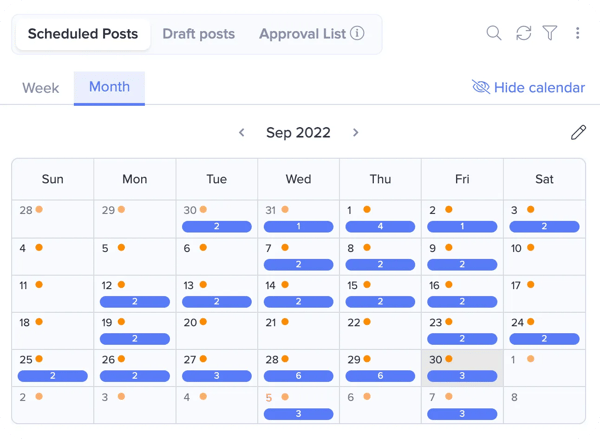 eclincher's social media scheduling tool
Lastly, don't forget to promote your event in Facebook groups. Groups have never been more popular and have more organic reach than ever. If you know of some popular and active groups that pertain to your industry, give your event a shout out or two. Just make sure you don't go against the group's guidelines!
6. Promote your event with paid digital advertising
If you have the budget, it's always a good idea to at least try out some digital advertising. If you're new to the concept, I suggest running a simple Facebook ad targeted to your current page followers. Pick a bright, eye-catching image (try creating something in Canva), or a fun 30-second video (don't forget to add captions!) with a simple call-to-action like "sign up," which leads to your form.
Always lead people to a landing page with one very clear action that they can take. If you lead them to a full website with a navigation menu, users may get distracted by everything they can click on and navigate away from your form. Instead, make one page that stands on its own and entices visitors to take the exact action that will benefit you the most.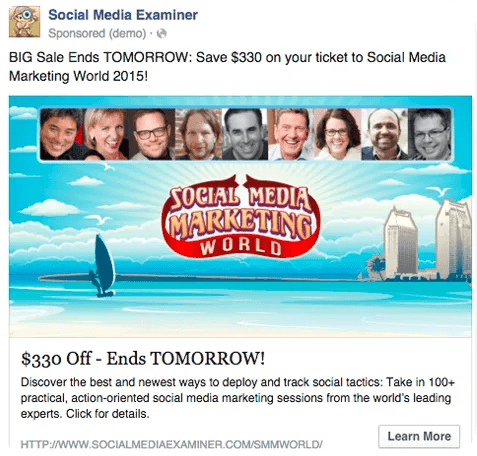 This Facebook ad highlights an early bird registration sale for a conference hosted by Social Media Examiner
If you want to get a bit more advanced, you can try retargeting ads once you get enough traffic to your landing page. For instance, you can target anyone who has visited your page, but who has not filled out your form, with a slightly different message to entice them further. Try out a testimonial from a past attendee or highlight one of your keynote speakers!
Lastly, a fun way you can get people talking about your event is to run a contest. Try running an ad targeted at page followers, a contact list, or an interest group enticing them to follow your page and tag a friend for a chance to win a free VIP experience at your event. Don't forget to set a goal beforehand for how much you are willing to spend on each entry, to make sure you don't blow your budget.
7. Do some pre-event content marketing
Content marketing is a huge part of any marketing strategy, and in my opinion, is best way to get organic traction on your event. One of the easiest ways to do content marketing for your event is to get a couple of your speakers to write a guest blog post on key topics that they will address in their sessions at your event. You can host these blog posts on your own website, and your speakers can promote the posts using their social platforms, personal email lists, and so on.
This is a mutually beneficial situation, because your speaker will get the opportunity to have their voice and expertise amplified, while you get free content to post to your site that promotes your event as one where industry trends thrive. You can also create links between the blog post and your speaker's personal website, which has a positive effect on SEO for both sites.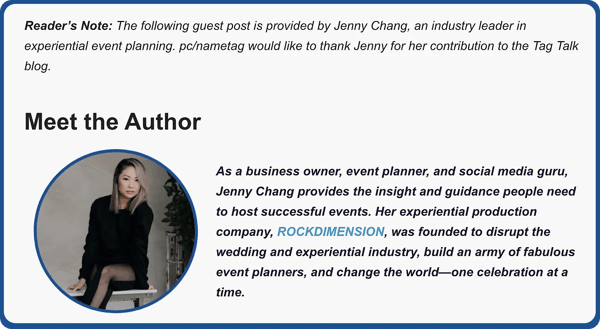 Here's how we highlighted author Jenny Chang when she wrote a guest blog post on event sponsorship for us
While blogging is a huge part of content marketing, there are other forms that can be just as mutually beneficial. If you have the time and resources, try conducting an interview with one of your most well-known speakers. You don't have to go all out with the production. This can be a 30-minute recorded conversation that you have over a Zoom call. As a bonus, you can use short clips from this interview to create social posts and digital ads to promote your event.
Lastly, we all know how popular podcasts are. In any industry, there are probably hundreds of potential podcasts where prospective attendees could be listening. The previously mentioned SparkToro can give you a list of popular podcasts in your industry, but a simple Google search will likely give you plenty of options as well. Reach out to the creators or producers of these podcasts to see if you can do a short, 5-minute spot during an upcoming episode talking about your event.
8. Set event influencers and partners up for success
When working with speakers, influencers and partners, make sure you are making their lives as easy as possible. Chances are, your speakers will want to promote your event, because when your event gets more attendees, their session gets more participants, which expands their brand even more. However, they might not have the time or the knowledge they need to whip out social posts on a whim.
Make sure you provide key partners and speakers with the tools they need to be successful. Creating a document with messaging around your event, shareable graphics, or even pre-written posts with dates can be a great resource to make sure they know exactly what to post and when.
So EXCITED to be SPEAKING at @INBOUND! Doing 2 TOTALLY CRAZY Sessions!!! 👀
Already sorry for the nonsense that comes out of my mouth.😂
🔴#1:HOW IT STARTED & HOW IT'S GOING:HOW FAILURE & PIVOTING CREATE MASSIVE OPPORTUNITY
🟠#2:EMAIL MARKETING TIPS:DO THIS, NOT THAT#INBOUND22 pic.twitter.com/EzmnBiAsTV

— Jay Schwedelson (@worldata) August 25, 2022
One of my favorite ways to get influencers involved in event marketing is to provide them with an affiliate promotional code. This is a special link or code that the influencer will share with their audience that they can use when they register for your event, which will tie back to the influencer. You can set up terms ahead of time, and even give the influencers a percentage of revenue generated from registrants that came from them to incentivize sharing even more.
9. Use the press to promote your event
Traditional forms of media are still relevant and can help you promote your event. If your event is going to drive a lot of travel and local business to your community, people will want to know about it. Try reaching out to local media companies and news outlets so they can give your event a shoutout. It may not have an immediate effect on registrations, but the positive press will take you far in the long run.
Similarly, it can still be worth your time to put out a press release. They are quick to write up, and while submitting it to a company like Cision can be a bit pricey, it can have far-reaching positive effects for the right event. Press releases also help you establish connections with the media, and they provide more credibility to your organization and event.
Don't forget to submit your event information to key associations within your industry. For instance, a marketing conference would be a relevant thing for an organization like the American Marketing Association (AMA) or the Content Marketing Institute (CMI) to promote to their readers. Do not underestimate the value of these associations!
10. Continue promoting your event while it's happening
Once your event starts and your doors open, promoting your event shouldn't stop there. Incentivize attendees to continue using your event hashtag and creating user-generated content during your event.
Some of my favorite events have had beautiful photo opportunities at the ready so attendees get excited to post to their social media profiles. This works especially well if your attendees are Instagram or TikTok users. You can also feature a badge ribbon wall at your event with ribbons that feature your event hashtag and other buzzworthy, industry-relevant ideas or jokes that people can add to their badge. Ribbons are big crowd-pleasers and can be seen all over social media during events.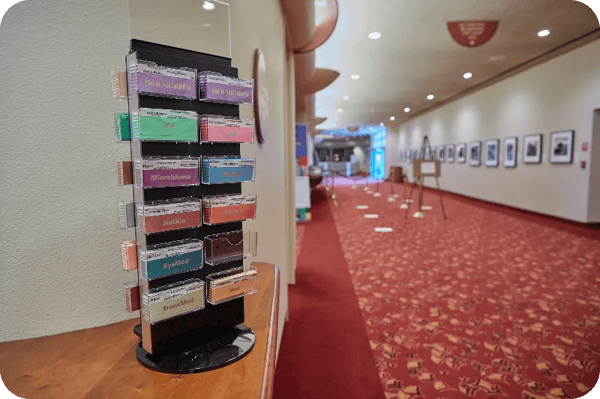 A biology-themed badge ribbon wall featured at the ISMB conference in Madison, Wisconsin
Next, consider hosting giveaways during your event. I recently attended a conference where they gave away 50 copies of a book written by the keynote speaker, and they announced the winners at the last session of the day. This is a great way to get people talking, as the winners will want to share their prize, and it will keep attendees engaged all day long, through the last session.
Be sure to also have someone whose sole job is to post live updates and engage with attendees on social media in real time during your event. It's a great idea to take short videos during sessions and post them to TikTok or stories almost in real time. Attendees will want to share all the great content and experiences they've had, so these types of posts get a lot of engagement.
This spokesperson will also be able to quickly respond to user posts during your event, both positive and negative. As many event professionals would agree, not everything goes to plan. The best way to keep attendees satisfied when things go wrong is to kindly acknowledge any issues and let them know you are actively working on it. The last thing you want is to completely miss or accidentally ignore on-site issues during your event.
11. Promote your event after it's over
Event promotion extends after your event as well. Make sure you send out a post-event thank you email to all your attendees thanking them for coming. This is the perfect opportunity to thank everyone who made the event possible, distribute a post-event survey for attendee feedback, and announce next year's event information.
Another simple and fun idea is to put together an event wrap-up blog post, where you highlight the best sessions and tidbits of information learned at your event. You can embed your attendees' social posts, include quotes or videos from sessions, and add testimonials if you have them available.
Lastly, don't forget to make your sessions available on demand digitally after your event has concluded. This is a great way to keep attendees thinking about your event even after it's over, because they'll be able to virtually attend any sessions they missed out on. This is a big positive for the overall attendee experience, and it will increase the general appeal of your event in the future.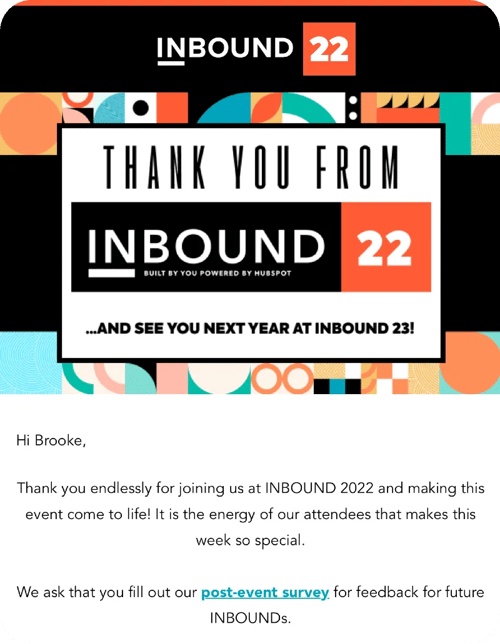 The post-show email with attendee survey sent out by HubSpot after INBOUND 2022
Now that you hopefully have some good ideas in mind, the next step is to figure out at what point in your event promotion strategy you should implement them. I've added a timeline below as a rough guide to get you started, but it's certainly something you can tweak to suit your needs.
Event Promotion Timeline
1 year before your event
Set up a simple form where people can sign up to keep up to date with key updates, speaker announcements, early bird registration, etc.
Start working on event branding, either from scratch or making tweaks to the previous years'
Start setting up personalized email workflows
Create a public Facebook event
6 months before your event
Finalize your event branding
Start using your event hashtag
Launch your event website or landing page
Post about your event in social media groups
Start producing content marketing assets – aim for one piece of content per month (blogs, podcasts, YouTube videos, etc.)
Promote early bird pricing
Promote early speakers and sponsors
Activate email workflow campaigns
3-4 months before your event
Send last minute early bird pricing reminders
Launch paid advertising to internal lists, lookalike lists, and interest groups
Have influencers and partners start posting about your event
Run a social media contest for a free entry or VIP experience
1-2 months before your event
Launch retargeting ads
Create a social media filter
Post behind-the-scenes content on social media, especially TikTok and Instagram
2-4 weeks before your event
Use last call messaging
Send a finalized schedule to attendees so people can plan their event
During your event
Encourage hashtag usage
Engage with attendees and answer their questions promptly
Post about upcoming speaker sessions
Post share-worthy video highlights to social media
Take plenty of photos
After your event
Send a thank you email to attendees
Send a post-event survey
Write an event wrap-up blog
Post about your successful event on social media and link to a form where people can sign up to learn about next year's event
Determine the success of your marketing efforts and where you can improve for next year
The cycle begins again!
Promoting your event can be overwhelming, but hopefully these tips make it a bit more approachable. Don't worry about implementing every single idea - doing even a few of these things will put you ahead of the game and have a big impact on your bottom line. Your marketing strategy will go through constant changes and iterations, so you can always go bigger and bolder next year!