Promoting a conference, seminar, or networking event can be tricky. Even with a solid event marketing plan in place and plenty of buzz on social media, you can never be sure how many people will sign-up. So, what's the key to getting more people in the door and participating in your event's programming?
Hosting an awards ceremony is a great place to start. After all, who doesn't love having the opportunity to earn an industry award and celebrate their achievements? In this article, we'll cover the basics of hosting an award ceremony to boost event ROI, from increased ticket sales to better brand recognition. You've got this!
What is an award ceremony? 🏆
An award ceremony involves giving a prize to a person, team, or company that has accomplished a goal or demonstrated excellence in their field. Depending on the nature of the event, an award ceremony can be formal or informal. It can also be a stand-alone event or part of a larger meeting.
Participants can earn virtually anything as an award, but the most common types of prizes include trophies, framed certificates, pins, plaques, ribbons, statuettes, complimentary tickets, and other items of value.
Top Reasons to Host an Event Award Ceremony
Awards are a powerful motivator. Not only do awards recognize a job well done, but they also serve as a testament to hard work, dedication, and passion. The benefits of hosting an awards ceremony at your conference don't just stop there. Here are the top reasons to incorporate an awards ceremony into your conference agenda:
Create buzz around your conference.

Not all seminars and tradeshows feature ceremonies. The right award program can help you stand out, especially if only a few conferences in your industry host them.

Increase brand awareness and engagement.

There are countless ways to showcase your event's personality. Feature award categories that make a statement and contribute something positive to the experience.

Gain an additional stream of revenue.


While there are countless ways to monetize your event, charging a small entrance fee is a unique way to generate more profit in addition to selling tickets and finding event sponsors.

Increase social media shares.


Want to help your event gain more visibility? Use the power of social media. Most award recipients will want to share their big accomplishments with their social networks, which leads to more exposure for your event.

Improve your chances for positive press.

Event marketers know the power of great media coverage. Hosting an award ceremony can make your conference newsworthy for industry publications, content creators, influencers, and other PR professionals.

Help participants feel valued and recognized.

Without exhibitors and attendees, there would be no event! Show how much you appreciate their participation by giving back something of value that they'll remember.

Provide an incentive to return year-over-year.

If you want to develop a loyal set of eventgoers, you'll need to give them a reason to return each year. Award programs and recognition opportunities are sure to be a hit.
Oftentimes, there is more to an awards presentation than meets the eye. While receiving praise is something we all enjoy, an award ceremony can be a highly strategic part of your event marketing strategy. People will stick around longer, have a reason to network and celebrate with one another, and head home with a meaningful memento they can display at home or in the office.
Understanding what you stand to gain from hosting an awards ceremony can help guide whether it's the right strategy for your next event. If you're ready to jump into planning, read our next section for tips on how to make your award presentation a memorable one!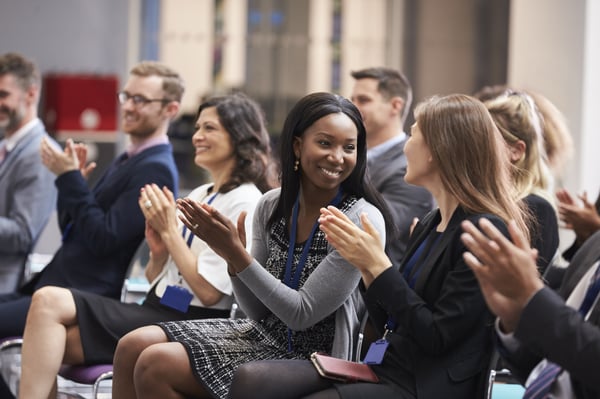 6 Ways to Make Your Conference Award Ceremony More Memorable
Whether your award presentation draws ten people or ten thousand people, you'll want to make sure it's highly entertaining and engaging. Not sure where to start? Here are our favorite ways to make your ceremony more meaningful to recipients, sponsors, and audience members.
1. Let people get creative with how they submit entries.
In our digital world, an award-winning entry doesn't necessarily need to be written. While there is nothing wrong with submitting an essay, one way to make entries more interesting is to invite people to submit a video of themselves, their team, or their company. This is a great way to add a visual element to entries, while still making a compelling case to the judges. Plus, you can play the videos at your ceremony to add some excitement to the overall experience!
The best part is that you don't need professional video editing software to enter. In fact, no video editing experience should be necessary. Instruct people to use their smartphones and free video editing software or a social media platform like TikTok to create their video. Remember to write guidelines that outline your expectations for video entries.
2. Incorporate awards into your event's sponsorship packages.
Event sponsors aren't just there to help you defray costs; they're there to support your event's mission in exchange for something of value. For example, you may offer perks such as discounted event tickets, speaking opportunities, access to attendee data, or increased brand exposure to thank your sponsors for their support.
If you're designing sponsorship packages for your event, why not include your award ceremony in the mix? For instance, allow high-level sponsors to either name or create an awards category related to their brand. This is a relatively low-cost way to help sponsors feel recognized and valued for their monetary contributions.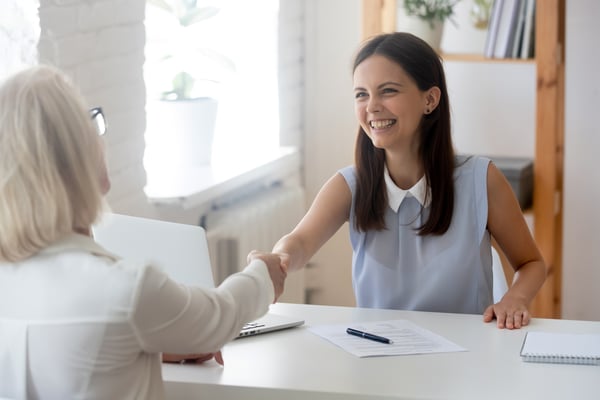 3. Create an exciting assortment of categories to choose from.
Brainstorm a variety of categories you want to feature as part of your presentation. The more categories you have, the more variety of applicants you'll receive. However, don't go too overboard with categories, as you'll run the risk of losing the attention of your audience! In general, it is best to keep your ceremony to an hour or less.
Variety is key to any great awards presentation, so use it to your advantage. Create a balance of traditional and non-traditional categories. Don't be afraid to have some fun with the awards you choose! This is a great way to improve attendee engagement and create intrigue among future attendees.
4. Offer conference swag and giveaways to everyone, not just winners.
People love getting free gifts, especially if they are items that are relevant and useful. Giving out promotional giveaways at your award presentation can help draw attention to your brand, incentivize attendance and leave a lasting impression on your audience. The goal is to get everyone talking about your brand, so provide gifts to everyone who comes.
Branded swag bags, promotional items, and giveaways are a fun way to keep people engaged at your event. If you're looking for a list of conference swag ideas, here's a list of some of our customers' favorites:
Looking for a way to recognize virtual award ceremony participants? Send nominees a custom-branded gift box to their home or office. Include event-branded items, a treat, a gift card or a handwritten note to make the box feel complete.
5. Create an award category that honors those who give back.
Awards are a great way to say "thank you" in a tangible way, especially when your conference involves fundraising or volunteerism. Sometimes words aren't enough, so use your award ceremony as a platform to show your gratitude and encourage more contributions to a good cause.
While your program may primarily focus on recognizing excellence in your industry, honor organizations that align with your conference's mission and values. For example, if your meeting values environmental stewardship and waste reduction, create an award category that recognizes companies who implement sustainable initiatives.
6. Create a networking event to celebrate the winners.
Awards ceremonies are cause for celebration! A meal, cocktail hour or entertainer can help extend your event and give recipients the opportunity to mingle amongst each other. To promote a laid-back atmosphere, consider pairing your program with live music, a stand-up comedian, a poet, a caricature artist or an illusionist.
For a more formal atmosphere, hire a keynote speaker or emcee. Featuring a unique speaker can leave a lasting impression and inspire your audience to take action. Select an engaging speaker who represents your brand. Having a solid speaker can help your program flow more smoothly and add entertainment value.
Ready to earn your next industry award?
Awards ceremonies mean much more than getting a trophy, ribbon or plaque. They are a tried-and-true event marketing strategy that creates memorable moments and a lasting impression of your brand. They are also a great way to upsell at your event, attract new attendees and create loyal ones who return year-over-year. Done right, an awards ceremony can play a big part in improving event ROI and aligning your brand's values with the needs of the audience.
No matter your industry or conference theme, an awards presentation can make your meeting more meaningful to those who attend. Got your eyes on an event that offers industry awards? Use the following template to start a conversation with your leadership team and improve your chances of securing the funding to attend.