As an event planner, you want your corporate party entertainment to be meaningful, memorable, immersive, and buzz-worthy. Sounds easy, right? We get it. Sometimes, thinking of fun event themes and stellar entertainment for corporate events is easier said than done. The pc/nametag team is here to help!
This week, we compiled a list of entertainment ideas for corporate events for every size, type, and style of gathering. We guarantee your attendees will rave about these event entertainment ideas long after your event is over! Which will you choose?
Corporate Event Ideas and Activities:
Conference Entertainment Ideas
1. Host a funny awards ceremony.
People love every chance they can get to have fun and celebrate their achievements, so why not host an impromptu award ceremony or recognition event at your event? Hand out lighthearted awards that are elected on-site or decided ahead of time. Funny award ideas include the following:
"Walking Encyclopedia Award" – for the attendee who loves to learn.
"Duct Tape Award" – for the attendee who can fix any problem.
"Stand-up Comedian Award" – for the attendee who makes everyone laugh.
"The Picasso Award" – for the attendee who has a creative eye.
"The Giphy Award" – for the attendee who's always sending .gifs.
"The Coffeeholic Award" – for the attendee who drinks lots of coffee.
"Mission Impossible Award" – for the attendee who pulls off crazy deadlines.
"Calmer of Storms Award" – for the attendee who keeps calm during stressful projects.
"Brainstorming Wiz Award" – for the attendee who brings new ideas to the industry.
Create a cohesive experience by featuring corporate comedians who actively engage attendees and keep the laughs going. Organizations like the Funny Business Agency can assist event organizers in finding the perfect act for their next gathering.
2. Set up an interactive mural or art display.
Let attendees unleash their artistic abilities! A large mural is a perfect way to keep eventgoers busy and engaged. Companies like The Monster Mural and Wall and Wall can customize your mural for your event, or you can DIY your own interactive art display. Whether attendees paint, color, or draw, remember to customize your mural to your event. The activity should reflect your mission, vision, or brand for the best results!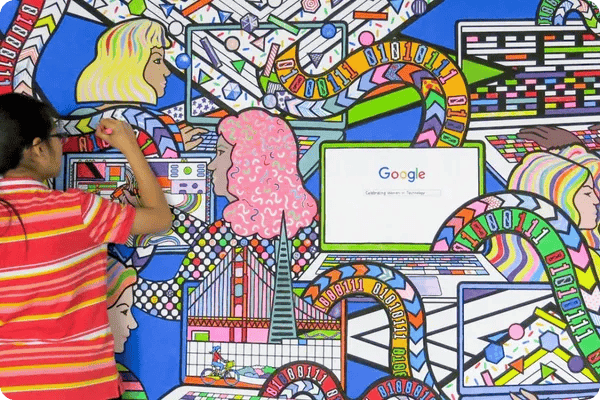 Photo Source: Fancy Features
3. Offer a photo booth to increase social sharing.
Photo booths, Polaroid spots, and jumbo selfie mirrors are the perfect addition to any event. Not only are they great event-branded keepsakes, but they also encourage social sharing on LinkedIn or other social media platforms. Design a custom photo frame with your event's logo, branding, or unique hashtag to include in photos. Then, instruct attendees to share their photos on social media using your event's hashtag.
4. Host a trivia game or pub-style quiz night.
Who doesn't love trivia? Get attendees connecting with one another by planning a series of questions about your organization, industry, or fun topic. Create a game in the style of Family Feud, The Price is Right, or Minute to Win It. Finally, select a playful game host to manage the game and surprise winning teams with event-branded gifts.
Tag Tip:

Need customizable promotional products? pc/nametag has you covered with items they'll love, like sunglasses, mugs, water bottles, t-shirts, technology, and more!
5. Transport attendees into virtual reality.
Virtual reality (VR) is one of the hottest audience engagement tools to feature at your event! Create a buzzworthy activity at your conference with an interactive experience they will rave about. Companies like Virtual Reality Rental Co. will help you create a branded experience that fits your attendees' interests and event themes. Simply wear a virtual reality headset and they'll be transported to a whole new world!
Party Entertainment Ideas
1. Host a board game night.
A board game party is a great way to bring guests together for some interactive fun. First, choose a few board games that everyone can enjoy. Make sure you have enough copies for everyone playing or have alternate activities available for those who don't want to play. Next, plan out a snack menu including appetizers, drinks, and treats. Finally, add an element of competition by putting together prize baskets for individuals or teams that take first place.
2. Get artsy with a Paint and Sip party.
Let guests gather to create their own artwork while enjoying a beverage of their choice. Start by hiring a local artist to guide everyone step-by-step through the process so even those who have never picked up a paintbrush before can create a beautiful painting to take home. You can even add an element of philanthropy to the event by painting greeting cards for local nursing homes, hospitals, or a non-profit charity.
3. Make your own desserts at a s'more bar.
Who doesn't love the gooey, chocolaty goodness of a freshly-made s'more? A s'more bar is a fun and interactive dessert station where guests can make their own s'mores by roasting marshmallows over an open flame and sandwiching them between graham crackers and chocolate. This delicious treat is a classic campfire favorite that is loved by people of all ages. Let guests customize their s'mores with unique toppings, dessert sauces, and more. Use an electric s'more kit if your event is indoors.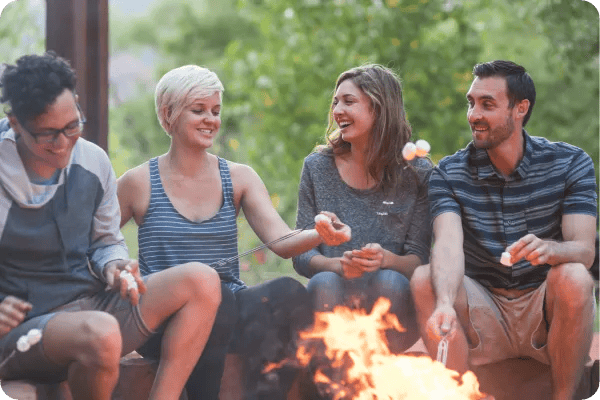 4. Flex your acting skills in a game of Charades.
Charades is a classic party game where players take turns acting out words or phrases without speaking. Players can act out anything from movie titles to song lyrics, popular phrases, and everyday actions. Charades is also a great way to break the ice if guests are not familiar with one another. Try customizing the prompts to mirror your event's theme.
5. Compete in a video game tournament.
A video game tournament is sure to liven up any party. Whether you're having a small gathering of friends or a large event, a tournament will add some friendly competition to the festivities. The best casual party video games are ones that are easy to learn and don't take too long to play, such as Mario Kart, Guitar Hero, Just Dance, and Mario Party. These games are fun for new and experienced players.
Entertainment Ideas for Outdoor Events
1. Organize an interactive picnic.
Picnics are the perfect way to relax outside of work, while also bringing people together to have fun. Enjoy the outdoors with food and activities, like a bean bag toss ("cornhole") tournament with company-branded boards and prizes. You might also put together interactive picnic baskets for attendees filled with company-branded leisure gifts. For instance, assemble baskets with a yoga mat, water bottle, towel, sunglasses, and thank you card.
2. Book a caricaturist or cartoon artist.
Looking for unique party entertainment ideas? Booking a caricaturist for your corporate event is sure to be a blast! You will entertain guests while also giving them a fun souvenir to take home. Drawings take five minutes or less and will leave people of all ages laughing and having fun. Most caricature artists charge around $125 - $150 per hour, making this service an affordable corporate event entertainment activity. Drawings can also be digital, physical, black and white, or in color.
3. Set up a henna tattoo station.
Incorporate the ancient body art of Mehndi into artistic entertainment! Henna tattoo artists can apply pre-made or custom designs on guests' hands or arms, giving them beautiful art to wear as a reminder of your event. Not only does henna provide great branding opportunities, but it also makes for unforgettable pictures! Henna lasts approximately two weeks before it fades. Face painters are also a family-friendly option for any occasion.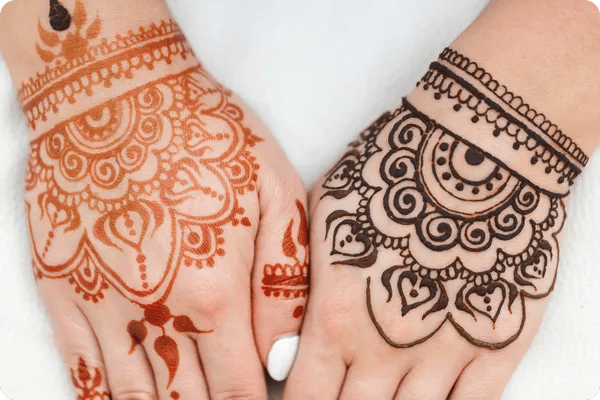 4. Create a friendly competition with rapid-fire games.
Games and activities that take ten minutes or less are ideal for corporate events because they keep energy levels high! Let brave contestants compete for bragging rights, prizes, or a team trophy. Need ideas? Company picnic games include the following:
Paint or draw the best company logo.
Decorate the best cake, cupcake, or cookie.
Mix up the best mocktail or cocktail.
Act out a rousing game of charades.
Flex your artistic skills with Pictionary.
Hide clues for an outdoor scavenger hunt.
Host a ring toss, bag toss, or horseshoe tournament.
Split up teams to compete in a relay race.


5. Host a puppy party.
Corporate puppy parties... what's not to love? Help your guests relieve stress with a "puppy pawty!" Not only will everyone love having the chance to play with puppies (or kittens), but you'll also support a local adoption organization by giving available animals a spotlight. Set up a box for donations to help benefit the organization, especially if it is a non-profit rescue.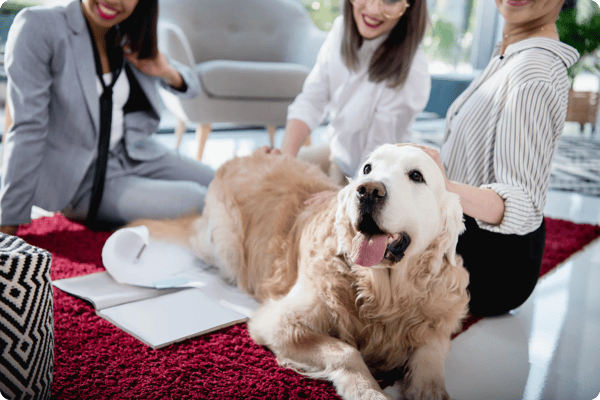 Entertainment Ideas for Black Tie Events
1. Sing along to dueling pianos.
Dueling piano shows are one of the most unique dinner party entertainment ideas you'll encounter! These upbeat shows are custom-tailored to your event and get guests laughing the night away. Two pianists play on stage, taking song requests, singing, and "battling" back and forth with comedic commentary. Take the experience to the next level by allowing the pianists to bring patrons on stage for a customized sing-along!
2. Host a corporate cocktail party.
Make your own cocktails! Mixology classes are sure to entertain your guests. They'll learn how to mix up their favorite drinks and sample them along the way. This activity is the perfect pairing with Happy Hours, letting guests mix and mingle in a relaxed atmosphere. Liquors, mixers, garnishes, and equipment are provided. Need a DIY option? Feature easy cocktail (or mocktail) recipes and lay out the ingredients for guests to assemble.
Tag Tip: Mocktails are a tasty and inclusive beverage option for attendees who prefer not to drink. Get guests excited by hosting a mocktail competition. Whoever creates the best drink in three minutes is the winner!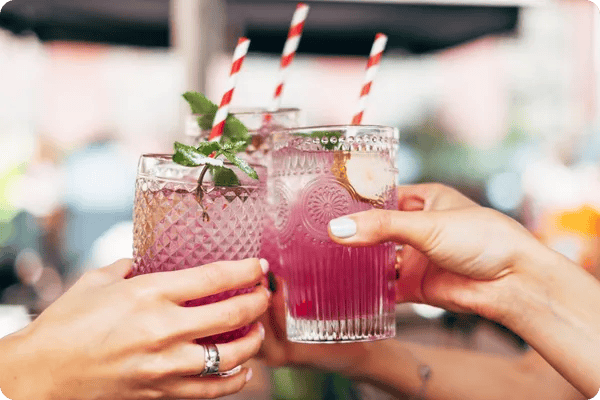 3. Bring the magic with a magician.
Even as adults, we never truly lose interest in the beauty of magic! Corporate event magicians will mix and mingle with guests for up-close, mind-boggling tricks. This is a tried-and-true method for keeping crowds entertained during receptions or between courses at dinner. You can also book a traditional show where guests are invited on stage to play a part in the magic. Either way, the show is bound to amaze.
4. Get a photo with live statues.
"Living states" are people who use extremely realistic clothes, makeup, and poses to look like statues. The more realistic, the better! Encourage guests to strike a pose with your event's statues. Then, invite them to post their photos on social media using your event's hashtag. You can even take your statues one step further by customizing them to fit in with your company's theme. Cardboard cutouts are a great cost-effective alternative!
5. Bring on the glitz and glam at casino night.
Bring the fun of Vegas right to your event! Roulette, Craps, Blackjack, Poker... the options are endless! Your guests will love having a ritzy night out at your makeshift "casino." Raise the stakes by letting guests play for raffle tickets as "earnings." Then, at the end of the event, set out a prize table filled with drawing boxes. Attendees will love the thrill of playing games and having the chance to win great gifts.
Entertainment Ideas for Fundraising Events
1. Book a typewriter poet.
Use the power of language to bring everyone together! Typewriter poets, like those from the Poetry Society of New York, write spontaneous poems for guests to take home as meaningful mementos. Create a sign with a suggested donation amount attendees can give in exchange for a haiku or mini free verse poem. You may also let attendees donate digitally using a mobile app like Venmo or Cash App.
2. Customize bingo cards.
Bingo is the ultimate fundraising activity! There are limitless ways to customize the game. First, have attendees donate money to earn a bingo card. Then, play songs and let attendees mark them down on their cards. Or highlight event sponsors by letting them "purchase" spaces on the bingo cards. Print all participating logos on the card to increase the value of sponsorship and improve brand recognition.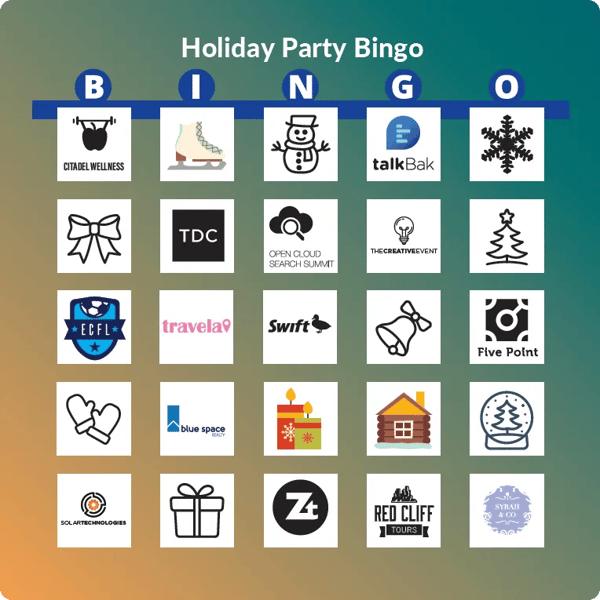 A custom BINGO card by pc/nametag featuring event sponsor logos. Call for details!
3. Pop a balloon for a chance at a prize.
Pop, pop, pop! Raise money for your next non-profit event with the balloon-popping game! Write prizes on slips of paper, put them into balloons, fill them with air, and sell them for a set price. Instruct participants to pop their balloons and see what they've won! Up the ante by leaving some pieces of paper blank (or writing "Thanks for participating!") Slips of paper with prizes on them can be redeemed at the booth.
4. Place your bids at a goofy auction.
Playful auctions are a great way to get everyone contributing to your fundraising event. Ask participants to donate something fun, silly, useful, or unexpected to the charity auction. Tickets, snacks, kitchen items... anything goes! Then, auction off the items while asking for volunteer "auctioneers" from the crowd. Thank participants with a candy bar or small gift.
5. Let guests tie-dye branded shirts.
Want to send guests a wearable memento from your event? Set up a tie-dye station! Let guests donate money to receive a white, cotton t-shirt. Then, let them show off their inner Van Gogh with colorful dye and rubber bands. Make this activity even more fun with brandable t-shirts that are screen printed with your logo, motto, or hashtag.
Virtual Event Entertainment Ideas
1. Compete in a virtual escape room.
Virtual escape rooms encourage participants to band together to find hidden clues, solve puzzles, and complete quests. This option is perfect for remote team building and engagement. Browse this list of virtual escape rooms from our friends at TeamBuilding, or book a large-group escape room with Let's Roam Teambuilding, a company that offers virtual escape rooms for groups of 2-500+ people.
2. Get cooking with a virtual cooking class.
Online cooking classes are perfect for virtual events, as they teach attendees how to prepare food, learn chef-level techniques, cook delicious recipes they can recreate, and bond with colleagues. Simply send a box of ingredients to each attendee prior to the event, or provide a list of items to buy beforehand. Some companies like Team Class will ship attendees kits and host cooking classes for you.
3. Plan an in-home scavenger hunt.
Let attendees participate in a scavenger hunt from the comfort of their homes! Split guests into teams, then provide a list of items in their homes to find, actions to complete, or clues to solve. Start the clock and have each team race to find as many items (or solve as many riddles) as possible. Have the event host coordinate the activity on Zoom, Teams, or Slack. Whichever team is the most successful at the tasks at hand wins!
4. Solve the riddle with a virtual murder mystery party.
Interactive murder mystery games are sure to impress! Not only do they cater to a wide range of guests, but they also get participants to interact with one another in a unique way. Let participants follow a ready-made topic of conversation as they mull over clues and solve the mystery. Escapely offers a virtual murder mystery party, while TeamBuilding offers a list of free and paid options for all budgets.
5. Assemble corporate party boxes.
People enjoy activities they can bond over. Bring your virtual or hybrid event attendees together with an "Activity in a Box." Fill a box with everything they need to participate in an online activity, then send it directly to their homes. Need ideas? View unique gift box ideas here. For larger events, consider working with a company like pc/nametag that can customize, assemble, and ship boxes on your behalf.
Corporate Mixer Ideas and Tips for Planners
Event planners know that the most successful corporate events cater to their audiences, inspire memories, and accomplish set goals. While you're busy exploring entertainment ideas for corporate events, remember to keep the following tips in mind:
1. Host with a purpose.
Once you know your audience, set a clear objective for your event. For example, do you want to raise funds for a charitable cause? Do you want to promote interdepartmental connections? Design your event agenda and activities around this goal.
2. Explore your event budget.
Always keep your event budget in mind. Quality event entertainment can cost as little or as much as your budget allows. If money is tight, consider partnering with event sponsors to help cover costs and fees. Work with vendors to negotiate costs when possible.
3. Know your audience.
What does your audience want out of your corporate event? Do they want to be entertained, inspired, or excited for a cause? Select your corporate event entertainment based on what will resonate most with your audience. At the end of the day, your entertainment should tie back to your event brand and event goals.
4. Explore creative event theme ideas.
Looking for the perfect event theme? Make your next meeting, conference, or corporate team-building activity a blast! Explore our round-up of 100+ creative event themes anyone can use to add an extra touch of festivity that guests will love. These ideas will help add a "wow factor" to any gathering you host.
5. Research corporate event entertainment options.
Did you know that you can create an unforgettable event experience while also supporting economic empowerment for Black-owned businesses? Here's a list of popular Black-owned event entertainment companies to hire for your next bash.
Event Entertainment Ideas: Tell us your favorites!
We are constantly looking for new and innovative entertainment ideas for fun corporate events. Have you hosted an unforgettable event with a unique theme? We want to hear about it:
What is your favorite evening entertainment for corporate events?
What are your favorite interactive corporate event ideas?
Has your company done any fun event ideas?
Leave a comment below to share your idea with other readers.