What happens when you gather 12,000 meetings and events professionals for four days of learning, networking, and fun? You get Cvent CONNECT 2022!
Cvent, the largest technology provider for planning and executing meetings and events, drew 2,000 live attendees to its annual Cvent CONNECT conference in 2022, which took place at Caesars Forum in Las Vegas. A staggering 10,000 professionals also tuned in virtually for this state-of-the-art hybrid event.
This year, the pc/nametag team had the opportunity to attend Cvent CONNECT in person. To say we had fun is an understatement. The entire experience surpassed our expectations and taught us valuable lessons we won't soon forget.
In case you didn't get the chance to attend this year (or you just want to relive the best moments of #CventConnect22 with us), read on to discover our top lessons learned around diversity, equity and inclusion from Cvent's hybrid conference.
Five Take-aways from Cvent CONNECT 2022
1. Event professionals are learning how to create a more sustainable event.
Conferences create a massive amount of waste and carbon emissions each year. In fact, our 2022 Sustainable Meetings Survey revealed that 87% of event professionals believe the amount of waste generated by today's events needs to be improved. Let's challenge the status quo, explore our environmental impacts, and rethink how to host more sustainable conferences. 💪
We spoke with hundreds of event professionals at Cvent CONNECT 2022, many of whom were eager to implement more sustainable event supplies at future meetings. It was inspiring to see how dedicated meeting professionals are to creating unique experiences that also embrace sustainability.
Our greatest advice is to take little steps that create a big impact. For instance, 100% recyclable Eco Event Passes, recycled lanyards, or biodegradable name tag holders are all eco-friendly options that will lighten your meeting's footprint. Plus, they tell a great brand story and leave an impression!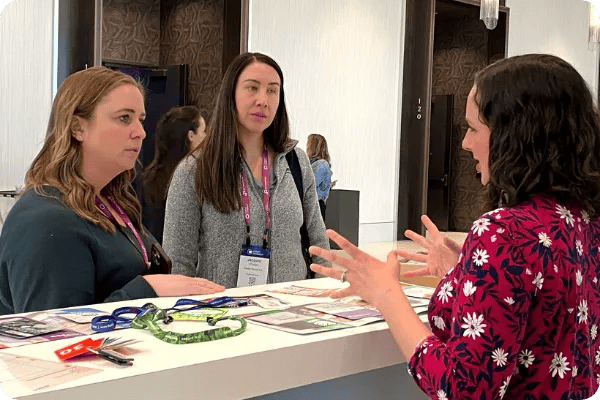 Two Cvent Connect attendees learn more about making sustainable choices at events.
2. Technology can empower us to host inclusive, ADA-accessible events.
We were beyond excited to see Nyle DiMarco, an influential leader and ambassador for the deaf community, serve as a keynote speaker at Cvent CONNECT 2022. Many of you will recognize DiMarco as the winner of both America's Next Top Model (2015) and Dancing with the Stars (2016), but he is also widely known as the founder of the Nyle DiMarco Foundation, which works to improve the lives of deaf people around the world.
In his keynote speech, DiMarco shared his experience as a deaf man who has risen above stereotypes to take the world by storm. He described many ways to make the event experience more accessible to everyone. First, he suggests hiring deaf individuals to serve on event planning teams to improve representation. He also suggests leveraging different forms of technology to provide subtitles, boost accessibility, improve attendee engagement, and foster inclusion.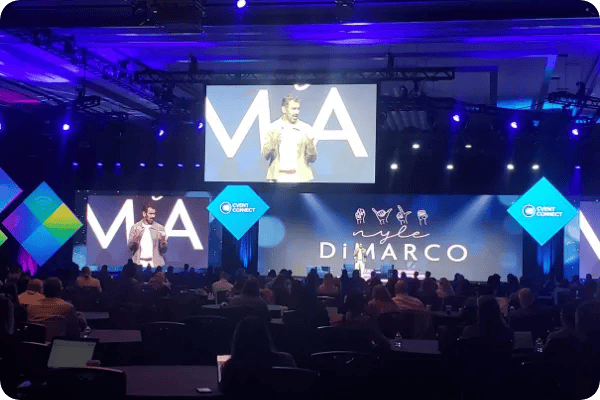 Nyle DiMarco gives a keynote presentation at Cvent Connect 2022.
Interested in learning American Sign Language (ASL)?

Download The ASL App to begin learning signs today! This app was created by DiMarco and other native deaf signers to help teach conversational American Sign Language. He says this app has helped countless people around the world learn more about the beauty of Deaf Culture and ASL as a language.
3. Have patience and be kind to yourself, especially when times are tough.
The outstanding keynote speakers didn't stop with Nyle DiMarco. The 2022 conference also featured Allyson Felix, the most decorated woman in U.S. track and field history and a five-time Olympian. At the age of 18, Allyson won a silver medal at the 2004 Olympic Games. She then went on to compete at the 2008, 2012, 2016, and 2020 Olympics, winning a total of 11 medals. Today, Felix is the Founder of Saysh, a lifestyle brand that creates products for and by women.
We were incredibly inspired to hear Felix's experience with balancing her time as a professional athlete, mother, wife, and business executive. Our favorite takeaway from Felix's presentation was how important it is to give yourself time to succeed.
Too often, we find ourselves looking for "quick wins" when the best is yet to come. Felix says a mix of perseverance, dedication, and patience is proven to help you accomplish any goal. You don't need to be an Olympic athlete to dream big and accomplish anything you put your mind to! If at first you don't succeed, try again. 💖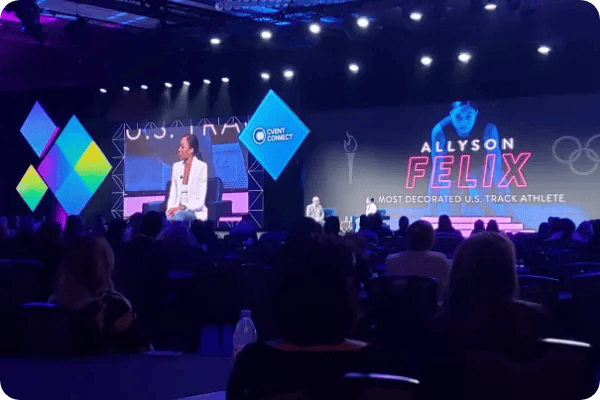 Allyson Felix gives a keynote presentation at Cvent Connect 2022.
4. Where there's adversity, event professionals create opportunities.
One breakout session we attended and loved was called "How to Win Planners' Hearts, Minds, and Business." This session featured a panel of thoughtful experts that touched on the future of events and what to expect from yourself and others.
"The reason attendees went to events in 2019 is not the same as the reason they attend in 2022," says Jessie States, VP of MPI Academy at MPI. "Today's attendees want events that are designed with intention, and experiences that are meaningful. Give them an experience that's so entirely unique that they can't possibly imagine missing it."
In addition to this advice, another speaker took the time to remind event professionals that when times feel tough, it's important to remember that what you're doing is enough.
"The last two years gave us the opportunity to take a break and reset," says James St. Peter, Executive VP at Prestige. "Remember to reflect on what's most important in life. It may not always be your work. Don't miss the opportunity to capitalize on the rest of your day to accomplish your goals."
As event professionals work to manage their goals and objectives, a third speaker spoke to the importance of self-care, self-confidence, and teamwork.
"Require flexibility not just from your suppliers, but also from yourself," says Marianne Flood, Sr. Conference Manager at Morningstar, Inc. "Roll with the punches and let yourself figure things out. Use collaboration to work together, learn together, and create great camaraderie on your team."
This session inspired us to always find meaningful moments in the work we do every day. Use this mindset to help you push through hard times, especially when managing mental overload and implementing wellness practices in your day-to-day life.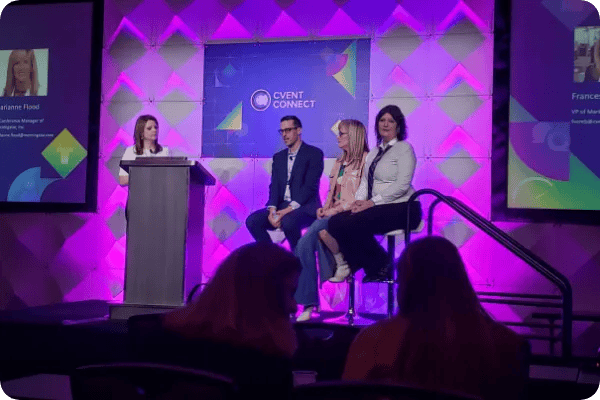 Pictured from Left to Right: Francesca Vereb, James St. Peter, Marianne Flood, and Jessie States
5. Badge ribbons help create memorable, in-person networking experiences.
Cvent CONNECT attendees made one thing clear: They love their badge ribbons! Attendees could not seem to get enough of the conference's badge ribbon wall. We saw first-hand how powerful badge ribbons are in breaking the ice, starting conversations, adding identifiers, and getting attendees to talk with one another. Not only did people have fun wearing them, but they also used them to network and highlight their unique personalities.
One of our favorite parts of the badge ribbon wall experience was seeing how attendees used badge ribbons to personalize their meeting experience. Some people expressed their excitement to be in Las Vegas with ribbons like "Happy to Hug" and "Yes, We're Back!" Others took pc/nametag's badge ribbon quiz to find out which ribbon best defined their personality.
Which ribbons did you grab for your badge? Let us know in the comments!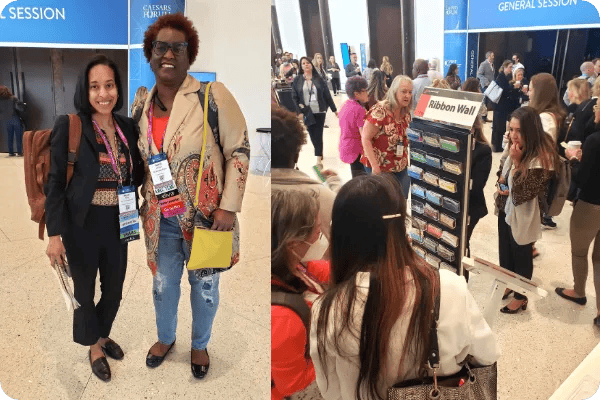 Cvent Connect attendees had a blast picking out ribbons for their event badges!
Final Thoughts on #CventCONNECT
Education. 📚 Professional networking. 👋 Friendship. 💖 Fun. 🎉 These are just some of the words we would use to describe our unforgettable experience at Cvent CONNECT 2022.
From day one, we were reminded of how important events are to the human experience. We learned new perspectives from a diverse set of speakers, formed connections with suppliers, networked with friends, and inspired ourselves to create positive change in our industry. It also didn't hurt that we had a little fun at the Innovation Pavillion and busted out our best dance moves at Drai's Beachclub & Nightclub!
Whether you attended in-person or online, we are sure you'll agree that this conference served as a testament to the power of events. We came. We connected. We made memories. And we cannot wait for next year.
What did you love most about this event? Reply in the comments or tag us on social media!