The beauty of events is that you are never too old or too young to make an impact. Event professionals of all ages bring their own unique gifts and abilities to the industry.
However, according to Janet Sperstad, CMP Fellow, stigmas and misnomers do still exist between event professionals of different ages. She says every planner has their own preference for communicating, collaborating, and operating, which can lead to disagreements in the workplace without a plan in place.

How, exactly, can planners of all ages work together to inspire change and advocate for industry growth? Read on to find Sperstad's insight on traversing the generational gap between Generation Z, Millennials, Generation X, and Baby Boomers.

Table of Contents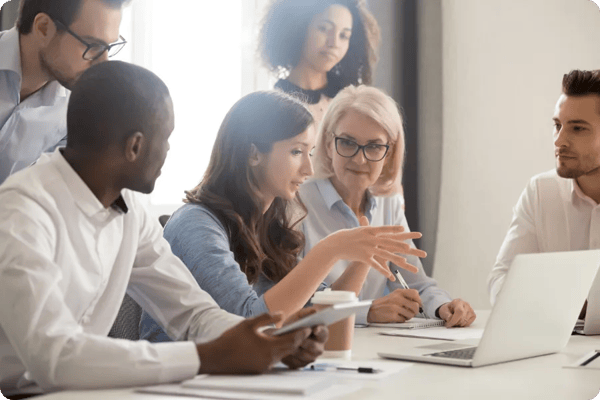 Meet the Event Management Program Director
As Faculty Director and Program Director at

Madison College,

Janet Sperstad, CMP Fellow

is passionate about driving excellence in meeting and event management execution and education. With 25+ years of experience, she has dedicated her career to defining the competencies and career pathways that articulate meeting planning as a profession.
Sperstad leads the Event Management Associate Degree Program at Madison College, which she founded in 2002. This award-winning program is recognized for offering the greatest number of meeting and event management credits in the United States and has served as a model for other programs at colleges and universities in North America and Europe.
Ask an Events Industry Thought Leader
pc/nametag: "Janet, how did you become involved in meetings and events?"
Sperstad: "Before teaching, I was an event professional in the association and corporate sectors for multiple decades. I started in the state association world, then went on to a Midwest corporation where I did large-scale beauty events. Here, we sold around one million dollars worth of hair, skin, and nail products on the show floor.
From there, I wanted to try national events, so I worked for a corporate 200 company and did their national business events including a mix of corporate retreats, customer interfacing engagement events, stakeholder and board meetings, and incentive trips.
My passion for planning eventually led me to start my own professional event management agency. I was a company of one for several years and loved it."
PCN: "What inspired you to establish the Event Management degree program at Madison College?"
Sperstad: "While working for my event agency, I realized that I was tired of telling people that event planning is not just a job; it is a career. This led to the idea of creating a degree program to help people truly understand the value of this field.
Me and five other industry colleagues banded together to brainstorm. We used the Certified Meeting Professional (CMP) certification as our guiding body of knowledge, then got to work talking with colleges and universities about their interest in developing a degree program. Madison College in Madison, Wisconsin said they were interested in accepting our idea for a degree, and here I am today as the program director."
PCN: "Was it a difficult decision to close your event agency and begin teaching?"
Sperstad: "During my interview with Madison College, they asked why I wanted this job. This was a particularly interesting question because deep down, I knew that if I took on teaching, it meant I had to close my business.
After some thought, I replied 'Why wouldn't I get up and do what I love every single day?' I simply could not think of a single reason I did not want the job. I have always been passionate about helping people explore meeting and event management as a distinct career field that is separate from hospitality.
So, I got the job and closed my agency. I have been a program director now for many years—longer than I thought I would be. But you never know what life holds. The following quote says it all; it is my north star in decision making."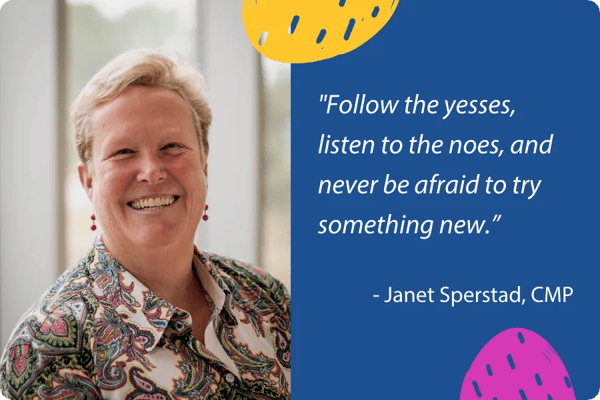 PCN: "What do you love most about teaching incoming event professionals?"
Sperstad: "One thing that teaching and events have in common is that you never do the same thing twice. Every event and every class has similarities, but it is the people who make each experience unique.
I love teaching the next generation of event professionals because everyone brings their own gifts to the table. The unique perspectives and knowledge that students share with me keep things fresh and keeps me inspired.
There is nothing more rewarding than helping people find their 'Ah-hah' moments. It is exciting to see my students share their own knowledge with me, with each other, with their employers, and out in the industry."
PCN: "What event planning topics are most inspiring to your students?"
Sperstad: "Event design and event sustainability are two subjects that leave many of my students feeling hungry for more knowledge.
For event design, my students want to know how to create an experience that is engaging and meaningful. They also want to understand the physical design aspects and psychology behind creating a successful experience. My students understand that event design is the key to helping them grow in their professions and progress from a logistical planner to a strategic planner.
For event sustainability, many of my students find that hosting a green meeting is more complex than they originally thought. It is not just about throwing a few recycling bins on the event floor; it is about creating an engaging experience that successfully reduces the carbon footprint of the event.
Climate change is real and impacting our daily lives. Everyone is dealing with it in their own ways. I served on the Green Meeting Industry Council board of directors and that experience provided me with a network of sustainability thought leaders that help me bring in real, relevant, reliable sustainability best practices and knowledge to my students."
Overcoming Event Planning Challenges, Together
PCN: "What are the biggest challenges you believe new event professionals face when entering the field?"
Sperstad: "Several challenges come to mind that many new planners may need to navigate:
First, new event professionals must understand the value of patience. Many of my students thrive on immediate gratification and the ability to access information with a click of a button. Instead, they must slow down and perfect the art of self-confidence, courage, and the ability to wait patiently. There can be more meaning and answers in the 'pause' than in a moment of action.
Second, new event professionals need to understand that the 'process' is as important as the 'output.' I will often make my students stop and sleep on things before giving me an answer. Thinking quickly and providing fast answers is important, but fully processing information, thinking things through, and looking at opportunities and problems from all angles is important. Event professionals are problem solvers, sometimes before problems even arise, so looking at situations from multiple perspectives is vital to being successful.
Third, planners must realize that different people and generations communicate in diverse ways. I teach my students that everyone operates differently. Not everyone you work with will give you instantaneous answers or agree with your ideas. Event professionals must work together to figure out how to help organizations be stronger, do more work and do more business together. I teach students who are born in multiple decades and most are not from my generation, so miscommunication can easily happen.
Overall, the next generation of event professionals must remain adaptable to what is happening in the market. Their newness, habits, behaviors, and ways of thinking will no doubt drive positive change. While change can be nerve-wracking, I do believe the next generation of event professionals will challenge our ways of thinking to meet the needs of event attendees and drive business results."
PCN: "What can new event professionals teach established event professionals?
Sperstad: "Incoming event professionals are beyond adaptable. They can change on a whim, take in the latest information, and adopt innovative ideas quickly. They are also driven to take measured risks. They consistently ask themselves 'Where has this been done before? How can we adapt it to add more value to our own event experiences?'
If there is one thing that the next generation of event professionals can teach us, it is that we cannot be afraid to try new things. As self-identified experts in our craft, we are highly efficient and have a strong structure of doing things a particular way. This approach means we may not always be nimble and excited to keep changing what works.
You see the cycle, right? New people bring in new ideas. New ideas bring in new opportunities of value and meaning for our events. Yet, we keep doing the same things out of efficiency because we know they work. We must not lose sight of new opportunities simply because we are afraid something may fail or take too much energy to execute.
When looking towards your end goal, do not overlook opportunities that could lead to a great new event experience."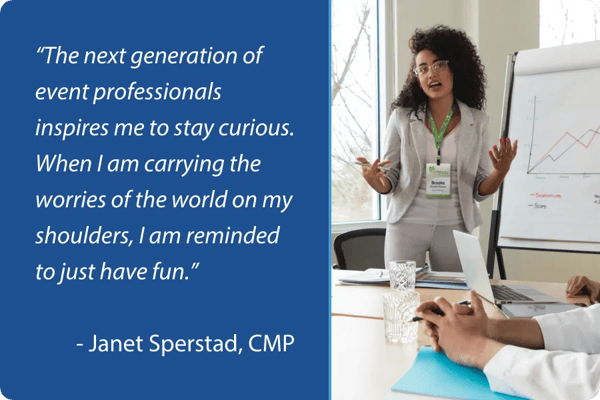 PCN: "Do experienced event professionals have misconceptions around new planners? If so, what?"
Sperstad: "When I started this program, there was a stigma that new event professionals simply don't know anything because they don't have previous hands-on experience. If you ask any senior event planner how they got started in this industry, often they will say they 'fell into it' and learned on the job. That is what they did, so that is what they value—'cutting your teeth' through the experience.

Today is different. There are many colleges and universities in the U.S. that have event management degrees. The next generation of event professionals is getting solid event management education that enables them to springboard into the career field. One is not better than the other, and both can co-exist to make someone successful."
PCN: "What can experienced event professionals teach new event professionals?"
Sperstad: "There are so many things that established planners can teach incoming event professionals. One of the biggest things is that we can help new event professionals find their voices and have confidence in making decisions. We have the wisdom, tools, and experience to teach them how to do that.
Speaking confidently and supporting your ideas is an art. I challenge my students to get comfortable with hearing their voices and using them with others, especially in a world where we live online. Real life is not always online. My students can use all the practice they can get."
PCN: "What is one thing that new and experienced event professionals can champion together?"
Sperstad: "Championing diversity, equity, and inclusion (DE&I) can bring together all types of event professionals. We work for and serve all types, kinds, and styles of people. It is in our DNA to accept people for who and what they are. This is a gift that the events industry can give the world right now.
Think about it: We have the world coming to our events! We build our events for the diverse people of the world. An event cannot be successful without being welcoming to all. Every planner, including students, needs to understand this critical piece of the industry.
I want my students to emulate what they learn from me out in the real world. I want them to recognize that being different is courageous. We must find ways to embrace and serve each other and our differences."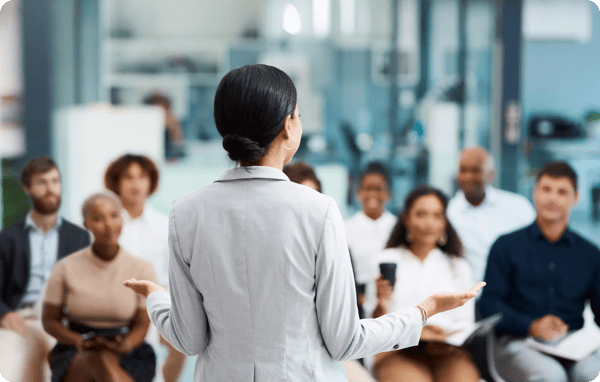 Earn Your Event Planning Degree from Madison College
Whether you are looking to kickstart your career or grow in your skillset, the Event Management Associate Degree Program at Madison College is the perfect place to start.
This program is built to provide the knowledge you need to build real-world skills and gain a competitive advantage in the market. Learn from Janet Sperstad, CMP, and other leading experts about the following:
Fundamentals of Meeting Management
Registration and Housing Logistics
Special Event Management
Exhibition Management
Meeting Design
Event Budgeting and Finance
Diversity Studies
Risk Management
Partnership Development
…and more!
To view the full curriculum, tuition costs, or apply for admission, visit the Event Management Program Page on Madison College's website.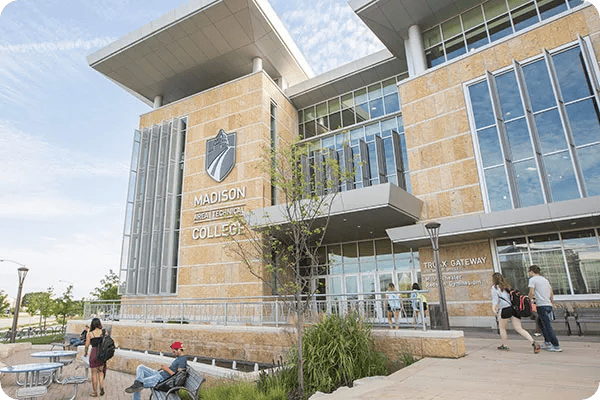 Grow Your Event Planning Skills Today
Many event professionals pride themselves in staying ahead of industry trends and finding new ways to improve the event experience. The following resources will help you become more efficient and grow in your career, no matter your level of experience:
What tools or resources have you used to grow in your career as an event professional? Let us know by leaving a comment below. If it is useful to you, it will be useful to others as well!