Event registration: To some planners, this process may seem like any other logistical necessity. But what if we told you that registration is one of the most important parts of your event marketing plan? Just as the check-in process can set the stage for an amazing event, it can also get your event off to a rocky start if done poorly. Your goal is to impress attendees the second they enter your venue, so plan to make the process smooth and enjoyable.
Looking for inspiration? Use the event planning strategies in this guide to create the best registration experience possible. By the time they're fully checked in, your attendees will be more excited than ever to attend your meeting!
Table of Contents
What is Event Registration?
Event registration is the process of collecting attendance-related information for a gathering. Webinars, conferences, expos, trade shows, virtual events, hybrid events, and symposiums are all examples of events that may require registration, especially if the meeting will draw a large number of people.
Registration metrics can help planners make important decisions, such as how to allocate spending, plan for catering, or even select an appropriately sized event space. Sign-in forms can be as simple as writing down names on a piece of paper, or as advanced as using an event registration software to collect attendee information, track attendance, process payments, and communicate with attendees throughout the event.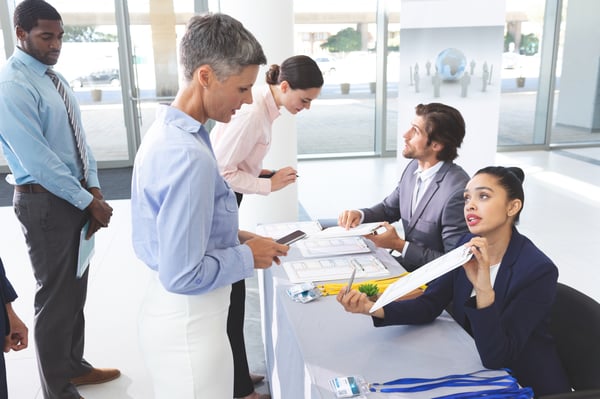 Registration is Crucial to Your Event Strategy: Here's Why.
What most planners don't realize is that registration is at the heart of any meeting. After all, it's the first step attendees take once they've decided to attend your event. It's the first "warm welcome" people get when they step foot in your venue. Simply put, the registration experience is the perfect opportunity to serve as a friendly face, build credibility and — most importantly — get people excited before they've even set foot in the expo hall.
Check out these three reasons why having a solid event registration strategy is so important:
1. Registration is the first step toward securing event attendees and sponsors.
While registration doesn't necessarily guarantee great attendance, it's a place to start. Every planner wants their event to draw lots of attendees, so make sure that your registration process is quick and intuitive. The more people you can draw in, the more likely you'll secure revenue and attract event sponsors/exhibitors!
2. Registration can help set the tone for your entire meeting or conference.
Once attendees walk through the door, the registration desk is one of their very first points of contact with your event. By providing a smooth check-in process, you'll be able to decrease queuing and keep excitement levels high! Nobody enjoys waiting in time-consuming lines, so find ways to keep the experience light and engaging.
3. Registration desks act as a hub for attendee questions and guidance.

There's nothing more frustrating than getting lost in a large conference center or not knowing where to go with event-related questions. Luckily, a prominently placed registration deck can help guide your attendees to where they need to go. Custom signage, pull-up banners, and branded table covers can dress up your desk and help everyone successfully navigate your event.
With so much riding on the registration process, it's important to make sure you do it right. Having a fast, user-friendly check-in process is one of the easiest ways to skyrocket your attendee satisfaction rates, so keep reading to get inspired with smart ways to nail the process! 😎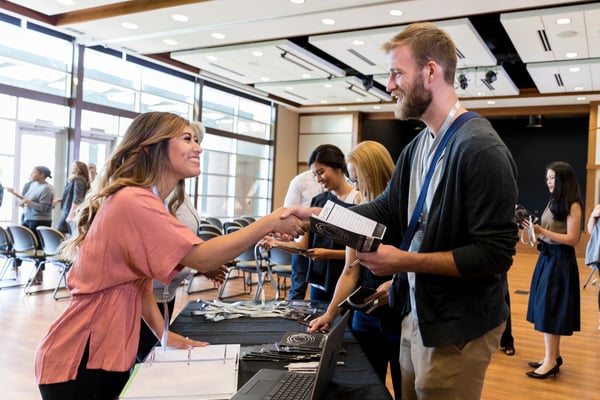 Get Attendees Excited About the Check-in Process with These Great Ideas
The best registration areas involve more than a welcome sign, sign-in table, and event badges. From the guest's perspective, this space serves as your customer service center, their first point of contact, and a sharable registration experience! Keep reading to find five ways to make your event check-in area another enjoyable part of the event experience.
1. Use event branding to bring your registration area to life.
Every event has its memorable moments. However, many of these experiences happen as a result of thoughtful event branding by planners. No matter the type of event you host, it's important to incorporate your organization's messaging, values, and essence throughout the experience through planned design.
Keep your branding consistent at your registration desk by using space design to make the area bright and recognizable. This way, attendees will instantly know where to go to sign in. Use light-up backdrops, printed banners, branded table covers, foliage, and color schemes to add visual appeal. Provide printed materials on literature displays for an efficient way to decrease queuing.
An intuitive, easy-to-navigate registration desk set-up at Cvent CONNECT 2021
2. Incorporate a theme to turn registration into an activation.
If you're an event marketer, you may be familiar with the term "experiential marketing." Experiential marketing is an event marketing technique that involves creating unique, memorable experiences between brands and consumers. Each experience typically uses an activity or activation to bring brands to life in a highly interactive way.
Event activations are one of the most highly effective ways to create a positive, long-lasting impression on attendees through marketing and brand promotion. Themed registration desks, for example, encourage event-goers to engage with your brand, your products, or your services in an immersive way right off the bat.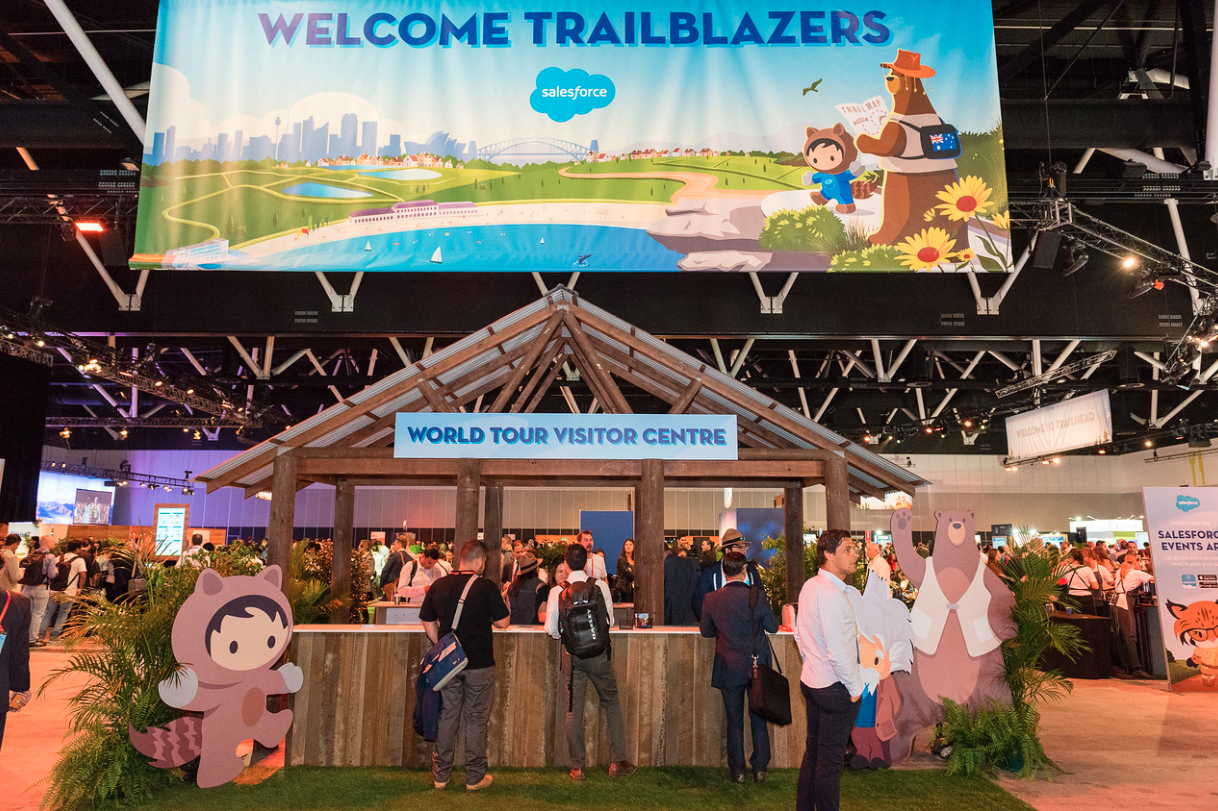 A themed visitor's booth by Salesforce at a Dreamforce Event

3. Feature a badge ribbon wall and interactive photo booth.
Photo booths are the perfect addition to any live, hybrid or virtual event, especially if not all attendees can gather in person. Whether your event features a themed backdrop and photographer, or an interactive photobooth, you'll help attendees feel more a part of the event. They'll also get an event-branded keepsake to post on LinkedIn or other social media platforms.
Want to make your photo spot stand out? Place it in your registration area so attendees can grab a photo right away. Design a custom photo frame they can hold with your event's logo, branding, or unique hashtag to increase brand awareness and shareability on social media. You can also provide fun badge ribbons for attendees to wear in their photos!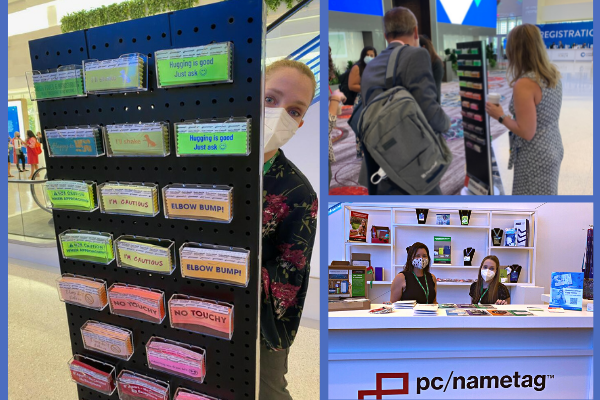 pc/nametag team members provide badge ribbons at Cvent CONNECT 2021

4. Design customized registration gift boxes, welcome packs, or swag bags.
If there's one thing people love about events, it's having the opportunity to take home fun event giveaways! If your team intends to provide promotional gifts at registration, make sure to provide them on a table or in pre-assembled bags or boxes so attendees can grab and go. This is one way to speed up event registration, plus event staff won't have their hands tied with handing out bags to attendees.
The exciting thing about attendee appreciation gift boxes is that they can include virtually any item, from branded water bottles to sunglasses, printed t-shirts, and custom luggage tags. You may also consider included pre-printed name badges inside each kit or in a registration envelope to cut down on lengthy, congested registration lines at your event.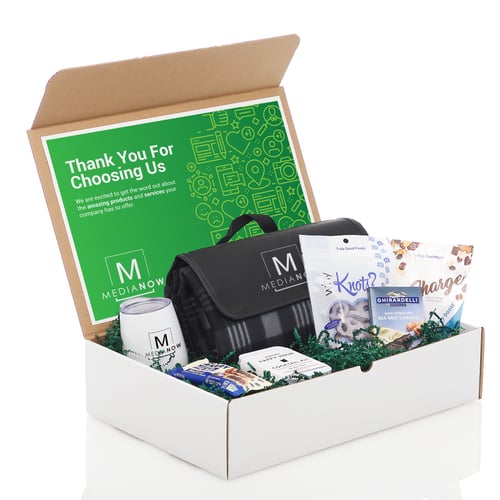 A curated attendee gift box designed by pc/nametag
5. Incorporate gamification at your registration desk for a chance to win a prize.
When it comes to engaging events, gamification is in! Games are a great tactic for enhancing attendee participation and getting them excited to interact with your brand. Plus, who doesn't enjoy having the opportunity to win a small prize? In your registration area, offer instructions for a digital scavenger hunt, create a trivia game, ask attendees to "spin to win" or create another uniquely immersive game that adds excitement to your event's agenda before sessions begin.
While giving out prizes is fun, you can also leverage gamification to get people excited to download your event app. Some apps offer games within the software to encourage attendees to check in to different "stops" at your event or to get them talking with other attendees through in-app networking. The opportunities are endless!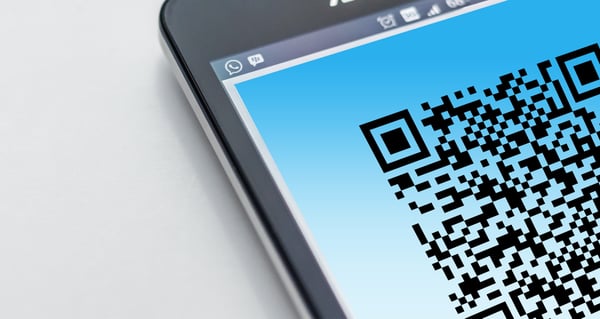 Avoid These Common Check-in Process Problems
Mistakes are bound to happen at registration, but that doesn't mean that you can't be prepared to battle common challenges and cope with them before they arise. Check out these common registration woes and what you can do to come out on top before they happen.
❌ Problem: "My registration area feels crowded and chaotic. Now what?"
✔️ Solution: Attendees who are unaware of where to go will start creating a bottleneck in your registration area, leading to a slower check-in process. Use a snap frame stand to guide attendees to the correct location right when they walk through the door.
❌ Problem: "We didn't account for so many unexpected walk-ins."
✔️ Solution: Make registration guidelines and policies clear on your website. Give instructions both online and at the venue for how walk-in attendees will be accommodated, including how to register the day of the event.
❌ Problem: "We don't have a good way to organize our event badges."
✔️ Solution: An essential part of fast check-in is making sure that all name tags and badges have been pre-assembled and sorted, either by last name or another method. If you're short on time, work with a company that will do the sorting for you!
❌ Problem: "None of my last-minute attendees have badges to wear."
✔️ Solution: Printing professional-looking name tags for unexpected walk-ins is easier than you might think. Invest in a name tag printer and pair it with custom on-site event badges to make sure nobody feels left out. In fact, thermal name tag printers don't even require ink!
❌ Problem: "Some attendees have lost or forgotten their event tickets."
✔️ Solution: Digital ticketing, also referred to as e-ticketing, is a great way to give attendees peace of mind that they'll never be without their ticket or registration information. Plus, you'll help reduce unnecessary meeting waste.
❌ Problem: "I don't have a good way to distribute handouts and sponsored materials."
✔️ Solution: While hard-copy printouts and marketing materials have their place, a better way to speed up check-in is to have all necessary information readily available on your event website or on pre-loaded flash drives attendees can use long after your event.
TELL US: What registration-related challenges have you faced? What was your solution? Let us know by leaving a comment below! If it was helpful to you, chances are it will be helpful to another planner too!
A Seamless Registration Experience, Made Easy
Your job as an events professional is to deliver an awesome experience. Really, it's that simple! Use the registration process to establish trust with attendees from the first time they discover your event, to the time they say their final goodbyes. Maintain communication, deliver on your promises, and make check-in as fast and efficient as possible. In no time, you'll be creating a well-rounded event marketing strategy your attendees will love. 💖
Are you a planner in need of registration supplies?
Don't forget to include these must-have event supplies in your registration desk area!
Looking for something specific? Let the pc/nametag Tag Team help! Give us a call at 888.354.7868 or browse our digital catalog for a more complete list of registration supplies.