When it comes to conference registration, a simple check-in process is key to helping attendees get in the door faster. Your goal should always be to make the process smooth, enjoyable, and user-friendly as possible.
However, just as the check-in process can set the stage for an amazing event, it can also get your event off to a rocky start if done poorly. For instance, while using pen and paper may seem like a cost-effective option, this method can quickly become overwhelming.
Written methods (and even spreadsheets) are difficult to share with others, hard to consolidate, and vulnerable to loss or damage. They also don't lend themselves well to tracking and reporting data analytics.
Instead, try using an event registration app for a digital approach to guest check-in. Read on to find a curated list of the best online registration software options that also feature guest check-in capabilities, including free options, paid options, brandable options, and everything in between.
Paid Event Check-in App Options
Because there are countless options on the market, it can be difficult to know which check-in software tool is best for you. We rounded up a list of some of the best options for you to consider based on your needs and budget. You're bound to find a great fit from this list!
Attendium's guest list app is perfect for quickly searching for and checking in event guests by name, list, or custom field. Use your smartphone, tablet, or computer to sign in attendees and their plus-ones, then export lists of guests that did or didn't attend your event.
Software Highlight: If you're in need of attendance reports, Attendium allows you to view an accurate list of who participated. You can even create an account with limited access so list viewers can check for themselves in real time.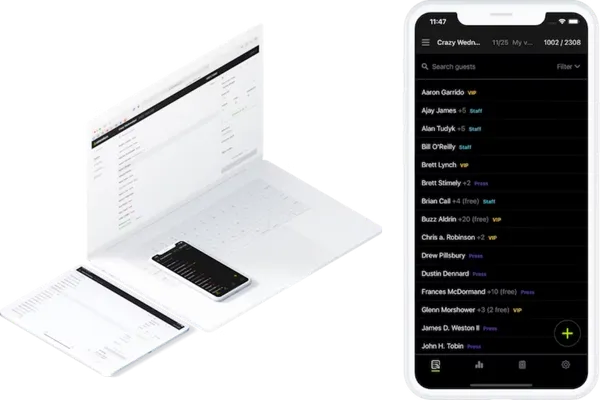 The Certain Platform is a check-in software tool that helps event organizers manage all aspects of their event from registration to check-in, engagement, data capture, follow-up, conversion, etc.
Software Highlight: Send a personal welcome to VIPs! Certain Check-in lets you send an SMS text to pre-identified attendees when they arrive. Notify up to 5 members of your team that a keynote speaker has arrived so you can greet them personally.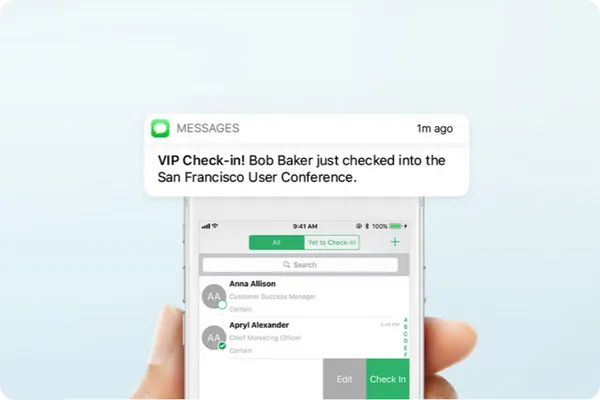 CrowdPass helps event professionals streamline registration with state-of-the-art check-in capabilities and access control tools. This sleek platform has everything you need to let attendees sign up, purchase tickets, and register for your events in under 30 seconds.
Software Highlight: Get guests in the door quickly by scanning their QR codes. This not only acts as their digital ticket but also allows event planners to oversee event "zones" with varying access levels.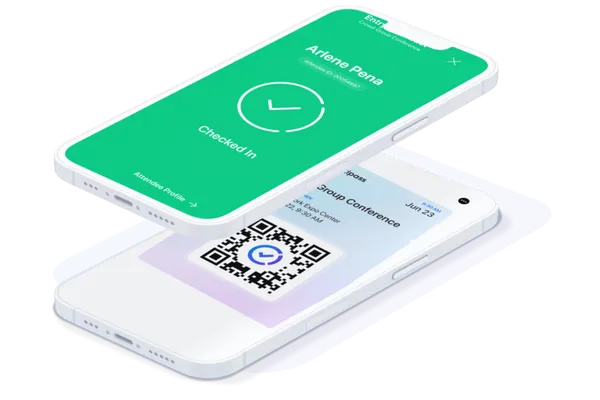 Cvent OnArrival's event registration software, check-in, and badging solutions are designed to help event managers digitize the physical footprint of their events. The tool accommodates on-site check-in, on-demand badge printing, attendance tracking, real-time reporting, and even attendee payments.
Software Highlight: Speed up event registration lines by quickly checking in attendees by searching their name, email address, company name, confirmation number, and more. Create a self-serve kiosk and easily accommodate walk-in registrants.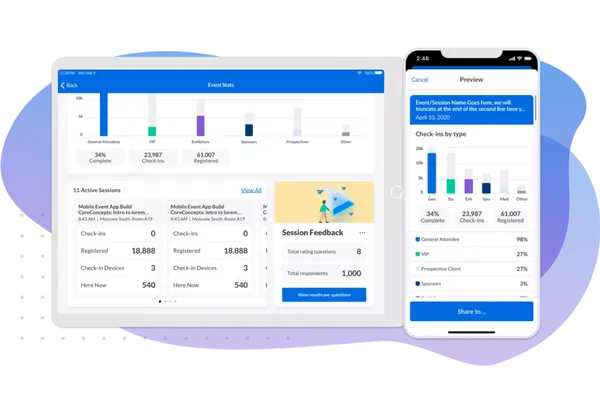 Eventbrite Organizer app gives you instant access to all the information you need for a great event registration process. Easily oversee your event, monitor real-time ticket sales, check in attendees with a scan, track attendance, and accept secure payment for tickets and on-site merchandise.
Software Highlight: Eventbrite's custom tickets feature QR codes that eliminate wait times for your attendees. This makes it easy to not only verify online registrations but also boost security by ensuring attendees are showing a non-fraudulent ticket.
Eventdex offers tools to help your team simplify ticketing and registration. Register, cancel, modify, and process refunds for attendees with ease. You can also easily set up and implement registrations for walk-in attendees and collect payment on site.
Software Highlight: Eventdex saves time by letting you clone previously built systems in minutes for recurring or new events. This helps your team create a repository of critical data to improve your cloned events.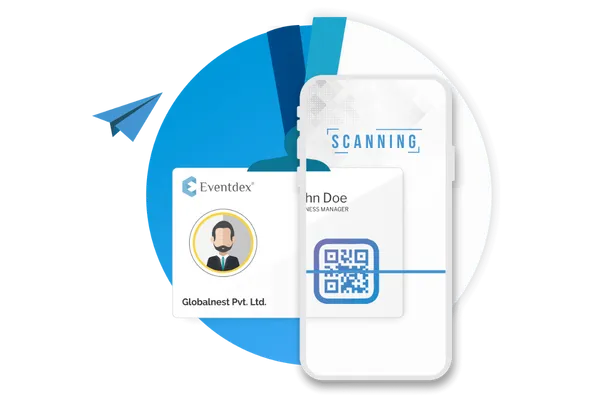 Event Farm's check-in app is a great all-in-one solution for event planners. Automatically sync Event Farm registration data to the app or upload a registrant list. Engage attendees with a welcome text message, add walk-ins on the spot, and "swipe" to check in.
Software Highlight: Event Farm integrates with CLEAR health passes. Use this feature to enable your event staff to quickly scan and confirm that an attendee's pass is valid for your event.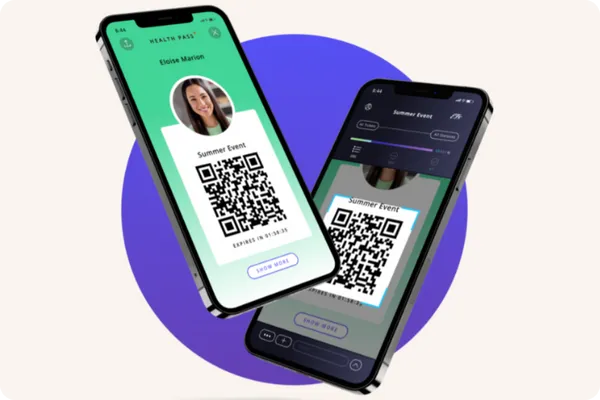 Don't make your attendees wait in long lines! Eventx makes guest check-in fast. Their event app lets them get in the door quickly via QR code. You can even customize a badge for your event, have them printed on demand, and keep everyone engaged with an interactive event experience via the app.
Software Highlight: Eventx lets you track real-time attendance with its registration app. You can also receive VIP guest notification upon their arrival.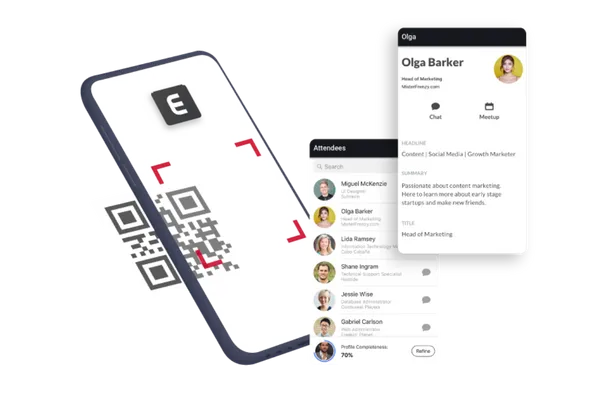 Expo Pass specializes in uncomplicated, low-touch attendee check-in for meetings and events. This software accommodates on-site registrations, offers customizable kiosk screens, and works with or without event badges.
Software Highlight: Expo Pass is a great option for planners who want to design their own event badges, then print them on demand at their events. You'll get a printer kit with everything you need to keep lines moving.
Put away your printed spreadsheets! The Guest Manager event check-in app is affordable and easy to use for event professionals of all skill levels. Not only is this app fast, but it's also built to set everything up yourself in minutes. Check in guests 75% faster, use the software on as many devices as you'd like, and export lists of attendees filled with rich data like notes, tags, and more.
Software Highlight: Guest Manager has a pricing calculator to help identify what you'll pay based on your select features and the number of attendees!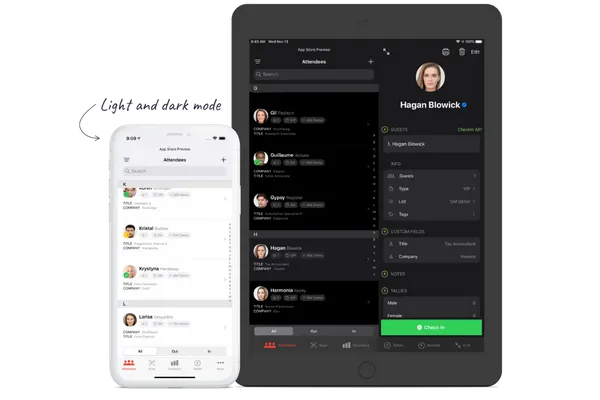 If you need an easy event check-in app and guest list manager, RSVPify is a good option. This app helps you handle event check-in for guests from any mobile device, tablet, or desktop computer. Just scan a custom event QR code or enter the guest's name or confirmation number.
Software Highlight: RSVPify works with nearly any mobile, tablet or desktop device that connects to the internet. Use your device's camera to scan a guest's QR code and they're set.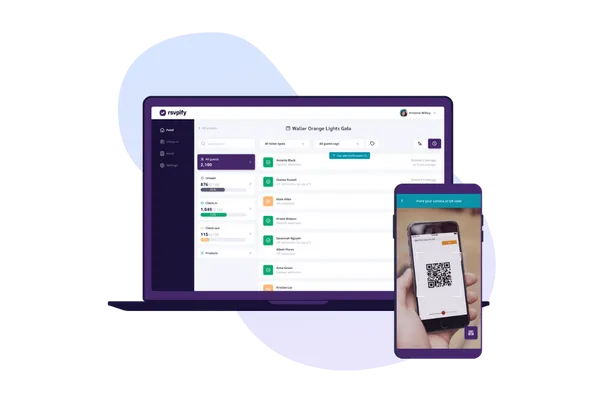 Sched offers a guest check-in app with their Plus and Premium Plus plans. This software helps you track who attends each session and whether they reserved a seat ahead of time. Use this data after your event to understand attrition rates and inform better decisions on session sizes and the number of speakers for future events.
Software Highlight: If your team uses Eventbrite for event registration, you can integrate Sched to automatically bring attendees into your event right after they register on Eventbrite.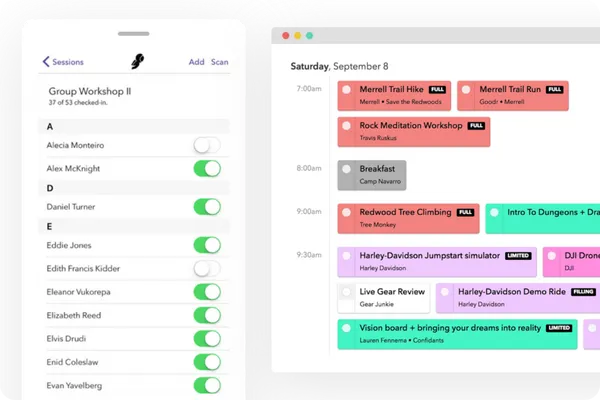 Webex Events offers a tool to help simplify your check-in and badge printing process. Event organizers can choose between an on-demand or distributed check-in experience for attendees. Then, let attendees verify their badge details.
Software Highlight: If you are looking for customized branding options, Webex Events Onsite lets you craft the exact experience you want. Take advantage of custom fields and badge rules in the advanced badge designer.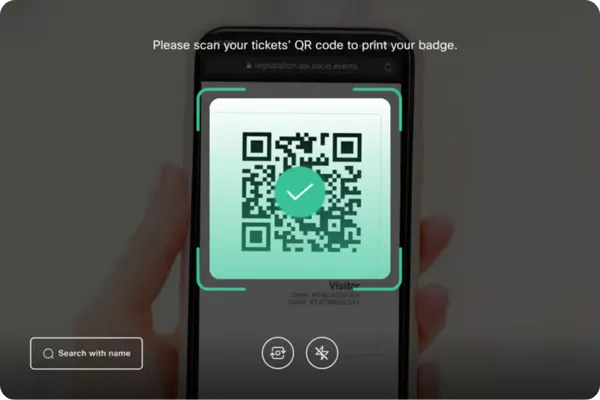 Zkipster is a great guest list app for contactless event check-in for iOS and Android. Registration teams can find and register guests in seconds, keep lines moving, and even check in guests and their plus-ones at the same time. This app continues working, even if Wi-Fi connectivity drops. Plus, you can generate special QR codes that seamlessly connect from online invitations.
Software Highlight: Zkipster lets you add text alerts for guests or event organizers to help you keep everyone in the loop. Let your staff know when VIPs arrive or alert guests of their table number after check-in.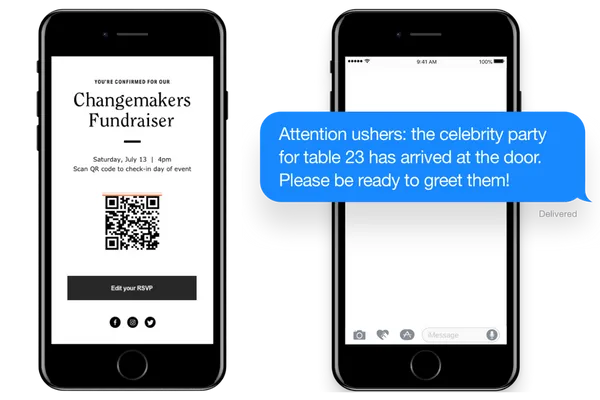 Free Event Check-in App Options
Some events have bigger budgets than others. We understand that it's not always realistic for event planners to pay for event apps, especially when money is tight or when hosting small gatherings. Instead, try using one of the following free event check-in apps to expedite the registration process and give your attendees a great experience—on a dime!
Eventleaf is a user-friendly app that lets you check in attendees by scanning their badge, selecting them from a list, or searching for them by name using a smart device. This is especially useful for monitoring breakout session attendance at conferences.
Software Highlight: Eventleaf also makes it easy to track attendee check-out. Event planners can use this capability to track how much time was spent attending a workshop, training, or seminar. Attendees can earn credit for their attendance.
Free Option: Eventleaf offers a free-to-use option for up to 100 attendees per year. Plus, you'll still get access to an event website, event registration, virtual sessions, invitations, reminders, surveys, email, and more.
Google Forms is a great option for events that require a low-tech event registration or check-in option. This site allows you to create an online registration form so people can sign up for your event anytime, anywhere. Add custom fields for attendee names, titles, and contact information, or keep things simple with a couple-question sign-in form when they arrive.
Software Highlight: Forms offers an easy drag-and-drop interface that lets you create a variety of questions, host polls, and create data spreadsheets that store and sort responses. You can also easily duplicate the form to use for your next event.
Free Option: Google Forms is free to use. All you need is an active Google account to serve as the hub for your form. This is a major benefit for informal or small events that don't need a professional or branded look.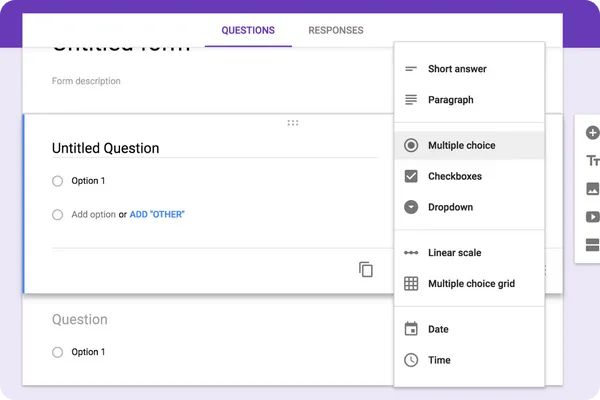 With OneTap, you can make event check-ins up to 10x faster. A simple interface makes it easy to create an event list, add people (or import using Excel), and check in using any iOS device. A time tracking feature also lets you auto-track check-in and check-out time, view visit durations, and download reports on how long people stay on average.
Software Highlight: OneTap's iPad app lets you turn any iPad into a check-in kiosk! Event planners can customize this kiosk to reflect their event's logo and brand colors. You can also customize the input boxes, scan QR codes, or ask survey questions prior to check-in.
Free Option: OneTap's "Individual" level is free for up to 20 profiles and one admin device. If you choose to upgrade, non-profit and educational organizations can take 15% off their purchase.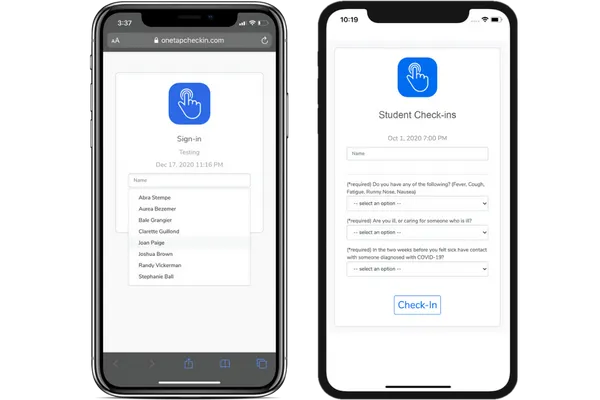 The Splash Host app gives your on-site team the power to check guests in with a simple swipe or scan, register walk-ins, and print event badges on demand. You can also optimize your resources with "Kiosk Mode," enabling event-goers to securely check in and self-register.
Software Highlight: The Splash Host app gives you a live "check-in count" that syncs across your systems in real time. Event if your device loses connection, you'll still be able to collect check-ins until you can reconnect to Wi-Fi. The app will then resume syncing.
Free Option: Splash is free for personal use, an ideal option for occasional small business events. This level gives access to branded registration forms, a mobile check-in app, guest list management, and the ability to import/export contact records.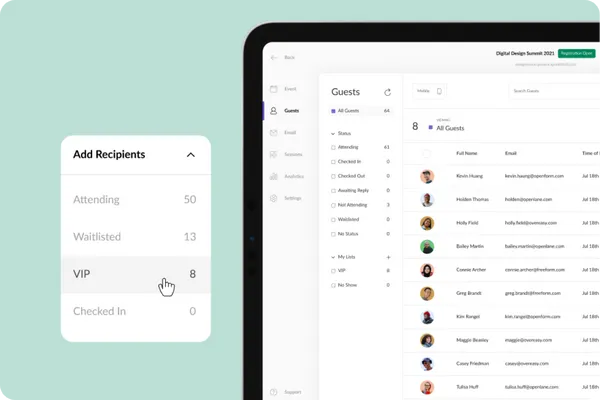 If you want to get your attendees through the line and in the door faster, then Zoho Backstage is a great option! This app is powerful, yet easy to use. Use it for contactless check-in, QR code scanning, and badging solutions—all from your mobile device. This is a good option for event professionals in need of a drag-and-drop website builder, real-time event analytics, and more.
Software Highlight: Backstage gives you an accurate event attendance report that tells you not only who attended your event, but also how long they stayed. See a breakdown of all attendees, total attendees expected, the total that did not attend, and total who canceled.
Free Option: Backstage is free for individuals and small teams that are just getting started with events. This option accommodates up to 100 attendees, three sessions/speakers, and 45 minutes per session at no cost.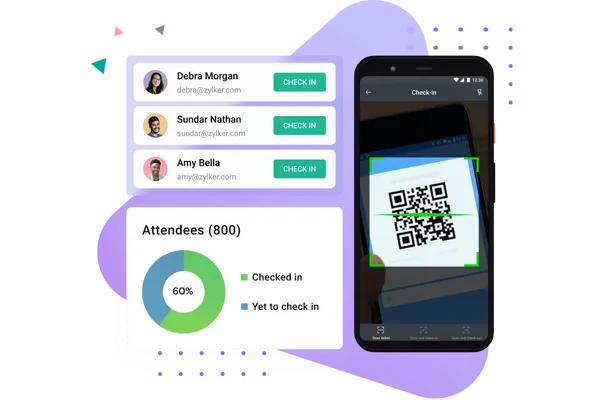 More Ways to Make Event Registration Fun
What many event planners don't realize is that the event registration process is at the heart of any meeting. After all, it's the first step attendees take once they've decided to attend your event.
It's the first "warm welcome" people get when they step foot in your venue. Simply put, the registration experience is the perfect opportunity to serve as a friendly face, build credibility and — most importantly — get people excited before they've even set foot in the expo hall.
Want to get attendees excited about the check-in process? It's easier than you may think. Find tips and tricks in the following articles by pc/nametag: