For many attendees, there's a lot of excitement in finally arriving to that conference, expo, seminar or trade show that they've been looking forward to for weeks (or even months). But one of the fastest ways to kill the vibe is not taking steps to eliminate long lines at check-in. Nobody enjoys a crowded, stuffy registration area!
To help your team be as prepared and organized as possible, use the strategies in this article to speed up check-in lines and make the process quicker and more convenient than ever!
1. Avoid crowding by setting up satellite registration tables.
If you're a meeting planner, you've likely heard of the term "satellite event." A satellite event is a singular meeting that takes place simultaneously across multiple venues or locations. This allows for smaller, more spread-out gatherings with greater travel flexibility, safer networking opportunities, and the ability to stay closer to home.
Just like satellite events, you can also spread out your event's registration tables to decrease bottlenecking in your venue. For instance, instead of putting registration tables in one location, consider setting up various "hubs" at your event's host hotel to give attendees early access to check-in. This way, attendees can get settled in and registered early—a great way to put first-timers at ease before your meeting even starts.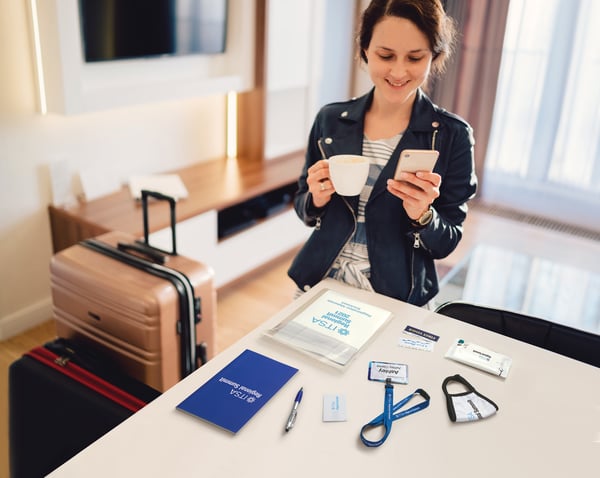 2. Work with your host hotel to hand-deliver event registration packets to rooms.
Save time, skip the line: That's the idea behind working with your host hotel to deliver registration materials to attendees. There are several ways to go about this process. The first option is to give attendees the option to pick up their registration materials directly from the hotel's registration desk. This can add a level of security to the check-in process since front desk staff members will have already checked an attendee's license or ID to get them checked into their room.
The second option is to work with your host hotel to set up a registration kit "room drop" service. Once an attendee has checked into their hotel, their registration kit or packet can be delivered directly to their room prior to the event. By giving hotel guests their event badges, lanyards, and event materials early, you'll help shorten conference check-in lines and get attendees in the door faster.
💡 TIP: Maximize your budget by bulk-shipping all registration packets or kits to one location. This is one cost-effective alternative to sending packets to attendees' individual homes or offices.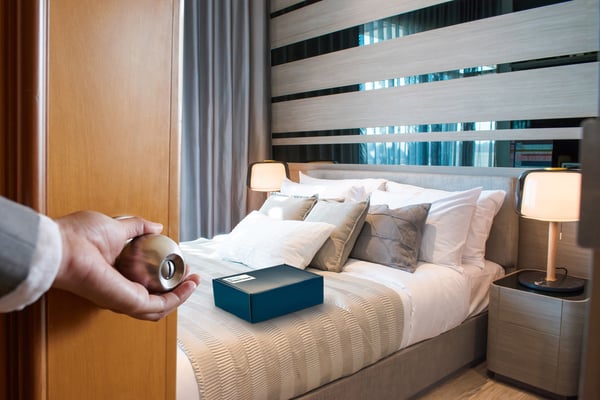 3. Decrease touchpoints by sending registration envelopes to attendees' homes or offices.
As many events shift from in-person to hybrid, event planning teams are beginning to re-evaluate how on-site registration procedures should be handled to decrease crowds and best support health and safety. One solution is to send an event-branded registration kit or box as a 100% contactless registration method.
While self-serve registration kiosks have always been a go-to technology for planners, one problem is that they need to be sanitized between users to eliminate the spread of germs. Instead, try delivering event essentials to attendees prior to the event by mail. Your attendees are sure to love the thought, effort, and creativity you put into the kits. Plus, they're a great way to surprise attendees with useful gifts, while also eliminating the hassle of having people wait in line once they've arrived at the event venue.
4. Use QR codes and digital ticketing to speed up check-in lines with a simple scan.
According to Statista, 85% of adults in the United States have a smartphone, which makes going paperless at your event easier than ever before. Opting for a more "digital" experience doesn't have to be complicated, either. Many attendees appreciate the convenience of having a more tech-driven experience. Plus, you'll be saving trees and creating a more eco-friendly conference in the process. 🌳
Online event registration and digital ticketing can eliminate the need for physical tickets at your event. Generating your own dynamic QR codes or barcodes can also be a more cost-conscious solution than investing in registration software. By emailing a confirmation number, unique ID or individual QR code, you'll simplify the check-in process. Plus, attendees won't need to worry as much about losing a printed ticket before they arrive.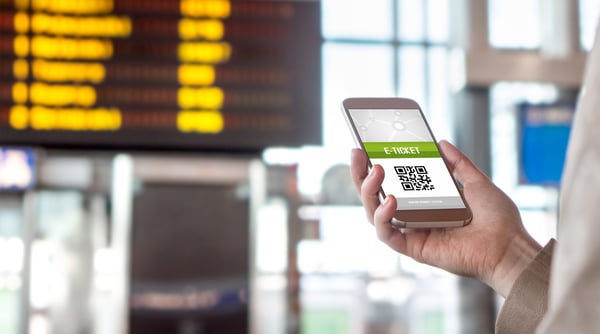 5. Revamp your registration lines to make them faster and more intuitive.
Say goodbye to boring registration lines! Today, there are countless ways to make event registration fun and more efficient. From creating custom-printed signs and directory boards to preparing your registration desk with event-branded promotional items and giveaways, there's no limit to what you can do to revamp the registration process, including the following:
Create multiple lines with clear signage to effectively thin out crowds.


Use custom signage, pull-up banners, and branded table covers to convey useful information and help attendees navigate your event. We suggest using signs to indicate how registration lines are broken out (I.e. by first name, by last name, by company name, etc.) Don't forget to help mediate questions by placing a large banner to direct attendees to your information desk.


Put space between check-in lines and badge pick-up areas.

While it may seem like a no-brainer to provide attendees with their badges and lanyards the moment they sign in, consider directing them to a

different area to pick up these essentials. By placing your badge table away from check-in, you essentially create a "conveyor belt" that naturally guides attendees away from forming dense crowds.

Guide attendees toward a literature display, badge ribbon wall, or gift table.

As a meeting planner, you likely have lots of useful information and giveaways to pass on to eventgoers. Invest in a

literature display as an eye-catching way to distribute catalogs, flyers, brochures, and session information. A rotating badge ribbon display is bound to be a hit and provide an exciting (and wearable) conversation starter. And lastly, a promotional giveaway table is a tried-and-true way to draw in people who want to assemble their own gift bags or boxes.
Don't Forget these Registration Desk Essentials!
Your job as an events professional is to deliver an awesome experience. Use registration strategies like the ones listed in this article to help build trust, maintain communication and make check-in as seamless as possible. You may also be interested in reading our article "Registration Desk Supply List: 10 Items Every Planner Needs," which details the top supplies we suggest every registration desk has.
Are you a planner in need of registration supplies?
Don't forget to include these event essentials in your registration desk area!

If you are looking for something specific (or simply looking for more inspiration), the pc/nametag team is here to help. Give us a call at 888.354.7868

or

browse our digital catalog

for a more complete list of registration supplies.