Meeting planners spend a lot of time preparing for their events and designing the event registration experience is no exception. However, we know that it's easy to overlook the small things on the actual day of your event.
That's why this week, we created a list of must-have items every event registration desk needs. Not only will your check-in desk look great, but you'll also avoid those pesky last-minute emergency trips to the store for event essentials. Here's to being cool, calm, and collected at your next conference or seminar!
1. Event Name Badges or Name Tags
We like to say that the most memorable connections begin with a "visual handshake." Event badges, name tags, and neck wallets are all examples of items you can use to help attendees create a great first impression and make connections that will last long after your event is over.
There's an event badge option for every budget, from budget-friendly adhesive name tags to premium full-color event badges. If you're feeling overwhelmed by your options, no worries. We have an article that breaks down how to choose the right name badge option for your event.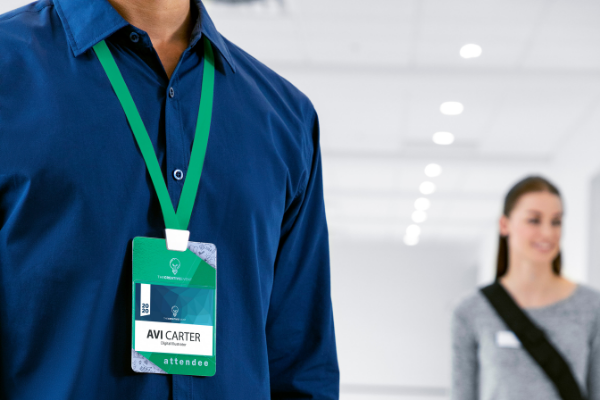 2. Branded Lanyards
No event badge is complete without a stylish lanyard paired with it! Lanyards are a must-have item at trade shows and conferences since they hold badges and IDs in place without causing damage to clothing. Plus, lanyards are a budget-conscious, highly visible event marketing tool.
Help your lanyard make a statement by adding your logo, sponsor branding, an attendee's designation, or even event messaging. You can also make an eco-conscious choice by selecting a lanyard made from organic cotton or recycled materials. Creating an eco-friendly conference just got easier!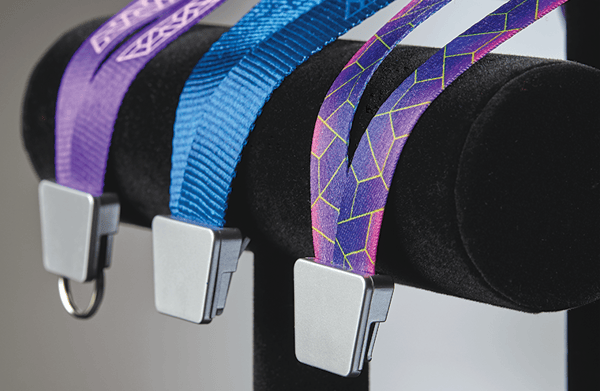 The Pillar™ Lanyard by pc/nametag
3. Stackable Badge Ribbons
Meeting planners, event attendees, exhibitors — everybody loves badge ribbons! Badge ribbons are all about breaking the ice, starting conversations, adding identifiers, and sharing useful information with other people. Plus, we think they are a lot of fun to wear! There's no limit to how many badge ribbons you can stack.
Kick your meeting off with fun and excitement right from the start. We suggest providing a variety of badge ribbons for people to choose from. For instance, provide both identifying ribbons (I.e., "Sponsor," "Attendee," "Exhibitor," etc.) as well as for-fun ribbons, like the ones in our Original Fun Titles Ribbon Pack and ourFun Title Expansion Pack.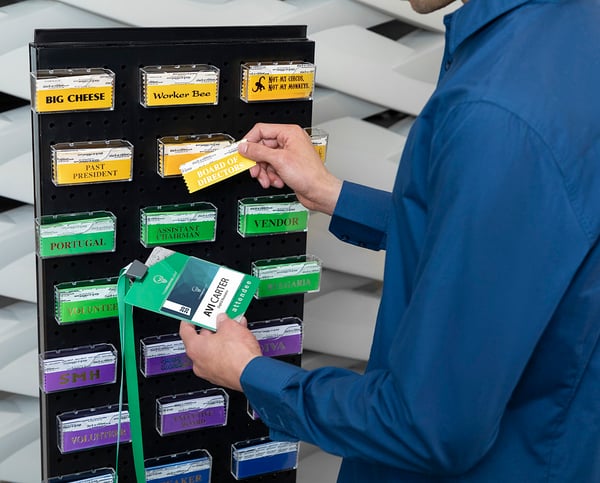 Floor Rotating Badge Ribbon Wall by pc/nametag


4. Name Tag Organizers, Lanyard Displays and Ribbon Walls
Meeting planners know the importance of staying organized. Between juggling vendors and managing attendee needs, they have a non-stop schedule that can easily get out of hand without the right organization tools. That's why every registration desk needs multiple organizers to make your job just a bit easier!
First, invest in a name tag storage case and name badge organizer for a handy way to alphabetize badges and display them in a professional manner. Pair this with a lanyard stand to prevent lanyards from getting tangled. And lastly, use a badge ribbon caddy or badge ribbon wall to make it easier for attendees to select their ribbons.
Note: Remember to have a printer for on-site badge printing. This way, you can accommodate unexpected walk-ins and correct any spelling errors on badges. Invest in a name tag printer and custom on-site event badges to make sure nobody feels left out. We also like thermal name tag printers because they do not require ink!
5. Event Registration Envelopes
Want to cut down on queue times and overcrowding in your registration area? Event registration envelopes are one of the easiest ways to expedite the process and get people in the door faster. You will also make sure attendees have everything they need to kick off their day and enjoy your meeting to the fullest.
Registration packet ideas are endless. Your event registration envelope can include items such as badges, lanyards, agendas, sponsored materials, notepads, pens, custom face masks, or anything else you can dream of. Add a touch of personalization with a small surprise, like a wearable pin or sticker. You can create an awesome custom event registration packet, no matter your budget.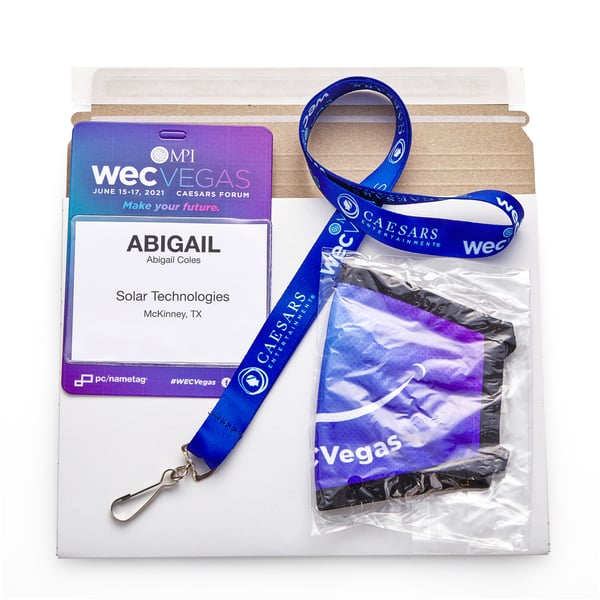 Create how to create your own custom event registration packets.


6. Event Registration Signs and Banners
Any registration area can quickly turn crowded and chaotic, especially when attendees show up to the venue and are unaware of where to go to get checked in. This, in turn, can create a bottleneck, which can then lead to slower registration lines and unhappy event-goers.
Help attendees find the conference registration information they need by using custom event signage with event registration signs to direct them to where they need to go. A snap frame stand or custom retractable banner can help guide conference attendees to the correct location from the moment they walk through the door.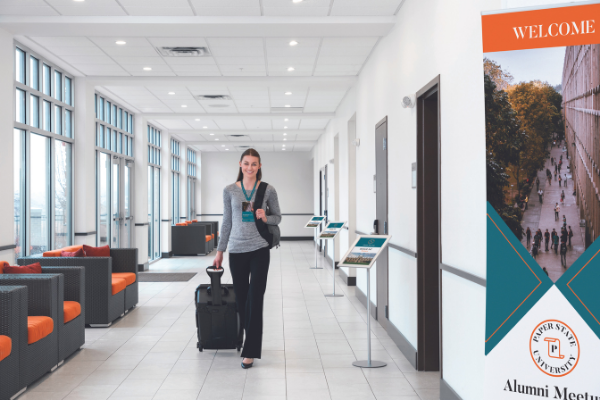 7. Fabric Table Covers
Want to take your registration desk from "good" to "great" within minutes? Get a well-designed, high-quality table cover. Table covers ensure that your registration desk looks presentable and professional, regardless of the condition that your table is in. (Yes, you can even make folding tables look great!)
Depending on the size of your event, some planners opt for a simple, one-color imprint table cover. Larger conferences and expos may prefer several full-color imprinted table covers. No matter which style you choose, try color-coordinating your table covers to your organization's logo, color scheme, or event theme.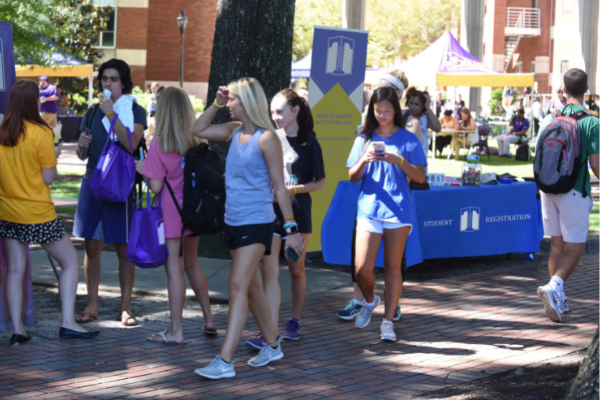 8. Multipurpose Printer and Name Tag Stock
Name badges are a big deal at events, and planners want to make sure they're done right. However, last-minute changes are bound to happen. By having a printer and supplies on-site, you can rest assured that re-printing badges will be a piece of cake.
The printer you buy will depend on the size of your event, as well as your team's usage needs. Ink printers, such as the Epson PM-400 Color Name Tag Printer, are great for printing standard 4"x3" and 4-1/4"x6" name tags right on site. Don't forget to buy extra blank name tag stock for re-prints! We love that this option comes pre-cut and ready to use.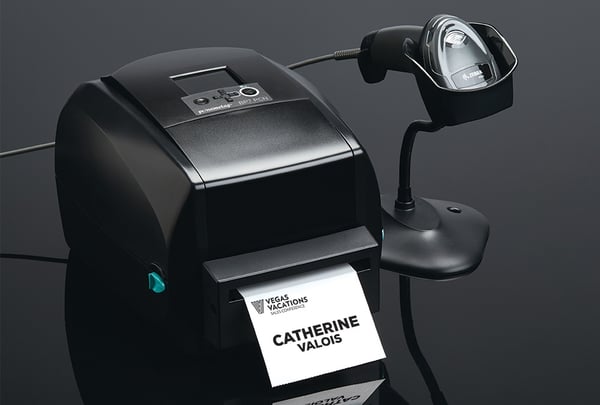 9. Plenty of Office Supplies
If there's one thing every planner needs, it's an all-inclusive "tackle box" filled with office supply essentials to take to every event. While your venue likely has these items on hand, it's best to save yourself the time and frustration of tracking them down when your registration desk starts to get busy.
Your office supply box should include items like pens, dry erase markers, tape, scissors, permanent markers, highlighters, glue sticks, stapler and staples, paper clips, sticky notes, and notebooks. You may also want to keep spare name tag printer paper and ink cartridges on hand, just in case.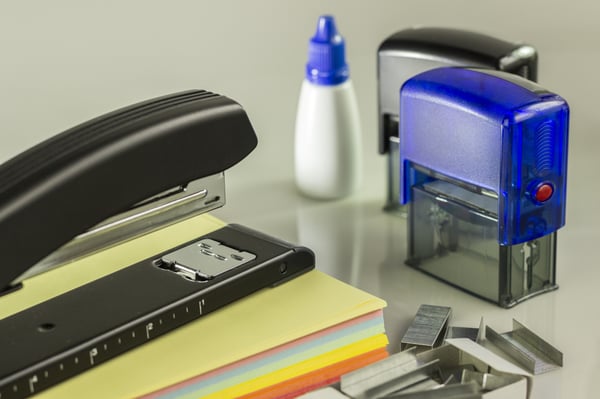 10. Fun Promotional Giveaways and Event Gifts
A promotional giveaway table is a tried-and-true way to give people a fun (and functional) keepsake to take home from your event. You can even give attendees the opportunity to assemble their own gift bags or boxes! If you're looking for promotional gifts or event marketing giveaways, here are a few of our favorites:
Don't forget to include sponsor literature with promotional items to help expand your brand's reach and provide education to potential customers.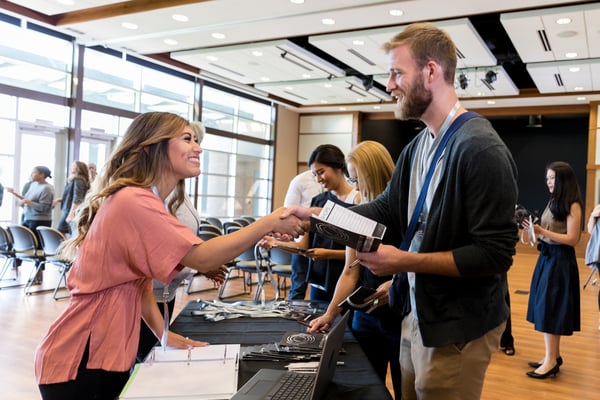 Need more conference registration ideas?
A fun registration process can easily set the stage for an amazing event. If you're interested in learning more ways to impress attendees the moment they enter your venue, read the following articles to make the process as smooth and enjoyable as possible.
Registration Desk Checklist: Download Your Free Copy
A lot can happen when you're on-site at your event. Despite creating detailed plans and intricate timelines, mistakes are still bound to happen. Items can get lost or accidentally forgotten, and you may not have time to run to the corner store for event supplies.
Luckily, having an event registration desk checklist can help you remember those last-minute items that could come in handy when you're in a pinch. Download your free registration desk checklist to help jog your memory on those obvious (and maybe not-so-obvious) essentials every planner needs to ensure their meeting goes off without a hitch.